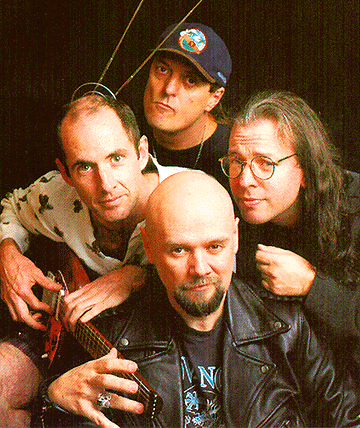 ---
Mike reveals 'Who Did What' on The Mistakes CD!
---
(Here's some detailed information about THE MISTAKES which is available from Immune Records! The drawings are rough sketches of the band members done by Prairie Prince (our drummer); they were done merely for reference, but I loved their rough quality and decided to use them as they were. Not all of these drawings are included in the final artwork; some of them are exclusive to this page.)

CD song list:
Put The Bass In The Middle Of My Head (5:05)
Aye-Aye Monster (6:15)
Haiku Andy (0:30)
Island of Lost Luggage (4:40)
Nests (1:57)
Career Politicians (7:54)
Haiku Henry (0:43)
Ennui (prelude) (1:29)
Transmogrification of Chili (ennui) (3:02)
Warm Papaya (3:58)
Shoko (0:43)
Waiting on Williams (8:24)
Hai kuneally (0:40)
Hot Cakes or Abbatoir? (2:39)
A Plethora Of Pinatas (1:04)
Assembly Language (4:30)
Sirenita The Greek (2:32)
Baby Blues (7:04)
Prince Poem (0:41)
The Mistakes vs. Dropped D (9:26)
Total Time: 73:28
THE MISTAKES - press release
What do you get when you take Italy's finest zydeco musicians and turn them loose on a program of Cyndi Lauper favorites? We have no idea, really, but we imagine it would sound nothing like THE MISTAKES, the semi-long-awaited collaboration between four of modern music's more intriguing practitioners: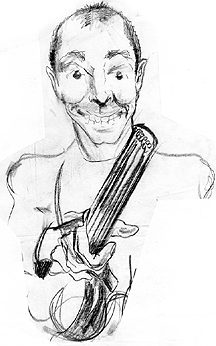 HENRY KAISER - experimental guitarist extraordinaire, he of the countless solo releases and stimulating collaborations with such innovators as Richard Thompson, Fred Frith, Derek Bailey, Herbie Hancock, Michael Stipe etc. etc. etc....most recently celebrated for his tremendously successful musical journeys to Madagascar and Norway with fellow traveler David Lindley, and for the sparkling albums which resulted ("A World Out Of Time" vols. 1 & 2 and "The Sweet Sunny North"). Kaiser's work on THE MISTAKES continues to stretch the boundaries of what "electric guitar" means.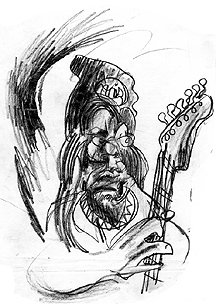 MIKE KENEALLY (You can email him at <BoilThat@aol.com>) - guitarist/keyboardist/vocalist and producer of THE MISTAKES, renowned for his work with Frank Zappa on such albums as "The Best Band You Never Heard In Your Life", "Make A Jazz Noise Here" and "Broadway The Hard Way" (he sang lead on the infamous "Elvis Has Just Left The Building"), star of the Grammy-winning "Zappa's Universe", member of the Dweezil/Ahmet Zappa band Z, and responsible for the acclaimed solo releases "hat." and "Boil That Dust Speck". On THE MISTAKES Keneally brings off a peculiarly seductive marriage of experimental and pop sensibilities, without compromising either approach.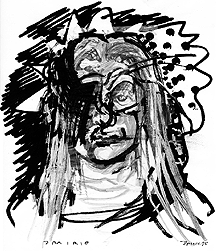 PRAIRIE PRINCE - immensely well-respected drummer, a charter and present member of The Tubes (encompassing all their releases including the infamous "White Punks On Dope"), several Todd Rundgren tours and albums, and a great deal of session work including the late Tommy Bolin and XTC's much-lauded "Skylarking" album (featuring the controversial "Dear God"). Prince is also an in- demand creator of stunning graphic art (his work graces the cover and interior of the MISTAKES CD booklet). Even long-time Prairie Prince fans are likely to be stunned by his virtuosic playing on THE MISTAKES.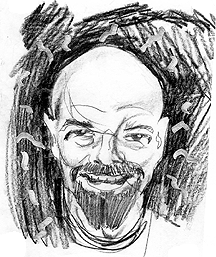 ANDY WEST (You may check out Andy's own web site at http://www.xen.com/~awest or email him at awest@xen.com)-- original bassist for The Dixie Dregs (later known as The Dregs) who left many a concert-goer's jaw slackened during their early tours. West played on all the classic Dregs albums, four of which were nominated for Grammies (including the legendary "Night Of The Living Dregs"). West has recorded and performed with Kaiser on many occasions and was a member of Kaiser's Crazy Backwards Alphabet band; he's also recorded with heralded guitarist Vinnie Moore. West aficionados who haven't heard enough of his singular bass playing as of late will get a hugely satisfying fix from THE MISTAKES.

The breadth of THE MISTAKES is suggested right from the top, with a majestic improvisation ("Put The Bass In The Middle Of My Head") cutting directly to a shiny, tightly arranged pop gem ("Aye- Aye Monster"). Gathering crazily divergent elements into a seamless and coherent whole, the album is a dream come true for all fans of adventurous rock. With this initial collaboration having proved such a success, Kaiser, Keneally, Prince and West now relish the opportunity to present their efforts to live audiences world-wide.
---
from the liner notes to THE MISTAKES:
A note from producer boy:

It started sometime in the late '80s when Henry and I picked up two unamplified electrics at Fender headquarters and jammed for a couple of minutes. We traded phone calls for a while, plotting some collaborations which we never pulled off. In January '94 I met Andy at NAMM. I was a Dregs fan as a teen; Andy professed admiration for "hat"; we both knew and enjoyed Henry (Andy'd worked with him a few years earlier in Crazy Backwards Alphabet). We felt that a collaboration would be worthwhile. Who to drum? Henry and I traded more phone calls. We agreed on one fairly famous guy; I contacted him, he professed interest at first and then stopped returning my calls. I can take a hint...around this time Prairie ran into Henry and said "I heard about the album. I wanna be on it" or words to that effect. Perfect (I had hung out with Prairie on a few occasions, backstage and in hotel rooms after Rundgren and Tubes gigs, so I knew him to be a swell guy as well as a remarkable drummer). Henry and Prairie did a gig in Japan with Bob Weir and Henry returned full of enthusiasm for Prairie's playing. Anticpation mounted; finally we all convened at Henry's for rehearsals over the last three days of 1994. Things fell into place readily. After a couple of days off we reconvened in San Diego for three days of basic tracks. From February to May, whenever scheduling allowed, I (or Henry and I, and one occasion [my daughter's first birthday] just Henry) would return to San Diego for overdubs (if there'd been time for overdubbing immediately after the basics were completed, the album could've been finished in a little over a week). But although I'm an inveterate tinkerer in the studio, the tapes didn't require much surgery, really...there was plenty of good stuff imprinted on them during the initial sessions (several of the tracks remain live-in-the-studio recordings). We hope you enjoy what transpired.

Keneally
---
lyrics to three of the songs on THE MISTAKES: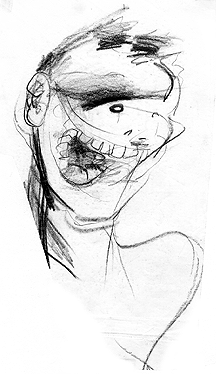 CAREER POLITICIANS
Tie me to the mainmast
I'll hang until the dawn
I couldn't feel more strongly
It's time for moving on
Proper ways of doing things
Improper ways of not
I can feel my heart break
As I watch potential rot
Pardon the short notice
But one heeds the heart at cost
I couldn't face the morning
If I let these thoughts be lost
So tie me to the mainmast now
I'll hang until the dawn
We sail without direction
The rudder long since gone
A very special episode
Tonight we wave goodbye
I heard there'll be a spin-off
So dry that reddened eye
Tie me to the mini-van
It's time to hit the road
I feel my spirit changing now
A goodbye kiss for toad

TRANSMOGRIFICATION OF CHILI
Ennui
Ennui
It's not a maitre' d
It nails me to the bed and makes me wish that I was free
Ennui
Ennui
A steel jaw trappin' me
Don Van Vliet could come to call, I couldn't twitch a knee
Take my head to the market (make it eat a Scooter Pie)
Take my head to the market (make it eat a Scooter Pie)
Take my penis to the bus stop (throw it under the wheel under the wheel under the wheel)
Take my head to the market (make it eat a Scooter Pie)
Ennui
Ennui
Relentless rabid bee
Call me pathetic prat, I've not the strength to disagree
Ennui
Ennui
Breakfast time is 3:00
A piece of cheese, some Fritos and a can of beer or three

Take my head to the market (make it eat a Scooter Pie)
Take my head to the market (make it eat a Scooter Pie)
Take my penis to the bus stop (throw it under the wheel under the wheel under the wheel)
Take my head to the market (make it eat a Scooter Pie)
SIRENITA THE GREEK
Implore me, Sirenita!
Bestow upon me the jewel of your smile!
Wave your silken hand above my head,
and make it be years ago, 3000 miles!
Explore me, Sirenita!
Expound upon the myst'ry of your hips!
Prance unbidden to the pantry, love,
and fetch the low-fat chips!
Teach me a lesson, Sirenita!
Bind my wrists with endangered pelts!
Call my friends and tell them about last night!
Raise welts!
Discard me, Sirenita!
Unload my husk in the gutter with haste!
Make it be years ago, 3000 miles,
when teacher beat holy fuck out of me for sniffing paste!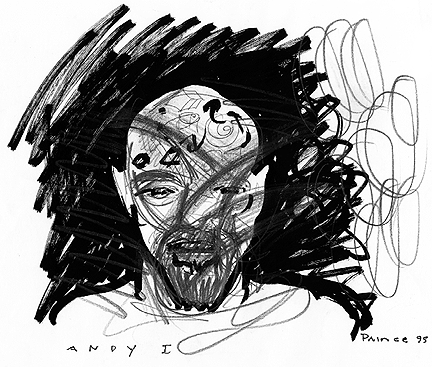 Contents ©1994 - 2013 Obvious Moose (except where noted) and may not be reproduced without permission. All rights reserved.