Home
|
The Music
|
Mike
|
Facebook
|
RadioKeneally
|
Live Performances
|
Gallery
|
Links
|
Fans
|
Press Info
|
Store
Matthew Baxter
Taylor Acoustic Clinic
Guitar Center
Arvada, CO
June 4, 2001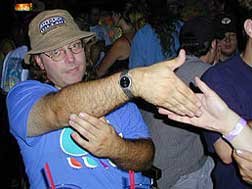 Well, what can I say about being a guest host that really isn't needed? I loved it! All I had to really do was watch and have a good time!

Mike was kinda tired from all of his touring and really enjoyed relaxing on this day (before the clinic). We ended up going out to play pool. Bryan showed us that he was a real pool playing expert by dazzling us with his use of "pool terminology" (cue ball, cue stick, etc..). Mike and our friend, Brock, took time to develop the "Dolphin handshake" (see photo at left) which was a huge thing to witness and my grandchildren will gather well into their teens to hear that story repeated!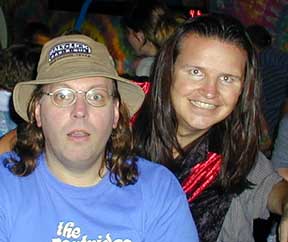 The soundcheck was almost more fun than the clinic itself. While Mike was off doing something, Bryan demonstrated a great little delay toy he had. He would play a short riff and the unit would play it back as a rhythm track. He started layering all of these rhythm tracks into a very cool little song that he would solo over. In the soundcheck they played a few songs like "Potato," and "Frozen Beef" which were great to hear acoustically.

The highlights were just to many to state all of them here. I loved Bryan's inspirational song, "No." He is a true talent. Mike and he certainly share the same wave.

During an acoustic version of Zappa's "Inca Roads," Mike broke a string. If you hadn't seen it, you wouldn't have known that it even happened. He played vigorously around it barely missing a note. He is a paradox...He is an inspiriation that almost makes me want to quit playing guitar.

On top of all the great music that I feel very privileged to hear, I got to know Mike a little better than before. Mike is not only a great musician, he is truly a great person. Getting to say that you are friends with someone like him is definitely a bragging right!

Matthew Baxter


---
Back to