Home
|
The Music
|
Mike
|
Facebook
|
RadioKeneally
|
Live Performances
|
Gallery
|
Links
|
Fans
|
Press Info
|
Store
Roy Berkowitz
The Bottom Line
New York, NY
May 12, 2001
May 26, 2001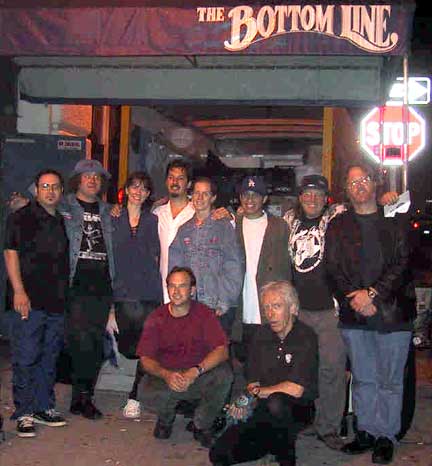 July 20th 2001
I knew I should have written my thoughts down on paper right after my guest host dates! I'm sure I'll overlook a moment or two trying to recap now. I had the distinction of having 2 dates to guest host. The first was Sat May 12th and the next was Sat May 26th. Both of these shows were held at the Bottom Line in NYC, a venue that will go down in infamy in the hearts and minds of many a MK/BFD fan as being the most unfriendly place to have a gathering of foreheads. To its credit, the Bottom Line is rich in music history, has an good production crew, is smoke free, doesn't have an 'all exits final' policy and makes good french fries. These are my random yet chronological thoughts and observations. Since they are MY thoughts and observations they may differ from yours.
Sat May 12th
My wife Jodi making fun of me as we walked towards the club 'cause when I spotted MK standing out in front, my pace had quickened to the point of leaving her behind.
The hello hug MK gave me. I think Jodi was about 30 yards behind me at that point.
Pushing the equipment cases along west 4th street and meeting newest band members Tricia and Nick.
Walking with Stacey the Merch ... to the supermarket to get bottled water for the band and crew cause the Bottom Line management wouldn't provide any. Did you know the Bottom Line has a bar and restaurant?
Sound check is always so cool, isn't it? Everyone soloing and then coming together with all the lights still on.
Seeing people who have traveled from afar just for the show. Meeting them after exchanging an occasion email or two.
Having dinner at Dojo with MK, BB, Scott, Thomas, Tricia, Stacey and oh yeah my wife Jodi.
Seeing BERKOWITZ written on the reserved signs of 3 of the best tables.
The way the Mahavishnu Projects opening performance could be seen through the faces of Mike and Marc.
No longer being nervous, just seconds before giving my early set guest host introduction.
Alex the sound guy letting me get a board recording on my MD and not letting the club owners know. ;-)
MK directing band member solo's while having equipment problems that even Thomas couldn't fix right away.
Literally running to and from Mamouns for a Falafel sandwich with my friend Alan just after the Mahavishnu project did their opening of the late set. Alan introduced me to MK's music in '95 when he loaned me Hat.
Getting really nervous when MK suggested I go out on stage by myself and intro the band for the late set. And then the wave of calm that came over me when MK shrugged off the idea after I suggested NO WAY.
The intensity that the band brought out of themselves for the 2nd set.
The ability to concentrate that Tricia has.
Thinking the set list has to suffer if a new drummer is in the band and realizing I'm so wrong because it's Nick D'Virgilio. He fit like a glove and gave the music his own feel.
Evan Frances when he plays "in" and the joyous look on MK's face when he plays "out".
The bouncing ear to ear smile that is Marc Z. Don't we all get excited with the anticipation of his Moog solo in Selfish Otter?
Bryan Beller playing amazing bass while seeming not to realize it himself.
Ed Palermo sitting in with his saxophone on Mexican Radio and Self n Other.
I finally got to talk with Rick, he's the quiet Dolphin. What a nice guy. Genuinely kind and open. Playing so much more than when I saw them last.
Understanding what Scott meant when he said he can "never be in the moment" And then feeling sorry for him and envious of him all at the same time. He has to be at least one or two gigs ahead of everyone else to make it all happen.
Thomas Nordegg telling tour stories from Zappa, Missing Persons, Jeff Beck and Steve Vai.
Dennis Hill, blending into the background until needed and then watching him spring into action.
People thanking me as they left. What did I do?
Sat May 26th.
Remembering to bring a cooler full of drinks for the band and crew.
Getting a call at the club from Scott who was still 45 min away asking me to secure parking spots for the truck and cars. Walking across the street to a construction area I commandeered a police horse type thing and blocked some prime real estate right in front.
Meeting Virgil Donati (drummer Planet X and Vai's current touring band on G3) and Dave LaRue ( bass Planet X, Steve Morse, Dixie Dregs, and John Petrucci's current touring band on G3) and having a normal conversation with them and managing not to gush on about how great I think they are.
Picking Tommy MacIntosh up on Mercer Street and driving over to Mamouns for a couple more Falafel sandwiches. Eating half of one as fast as I could and giving the other half to BB to finish just as I jumped in the rental car with Stacey.
The convoy of Scott's rental car following Stacey and I to LaGuardia airport and the wrong turn we made. Being out of distance for radio communication switching to cell phone to get us back on the right path.
Sitting next to Scott on the ride back from LaGuardia airport and hearing him call in the guest list and say the names Roy Berkowitz and Kasim Sultan in the same sentence.
Planet X opening the show by demonstrating how great musicians can play technically challenging music that leaves you feeling empty, depressed and wondering where the 'one' was. And then finding out you are not the only one who felt that way.
My wife telling me she was so embarrassed that she could have crawled under the table when I told the crowd during my guest host intro that it was Jodi who deserved their applause because it was our 15th wedding anniversary and she has been putting up with my passion for music for even longer.
MK playing MZ's keyboard from the other side.
Hearing the audience shout the most obscure song requests.
Realizing just how amazing the Nonkertompf songs are as played by a 7 piece band.
Being brought into the pre show huddle that the band does to get themselves psyched up before they step out on to the stage and all the nice things they say to each other during it.
The kiss on the face I got from MK just when we broke huddle.
Bryan referring to me at the start of his merch pitch, as, 'our wonderful guest host Roy'.
Thinking I wasn't going to hear Scotch get played and then hearing Scotch get played.
Being at the last show of the tour.
Seeing all the good-byes as the band and crew split into three groups at the end of the night.
Someone saying 'it was just like when summer camp ends' and knowing how they felt.
Driving Nick, Tricia, Rick and Thomas to Kennedy airport at 3am.
Smoking a controlled substance.
Getting home at 5am wide awake and beaming from such an amazing night.
Answering the phone call from MK the next day telling me that he and Stacey and Dennis were coming over for drinks after dinner.
MK and my 6 yr. old son Jeremy playing Potato on the piano.
Going through my CD collection with MK and seeing an occasional knowing smile.
Feeling really satisfied about the whole guest host experience and thinking about doing it all again next time.

-Roy Berkowitz

---
Back to