2002 Mike Keneally Photos

Mike Keneally Band Is Ready To, Uh, Rock!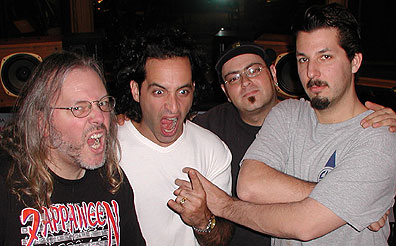 San Diego, CA, Friday, December 13, 2002, 1:47 p.m.: Mean Michael K, Tricky Nicky D, Insightful Ricky M and Bellicose BHB relax in the studio before recording their Next Hit Record on a lucky Friday the 13th.
MKB's San Francisco Sound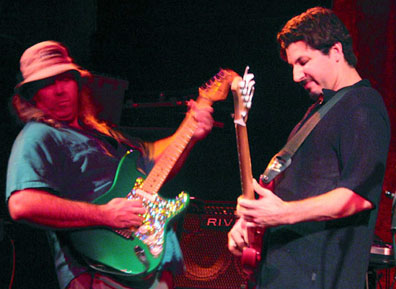 San Francisco, CA, October 19, 2002: Mike and Bryan (pictured above) and drummer Nick rocked The Great American Music Hall with a pared-down version of Mike Keneally Band (Rick's on tour with Ben Taylor). Mike also appeared as a part of Henry Kaiser's Palace of Love band. (Photo by Grover)


Mike Keneally Band Makes News

Mike and the band played live on San Diego's KNSD 7/39 News (NBC) as part of KNSD's Summer Concert Series on Friday morning, August 23, 2002. It was a challenging gig-- outdoors with no shade in the middle of downtown early in the morning-- but Mike, Bryan, Rick and Nick pulled it off with aplomb and made many new friends. Several new songs were performed as well as selections from Wooden Smoke and Nonkertompf. A sweet video edit of the show can be downloaded from Midas Welby's site.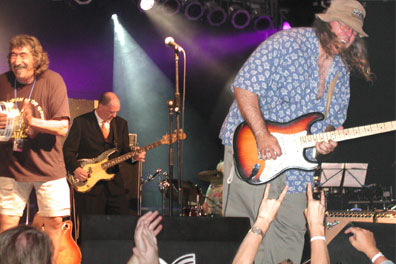 Zappanale Finale
Bad Doberan, Germany, July 27, 2002: Jimmy Carl Black, Scott Thunes and Mike Keneally guested with The Lewinskys for a freewheeling set at the Zappanale festival that featured a spirited, grinding version of Frank Zappa's "Willie The Pimp."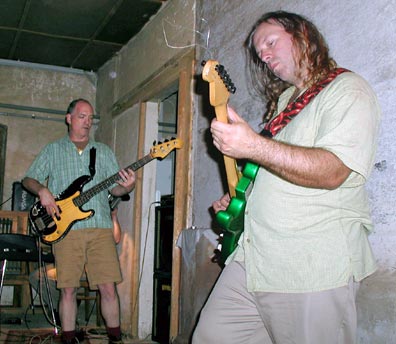 Rehearsing A Reunion
Schwerin, Germany, July 25, 2002: Uber bass and guitar duo Scott Thunes and Mike Keneally reunited for the first time in years to rehearse at a secluded location with The Lewinskys for German performances Saturday and Sunday, July 27 and 28, 2002. (Photo by Bella)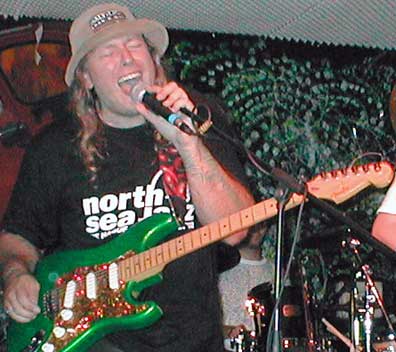 The Men From Utopia
MK and Italian pals Sergio Ponti (drums) and Diego Serra (bass) rocked Il Peocio in Trofarello, Italy, on Thursday, July 18, 2002. (Photo by Maria Paola)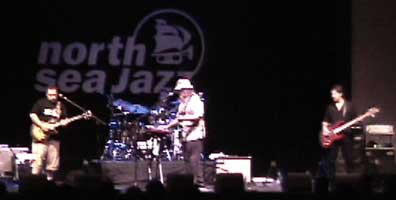 All That North Sea Jazz
Mike Keneally Band roared into Holland for its North Sea Jazz Festival debut on Friday, July 12, performing an energetic, varied set before an appreciative standing-room-only crowd.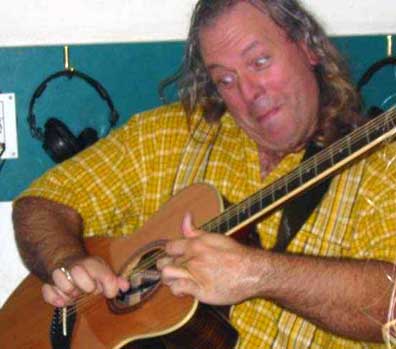 Dutch Digital Dexterity
In a distinct change of pace from his triumphant North Sea Jazz Festival debut, Mike played a free acoustic set at the Plato record store in Rotterdam, The Netherlands, on Monday afternoon, July 16, 2002. (Photo by Aad Hoogesteger.)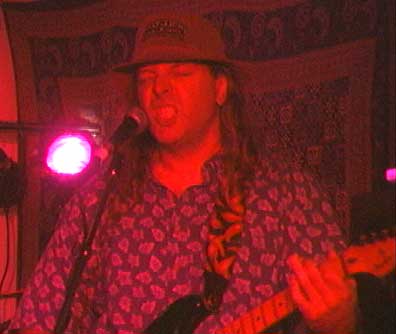 New MK Music At Victor's
Mike and the band began the first of their two sets at Victor's in San Diego on Saturday, June 29, with four new songs and a powerful cover of Pink Floyd's "Astronomy Domine." Watch this space for a short report from Mike. Next Victor's show is Saturday, August 24, 2002. (Photo by Steve Laub)
---
July 9 '02
2:00 AM PST
Home

Jeez, who is that gu--- oh, it's me. Hello! I'm Crosley Bendix, I mean Mike Keneally and I haven't been to sleep yet but I'm going to the airport in about three hours, first to Connecticut for the National Guitar Workshop, and then on to the Netherlands for the North Sea Jazz Festival. This charming shot was taken at the recent Keneally Band performance at Victor's in San Diego. We premiered four new originals (Skies Of Los Angeles, Raining Sound, Pride Is A Sin, Li'l), remodeled a new song I played at SXSW (Feeling Strangely) and played two new covers (Floyd's Astronomy Domine [which we just recorded for a Floyd tribute album which is going to be a really eclectic and interesting release], and 19th Nervous Breakdown which I love). A lot of this stuff will be played at North Sea.

Listen, for a variety of reasons, I've regrettably had to withdraw from the Shankar and Gingger tour of India in August. Their tour will go on as planned and I wish them every good thing, and I deeply hope I will be able to visit India soon. Apologies to all who'd hoped to see me there - I wanted to see you too, and our time will come.

In the meantime, the next three weeks in Europe are going to be good. To those of you who are about to see one of the shows, get ready for a very good time. Thanks everyone!

MK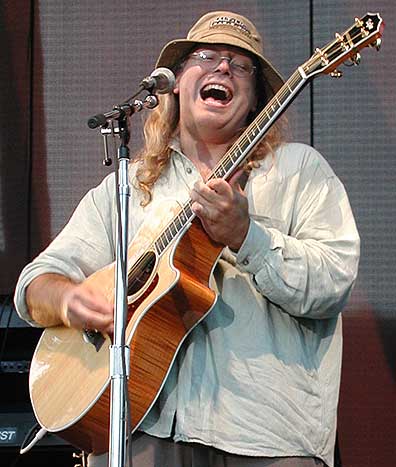 MK at Humphrey's By The Bay
As the sun set and sailboats rocked gently at their anchorages, Mike performed a warm 25-minute solo acoustic set at the gorgeous outdoor Humphrey's By The Bay on Tuesday night, June 18. Asked to open for Simple Minds with just over a day's notice, Mike rose to the occasion with a stirring set of music from the "Wooden Smoke," "Dancing" and The Mistakes albums.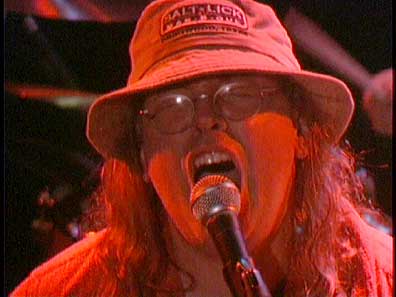 Fierce at the Factory
Mike presented a typically unique two-hour set at Hollywood's Knitting Factory Tuesday night, April 9, after playing a while with opening act Telepathy. Among the highlights when the rest of the Keneally Band hit the stage were a passionate rendering of "2001" (pictured above), a song from drummer Nick D'Virgilio with Rick Musallam taking over the drum kit, and guest shots from saxophonist Evan Francis on "Ragged Ass" and longtime friend/drummer/Zappa vaultmeister Joe Travers reprising his original driving performance on "'Cause of Breakfast." (Photo by Steve Laub)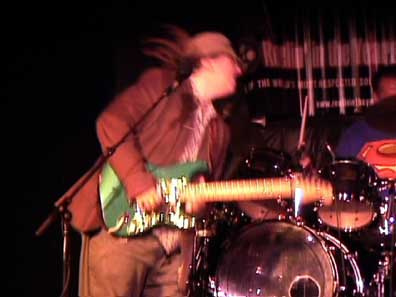 Jammin' For Jimi
Despite a first note that decimated his high E string and a chronically out-of-tune replacement guitar, Mike did right by Jimi at the Second Annual Hendrix Celebration in San Diego Friday, March 29. A packed house experienced him perform "Freedom," "Power To Love" and "Angel" with drummer Larry Grano, bassist Rick Nash and vocalist/guitarist Mark DeCerbo. Here's a fully rocking 11-and-a-half-minute RealPlayer video clip for high-speed connectees.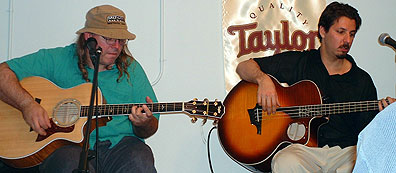 Pickin' In Kentucky
Mike and Bryan continued their relaxed and entertaining Taylor acoustic clinic tour March 22 at Steilberg String Instruments in Louisville, Kentucky. (Photo by David Wilcher)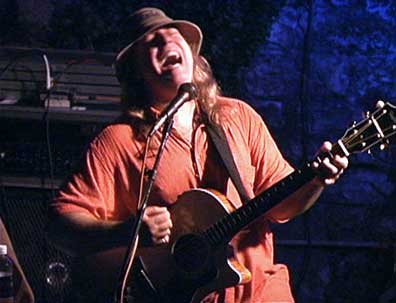 Keneally Solos at South-By-Southwest
Mike played a stunning 45-minute solo acoustic set (his first in a few years) to a capacity audience at Austin's Pecan St. Ale House Saturday night, March 16. Among the highlights were a new song, "Feelin' Strangely," written in his hotel room the night before, a cover of "For The Turnstiles" by Neil Young, selections from the "Wooden Smoke," "Dancing," "Boil That Dust Speck" and Mistakes albums, and an encore of Frank Zappa's "Idiot Bastard Son." Apologies go out to those who weren't able to get in because of crowd restrictions. (Photo by Don White)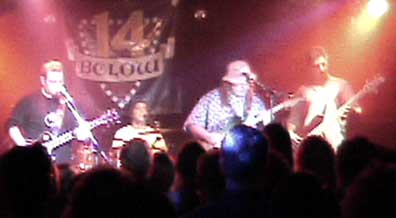 Mike Keneally Band at 14 Below
Check out a steaming, streaming RealVideo excerpt of MK's February 16, 2002 gig at 14 Below in Santa Monica, California.