2004 Mike Keneally Photos


Fun Is Had At Mike's Belly Up Tavern Debut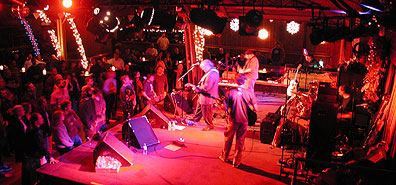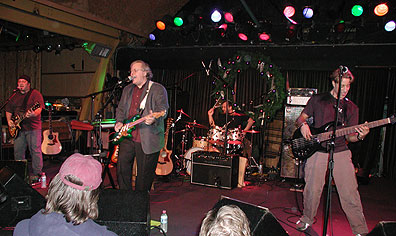 SOLANA BEACH, CA, December 15, 2004: Mike's long-anticipated debut at north San Diego County's venerable Belly Up Tavern proved to be a powerful, splendid experience for all. Keneally dubbed this lineup "The Electric Notebook," and it consisted of (l. to r.) Mike Keneally Band stalwart Rick Musallam on guitar and vocals, Mike on guitar, vocals and keyboards, legendary Zappa Vaultmeister Joe Travers on drums and Duran Duran vet Wes Wehmiller smiling on bass. For years, Wes has played with Travers and he's been friends with MKB bassist Bryan Beller for years (they're all Berklee alumni), but this was his first MK gig-- he nailed it. Look for a return visit to this excellent venue from Mike in coming months.
Acoustic Rehearsal Video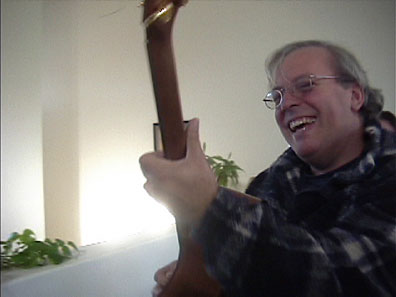 LEUCADIA, CA, December 1, 2004: Mike and Rick Musallam rehearsed in the living room for their well-received acoustic show at Lestat's in San Diego. This Real Media video clip will show you how that went, okay? Next stop is the Belly Up Tavern in Solana Beach, CA on December 15.
Mike's Taylor Suffers Abuse in New Haven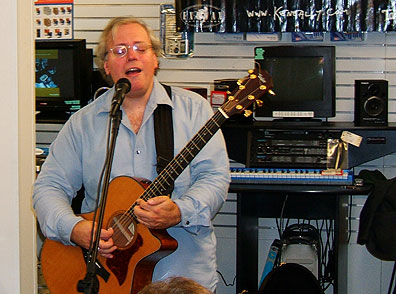 NEW HAVEN, CT, November 18, 2004: Mike's solo Taylor Guitars tour of the Northeast continued with a sweet, well-attended event at Sam Ash Music. Every square millimeter of Mike's Taylor 514ce fretboard was utilized in a more-frightening-than-usual display of Keneally virtuosity. The crowd was also treated to a vastly entertaining re-telling of Mike's first nervous (but ultimately successful) audition for Frank Zappa.
Mike and Bryan Conquer the Northwest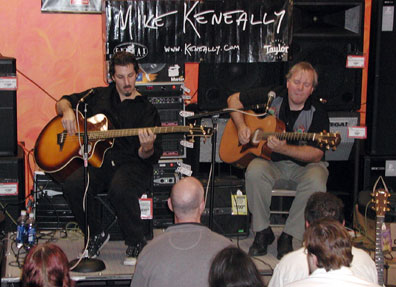 TACOMA, WA, October 29, 2004: A brief series of four Taylor Guitars acoustic clinics came to a fun and pleasant end at Tacoma's Guitar Center as Mike and Bryan gave their Taylors a workout and extolled the virtues of their favorite acoustic instruments. Thanks to A Sharp Music, Guitar Center and Taylor Guitars for continuing to allowing Mike and Bryan to share their music with so many people in such intimate surroundings. Mike will be continuing with several solo Taylor events in the Northeast beginning November 16.
MKB at Their NEARfest Best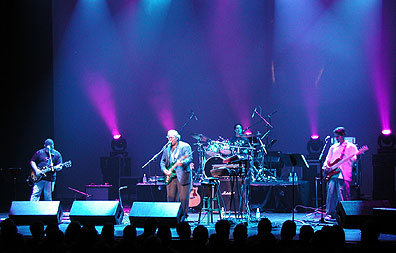 BETHLEHEM, PA, July 10, 2004: A sold-out crowd of over 1000 witnessed Mike Keneally Band rip heads off with impunity during the band's NEARfest debut. Highlights of their nearly two-hour set were plenty of songs from the new Dog album, including an incendiary "Choosing To Drown," Mike doubling on strat and keyboards, and the astounding new 15-minute epic, "This Tastes Like A Hotel." Grateful thanks to NEARfest promoters Chad Hutchinson and Rob LaDuca, plus all the fans who made this an incredibly special experience for all.
Doin' Dog at CalProg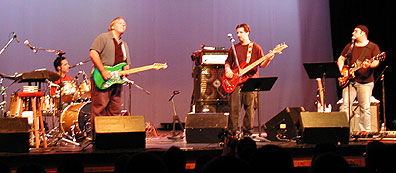 WHITTIER, CA, July 3, 2004: Mike Keneally Band ambitiously performed their new album Dog in its entirety as they headlined the first CalProg festival. Seen early in the show are (l. to r.) Nick D'Virgilio, Mike Keneally, Bryan Beller and Rick Musallam. Another highlight of their set was a stunning surprise version of Kevin Gilbert's "Shadow Self." Next stop for MKB is the sold-out NEARfest in Bethlehem, PA on July 10.
Direct From Lou To You, It's Dog!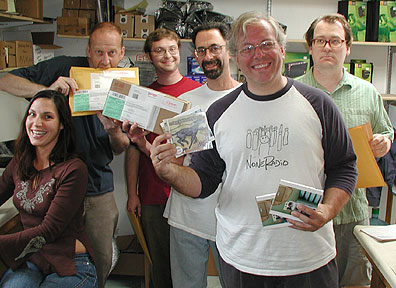 ENCINITAS, CA, June 20, 2004: The crack Lou's Records shipping department spent their final weekend of spring selflessly packaging over 1000 Dog Special Editions for patient pre-orderers across the globe. Reluctantly taking their only break of the weekend are (l. to r.) rosy-cheeked Charlotte Jenkins, postally ravenous Glen Dietrich, mailing mastermind Andrew Kalomiris, the actual Lou Russell, fresh-from-the-beach Mike Keneally and Skippy, the much-feared Anti-Keneally. Depending on destination and postal service, orders should arrive at their destinations by the end of June.
---
Universe Provides New Keneally Album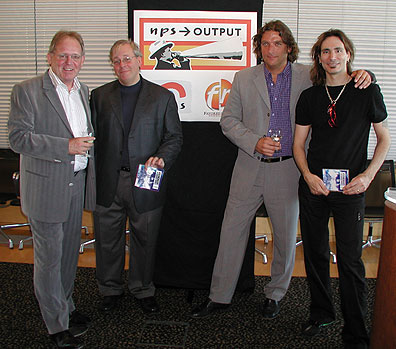 HILVERSUM, THE NETHERLANDS, May 19, 2004: Good vibes filled the air as Mike Keneally's new album, The Universe Will Provide, was announced as NPS Output's initial release during a launch party for the new label-- a partnership between Dutch broadcaster NPS and Steve Vai's Favored Nations record company. NPS Output was conceived by 4FM's Creative Catalyst Co de Kloet, who always envisioned Mike's TUWP as the inaugural release for the new enterprise. Upcoming NPS Output releases will feature Terry Bozzio, Brian Eno and others.
Celebrating the news above are (l. to r.) NPS Output Executive Producer Willem van Beusekom, Keneally, NPS Output Creative Catalyst de Kloet and Favored Nations Executive Producer Vai.
The Universe Will Provide
was composed by Mike and recorded by Keneally with the legendary Metropole Orchestra. It will be issued in the Benelux countries in June and released in the rest of the world during on September 7, a few weeks before the official worldwide release of Mike Keneally Band's new album
Dog
. (
Dog
will be available online
here
in June.)
Mike and Bryan in Dutch With Steve Vai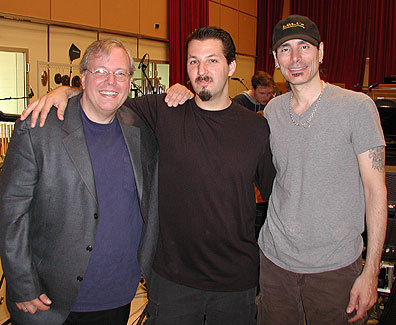 HILVERSUM, THE NETHERLANDS, May 18, 2004: Mike, Mike Keneally Band bassist Bryan Beller and Steve Vai staged a brief reunion as Bryan, Steve, MK alumni Chris Opperman and the Metropole Orchestra rehearsed for Vai's three Dutch performances.
Absolute Fun As Keneally Remixes Zappa in London

LONDON, ENGLAND, April 1, 2004: Mike, along with Kristjan Järvi's Absolute Ensemble, Napoleon Murphy Brock, turntablists the X-ecutioners and Django Bates, brought down the house at the Barbican Centre during a mind-searing performance of Absolute Zappa. The "Dirty Love" encore is shown here. A delectable array of Zappa material was completely reinterpreted by the talented group, taking Frank's elusive "eyebrows" to new heights. The performance was so joyfully frenetic that, at one point early in the show, the conductor's baton flew from Kristjan's right hand. Missed this event? Stay tuned. Mike will play more shows with the Ensemble later this year.
Partying Down With Mike, Nappy and Dave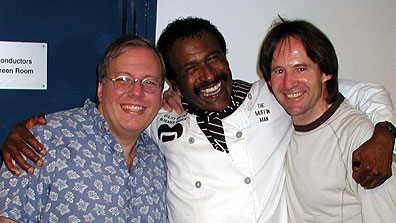 LONDON, ENGLAND, April 1, 2004: Mike, Napoleon Murphy Brock and former XTC guitarist Dave Gregory reveled in the post-show merriment after the Absolute Zappa performance at the Barbican Centre.
The Full Potato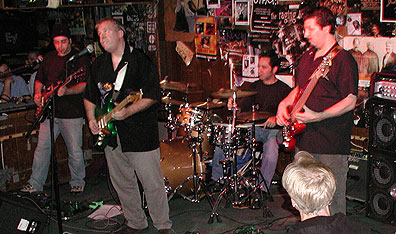 NORTH HOLLYWOOD, CA, February 28, 2004: Mike Keneally Band performed another beyond-capacity show at The Baked Potato, debuting even more new material from the upcoming Dog album.
Dog Day Afternoon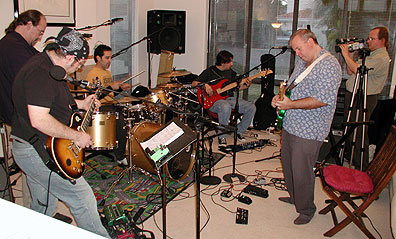 LEUCADIA, CA, February 15, 2004: Mike Keneally Band gathered for an informal Sunday living room performance at Chatfield Manor. The get-together was videotaped and recorded in 5.1 surround audio for inclusion on the DVDog which will be packaged with the special edition of the new MKB album, Dog. Pictured are (l. to r.) videographer Steve Laub, Rick Musallam, Nick D'Virgilio, Bryan Beller. Mike Keneally and videographer Dave Foster.
Keneally and Workman Work Out at NAMM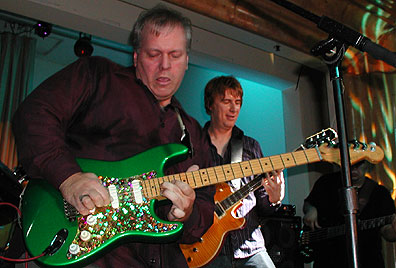 ANAHIEM, CA, January 15, 2004: A newly shorn, ready for action Mike Keneally provided vocal and guitar support for Lyle Workman's three-song NAMM showcase at the Hilton, sponsored by Guitar Player magazine. Featured were a very welcome rendition of XTC's "No Language In Our Lungs," the exquisite Workman/Keneally collaboration "Inhale" and the crowd pleasing new Workman instrumental "A Pile of Swans," (which they're pictured here playing-- Mike spontaneously named the song when asked its title for this caption) that gave the two guitarists ample opportunity to shine.
Mike's Making Music At NAMM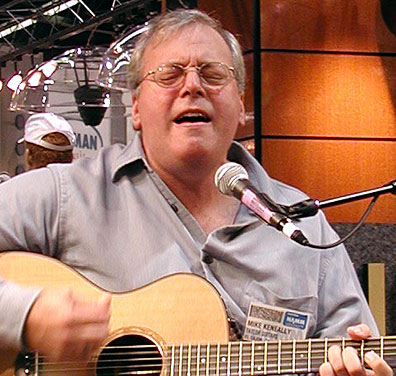 ANAHIEM, CA, January 16, 2004: Mike delivered a 45-minute set of acoustic music on the NAMM convention floor at the invitation of The Museum Of Making Music and Taylor Guitars.