2005 Mike Keneally Photos


Preparing Guitar Therapy Live CD/DVD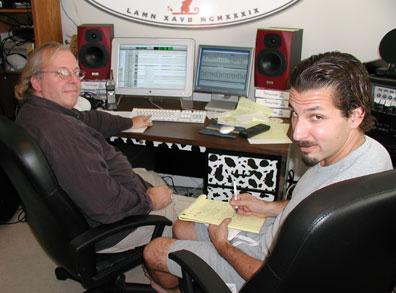 LEUCADIA, CA, October 31, 2005: Mike and Bryan are in the final stages of reviewing multitrack live recordings from the MKB's recent Guitar Therapy tour at Chatfield Manor for inclusion on the upcoming Guitar Therapy Live album. Advance sales are happening now at MooseMart.
Holland Days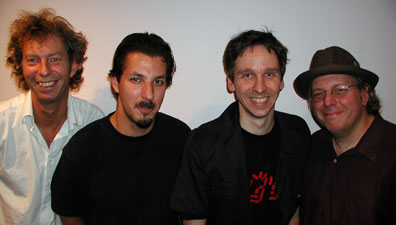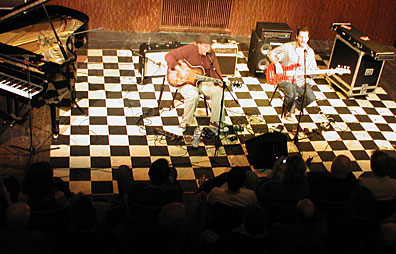 HOLLAND, October 11, 12 & 13 2005: Mike's relentless experimentation paid off handsomely when we was invited to headline at Amsterdam's legendary Paradiso on October 11 after a series of Taylor Guitar clinics in Italy and Germany and two concerts with the Absolute Ensemble. Instead of going for the expected, Mike invited (top, l. to r.) amazing Metropole Orchestra violinist Herman van Haaren (who was recently featured on The Universe Will Provide concert and CD), innovative bass stalwart Bryan Beller, and drumming marvel Marco Minnemann. The results were spectacular (second photo) as the foursome ripped through titles such as "'Cause Of Breakfast," "The Dolphin Medley," and "Spoon Guy/Uglytown." The crowd clamored for an encore, which climaxed with a head-ripping rendition of Frank Zappa's "The Black Page." The concert was recorded for later broadcast by Marc Broer for Co de Kloet's 4FM radio program.
The following day, Keneally and company comandeered an Amsterdam broadcast studio (third photo) with 4FM's Marc Wielaert to record more music, along with "Desert Island Disc"-type programs with Mike and Bryan. (Bryan's playing in the control room and not pictured in this shot.)
On the third night (bottom photo), Mike and Bryan entertained a full house at the charming Flora Theatre in Delft during a spontaneously energetic concert promoted by Reinier Parengkuan. Many thanks go to Pieter van Hoogdalem of PVH Music, whose hard work made the entire Dutch adventure possible.
Radio Daze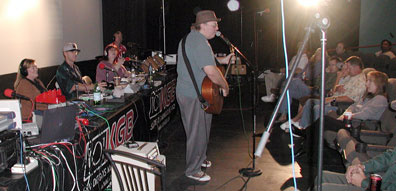 TEMECULA, CA, September 16, 2005: Mike was invited to perform his songs "Splane" and "Live In Japan" during 101 KGB FM's live broadcast of Dave, Shelly and Chainsaw, San Diego's most popular morning show. The broadcast celebrated the inclusion of DSC's feature comedy J-K Conspiracy in the Temecula Valley International Film Festival. Mike supplied much of the music for the movie. Pictured here enjoying Mike's rendition of "Live In Japan" are (l. to r.) Shelly Dunn, Cookie "Chainsaw" Randolph, Ruth 66, Chris Boyer and our Mr. Keneally.
A Splendid Time Was Guaranteed For All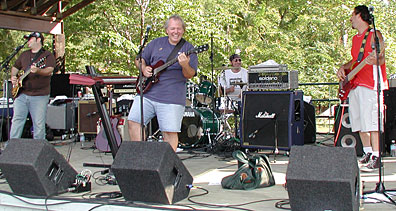 CHAPEL HILL, NC, September 4, 2005: Mike Keneally Band flew in from Southern California to headline this year's ProgDay festival in the verdant hills of North Carolina. The day was blessed with gorgeous weather, great vibes and a general effervescence that permeated MKB's two-hour performance, which culminated in a jam featuring Glenn Phillips and other festival musicians.
A Splendid Time Was Guaranteed For All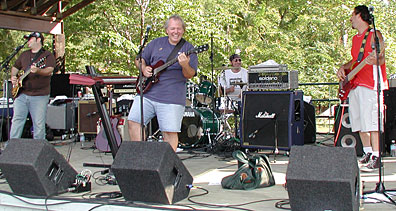 CHAPEL HILL, NC, September 4, 2005: Mike Keneally Band flew in from Southern California to headline this year's ProgDay festival in the verdant hills of North Carolina. The day was blessed with gorgeous weather, great vibes and a general effervescence that permeated MKB's two-hour performance, which culminated in a jam featuring Glenn Phillips and other festival musicians.
Guitar Therapy's Final Bow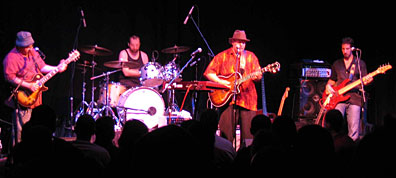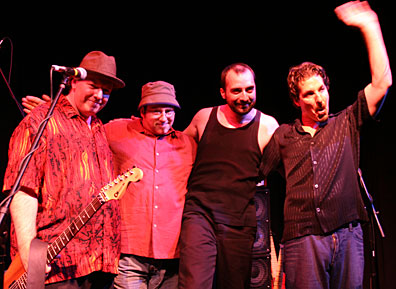 SELLERSVILLE, PA, June 18, 2005: The final night of Mike Keneally Band's Guitar Therapy tour ended with a cheering crowd and some serious audio and video documentation. Basking in the warmth are (l. to r.) Mike Keneally, Rick Musallam, Joe Travers and Bryan Beller. Stay tuned for details about a possible DVD release of this stunning concert. Passionate thanks to all the people who made this rewarding musical adventure possible. (Top photo by Matt Resnicoff, bottom photo by NewYorkDVD)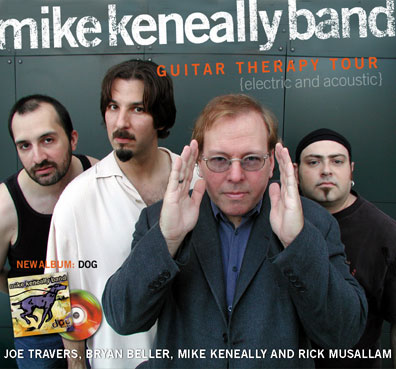 SOLANA BEACH, CA, May 1, 2005: The primed and retooled Mike Keneally Band played the first show of its Guitar Therapy tour at the Belly Up Tavern. Pictured just prior to showtime are (l. to r.) Joe Travers, drums; Bryan Beller, bass and vocals; Mike Keneally, lead guitar, keyboards and lead vocals; and Rick Musallam, guitar and vocals. May and June sessions will continue up and down the west coast and then across the country from Arizona, through the midwest, and to the east coast.
Guitar Therapy for Santa Barbara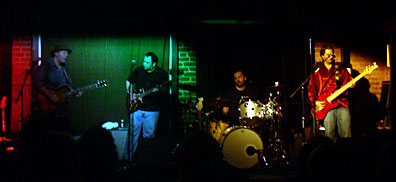 SANTA BARBARA, CA, May 16, 2005: Mike broke out his new Taylor T5 acoustic/electric guitar as MKB's Guitar Therapy tour lovingly ripped heads during two sets at SOhO. (Photo by Phil O'Neill)
Mike Keneally Band Sears Seattle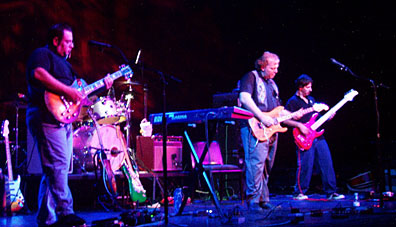 SEATTLE, WA, May 5, 2005: MKB's Guitar Therapy tour continued with scintillating acoustic and electric sets at Seattle's Triple Door. Mike's playing his new koa Charvel guitar. (Photo by Denise Gianetta)
Playin' Real Good For Free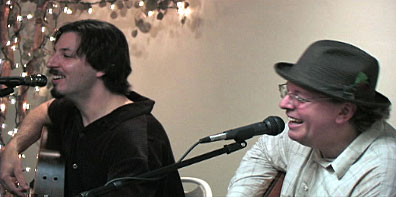 CARLSBAD, CA, March 5, 2005: Mike and Bryan were invited to celebrate The Museum Of Making Music's fifth anniversary with a free concert (co-sponsored by our friends at Taylor Guitars) that headlined a very diverse day of entertainment. One of the highlights was a playful rendition of "Lightnin' Roy" from Mike's hat. CD. This QuickTime video clip was edited by Nick Conedera and photographed by Steve Laub, Dave Foster and Conedera.
Make 'N' Music in Maryland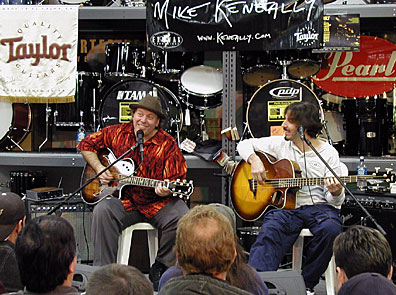 FREDERICK, MD, March 18, 2005: My goodness, Mike and Bryan had fun at their Taylor clinic, superbly sponsored by Make 'N' Music. 140 people showed up to witness the extra-long, careening show, which included a not-too-shabby requested version of "Lucy In The Sky With Diamonds," a tune they'd never played previously.
Night Of The Living Shred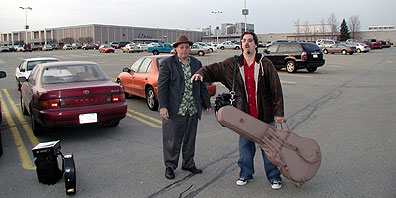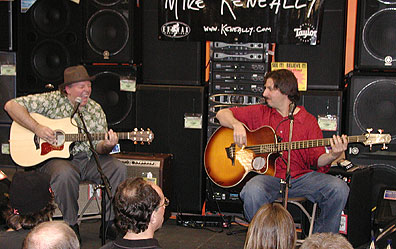 MONROEVILLE, PA, March 17, 2005: The St. Patrick's Day edition of Mike and Bryan's Taylor Guitars clinic occurred at a new Guitar Center outside of Pittsburgh at the Monroeville Mall-- a hallowed location for aficionados of George Romero's classic zombie film, Dawn of The Dead. After warming up with a timely preshow request for some Celtic music (a slightly augmented "Waiting on Williams"), the boys got down to 90 freewheeling minutes of musical mayhem before a house packed with live fans. The improvised setlist also included their first acoustic rendition of Pink Floyd's "Astronomy Domine."
Mike's Taylor T-5 Conquers Louisville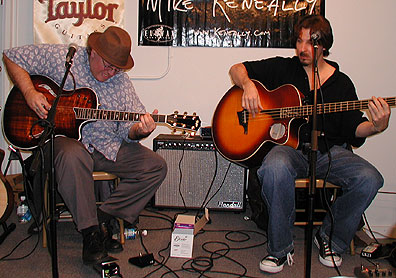 LOUISVILLE, KY, March 15, 2005: As the second half of Mike and Bryan's Taylor Acoustic Guitar clinic at Steilberg String Instruments began, Mike most eagerly whipped out his brand-new, super-secret Taylor T-5 Thinline for a rousing rendition of "L'il," from the limited edition Pup CD. Fellow Taylor clinician and local resident Pat Kirtley also dropped by for an impromptu version of "Watermelon Man." The acoustic/electric hybrid T-5 will begin appearing in stores soon, according to Taylor sources. Mike and Bryan are in the midst of a 10-date Taylor clinic tour, but you already knew that.
Wes Nails 'My Dilemma' With Mike and Band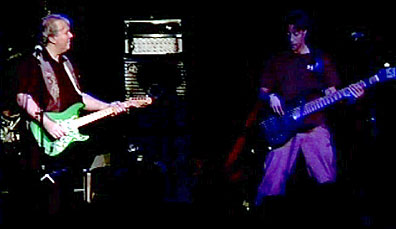 Howdy everybody on Friday evening, February 18, 2005. Happy Valentine's Day (a little late, sorry). This is Mike Keneally and it's my pleasure to present this QuickTime video clip from the December 15, 2004 show at the Belly-Up, featuring our dear friend Wes Wehmiller on bass. The track is "My Dilemma" and Wes rips it up.
We all miss Wes, and I thank him like crazy for playing my music so beautifully. Wes was a perfectly beautiful person and I predict great things for his spirit in the future, because the universe smiles on rockin' mofos and Wes surely was one. Please visit bryanbeller.com for more about Wes, and we send our love to everyone we met at Wes' memorial celebration (especially the amazing John and Paula). (Video by Dave Foster)
I, Keneally, Am Keyboard Bound

LEUCADIA, CA, February 16, 2005: Mike warmed up for a day of business and demo recording by trotting over to the venerable Exo-piano for a spontaneous rendition of his 1996 composition, "I, Drum-Running, Am Clapboard Bound." Wanna see a streaming QuickTime movie of it?
R.I.P Wes Wehmiller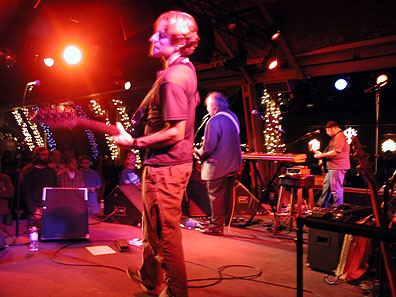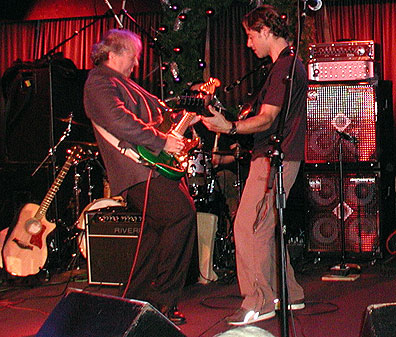 A MESSAGE FROM MIKE KENEALLY
Jan. 30 2005

Hi everyone -

Our very dear friend, and an incredible bassist, Wes Wehmiller, passed away early this morning.

I met him through Bryan Beller and Joe Travers - they'd all attended Berklee together. I didn't get to play with Wes very often, especially after he landed a gig with Duran Duran which kept him on the road for five years. But in December 2004 he played a show with me, Joe and Rick Musallam at the Belly-Up Tavern in San Diego, and it was a magical night. Wes was absolutely brilliant and we all had such a fantastic time.

It really hurts to know that he's gone. I'm extremely grateful to have known Wes - he was a genuinely wonderful person - and we're all going to miss him so much.

Mike

Not Your Typical Taylor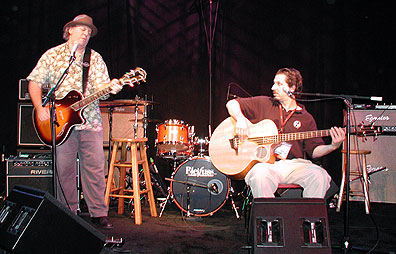 ANAHEIM, CA, January 21, 2005: Bassboy Bryan Beller is captured in one of his many double-takes during the debut of Taylor's innovative new T5 acoustic/electric guitar in a performance at the NAMM show. Mike and the innovative new instrument got along well from the start, to the delight of audiences and Bryan, who had never heard the guitar before. The T5 functions as a fully acoustic hollow-body guitar, but has a five-position pickup switch that gives the T5 a staggering range of sounds, from intimate acoustic to cutting, electric Strat. Watch for Mike, Bryan and the T5 on Taylor Acoustic Guitar clinics in March.