2007 Mike Keneally Photos


Dëthkløk devours UCLA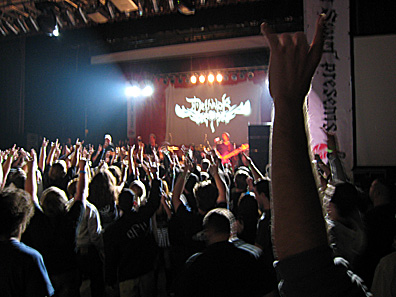 WESTWOOD, CA, November 1, 2007: Heralded by hundreds of chanting, moshing devotees, Mike Keneally and Bryan Beller performed as half of the mythical, somewhat satirical, speedmetal juggernaut Dëthkløk at UCLA's Ackerman Ballroom. The live band, also consisting of creator/guitarist/lead vocalist Brendon Small and drummer Gene Hoglan, performed in perfect sync with their animated counterparts in this 52-minute high-tech shredfest that hurls the Cartoon Network Adult Swim's Metalocalypse show at the metal-hungry masses.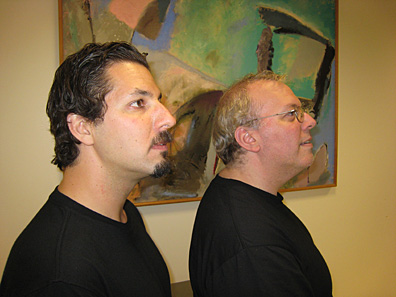 Bryan and Mike get into character backstage before their Southern California Dëthkløk debut.
Mike Keneally and Ed Mann in Budapest

BUDAPEST, HUNGARY, October 13, 2007: Mike and fellow Zappa alumni Ed Mann headlined a rousing tribute to FZ before an expectantly packed house as a part of Budapest's Autumn Festival. Above, Mike (on guitar at left), improvising percussionist/composer Mann (center) and conductor/arranger Tom Trapp (middle right) perform with the very worthy Modern Art Orchestra.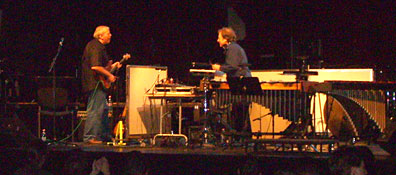 Mike and Ed during their partly improvised duet performance.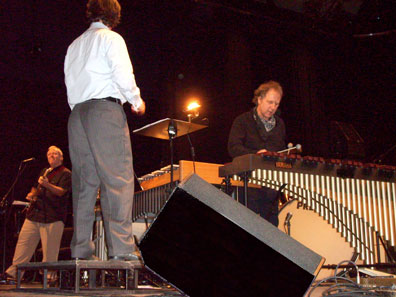 Mike, conductor Tom and Ed playing with the Modern Art Orchestra during the evening's climax. (Photos by Pieter van Hoogdalem)
Alva's rehearsal "Room"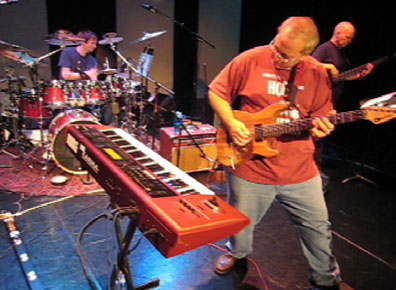 SAN PEDRO, CA, September 22, 2007: During the sound check before their sold-out concert at the intimate Alva's, Mike and the band ran through a new band arrangement of "Room," from his 2004 orchestral album The Universe Will Provide. A streaming movie of the rehearsal is here, if you please.
The band also premiered a new song, "Hallmark," from Mike's upcoming album project, Scambot, with Mike on grand piano. You gotta be there next time Mike Keneally Band plays Alva's; seriously.
MK opens Offside with an outdoor treat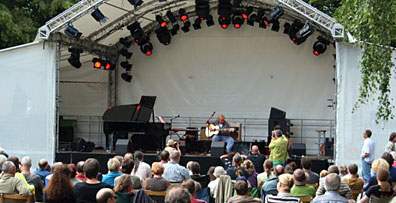 GELDERN, GERMANY, August 18, 2007: Mike's first European solo concert was presented, fittingly, at the debut of Burkhard Hennen's Offside Open International New Music Festival, in a delightful outdoor summer environment. The 70-minute performance saw Mike employing guitars and piano, sometimes simultaneously. In addition to a few Keneally catalog gems not often played, Mike previewed some music from his upcoming Scambot project. Thanks to Co de Kloet and NPS' Studio 6 radio for inviting Mike to play. (Top photo by Paul Berkholst, bottom photo by Pieter van Hoogdalem)
I'm on a Netherlands Radio
HILVERSUM, THE NETHERLANDS, August 17, 2007: Mike was invited by Studio 6 radio presenter and longtime friend Co de Kloet (left) to spend a few hours on the radio before Mike's first solo concert performance in Europe the next day at the Offside Open Festival in Geldern, Germany. (Photo by Paul Berkholst)
MKB radiates in ambrosial new venue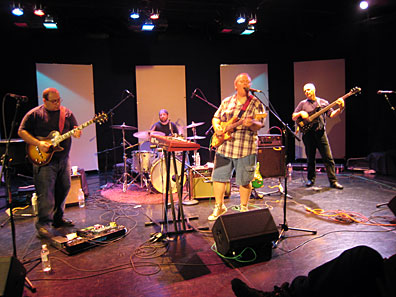 SAN PEDRO, CA, July 5, 2007: The Mike Keneally Band and its fans found a sweet new venue in the Rosalie & Alva Performance Gallery, by day a dance studio and by night an intimate, acoustically transparent oasis where good music is celebrated. Alva's was recommended to Mike by our über-drummer pal Marco Minnemann. There's only seating for 60 people, so a very memorable night is virtually guaranteed. MKB hopes to perform there again some time soon.
Keneally/Holdsworth San Diego Summit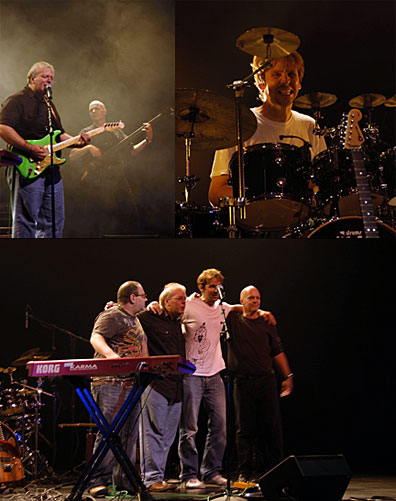 SAN DIEGO, CA, June 29, 2007: A great night of music was experienced by the crowd at the Birch North Park Theatre as the Mike Keneally Band and the Allan Holdsworth Band paired for the first (and hopefully not the last) time. Above, (clockwise, from upper left) Mike and bassist Doug Lunn, drummer Marco Minnemann, and guitarist Rick Musallam, Mike, Marco and Doug take a bow after their performance. Below, Mike and Allan greet audience members after the concert. (Top photos by Brian Ross)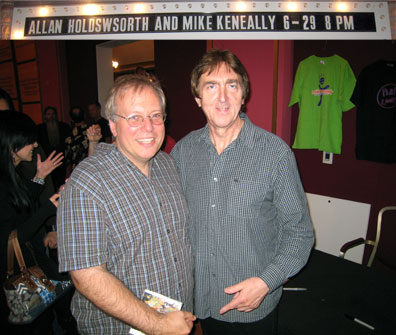 Umphrey's McGee Meets Mike Keneally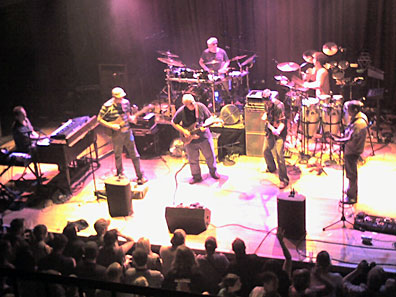 SAN DIEGO, CA, June 14, 2007: Mike (third from left) was invited onstage to join the band for a few songs during famed jam band Umphrey's McGee's tour-ending concert at the House of Blues. It was a spontaneous, incendiary night of music as Mike travelled from keyboards to guitar to bass, with the crowd enthusiastically cheering his and Umphrey's every move.
FINALLY!
LEUCADIA, CA, April 24, 2007: Mike settles in to autograph and number hundreds of copies of the hat. and Boil That Dust Speck Special Editions, which have just arrived from the pressing plant. The limited edition CD/DVD sets are now shipping. Mike and Scott want to thank everyone who pre-ordered these titles for their patience-- they couldn't be happier about how these reissues turned out, and they hope you'll feel the same way.
One Helluva Time in Anaheim
ANAHEIM, CA, January 19, 2007: Mike and Bryan romped through an acoustic set for the crowd at the Taylor Guitars booth during the NAMM convention. Mike picked this new Taylor GS off the display wall just before the show and Bryan got reacquainted with the same T5 bass prototype he played during last fall's midwest Taylor tour with Mike.
Old Hat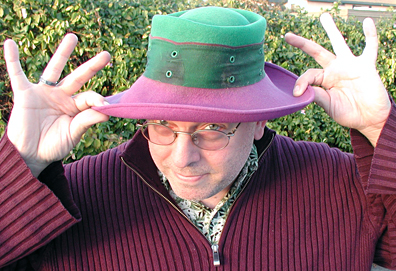 LEUCADIA, CA, January 8, 2007: Mike took a break from an afternoon editing the hat. and Boil That Dust Speck bonus DVDs with director Dave Foster to try on an old icon, providing a not-so-subtle reminder that they are finally available! We think you'll like them a lot; oh yes we do.