It's
MK/BFD WNHTH 2.0 Tour Pix Page Three!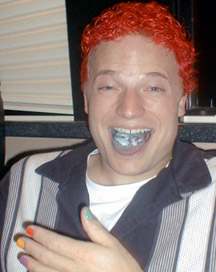 Back by popular demand, aging Catskills comic Jason Shecky Smith reprises some of the shtick that kept 'em rolling in the aisles way back when.
---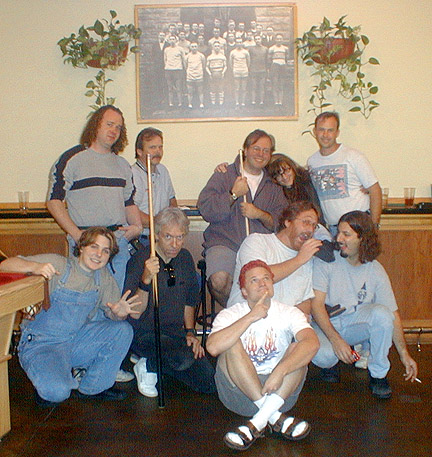 Lucky Lexington, Kentucky was the site of The First Annual Beer For Dolphins Halloween Invitational 8-Ball Tournament. Survivors include (clockwise, from top) morose, moody Marc Ziegenhagen; game-throwing Amos Bolton The Cool Tour Bus Driver; much-adored champ Michael Joseph Keneally; much-adoring Cami Slotkin; barely vertical Dennis Hill; incredulous, carpet-igniting Bryan Beller; shoe-chewing interloper Scott Chatfield; trying-to-think-of-a-new-word-for-"fart" Jason Harrison Smith; hypnotically powerful übermench Thomas Nordegg; and the effervescent Billy Bob "Have I Told You That I'm Having A Great Time Yet?" Phelps.
---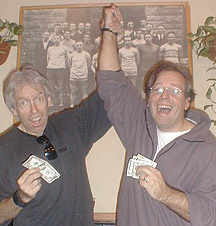 Runner-up Thomas and winner Mike feign joy and excitement during the farcical, bitterly hollow post-tourney awards ceremony.
---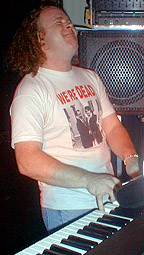 That night, Marc not only wowed 'em with his Elvis n' Tricky Dick Halloween T-shirt costume, he performed admirably and spiritedly on keyboards and vocals!
---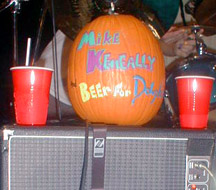 A gaily decorated pumpkin like, sits in.
---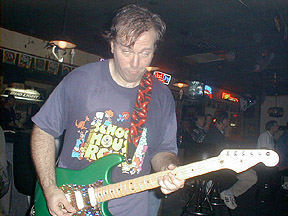 A perfectly sober Keneally stumbles aimlessly around Hemmingway's in search of true love during the climactic "Inca Roads" solo.
---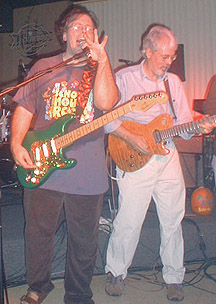 Mike and congenial Lexington host Jim Gleason of the famed Johnson Brothers were part of the magnificent ensemble that became Beer For Johnsons, covering Beatles, Led Zeppelin and Allman Brothers tunes until the cops busted up the joint. You haven't lived until you've heard Mike fake the words to "Good Times Bad Times."
---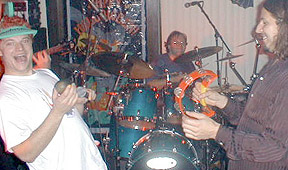 Jason, Mike and Bryan provide appropriate psychedelic percussion on Beer For Johnsons' unrehearsed, mind-blowing end-of-night "I Am The Walrus" jam.
---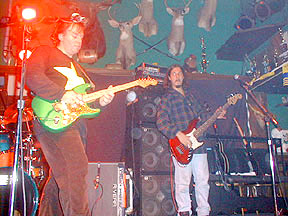 If you get that eerie feeling that you're being watched by a dozen decapitated deer and myriad mounted mooses, it must be the Club Tavern in Madison, Wisconsin, on Monday, November 2, 1998.
---
After the gig, what better way to unwind than with a nice Safe Sex BFD Orgy® in dairyland?
---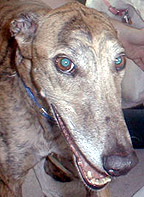 Guest Host Brad Dahl was the model of hospitality and enthusiasm when he greeted the band at the door of his expansive Salt Lake City residence on Thursday, November 5.
---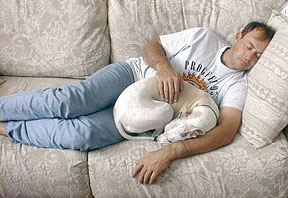 Horizontal Dennis Hill's one dog night.
---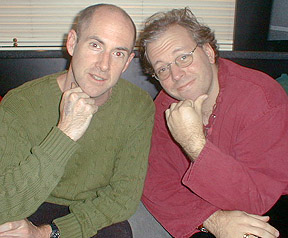 Fellow Mistake Henry Kaiser dropped by the San Francisco show on Thursday, November 12, to give Mike a much-needed foot massage and teach him how to pose thoughtfully.
---

Mighty fine artistic human atticus wolrab compiled this lively collage from his video documentary of the November 12 San Francisco show. Some experts contend that, much like hieroglyphics, these images tell a frightening musical tale.
---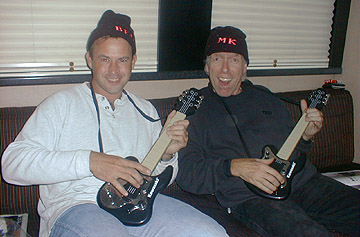 MK/BFD fans know about Led Motard opening for BFD, but who opens for Led Motard? Why, the Hill/Nordegg Experience, that's who.
---