It's The
MK/BFD Tour Pix Page III!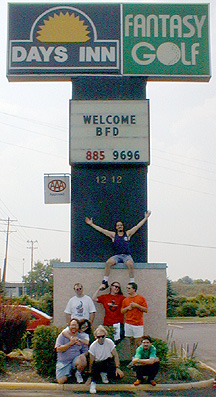 Bitchin' Mitch comped us a buncha rooms at his North Columbus Days Inn. When we wearily drove up just as dawn was breaking at 6am after the Charleston, WV gig, we were greeted by Mitch's Marquee. He's so bitchin'.
---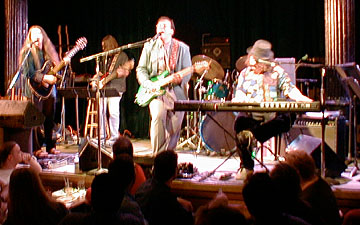 BFD opened for mega-niceguy Ed Palermo's outstanding Big Band at Manhattan's legendary Bottom Line Friday, August 14. We had...fun.
---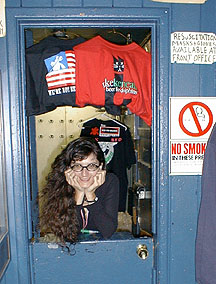 At the Bottom Line, Cami was forced to vend BFD merchandise from a small closet about the size of a small closet. Using guile and psychic energy, she lured enough victims into her capitalistic trap to ensure that the band would eat the next day.
---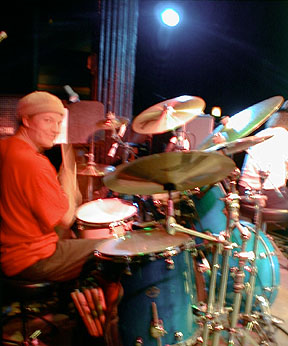 Jason Harrison Smith at the Bottom Line, ladies and gentlemen. He's so bitchin'.
---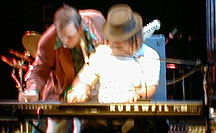 Due to stage setup constraints, Mike doubled Marc's "Inca Roads" solo on the same keyboard, which unexpectedly turned out to have great entertainment value. Marc didn't mind sharing. He's so bitchin'.
---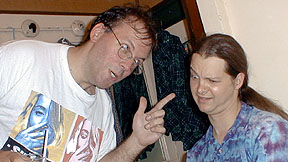 Now that Bob Tedde, he's another story. Hey, are you in the band or not, Bob? Oops, I guess not. Here, Mike fires his ass after the first show.
---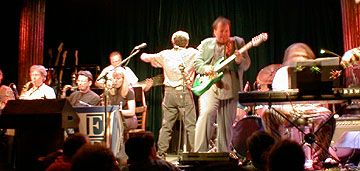 Sacking ol' Bob Tedde was just the ticket to put Mike in a grand mood for fronting Palermo's posse. Big band arrangements of "There Have Been Bad Moments" and "Frang Tang, The Valentine Bear" were truly gorgeous. Ed Palermo. He's so bitchin'.
---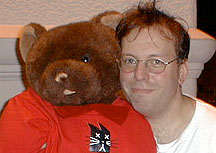 Surprising Mike outside the club before the second show was none other than a strung-out, spare change-grubbing Frang himself. After this photo was shot, Mike gifted FT with the rest of his beer. He's so bitchin'.
---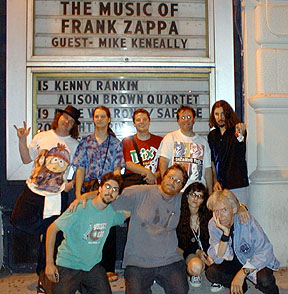 The obligatory Full Monte band n' crew shot. (Back row, l. to r.) Marc Ziegenhagen, the just-fired Bob Tedde, Jason Harrison Smith, Mikey n' Bryan Beller. (Kenealling, l. to r.) J, a drool-caked Scott Chatfield, Cami Slotkin n' Thomas Nordegg.
---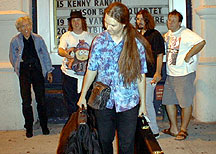 Mike gently reminded Bob Tedde that since he wasn't in the band anymore, he should get the hell out of the band photo. But we have a feeling he'll be back, 'cause he's so bitchin'.
---