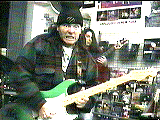 This page contains many downloadable audio and video files (some are very large - look before you click) and one very bad tasteless joke.
Playin' Real Good For Free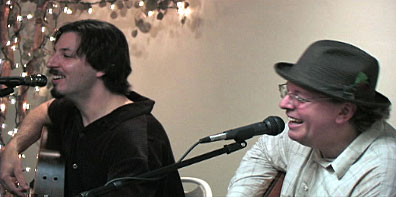 CARLSBAD, CA, March 5, 2005: Mike and Bryan were invited to celebrate The Museum Of Making Music's fifth anniversary with a free concert (co-sponsored by our friends at Taylor Guitars) that headlined a very diverse day of entertainment. One of the highlights was a playful rendition of "Lightnin' Roy" from Mike's hat. CD. This QuickTime video clip was edited by Nick Conedera and photographed by Steve Laub, Dave Foster and Conedera.
Wes Nails 'My Dilemma' With Mike and Band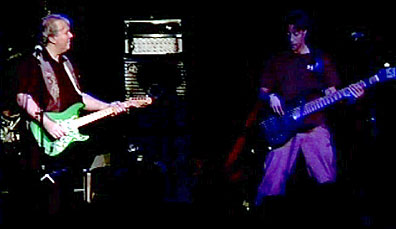 Howdy everybody on Friday evening, February 18, 2005. Happy Valentine's Day (a little late, sorry). This is Mike Keneally and it's my pleasure to present this QuickTime video clip from the December 15, 2004 show at the Belly-Up, featuring our dear friend Wes Wehmiller on bass. The track is "My Dilemma" and Wes rips it up.
We all miss Wes, and I thank him like crazy for playing my music so beautifully. Wes was a perfectly beautiful person and I predict great things for his spirit in the future, because the universe smiles on rockin' mofos and Wes surely was one. Please visit bryanbeller.com for more about Wes, and we send our love to everyone we met at Wes' memorial celebration (especially the amazing John and Paula). (Video by Dave Foster)
I, Keneally, Am Keyboard Bound

LEUCADIA, CA, February 16, 2005: Mike warmed up for a day of business and demo recording by trotting over to the venerable Exo-piano for a spontaneous rendition of his 1996 composition, "I, Drum-Running, Am Clapboard Bound." Wanna see a streaming QuickTime movie of it?
Acoustic Rehearsal Video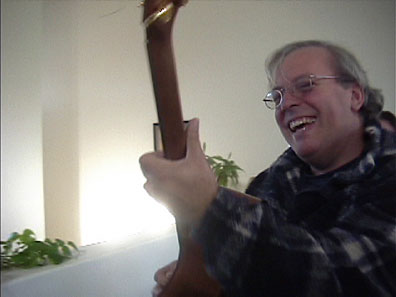 LEUCADIA, CA, December 1, 2004: Mike and Rick Musallam rehearsed in the living room for their well-received acoustic show at Lestat's in San Diego. This Real Media video clip will show you how that went, okay? Next stop is the Belly Up Tavern in Solana Beach, CA on December 15.
All's Fair In The Street

San Diego, CA, September 28, 2002: (l to r) Rick, Nick, Mike and Bryan headlined the free, all-ages Adams Avenue Street Fair on a crisp September Saturday night. An appreciative crowd experienced the band reach great heights with old and new material, along with a preview of their ProgWest performance of Kevin Gilbert's "The Shaming of the True." Hey! Got a high-speed connection? Here's a 14:33 RealMedia clip of MKB's epic rendition of a new song, "L'il."
Summer Magic At Victor's

San Diego, CA, August 24, 2002: (l to r) Rick, Nick, Mike and Bryan played two memorable sets, one electric and one acoustic, outdoors at Victor's beside the golf course. It was a beautiful, you-had-to-be-there evening, musically and weather-wise. Many new songs were performed during this special occasion, a glimpse of which can be experienced in this 13:45 Real Media clip of the unreleased "Pride Is A Sin," along with "Knife and Drum" and an acoustic "Lhai Sal."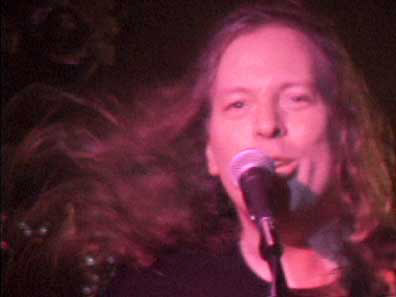 MKB in Fine Form at Paladino's
Mike Keneally Band made its Tarzana, CA, debut at Paladino's Saturday, May 4, 2002, turning in a crisp, inspired set that had many in the crowd recalling the raging BFD vibe of '96. Got a high-speed internet connection? Here's a nearly 10-minute RealVideo taste of the show featuring "Hum" and "'Cause of Breakfast." Opening the show was Which One's Pink?, who delivered an addictively entertaining tribute to Floyd.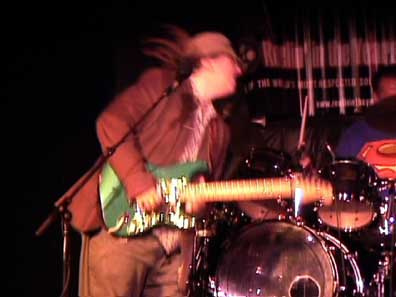 Jammin' For Jimi
Despite a first note that decimated his high E string and a chronically out-of-tune replacement guitar, Mike did right by Jimi at the Second Annual Hendrix Celebration in San Diego Friday, March 29. A packed house experienced him perform "Freedom," "Power To Love" and "Angel" with drummer Larry Grano, bassist Rick Nash and vocalist/guitarist Mark DeCerbo. Here's a fully rocking 11-and-a-half-minute RealPlayer video clip for high-speed connectees.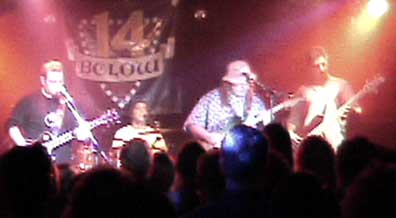 Mike Keneally Band at 14 Below
Check out a steaming, streaming RealVideo excerpt of MK's February 16, 2002 gig at 14 Below in Santa Monica, California.
---

Guaranteed fun is in store with a QuickTime movie featuring 33 seconds of Mike and Beer For Dolphins ripping holes in the space/time continuum at a Friday, December 16, 1994 Los Angeles in-store appearance. Considerable download time will most certainly be involved! Okay? Still want to download it? Then click on Mike.
---
If you'd prefer a three-second, 528k sample QuickTime movie to whet your appetite, click on this here

Tiny Mike.
---
While you're downloading, you might be interested to know that the clip is an excerpt from a song featured on Mike's first CD, hat., called "Performing Miracles." Toss Panos is playing drums and the bassist is Bryan Beller. Like John Lennon, the video was shot by a fan. The record store is called "Heavy Rotation." If you think 4.7 MB is a mambo-sized file, please be reminded that the original uncompressed clip was 50 MB!

When downloading is complete, it could be fun to quaff a fine beverage and set your QuickTime player to "Loop" or "Loop Back and Forth" for continuous ecstacy.
---

The Nose Grows. Here's where you can download a 286k QuickTime movie of Keneally's nose caught in the act of unbridled expansion. Note: If the awakening of a fully engorged, tight and vibratingly tumescent proboscis disturbs or offends you, perhaps you should visit Vampire Boy; he might be more your speed.
---
QuickTime is available free from Apple for Windows as well as Macintosh, you know.
---
Mike's Sights n' Sounds: Sounds

Wood Chips
(Two minutes and twelve seconds from "Wooden Smoke")
©2001 Exowax Recordings, Spen Music, BMI


Take the Nonkertour
(a fleeting moment with each of the new solo album's 35 chapters)
©1999 Exowax Recordings, Spen Music, BMI

Ron Spiegelhalter has culled a bunch of MK/BFD .wav sound files (ranging in size from 41k to 220k) that can replace the standard Gates-ian alert tones on yer PC:
---

Dig SlugFest, a sort-of brief Bizarro Sluggo! consisting of slices from rough mixes of Mike's latest opus. It's a 164k Real Audio sound file that runs 1:24.
(©1997, Mike Keneally)
---

The Drawer Of Grin Theme Song! It's a wistful little 18-second, 138k sun-au sound file written and performed by Mike and Scott. Suitable for listening to while perusing Drawer Of Grin, Mike's archival stash o' adolescent anti-hits.
(©1995, Moosetoons)
---

Wanna whiff o' "Sluggo!"? Experts recommend "Sluggo!-matic," a 2:03 collage of random bits extracted against their will from each of the album's 16 tracks. It's Real Audio, available as 28.8k mono (255k) or glorious ISDN stereo (1,254k).
(Excerpts ©1998, Immune Records, Spen Music, BMI)
---

"Speck Check," a 136.8-second free fall through each and every track on Mike's second album, Boil That Dust Speck. It's downloadable as a 3.2 mb stereo MP2 file or a 1 mb mono sun-au file.
(Excerpts ©1994, Immune Records, Spen Music, BMI)
---

"Hat Check," a 92.8-second rollercoaster ride through every track on Mike's first album, hat.. It's downloadable as a 2.1 mb stereo MP2 file or a 725k mono sun-au file.
(Excerpts ©1992, Immune Records, Spen Music, BMI)
---

A one-minute excerpt from a rough mix of "Baby Blues" by The Mistakes: Mike, Henry Kaiser, Prarie Prince and Andy West. You may choose to download it as a 1.4 mb stereo MP2 file or a 481k mono sun-au file. The same phoned-in cameo by The Baby Jesse (TM) as heard below serves as the basis for this song.
(Excerpt ©1995, Immune Records, Spen Music, BMI)
---

A pert New Year's greeting from Mike with a phoned-in cameo by The Baby Jesse (TM). This is a 74k sun-au sound file.
---

"Foot," a lil' ditty spontaneously composed to explain a heinous rupture in Scott's living room ceiling. Here, it is performed a capella by Mike and Scott. It's a tiny Real Audio sound file that simply begs for a refrain. Hey, why don't you write one, record yourself singing it, and send the file back to us at "scott@moosenet.com"? Maybe we'll post your version here next!
(©1995, Moosetoons)

Hey! That's exactly what Toby Graves did! Here's "Foot, Pt. 2," containing Toby's splendid addendum. It's still a tiny Real Audio sound file.
(©1995, 1997 Moosetoons n' Toby)
Beware-- you may end up like our friend Todd, who was seduced by the evil sound sample into IGNORING HIS CAPITALISTIC DUTIES! We'll let him tell the sordid tale:



























April 30, 1995

Dear Mike and Scott,

You're not going to believe this.

Last Thursday I downloaded the "Foot" song and played it.
One of my co-workers nearly strangled with laughter.  

It got passed around the office like wildfire.  

It was utterly ridiculous: at least seven of my co-workers
had the foot song playing in round-robin fashion. At strategic points
the office was treated to the refrain about the giant shoe crashing
through the roof.  


It went cross-platform: some were using PCs with soundcards,
some using Macs. It sounded a lot like "row-row-row your boat"
with cross rhythms and all.  

I played the sample on my fiancee's answering machine earlier
in the day. She was singing it all weekend. She called me at work
at the time that the "office foot competition" was happening and sang
the thing back to me, then with new lyrics (she's a trained singer
and recognized the obvious quality of the bit...)

Anyway, it was very odd that such a thing occurred and we felt you
should know the effect the piece had on an ordinary office.
Think about it, it spread like a virus.

Todd Madson 
<toddm@laserm.lmt.com>
 










Contents ©1994 - 2013 Obvious Moose (except where noted) and may not be reproduced without permission. All rights reserved.