Home
|
The Music
|
Mike
|
Facebook
|
RadioKeneally
|
Live Performances
|
Gallery
|
Links
|
Fans
|
Press Info
|
Store

Dancing Tour '01 Road Reports
(The latest entries are on top)
Tuesday, May 8, 2001 - Monday, May 14, 2001
The final performance of Mike Keneally & Beer For Dolphins' Dancing Tour '01 was capped by drummer Nick D'Virgilio's seductive yet deeply disturbing NickDance™ at The Bottom Line in New York City on Saturday, May 26. Despite Nick's display, the packed house throughly enjoyed the show, and the evening proved a fitting finale to an amazing adventure for band, crew and fans.
---
Mike Keneally & Beer For Dolphins performed Dancing's "Live In Japan" before a wildly appreciative audience at The Iron Horse Music Hall in Northampton, MA Friday night, May 25. This excellent venue with great sound was filled to the brim with Forheads old and new, who witnessed another unique, amazing performance.
---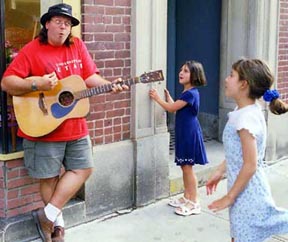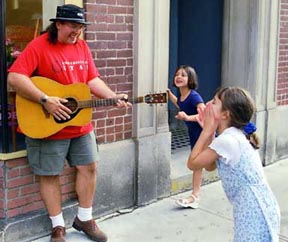 Mike serenaded Karen and Sonya Douglas with an impromptu request for "Apple Pie" outside The Iron Horse in Northampton, MA, before the show on May 25. Karen, age 5 1/2, (left) and Sonya, age 7 1/2, (right) are the daughters of intrepid Boston and Northampton Guest Host Brian Douglas, who snapped these photos.
---

There wasn't much room to move for band or audience at The Khyber in Philadelphia Thursday night, May 24, when Mike Keneally & Beer For Dolphins hit the stage. Despite the tight fit, Rick, Bryan, Mike, Nick (hidden), Evan, Tricia and Marc made it a memorable night.
---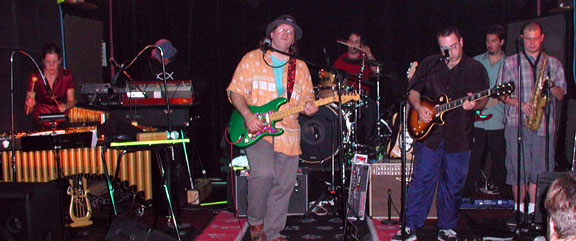 Tricia, Marc, Mike, Nick, Rick, Bryan and Evan decapitate the capacity crowd at Zig's in Alexandria, VA, on Wednesday, May 23.
---
HAPPY BIRTHDAY, TRICIA!
Just minutes into her 24th birthday, too-delightful BFD percussionist Tricia Williams was publicly caked onstage by her bandmates at The Empty Glass in Charleston, WV. Tricia will be spending her birthday travelling to Virginia for a Mike and Bryan Taylor Guitar Clinic on Tuesday and a BFD gig in Alexandria on Wednesday.
---
Nick n' Mike harmonize at the Robin Hood Inn in Kent, Ohio Saturday night, May 19.
Photo by Terry Weaver
An amazing welcome and an equally amazing show at a packed Martyr's in Chicago on Thursday, May 17, 2001! From left to right, it's Marc, Evan, Tricia, Mike, Nick, Bryan and Rick.
---
Nick D'Virgilio, Wednesday, May 16, 2001:
Well.....It's been just over a week for me being a dolphin. I always thought I would be a whale or a shark. Maybe a sea horse but now that I've been a dolphin I think I like it. I never thought eating so much raw fish would be so much fun. But seriously folks......I'm having a blast playing with this band. The level of musicianship surrounding me is astounding. It's really a pleasure to play music with all these extremely nice people. I've known Mike and Bryan for 6 or 7 years now and Rick is one of my best buds and I was always very interested in playing with the band if the chance ever came my way, and as God would have it that chance came and here I am. I do admit I was a little worried if I could actually pull this gig off. Mike has had alot of really amazing drummers play for him and I doubted myself a little. But I'm not one to not take on a challenge and getting and doing well in this gig was and is a great challenge for me. I'm very happy to be here. I get to rock, I get to swing, I get to funk out, improve, solo and listen to really great great music. FULLY AND TOTALLY RULING I SAY!!!! Peace, Nick D.
---
Ike Willis, Mike Keneally and Andre Cholmondeley got together for a rousing set at The Galaxy in St. Louis on Thursday, May 17, 2001.
---
THE FOLZ FAMILY BAR-B-QUE
Before MK/BFD's gig at The Barrel House, the family of Cincinnati Guest Host Mike Holz invited Mike and the band to a sumptuous bar-b-que at the home of Mike Holz's brother Pat and his wife, Mary. The generous and friendly folks provided a most welcome break and re-connection to reality for all in the entourage. Many, many thanks!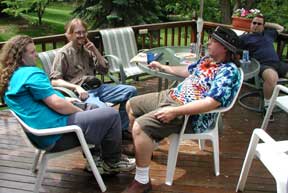 "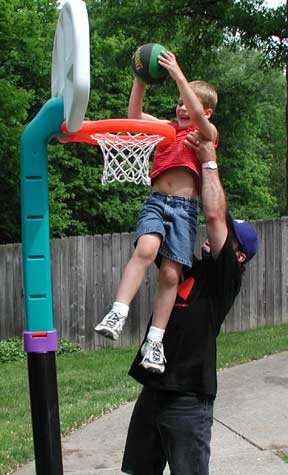 ---
Mike Keneally Tuesday, May 15 2001, 3:25:04 AM Cincinnati (actually our hotel's in Kentucky)
I haven't written a missive since Albany - I can't believe how fast the time flies. It's already three gigs and a clinic since then. These kids today with their flying time!
I didn't mention in the first missive that only 44 people paid to see us in Albany. Not the most auspicious way to begin a tour of this magnitude and thankfully things have improved since then. The following night at Johnny D's in Boston the stage may have been undersized but the crowd was large and rollicking. We had about fifteen great friends show up to help with the load-in - anyone who meets us on the road to help us bring in or out gear is an absolute king or queen of life and a special place in heaven is reserved for you, with free movies and catering. Thank!


Before the tour started we all had talks about trying to keep the shows to reasonable running time, the thinking being that we would present a more effective show if we struck with great force and effectiveness and then got off the stage. With this in mind we tore into what was supposed to be a 90-minute set at Johnny D's and I was thrilled with it - more fiery and chilling than Albany from where I was standing. Towards the end of the set Scott came up to me to say that we were supposed to do two sets after all. So much for the concise thing. The second set was probably better than the first and the audience didn't appear to be upset that we played for such a long time. (Beller's got the setlists for all the gigs in his room and it's too late to bother him for them, but I'll post them in the next missive.) Thank you to our fit and friendly Boston guest host, Brian Douglas (and I forgot to thank our Albany GH, David Bokor, in the last missive - thanks David!).
Next was Providence, RI, and your humble narrator is felled by road throat. Of course this is the gig which is being streamed live at Digital Club Network and is to be archived for all eternity. Tune in, stream it down and dig my Vegas throat. Still it was a lively and scrappy show, even if plagued by dark spells - a few bars into the opening number and I look down to find a note from Stacy that I'm standing in the dark and can I back up a bit? Of course if I do that I'll be too far away from my pedal board and vocal mic. Watch the show on dcn.com and you'll see Scott and Thomas scrambling to push my accoutrements back a bit so that the light will hit me. During the second set the lights go out entirely for a few bars. A guy named Steve provides some interesting commentary from the crowd at this show. He's very enthusiastic! I appreciate that. Three shows and the band is gaining momentum - still rough spots for sure, and we're probably too loud (Evan would definitely agree with this, he doesn't like having to overblow in order to hear himself and I sure don't like him having to do that either. Tricia also has trouble hearing herself sometime. We need to find the balance between aggression and tenderness, between sensitivity and satori, between nothingness and eternity, Samsonite and Delilah, Delilah and Tom Jones, Albert Finney and Karen Finley, chocolate sauce and cranberry sauce, I'm very bored and I buried Paul, I'm awfully sorry about all this). Big thanks to John Waddington for superb guest hosting, including flying in from Cleveland and going straight to our hotel to collect our keys before the front office closes and passing out in the one of the rooms until we arrive to get the keys from him, and only THEN finally going to his home. And big thanks to Liz Waddington for filling the fridges in our rooms with bagels and cream cheese and yogurt and apples and juice! Such overwhelming generosity and kindness greets us on the road. God! We love you people so much!
New York City. Just like I pictured it. Skyscrapers and everything! (This recitation from "Living In The City" tends to be recited by me ad infinitum everytime I go to NYC. It's probably pretty annoying.) I was really tired when we got to the Bottom Line and I went down for a nap in the dressing room while the gear was being set up. Evan's practicing from the other dressing room worked their way into my dreams and became my own dream guitar lines and I woke up smiling. Somewhere during the second set at the Bottom Line we hit our stride for real. The first set is great but hobbled by me stamping down too enthusiastically on my pedalboard during the "We'll Be Right Back" solo (I was REALLY enjoying myself right then too, sob) and crippling my volume pedal. We get behind the show and whack it with a stick and it crawls over the finish line, the audience is very sweet. Talking to people before the second show (MANY of the audience saw both shows, I love that) they thought the first show was great and fine but I knew the second one would be better. And then I saw the Mahavishnu Project do their second set of the night and I was riveted, rocked, moved, pounded into ecstatic oblivion (so was Marc Z - we couldn't TAKE it, they sounded so great), and I got that rush, that burn, that voracious desire to get on stage and make something happen, I got the craving really hard, harder than I had yet during the tour. And we got on stage and made it happen, the second set at the Bottom Line was where this band really flowered. And the audience were absolutely wonderful, I was extremely moved by the loving support of the ovation at the end - it really felt like a standing ovation not just in appreciation of the show but of all we're trying to accomplish out here, a show of real support for all of our efforts. It was a strong, strong thing. A fantastic night. I can't wait to get back on stage with the band tonight at the Barrelhouse. I'm falling more in love with what this band can do with every show. Roy Berkowitz, our New York Guest Host buddy, really got the word out about this show and the place was packed for both shows, including loads and loads of our best friends and family (including my elementary school friend Paul Hallasy who I hadn't seen for about thirty years - he and I used to make up new words to Beatles songs in third grade and sing them for the whole class. He's an author and stand-up comic now). Thank you for everything Roy and Janey (I hope I spelled your name right, hon)!! And molto grazi (sp?) to Ed Palermo for guesting on "Mexican Radio" and "Self 'n' Other." This tour is already bringing me much joy.
A long drive to Cincinnati/Kentucky for which I was behind the wheel for about nine hours and really enjoying it. Then I was on a sports radio trivia quiz show hosted by Gary Burbank on Monday afternoon in Cincinnati, and I had a great time. I got to play a few licks, make a few jokes, plug our gigs and fool around on the radio, always a fun thing. Then fabulously attentive and generous Guest Host Michael Folz took me to Shake It! Records where he bought me the new Downbeat with Miles on the cover, and on to our first Taylor clinic of the tour at the Cincinnati Guitar Center. Doug and Sheryl are here with Sheryl full of baby and a note on her tummy reading "Keneally Fan Under Construction," SO sweet. Sheryl earns the first request of the evening and gets "Rosemary Girl," the least we could do for you, sweetheart. I'm missing Jesse and I request "I'm Afraid," and the request is granted. Nice to return to the acoustic Beller/Keneally format after a few weeks away. I had a great time and my voice, after still being a bit rough in NYC, seems to be well on its way to full recovery. Yay!
Yay! I'm going to sleep with Creme & Godley's "Consequences" in my ears! Last night it was "Shaved Fish," man I love the guitar playing on "Cold Turkey" and everything else about that song and "Instant Karma" and "Mother." Great music.
Thank you to Bryan and Evan for helping me do my laundry today.
See a bunch of you at the Barrel House tonight?
Mike K.
---
Contents ©1994 - 2013 Obvious Moose (except where noted) and may not be reproduced without permission. All rights reserved.