Home
|
The Music
|
Mike
|
Facebook
|
RadioKeneally
|
Live Performances
|
Gallery
|
Links
|
Fans
|
Press Info
|
Store

Dancing Tour '01 Road Reports
(The latest entries are on top)
Tuesday, May 8, 2001 - Monday, May 14, 2001
Tuesday, May 15, 2001 - Saturday, May 26, 2001
Stacey Ferguson Tour Missive
June 24, 2001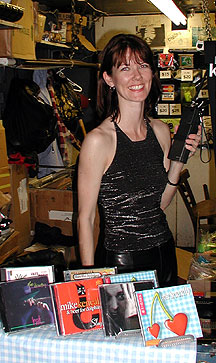 I was so crazy / busy/ stressed during the tour, I never had time to get this posted! It was stuck on Bryan's laptop for weeks! So forgive the length, but I wanted to share my thoughts….

Flashback: May 16, 2001, 3:00 pm – Driving to St. Louis in the Smokemobile with Nick and Marc (who's asleep) listening to Kevin Gilbert's "The Shaming of the True":

Well, the rumors are true: when touring with a band, you see the car , the venue, and the hotel. On a lucky day you might get to see some landmarks (the St. Louis Arch, Red's Stadium, Twin Towers, and the lovely high-rises of the Bronx), but it's generally enjoying the beauty of grass, trees, the back of the Penske truck, and the backs of your eyelids (if you're REALLY lucky).

Despite the fact we're traveling with a bunch of guys, Tricia and I are keeping each other sane and having a blast. We're getting teased a lot because we're both getting to visit with "our people" and our twangs are entertaining to all. But we're all finding out things about each other that could be blackmail material, aren't we? (evil smile <blink blink>) . Every now and then I get to play Truck Driver; that's when we escape from the testosterone-filled cars and get to talk about baskets and flowers and bunnies. You know, all the things girls always talk about.

All the people I've met on this tour are truly restoring my faith in humanity; there are so many wonderfully sweet fans out there! Being in charge of the merchandise, I get to meet a lot of you and I have to say I'm loving every minute. The topper, though, was yesterday Michael Folz' family hosted a barbeque for us. Besides the ton of wonderful food, the band and crew actually got to take time to hang out as friends and we got to spend time with Michael and his sweet family. The best part for me, of course, was Gracie, Sammy, Pete and Sam—the ones who were under 10. Gracie and Sammy took me on an adventure out in the woods behind their house and we found treasures. 'Nuff said; I'm sworn to secrecy regarding any knowledge of the clubhouse.

The shows are going great; they never fail to blow my mind with the musical genius that comes from the stage. It's so amazing that these people are both incredible musicians and incredible human beings. Scott has a mind-blowingly difficult job that he's on top of and I, for one, am impressed. Despite the curveballs that the nature of this business throws at him, his spirits are still high. Nick is a natural dolphin; we're so lucky to have him, and his car dance, along for the ride. No one shares the grass-between-the-toes with me better than Evan.(Thanks for shaving your head.) Rick, one of my closest friends, is a never-ending pleasure to be with. Marc's wacky sense of humor keeps us all smiling. Bryan kicks butt at managing the stage, the routes, and everyone's funny bones. Mike never stops at being the loving entertainer and comic. I'll say it again: I love his use of the English language!! Dennis and Thomas are just a blessing to have around, for the tech in them and the wonderful spirits they are. And Tricia, you, girl, are the best!!! I feel very blessed to be a part of this whole operation.

Present Day, June 24, 2000:

Now that life is back to normal (almost) and everyone's moved into our new homes (what 3, 4 of us?), I have a moment to write about the final week on the road with the Taylor Clinics.

Although we missed having our friends along, the four of us (Dennis, Mike, Bryan and myself) had a great run. Starting out at Casa Beller was… well, words can't describe. Renewing, I guess. Bryan's parents and grandfather were just delights to be around (that BREAKFAST!!!). And we got the honor of visiting the home of Roy and Jodi Berkowitz and their 3 beautiful children. We saw some incredible scenery (going through Utah was amazing), visited with some wonderful people (you guys rock!!! And Tommy, how sweet you and your wife were in Independence!), and got the pleasure of staying with Brad, Shelly, Larry, Marilyn, and Emily Dahl (the last three being VERY sweet dogs). With every restaurant we stopped in, we seemed to get more rambunctious – Hays, Kansas will never again set out creamers for Mike Keneally (think: popping a zit) – and the truck stop in Colorado introduced Bryan to, supposedly, the only two men in the country who aren't communist. I wished I had popcorn for that entertaining conversation.

Dennis was not only a great companion, he was super-handy and demonstrated super-human driving talent.
I was so happy to spend QT with Mike and get to see even more of the wonderful being he is.
Bryan, well, we didn't kill each other. We instead discovered a friendship that is real.

Before I close, I have to share a couple quotes I collected:

"How does that happen?" "They have stuff." -- Evan and Mike discussing the webcast.

"Sometimes this is not the West Coast." -- Bryan as we're driving through New York.

"Pickles make the world go 'round" -- Tricia

And my favorites:
"Always be happy" "Always now" and "If it were any better, I couldn't take it.." -- Thomas Nordegg, Velcro King

Beer For Dolphins, Dolphin Friends and Forheads, there's no one in the world like you. Thank you for everything.


"I love this band!!"
--Stacey Ferguson
Merch Monkey, Merch Matrix

---
MK Tour Missive
11:32:26 PM May 31, 2001
Bridgeton, MO
Red Roof Inn Rm. 226

Dennis is watching a movie on TV and a bunch of people are getting shot. In the movie on TV, is what I'm saying. It's not like there's actual mass carnage in the room here. I swear I wouldn't be sitting here typing if there were loads of people getting shot in the room. I'd hide or I'd yell, "stop shooting those people!" Yay, because Dennis changed the channel. Yes, Rob Schneider on "Politically Incorrect" is indeed preferable to huge stacks of people getting shot. The older I get the more bothered I am by death for entertainment. I'm such an old softie. I always imagine the fictional families the fictional killed people are leaving behind and it bums me out. What can I say.

Remember when I wrote that last missive and I said I'd be back soon with a bunch of set lists? Aren't I a funny guy? Sorry I haven't done that, but I guess it's pretty academic at this point because Marc Z told me last night that some of you have been posting the set lists on your websites along with massively detailed comments on each of the songs, which is completely awesome and I can't wait to check it out and it saves me a lot of trouble, especially since the original handwritten setlists (which Beller saves) don't reflect the inevitable changes in the actual performances, which I haven't been keeping track of. I don't know how often we actually stuck to the set list on this tour, but I know it wasn't constantly. So thanks very much to those of you who've been documenting the tour so diligently. This tired traveler is very grateful for the assistance!

The MK/BFD tour is over, seemingly in the blink of an eye. Beller and I are three shows into the Taylor clinic closing phase of the tour. Our swarming entourage of eleven has been downsized to a sleek effective foursome (me, Beller, Stacey and Dennis). The BFD tour was a wonderful and tantalizing research and development process. We're just shows dancing on the tip of the iceberg, but there were many, many wonderful moments in the shows and the audiences were just absolutely amazing. Such fantastic people you all are, and how happy you make us with your enthusiasm and devotion. Seriously huge thank you to you!!!

In one way or another just about all of the BFD gigs on this tour were special and worthy. I'm happy about every single gig we just did. My memories about specific gigs are not as sharp as other minds are about any number of things. But I look forward to getting some time to go online and read other peoples' reflections on the shows – I know my memory will be jogged and I'll be motivated to engage in conversations on the newsgroup and stuff.

I'm dually delighted both by how cool my band is and how moving and heartfelt the support of the audience is. I look forward to further live work with this band and to the next projects we undertake. I do feel that this tour was a transitional one and that we're going to apply the lessons learned over the last few weeks in a very productive way to the next project, whatever it is. Even given the endless difficulties and potential tensions involved in mounting a tour like this, we were usually able to relax on stage and allow the right things to happen musically. A lot of great things happened and we made a lot of progress in a short time. Many people were very moved by the shows and were kind enough to tell me so. This makes me so darned happy it's ridiculous.

And now Beller and I are having a really good time with the duo acoustic format and some really good playing is going on. These clinics are great fun and I hope you get a chance to check one out sometime. Thanks again to Taylor for asking us to do these.

And thanks again to Greg Kucharo without whom there would not have been a BFD tour, plain and simple. Thank you so much, Greg.

For some reason the song from the BFD tour which sticks out most in my brain is the "Selfish Otter" from the Khyber in Philly. I just remember it being really cool. That was a fun day, earlier that day I did a real quick recording session for my friend John Ferenzik, a terrifically creative guy who you probably know from his many recent tours with Todd Rundgren (he's been playing guitar and keys with Todd for a few years now). And Kasim Sulton came to see us play at the Bottom Line! Spiegelhalter was practically speechless after meeting Kasim; that was very cool.

I'm just rambling here, not making any specific attempt at a grand statement or anything. I love my band and I love the people who see us play and I am grateful to everyone who helped out. Man, it's almost overwhelming how much love and support you people give me and my music. I'm verklempt over here.

THANK YOU!!!!!

Love always!
Your friend,
Mike K.

TRICIA WILLIAMS, WEDNESDAY, MAY 30, 2001, LOS ANGELES, CA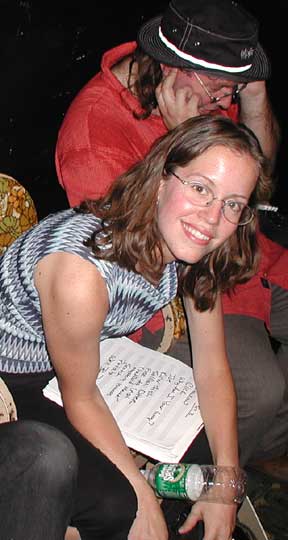 Coming from a classical background and doing mostly theatre, symphony and studio work, going on tour with Mike Keneally seemed like a fantasy that all classical musicians dream about at one point or another. Life on the road and hanging out with rock stars is not a common occurrence for musicians with my background. Ever since Mike and Scott called me to do the tour, I began fantasizing about life on the road and what a unique opportunity this would be for me. Of course, all of this fantasizing occurred during my 96 bars of rests at symphony rehearsals.

Life on the road quickly began and turned out to be quite an experience. I found out in Albany that I am not old enough to be registered as a driver of any of the cars that the band would be traveling in. This was a bummer, since I prefer driving to riding and also because it then automatically entitled me to constantly negotiate NOT to be the one stuck in the middle of three in the back seat. Then, there were the motels that we stayed in that had bugs the size of Africa on the walls, pee stained towels, mildew odor, and cigarette burned blankets on the bed. While this was not the case for all of the places we stayed at, it was more often than not. Next came the nights where four hours of sleep was a blessing. After traveling for hours in the car to get to the next city, we drove directly to the venue where we would begin unloading the truck, setting up gear, and then running sound check. Not to mention that we all were responsible for loading, unloading, setting up our own gear and then some. Of course, there is also the fact that my vibraphone was in an accident while being moved which resulted in one of the support bars being damaged. This hardly seemed like the classical musician's fantasy anymore.

And then, BFD took the stage. Most of you probably attended at least one show during the tour and know what I mean when I say, "and then, BFD took the stage". Playing and being surrounded with this band was what created the magic of the tour for me. After all of the above-mentioned things, I would do this tour all over again and then some. Mike Keneally is my hero, he has opened my ears to things I had never heard before and I love it. Not to mention that he is one of the most genuine good hearted souls I have ever met. Bryan Beller...he leaves me speechless. After this tour, Bryan has become one of my best friends. Aside from the amazing musical talents he holds, he is just an all around wonderful person and always makes me laugh. Evan Francis keeps singing those jazz licks around me which has attracted me to a whole new world of music. Rick Musallam is often the quiet one but has become my hidden treasure. When you are lucky enough to be around for one of Rick's moments, whether it is playing music, conversation, or just living, you too will see the hidden treasure. Marc Ziegenhagen reminds me of the color orange. He is vibrant and always has a smile waiting for me, not to mention that he knows how to work all of those gadgets on his keyboards. Nick D'Virgilio is talented beyond belief, one moment he is playing the drums, then the bass, then he is singing just like they do on "Star Search", AND he dances! Stacey Ferguson is amazing, she was a great merch m***** and is a terrific friend. Then, there are Dennis Hill and Thomas Nordegg who were the behind the scenes machines, thank you! Scott Chatfield was the man who made it happen. Scott threw his life on the line to support this band on the road, I am forever grateful. Last but not least, I thank Brady Steel for his never ending love, support and enthusiasm. I am the luckiest girl in the world to have a man this understanding of my music, he is my knight in shining armor.

This band has changed my life; they are all rock stars to me. Who knew that a classical musician would find absolute peace and harmony in the music of Mike Keneally? Thank you for making my 96 bar fantasies into a reality.

---
RICK MUSALLAM, TUESDAY, MAY 29, 2001, LOS ANGELES, CA


Hi folks,

I've been waiting to write this for a long time now. Unfortunately, while we were on the road, I could never get to a computer as the two laptops we had were being used.

Let me start by saying that I have no shame in telling you that I would get tears of joy in my eyes just thinking about what I can say about this band and the whole crew that traveled with us. I had so much fun, and I did not want to come back home. Everyone was so incredible on the road. The shows were great. Every night we managed to have extremely magical priceless moments on stage. Thanks to all the fans and people who made this tour possible. There are no words. Much love and gratitude to all. The whole time I felt like God came down and smiled at me, and gave me this wonderful opportunity to be among some of the most amazing people on this planet.

Scott Chatfield: The man that worked day and night to make sure that everything was taken care of. He put his life on the line to make this happen. Without his hard work and his support for MK/BFD, none of this would have happened. Thanks from the bottom of my heart.

Mike Keneally: Ahhh...DA man wit DA plan. I don't know how many of you know this but I consider Mike like a brother. When I met Mike and joined the band, my life changed immensely for the better. I was not into playing certain kinds of music anymore, and for quite some time, I'd been looking for something different and unique. Well, to be brief, along came Mike Keneally to save my life and to change it forever. Mike, I love you beyond words and I'm so thankful to be in your company. Thanks for all your support on a personal and musical level. Mike has a way of bringing the best out of any musician, and being in this band has been by far the best musical experience ever for me. I feel like I can express myself musically in any way I choose to do so. Considering my eclectic influences, I couldn't ask for anything better. I'm so humbled and extremely fortunate.

Bryan Beller: Bryan is my younger brother who also happens to be my hero. I can't tell you how much I love this guy. When I grow up I want to be Bryan Beller. I've had the privilege of working with Bryan in many musical situations, and he's always been just incredible as a human being and a bass player. I thank god every day for you BB, and look forward to years and years of enjoyment playing music with you and traveling the world together. You and Joe Travers have changed my life too.

Thank you, Nick D'Virgilio: Oh Nicky. Also brother from another mother. Me and Nick have been friends for years. He's one of my first musician friends in LA. When Nick and I met, we had plans to dominate the world. We were just like little kids, hungry to play, write and record music together. We always wanted to tour together, and to do it in this incredible band made me so happy and too emotional to even talk about it without crying. As Kevin Gilbert used to say, "Nick has the best attitude of any musician I've worked with." Well, I found that to be true long before Kevin knew Nick and before he worked with Tears for Fears, Genesis, and Spock's Beard. Nick is a gem, a sweetheart of a guy, a super talented freak, a great father of two precious kids, and I'm so proud of him and proud to know him. Don't forget to check out his record "Karma" coming out in August. Love you bro.

Marc Ziegenhagen: I can't think of any other keyboard player who knows this music inside and out. He's so passionate about it, and as crazy as we are. Wish you didn't live so far away Marc(k)y Marc. I'm so glad you still play a moog and a Fender Rhodes. Great playing and command of the instruments. Tasty solos on Click every night, and a very special Selfish Otter solo, always inspiring. It was a real joy and I promise I'll room with you on the next tour. I'm so happy that you're as adventurous with food as I am. Let's find a Lebanese restaurant in every city we go to next time. At the very least, a falafel sandwich.

Tricia Williams: I looked up the words sweet, classy, talented and awesome in the dictionary, and next to all those is a picture of none other than Tricia Williams. My question was; how can you not love Tricia Williams? I would go to the end of the world and back for her. It was a pleasure and I hope that we keep traveling and make music together. She kicked major ass and then some. You're so wonderful, sweetie, I love you.

Evan Francis: Evan is one of those people who can just play one note on his sax and it would make me want to pick up my instrument and play. I love to hear him play. Right before the show at Zig's in VA, I went outside to smoke a cigarette, and Evan was practicing inside the truck with the door closed. I remember feeling a little tired at the time, but when I heard him play, I immediately snapped into a great mood and I was really inspired to go play. Evan, you're a riot. Thanks for being inspirational and making me smile from ear to ear. Thanks for being you. I can't wait to travel with you again.

Thomas Nordegg: We were so fortunate to have one and only Thomas Nordegg on this tour. I've learned a lot about Thomas and all the major artists he's worked with, and I finally learned the proper way to roll a cable. Always a pleasure and I hope that we do more tours together. Time$peed rules!!!!

Dennis Hill: It was truly a pleasure to be on the road with this guy. He always made sure everyone was taken care of and happy. It was great to share stories about Kevin Gilbert. Thanks for being a great roommate and thanks for Mike's hard Lemonade. You Rock. I hope that you can come out on the next tour as well. A Keneally tour wouldn't be the same without you and Thomas.

Stacey Ferguson: You were a super duper trooper. Thanks for putting together the tour manuals and being an incredible merch mover. You endured a lot, and worked a lot of late nights and early mornings. You deserve the best full body massage when you get back. Dare I say your nickname on the tour? I think I'll leave it up to the fans to figure it out. You Merch M.... you. At least people know it starts with the letter M. Your middle name is Sweet. All my love to you.

So, as you can see, no complaints here. I sincerely hope that we all get to go an a tour again soon. Next time let's tour the world. Easier said than done. But, I have a lot of faith in Mike and this band. I'm such a lucky bastard and I love you all very much. Peace to all.

Ciao,

Rick Musallam

---
Contents ©1994 - 2013 Obvious Moose (except where noted) and may not be reproduced without permission. All rights reserved.