2003 Mike Keneally Photos


Those Dog Days Of Fall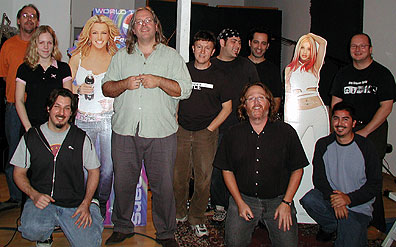 EL CAJON, CA, December 5, 2003: Mike Keneally Band returned to Doubletime Recording Studio for what may prove to be the final sessions for the upcoming Dog album. Several new Keneally songs which have never been played live are being recorded and should be included on the spring release. Participating in the occasion are (l. to r.) videographer Steve Laub, webmaster Katy Towell, bassboy Bryan Beller, groupie, Mike Keneally, engineer Jeff Forrest, guitarist Rick Musallam, Exowax CEO Scott Chatfield, drummer Nick D'Virgilio, groupie, radio personality Gruno and videographer Dave Foster.
Mike and Bryan Go Whole HOG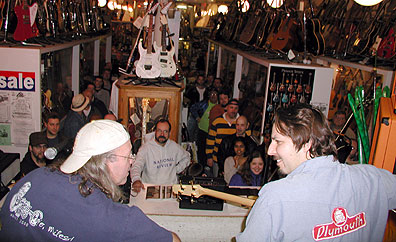 ROCHESTER, NEW YORK, November 8, 2003: Rochester's legendary, eclectic House of Guitars was packed with more than just amazing instruments and vintage gear when Mike and Bryan performed on their equipment-packed stage-- the narrow aisles were jammed with people who witnessed one of the duo's most energetic and unusual Taylor clinics. The surreal, user-friendly environment inspired a rollicking, fun-filled show.
String Stranglin' In New Hampshire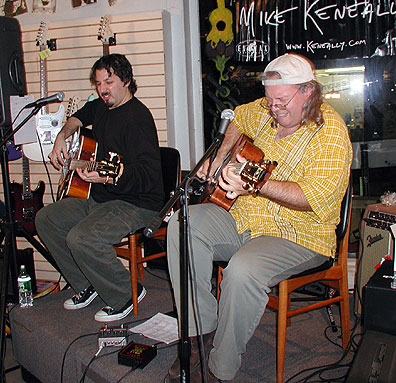 LITTLETON, NEW HAMPSHIRE, November 3, 2003: Mike and Bryan began their current series of Taylor acoustic guitar clinics with a relaxed and magical session at Northern Lights Music in front of a full house. They played many new songs, including material from Mike Keneally Band's upcoming album Dog and Bryan's excellent debut CD View. Dog can be pre-ordered (along with the free PUP) at the Taylor clinics, plus View and many other Keneally CDs can be purchased. Many thanks go to Northern Lights' Dan and Moocho Salomon and friends for making Mike, Bryan and Scott feel truly at home in their wonderful, picturesque town.
A Passion Play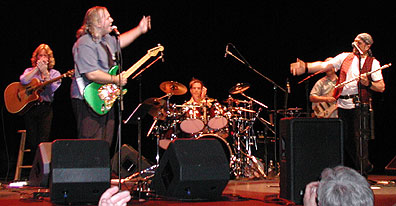 EL CAJON, CALIFORNIA, September 30, 2003: As the featured guest of Jethro Tull's Ian Anderson (right) during his Rubbing Elbows stop in San Diego, Mike, Ian and Ian's excellent band performed an enthusiastically received rendition of "Father's Day" from Mike's Wooden Smoke album. The song ended with Mike and Ian trading guitar and flute solos. Mike was also invited to join the band for a rousing encore of "Locomotive Breath," complete with kazoo participation from audience members. "It was a blast, or maybe even two," Mike recounts. "When Scott and I got to the venue, Ian and his band were already running "Father's Day," a neatly surreal occurrence, and they played it really beautifully. I had no idea how good a song of mine could sound with Ian dancing between the lines with flute filagree, and now I know-- it sounds damn good. Everybody was sweet to me and I had a fantastic time, and the gig was sold out-- all good!"
Duke Drops In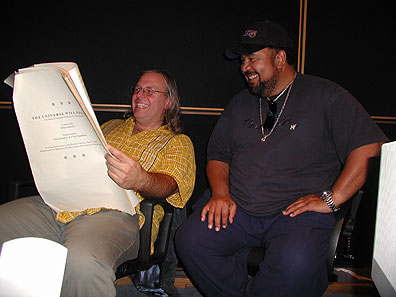 HILVERSUM, THE NETHERLANDS, September 16, 2003: Legendary keyboardist/composer/arranger/producer/performer George Duke and his manager Herb Cohen dropped by the studio to hear parts of Mike's upcoming orchestral album, The Universe Will Provide. Earlier, NPS Creative Catalyst Co de Kloet had suggested that the two say hello in an unusual but apropos manner. So, facing each other, with Duke on a Fender Rhodes and Mike playing a white Gibson ES 335, they communicated musically before a word was spoken. Here, Mike and George enjoy the third movement, "Room," and follow the score. To watch video of the musical meeting, go to www.nps.nl/jazz, click the "muziek & interviews met meer dan 90 artiesten" link, then click "Kijk het filmpje >>>". More MK in Europe photos...
Keneally's Keeping Score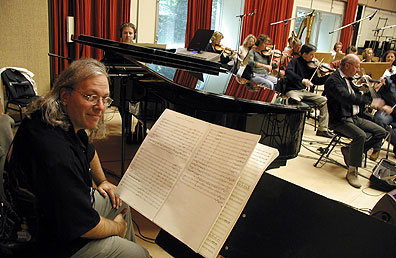 HILVERSUM, THE NETHERLANDS, September 12, 2003: Recording of Mike's composition The Universe Will Provide has begun in earnest with the famed 50-member Metropole Orchestra. NPS Creative Catalyst Co de Kloet, who commissioned the project, estimates that the results could be available for sale at the beginning of 2004. "The orchestra sounds fantastic," a visibly pleased Mike remarked. "It's gonna be a great album." More MK in Europe photos...
Mike's Back In Holland!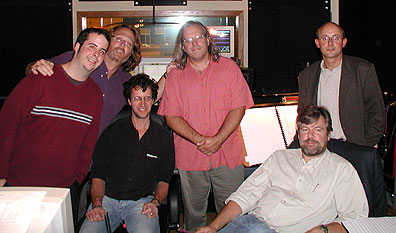 HILVERSUM, THE NETHERLANDS, September 11, 2003: After Mike and the Metropole Orchestra's June performance of his composition The Universe Will Provide at the Paradiso Club in Amsterdam, the parties have reunited to record an album of the piece, which has been revised and added to. Gathering after a playback of the first day's orchestral recording are (l. to r.) orchestrator Chris Opperman, Exowax CEO Scott Chatfield, sound engineer Gert de Bruijn, composer Mike Keneally, musical supervisor Gert Jan van den Dolder and orchestra conductor Jurjen Hempel. More MK in Europe photos...
Mike Keneally Band Returns To Victor's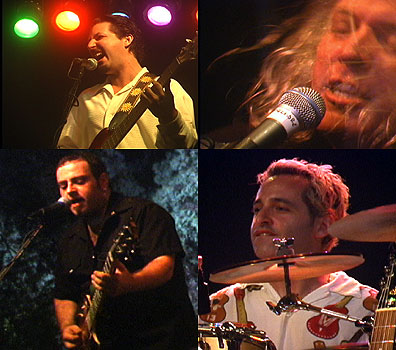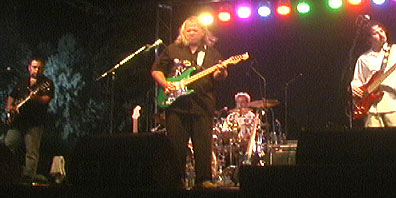 SAN DIEGO, CA, August 16, 2003: Mike Keneally Band members (clockwise, from upper left) Bryan Beller, Mike Keneally, Nick D'Virgilio and Rick Musallam returned after a year to the tropical outdoor setting of Victor's on Mission Bay, turning in an often raw and energetic two sets before a very enthusiastic crowd. The show was videotaped and multi-track recorded for possible future release.
Where's Mike-o?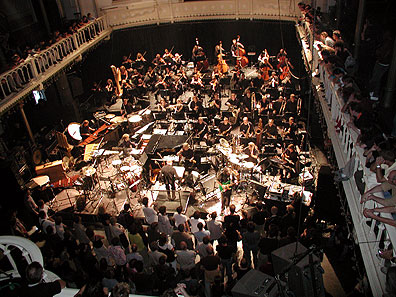 AMSTERDAM, THE NETHERLANDS, June 8, 2003: Mike and the Metropole Orchestra's triumphant performance of his composition The Universe Will Provide at the Paradiso will be revisited when studio recording with Mike and the orchestra begins in September. Can you spot our boy in this bird's-eye shot? More MK in Europe photos...
MK at Zappanale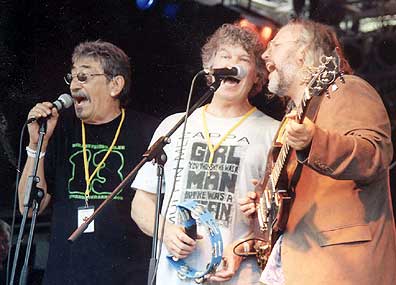 BAD DOBERAN, GERMANY, July 26, 2003: (L. to r.) Jimmy Carl Black, Roddie Gilliard and Mike perform during the Muffin Men's set. (Photo by Thomas Herrmann)
Keneally Performs Zappa in Sweden

UMEÅ, SWEDEN, June 14, 2003: Mike, conductor Kristjan Järvi, keyboardist Mats Öberg, Napoleon Murphy Brock and the Black Box Band acknowledge the audience response after the Chamber Zappa performance. More Europe photos...
Focus on Jan Akkerman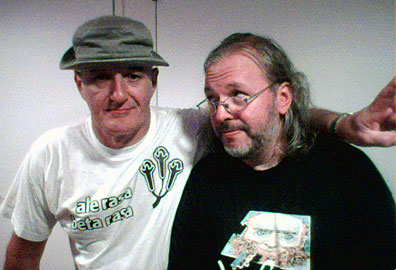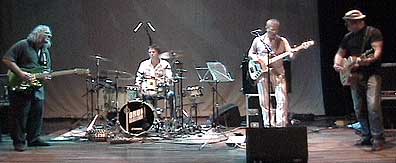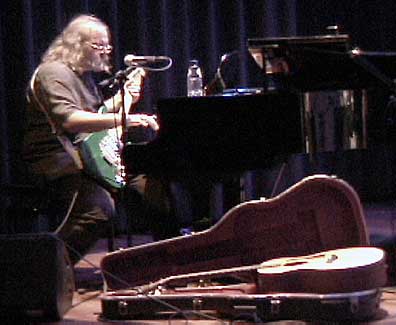 NIJMEGEN, THE NETHERLANDS, June 10, 2003: When Mike was 10, his organ teacher pressed a copy of the Dutch group Focus' Moving Waves into his hand, admonishing him to listen. Bowled over by guitarist Jan Akkerman's "pissed off" playing style, Mike was one step closer to picking up a guitar himself. The two friends met for the first time during a scintillating evening of improvised music before a sold-out house with Akkerman, drummer Rene Creemers and bassist Pieter Douma. Mike said the evening went better than he could have dreamed, and Akkerman pronounced himself well-pleased. Above, Jan and Mike relax in the dressing room after the show. Special thanks go to Co de Kloet and Pieter van Hoogdalem of NPS Radio and promoter Bas Andriessen, who conceived the idea for the concert.
Rock Show at the Concertgebouw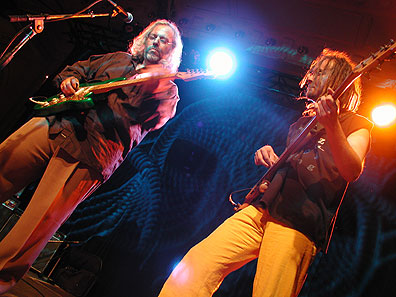 AMSTERDAM, THE NETHERLANDS, June 9, 2003: Mike and bassist Jaan Wessman were honored to perform before a hushed house at Amsterdam's famous Concertgebouw as part of the Holland Festival's Electric Guitar Now series. Several other famed and talented artists also participated. The show was recorded for future broadcast on NPS Radio in Holland.
The Universe Provides A Very Magical Evening In Holland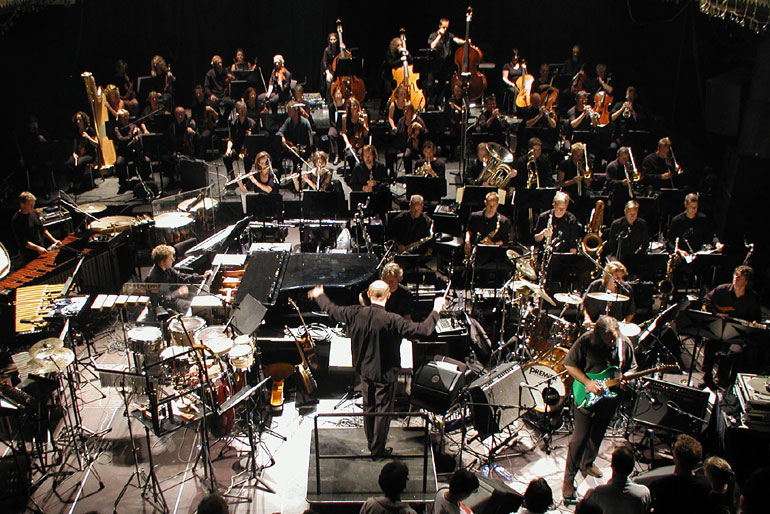 AMSTERDAM, THE NETHERLANDS, June 8, 2003: A splendid time was guaranteed for all as Mike Keneally, conductor Jurjen Hempel and the amazing 50-piece Metropole Orchestra took the stage at Amsterdam's legendary Paradiso to debut Mike's new piece, The Universe Will Provide. The collaborators reached new heights after long hours of rehearsal and the audience at the former church clearly recognized that they were experiencing something new and special with Mike's first orchestral work. During the third movement, "Room," the battery on Mike's beloved green Clapton Strat cut out, causing a short delay and a repeat of "Room" with Mike playing a backup guitar (so now there are two versions; one with and one without Mike's guitar playing). When the show resumed, it was with even higher enthusiasm, energy and focus from both performers and attendees. The performance and post-concert interview were broadcast on Holland's 4FM and Mike's composition may be released as an album.
When The Music's Over
AMSTERDAM, THE NETHERLANDS, June 8, 2003: The jubilant post-concert dressing room celebration: (l. to r.) triumphant composer/performer Vernon Reid, the extremely necessary Pieter van Hoogdalem of NPS Radio, Mike's sweaty Exowax Recordings partner and manager Scott Chatfield, NPS Radio's Creative Catalyst Co de Kloet (without whom...), serene, rapturous composer/performer Mike Keneally, ridiculously mandatory Keneally co-orchestrator Chris Opperman, Vernon Reid's orchestrator Martin Fondse and Vernon's musical comrade, DJ Logic.
Conductor Hangs With Composer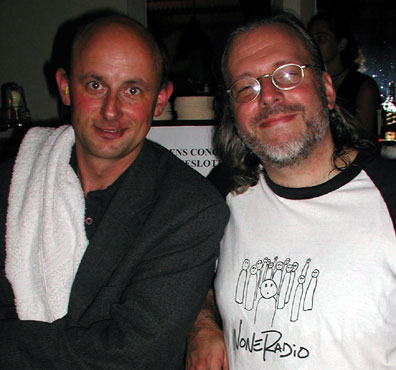 AMSTERDAM, THE NETHERLANDS, June 8, 2003: Mike and indespensible Universe conductor Jurjen Hempel relax at the Paradiso bar after the concert. Mike thought that Jurjen and the Metropole Orchestra were uniquely qualified to play his new music, and for that he was very grateful to all involved.
Pre-Broadcast Broadcast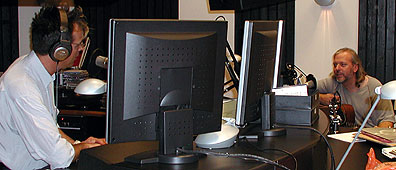 HILVERSUM, THE NETHERLANDS, June 8, 2003: The afternoon of Mike's orchestral debut, he dropped by his friend Jan Douwe Kroeske's KINK FM radio show. During his half-hour visit, he played "Pride Is A Sin" and "5 Legs" on a Taylor acoustic guitar generously provided by Harry de Jonge at Amsterdam's Sacksioni Guitar Shop.
Keneally and Reid Prepare for Premiere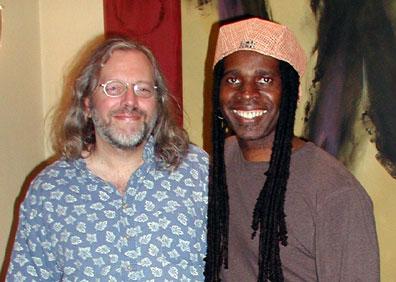 AMSTERDAM, THE NETHERLANDS, June 4, 2003: Mike Keneally and Vernon Reid got together during preparations for their respective performances to be premiered this Sunday at the Paradiso theatre. Both performances were commissioned by Co de Kloet of NPS Radio. Reid had just experienced his first rehearsal day with the 50-piece Metropole Orchestra and was very enthusiastic about the results. Mike began working with the orchestra the next day.
Happy To Be Here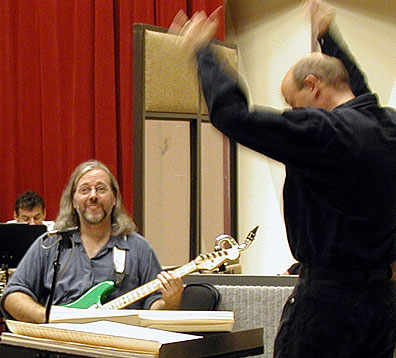 HILVERSUM, THE NETHERLANDS, June 5, 2003: Mike and conductor Jurjen Hempel rehearse with the Metropole Orchestra.
The Universe (With Help From NPS' Co de Kloet) Will Provide A 50-Piece Orchestra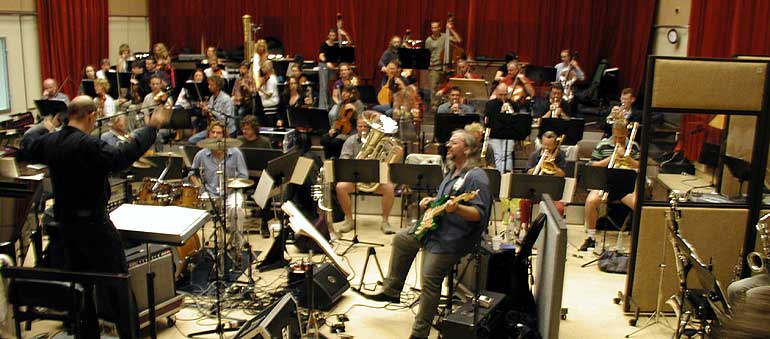 HILVERSUM, THE NETHERLANDS, June 5, 2003: Conductor Jurjen Hempel puts Mike Keneally and the 50-piece Metropole Orchestra through their paces during the first rehearsal for Mike's new piece, The Universe Will Provide. It will premiere this Sunday, June 8, at the Paradiso in Amsterdam as part of the Holland Festival. The musicians showed up well-prepared and excited about presenting Mike's often difficult-to-master composition. Hempel brings excellent qualifications to the project, having previously conducted the Metropole in a revisitation of Frank Zappa's 200 Motels. The score was co-orchestrated by Chris Opperman, who was on constant duty solving any musical problems that arose.
Mike Keneally and Friends in Germany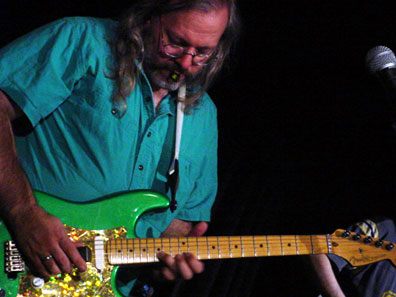 Karlsruhe, Germany, Monday, March 24, 2003: Mike plays his favorite guitar, a Clapton signature Stratocaster he's named Jesse, at a soundcheck before the Mike Keneally and Friends show at the Jubez. Completing the lineup were Jaan Wessman on bass and Schroeder on drums. Although the band members were battling colds at various times, by all accounts they turned in a series of incredible performances. (Photo by Andrew Jones)
Welcome In Wales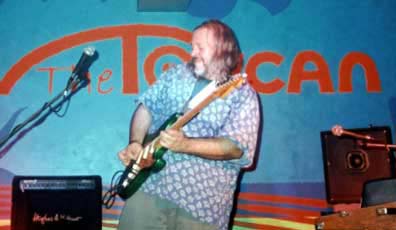 Cardiff, Wales, Sunday, March 16, 2003: After a successful series of Taylor acoustic clinics in the UK, Mike finished up with a solo concert at the Toucan Club. "Last night's gig was outrageous," he writes. "About 100 people or so, all of whom seemed to be absolutely bursting with delight at the music -- people running up on stage to hug me after songs, incredible emotion." A perfect way to end a wonderful UK adventure; Mike's first opportunity to play his own music in Britain. (Photo by Ben Godwin)
Who Needs Electricity?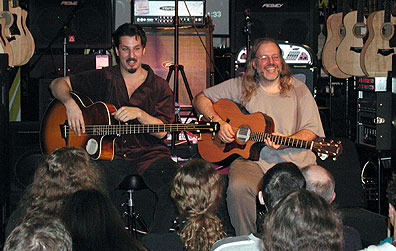 Manchester, England, Wednesday, March 12, 2003, 8:37 p.m.: When the stage lighting, P.A system and monitors lost power at the Academy of Sound acoustic guitar clinic, Mike and Bryan took advantage of the "problem" by relocating in front of the stage and inviting the 100+ audience to move in closer. The result was a more captivating, funny and intimate performance than anyone had reason to expect. And their Taylor instruments were more than up to the task of entertaining the crowd without amplification.
Touching Acoustic History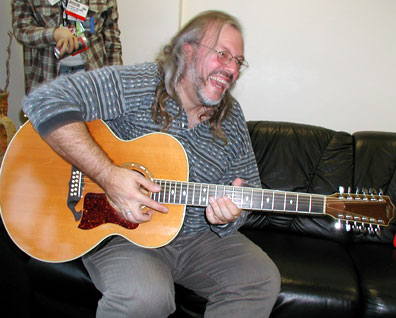 Letchworth, England, Monday, March 10, 2003, 1:56 p.m.: Mike tries out a rare 12-string Taylor guitar made in the early '70s from the extensive guitar collection of Bob Wilson, owner of UK Taylor distributor Sound Technology. Mike and Bryan's British Taylor clinics have been a resounding success.
MK Kicks Off European Tour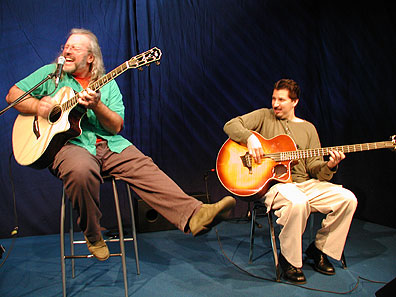 Frankfurt, Germany, Wednesday, March 5, 2003, 2:18 p.m.: Mike Keneally and Bryan Beller transcended jet lag and a convention facility the size of Austria to turn in an energetic first set on behalf of Taylor Guitars on the initmate Acoustic Village stage at the Musikmesse trade show. Their innovative half-hour performances continue through Sunday, then it's off to the UK for five Taylor clinics (see dates below). In the days previous, Mike has played with Mattias IA Eklundh and Michael Manring in France.
Mike Keneally Band's NAMM Jam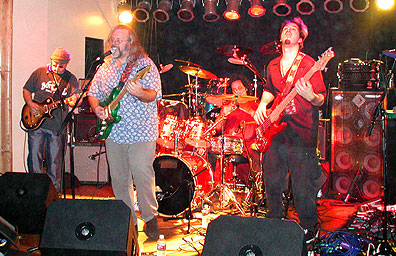 Anahiem, CA, Friday, January 17, 2003, 8:58 p.m.: Rick, Mike, Nick and SWR host Bryan Beller beguiled fellow musicians and industry types during a searing 45-minute set at the Anahiem Hilton's Pulse Room during the NAMM International Music Market. The show was sponsored by Bryan's employer, SWR, and also featured Andy West and the surprize reunion of legendary rockers Living Color. Mike will again be sharing the stage with Living Color's Vernon Reid as they both perform new original compositions with the Metropole Orchestra at the Holland Festival in Amsterdam June 8.