It's
MK/BFD WNHTH 2.0 Tour Pix Page Two!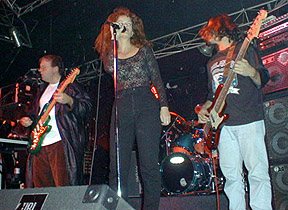 Ex-rap star Big Coat Mikey, the alarmingly teriffic Peggy "Don't Call Me Cute" Totzke and the Mystery Bassist Who Wishes To Remain Anonymous kick off their performance at The Station in West Warwick, Rhode Island on Thursday, October 22, 1998 with an audience-rousing rendition of "I Guess I'll Peanut (Short Version)."
---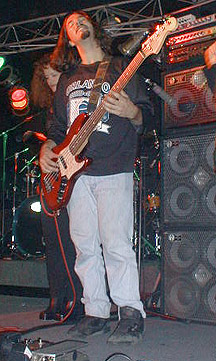 An unmasked bassist can be a blissful thing.
---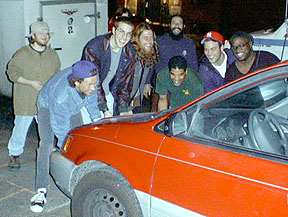 Friday, October 23, 1998. Outside The Wetlands in New York City, a slight problem developed. With load-in parking at a premium, nobody was pleased when the keys to Mike's poor Mitsubishi Expo couldn't be located just as bassist Oteil Burbridge's gear truck pulled up. Oteil's band and crew had a solution-- they just picked the sucker up and bounced it over to the sidewalk.
---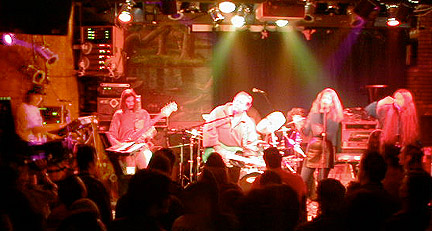 Satellite view of Wetlands lineup. (L. to r.) Marc, Bryan (note unusual stage position) Mike, Jason, Peggy, and Bob, subtly signaling his opinion of the monitor mix.
---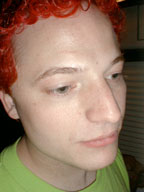 Saturday, October 24, 1998. Here's a rare glimpse of the unactivated Alternate Jason, held at ready in the closet of the tour bus parked outside Jaxx in Springfield, VA, in case anything should happen to the original. This band comes prepared.
---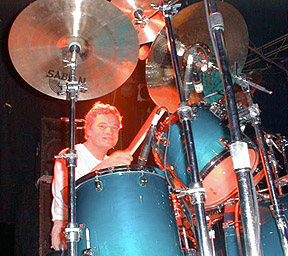 Meanwhile, back on the stage, the One True Jason shows no signs of motard malfunction.
---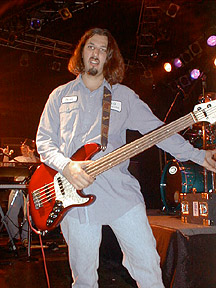 Bryan contemplates the effects of scarfing bad Mexican food before a gig.
---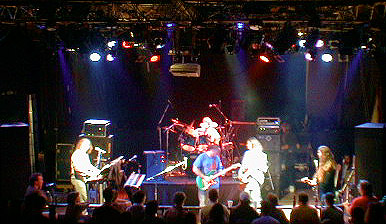 Electron microscope view of MK/BFD at Jaxx.
---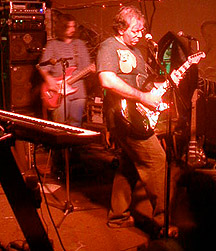 It's head-rippin' time once again Upstairs At Nick's in Philadelphia, Sunday, October 25, 1998, Mike's favorite gig of WNHTH 2.0.
---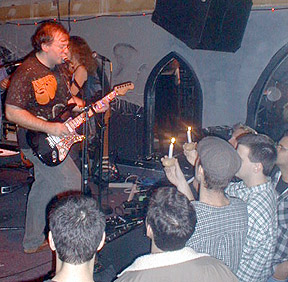 A clandestine shot of the mysteriously mysterious Potato Ritual. Quick, memorize it before The Man makes us take it down!
---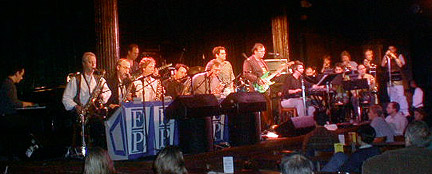 Mike at the fulcrum of the Ed Palermo Big Band at the Bottom Line, NYC, Monday, October 26, 1998.
---
Leighsa Gonzalez finally locates Cal Schenkel's G-spot.
---
---