The 24th album from fearless experimental rock innovator
Mike Keneally
(known for his work with
Frank Zappa, Joe Satriani, Dethklok
and many others) is
You Must Be This Tall
, and it will be released on
August 27, 2013
. It can be
pre-ordered now
at
The Mike Keneally Store
, complete with an instant mp3 or FLAC download and digital booklet.
Featuring 12 largely instrumental pieces, the album is a wildly careening ride through multiple moods, unified by Mike's virtuoso turns on guitar and keyboard, and his widely respected compositional acumen. Many songs feature Mike on all instruments, but expert assistance also comes from Marco Minnemann, Bryan Beller, Joe Travers, Rick Musallam, Missy Andersen and XTC's Andy Partridge (Mike's co-songwriter on 2012's massively acclaimed Wing Beat Fantastic). Moods range from madcap humor to deep introspection, all captured in truly sumptuous audio quality-- this is an album that rewards dedicated attention with a good set of headphones. You Must Be This Tall is a dream come true for fans of adventurous music made with heart and wit.
You Must Be This Tall's songs:
You Must Be This Tall
Cavanaugh
Plum
Cornbread Crumb
Kidzapunk
Pitch Pipe
The Rider
Bolarius
Popes
Indicator
5th Street
Glop
More about You Must Be This Tall...
Unlike the sort of amusement park thrill ride evoked by the title of Mike Keneally's new album, there is no specific height requirement for hearing You Must Be This Tall; a healthy sense of adventure and a taste for the unexpected will serve the listener well, though, as Keneally's 24th solo release is as action-packed and thrill-a-minute as any rock album (or roller coaster) within memory.
Keneally's a startlingly versatile artist, having first come to prominence as a member of Frank Zappa's 1988 band, and he can currently be found touring alternately as a member of [adult swim]-spawned metal act Dethklok, and as both keyboardist and guitarist with Joe Satriani. But while his adaptability and wide-ranging musical interests make him an invaluable addition to these and many other musical environments, it's as bandleader, producer and composer/performer/vocalist that his talents reach their highest fruition. You Must Be This Tall provides an expansive platform for these talents; relatively compact (12 songs in 44 minutes) but covering a huge swath of stylistic ground.
A feeling of fearlessness pervades You Must Be This Tall – a willingness to pursue any musical idea to its fullest extent. But this uncompromising stance is approached with verve and humor - the album jumps with life.
Four of the new songs began as very short musical ideas – a rhythm pattern, or a snatch of lyric or melody, not lasting more than a few seconds – that Keneally sang or played into his cell phone while on the road with Satriani or Dethklok. After returning from touring, he set himself a challenge: go into the recording studio for four days and create four completed song structures based on these voice memos, one song per day. By the end of the week, full basic tracks were recorded for "The Rider," a sweeping classic-rock anthem; "Kidzapunk," a manic, chaotic theme song for a movie that doesn't exist; "Cavanaugh," a moody, proggish character study; and "Pitch Pipe," an epic instrumental with guitar to the forefront. Except for Marco Minnemann's virtuosic drumming on "Kidzapunk" and a few soulful guitar interjections from Rick Musallam on "The Rider," these four songs feature Keneally playing all instruments, manually (except for some electronic percussion programming on a couple of tracks, all the playing on this album was done in real time by human hands).
Following up on last year's Wing Beat Fantastic – Songs Written by Mike Keneally & Andy Partridge (a product of the storied songwriting meet-up between Keneally and legendary XTC leader Partridge), this new album includes "Indicator," the last remaining song to date from Mike and Andy's collaborations, an angular track somewhat influenced by Captain Beefheart and featuring Partridge and Keneally together on multiple guitar overdubs.
The title track began as a demo for a piece to be performed by Holland's venerable Metropole Orkest; the orchestra debuted the piece in concert in 2006, but this album contains Mike's first released version of this whimsical, propulsive and wildly inventive composition. Here Mike uses layers of keyboard to replicate the sounds of the orchestra but retaining the unreal, surrealistic feel of the synthesizer, backing up a bravura lead guitar turn.
The other members of Keneally touring band – Bryan Beller (Dethklok, The Aristocrats) on bass, Joe Travers (Zappa Plays Zappa, Duran Duran) on drums, and Rick Musallam (Ben Taylor, The Roots) on guitar – join Mike for "Cornbread Crumb" and "Popes," two relaxed, joyful celebrations of groove and texture. "Cornbread" features perhaps Keneally's best recorded lead guitar playing to date, and the slyly humorous "Popes" is the album's lead video, with playful, colorful animation from Bulgarian filmmaker Dimitriya (http://dimitriya.net).
Keneally's experimentalist bent takes precedence on the final two pieces, "5th St." and "Glop," both of which have improvisational origins. "5th St." emerged during a live studio webcast wherein Mike was challenged to compose a song on the spot on piano, which was embellished later with guitar overdubs and skittering drum and percussion latticework. "Glop" is based on a searing guitar solo that Keneally recorded at his home; later in the studio, he learned and doubled key melodies from the improvisation on various instruments, a methodology that shows the clear influence of his former employer and mentor Frank Zappa.
Along with your CD of You Must Be This Tall, you also get a free digital audio download that includes an exclusive digital booklet.
There are two types of downloads available:
MP3: A zip file containing high-quality (256k variable bit rate) mp3 audio files, compatible with all mp3 players. Our mp3s provide excellent sound for most uses. The files are DRM-free, meaning that there is no anti-copying code buried in them (we trust you).
FLAC: A much larger zip file (roughly four times the size of our mp3s) that offers CD-quality sound, the FLAC format is for experienced users and requires additional software. The FLAC format is not supported by iTunes or Windows Media Player. More information about FLAC can be found here: http://flac.sourceforge.net.
Next Satch/Keneally stop: North America!
'An easy choice; he understands me.' Joe Satriani talks about Mike Keneally

Mike talks prog with the San Diego U-T's George Varga

Photo by Dario Tronchin in Florence, Italy
Photos by Tom Porta in Milan, Italy
Backstage, Manchester, UK
Saturday June 8 2013
and
Glasgow, Sunday June 9 2013
Hey there folks!
We are approximately three weeks into the Satriani tour of Europe and the UK. (Some people feel that it's redundant to make a special point of saying "Europe and the UK." They say, "The UK is a part of Europe! Fool! Rube!" OK, I was taught differently back at those schools I used to attend, but let's ask Google. She knows EVERYTHING.)
Um, OK. We are about three weeks into the Satriani tour of Europe, and things are going gangbusters. The addition of Bryan Beller and Marco Minnemann to the band has wildly changed the nature of the music, as has the addition of guitar duties and another couple of keyboards and a computer to my onstage workstation, so it feels really different and, speaking as someone who enjoys different things, it's a good time. The vibe on the road is real good too. Touring with Joe is always smooth sailing and this is no different. So your humble narrator is having a fine old time out here.
Here's a video from the tour that I enjoyed watching – totally non-pro, shot from the audience, but it's fun, everyone's playing their nads off (can I say that?), and it hopefully captures my giddiness at finally playing some guitar in Joe's band.
OK, now it's the next day and we're backstage in Glasgow, and Marco and Bryan are seeing how long they can keep a small piece of chocolate aloft by using two larger pieces of chocolate as paddles…here's video for evidence; ladies and gentlemen, we bring you Chocolate Pong!
Enough of these delightful shenanigans!
The remainder of the North American Satriani dates (Aug. 29 through Oct. 26) have been announced, please see them in this very Keneallist. Twelve entire dates in Canada alone! And we're starting in my hometown of San Diego, which is going to be great fun for me. We've still got another five weeks of European dates to go, so please check the dates and see if we're coming anywhere near you. It's a completely fun show, everyone's playing their nads off (can I say that?) and you will enjoy yourself immensely! It's true!
As for more purely Keneallycentric things, there are still some rogue reviews of Wing Beat Fantastic hitting the web now and again, including this really touchingly wonderful one written by Andrew Durkin, the leader/composer of the Industrial Jazz Group, who are awesome (our good pal Evan Francis has played with them a lot) – thank you Andrew, this one really got to me.
This seems like a nice opportunity to remind you to pick up
Wing Beat Elastic: Remixes, Demos & Unheard Music
if you haven't gone there yet. Oh, a remix album, you say. Well I really like it, so there! It's delightful and dreamlike to hear and wonderful to hold.
Here's a video for the "I'm Raining Here, Inside" remix
, as viewed from the perspective of
Bennett Chatfield
, dog for the ages.
You kids be careful out there! See you in, ahh, Rostov-On-Don, Russia in a few weeks! That's an actual place! And we get to go there. Cool!
There, coming over Charaton Bridge,
Mike

Joe Satriani on his new album, Mike Keneally and more:
Keneally Concert Calendar:
Mike Keneally plays keyboards and guitar on
Joe Satriani's USA 2013 Tour
with Bryan Beller (bass) and Marco Minnemann (drums)!
(More info here)
| | | |
| --- | --- | --- |
| August 29, 2013 | Balboa Theatre | San Diego, CA |
| August 30, 2013 | Pearl Concert Theatre at Palm Springs | Las Vegas, NV |
| August 31, 2013 | Orpheum Theatre | Los Angeles, CA |
| September 1, 2013 | Talking Stick Resort Ballroom | Scottsdale, AZ |
| September 2, 2013 | Kiva Auditorium | Albuquerque, NM |
| September 4, 2013 | Historic Paramount Theatre | Denver, CO |
| September 5, 2013 | Wagner Noel Performing Arts Center | Midland, TX |
| September 6, 2013 | Verizon Theatre at Grand Prairie | Grand Prairie, TX |
| September 7, 2013 | House of Blues | Houston, TX |
| September 8, 2013 | Austin City Limits - Moody Theater | Austin, TX |
| September 10, 2013 | House of Blues | New Orleans, LA |
| September 11, 2013 | Ruth Eckerd Hall | Clearwater, FL |
| September 12, 2013 | Parker Playhouse | Fort Lauderdale, FL |
| September 13, 2013 | Hard Rock Live | Orlando, FL |
| September 14, 2013 | Saenger Theatre | Pensacola, FL |
| September 15, 2013 | Symphony Hall | Atlanta, GA |
| September 17, 2013 | War Memorial Auditorium | Nashville, TN |
| September 18, 2013 | Chicago Theatre | Chicago, IL |
| September 19, 2013 | Lakewood Civic Auditorium | Lakewood, OH |
| September 20, 2013 | Taft Theatre | Cincinatti, OH |
| September 21, 2013 | Wings Stadium | Kalamazoo, MI |
| September 22, 2013 | Macomb Music Theatre | Mt. Clemens, MI |
| September 24, 2013 | The Carolina Theatre | Durham, NC |
| September 25, 2013 | The Warner Theatre | Washington, DC |
| September 26, 2013 | Beacon Theatre | New York, NY |
| September 27, 2013 | Orpheum Theatre | Boston, MA |
| September 28, 2013 | Tower Theatre | Upper Darby, PA |
| September 29, 2013 | Carnegie Music Hall of Homestead | Munhall, PA |
| October 1, 2013 | University of Buffalo Center for the Arts | Buffalo, NY |
| October 2, 2013 | Palace Theatre | Albany, NY |
| October 3, 2013 | State Theatre | Portland, ME |
| October 4, 2013 | Centre at Casino New Brunswick | Moncton, NB CA |
| October 5, 2013 | Rebecca Cohn Auditorium | Halifax, NS CA |
| October 7, 2013 | Capitole Theatre | Quebec City, QC CA |
| October 8, 2013 | National Arts Centre | Ottawa, ON CA |
| October 9, 2013 | Theatre St. Denis | Montreal, QC CA |
| October 10, 2013 | Centre in the Square | Kitchener, ON CA |
| October 11, 2013 | Massey Hall | Toronto, ON CA |
| October 14, 2013 | Burton Cummings Theatre | Winnipeg, MB CA |
| October 15, 2013 | TCU Place | Saskatoon, SK CA |
| October 16, 2013 | Northern Jubilee Auditorium | Edmonton, AB CA |
| October 17, 2013 | Southern Jubilee Auditorium | Calgary, AB CA |
| October 19, 2013 | Vogue Theatre | Vancouver, BC CA |
| October 21, 2013 | Fox Theatre | Spokane, WA |
| October 22, 2013 | Paramount Theatre | Seattle, WA |
| October 23, 2013 | Elsinore Theatre | Salem, OR |
| October 25, 2013 | Vina Robles Amphitheatre | Paso Robles, CA |
| October 26, 2013 | Fox Theater | Oakland, CA |
Presenting Wing Beat Elastic!
CD purchase includes instant album download
Download a free track!
WING BEAT ELASTIC
Remixes, Demos and Unheard Music
(Variations on Wing Beat Fantastic: Songs Written By Mike Keneally & Andy Partridge)
1. I'm Raining Here, Inside (Chatfield/Harris Slight Return Mix) DOWNLOAD THIS SONG FREE HERE!
2. Wing Beat Fantastic (Mark Vidler Psychedelic Respray)
3. Bobeau (Keneally Laptopian Remix)
4. You Kill Me (Keneally/Partridge Original Demo)
5. Miracle Woman And Man (Chatfield/Harris No Agenda Mix)
6. Corn (Unreleased track)
7. Your House (Keneally/Partridge demo – Keneally vocal on 1st verse, Partridge vocal on the rest of the song)
8. Bobo (Keneally/Partridge instrumental demo)
9. Land With No Name (Chatfield/Harris Isle of Rachmaninoff Mix)
10-13. Wingbeat Fantasia (Unreleased instrumental suite in four parts):
I. A Respectful Pause
II. Bobolink Wing
III. Out In The Wet
IV. I'm Into It
14. Wing Beat Fantastic (Chatfield/Harris Venusian Single Mix)
Notes from Mike:
In May 2012, as the Wing Beat Fantastic album hovered tantalizingly near completion, Exowax CEO Scott Chatfield (who's spent decades doing work with audio, producing countless hours of programming during his days in classic rock radio in San Diego) started to do some experimenting with the multi-tracks for the song "Wing Beat Fantastic," while engineer Mike Harris and I weren't around. He got partway into a very rhythm-section oriented remix, and then life and work intervened and the mix sat unfinished for a while.
A bit later, shortly after the release of Wing Beat Fantastic, Andy Partridge encouraged me to let UK producer/musician Mark Vidler try his hand at remixing one of the tracks on the album. Vidler had done some transformative work on some of Andy's music and Andy, not the easiest gentleman to impress, was delighted with the results, and eager to see what he might do with a WBF track. Vidler and I got in touch with each other and he was given the go-ahead to work with the title track.
There was a "remix mindset" forming around the WBF project simultaneously on two different continents, without prior planning or forethought. Spontaneously, a seed had been planted that would eventually blossom into Wing Beat Elastic.
I thought Vidler's vision of "Wing Beat" the song was pretty fantastic. I appreciated the thoughtfulness with which he re-contextualized the melody harmonically, and loved all the psychedelic touches he imposed. All he used from my original recordings were vocal tracks and some of my guitars in a couple of sections, and he built a completely valid alternate view of the song around them. Job well done!
What best to do with it?, we wondered.
Later in 2012, while I was on the road with Joe Satriani and Dethklok, Scott's mind drifted back to his own unfinished "Wing Beat Fantastic" remix. Now joining forces with Mike Harris, they completed it, approaching the original song entirely differently than Vidler had, then went on to do additional deconstructive/reconstructive work on some other WBF tunes while I was still traveling (while the cat is away…).
These wouldn't be the sort of radical re-castings of the basic song material that Vidler had done, but largely instrumentally-oriented mixes working near-exclusively with the actual tracks that I originally recorded, with a focus on shining a spotlight on some individual instrumental parts which were underplayed (or nearly entirely obscured) in the final mixes for the Wing Beat Fantastic album.
They eventually worked with five songs: "I'm Raining Here, Inside," "Miracle Woman and Man," "Wing Beat Fantastic," and most radically, they created a blend using the songs "That's Why I Have No Name" and "Land," eventually titling the resulting mélange "Land With No Name."
Even though Scott was generally nearby while work on the Wing Beat Fantatsic album was underway (keeping an ear on things while working in his office down the hall), and Mike Harris was of course constantly there with me during the original tracking sessions, there were still little audio doodads lurking in the multi-tracks for the songs which were surprising and fun for them to discover and work with in their new mixes.
They sent me audio files of their mixes in progress while I was on the road, and I was ferociously entertained. Somehow freeing the instrumental parts which had previously played a support role to a vocal section, and allowing them to stand on their own, gave a great, round lushness to them – the sound of the rhythm section in "Raining Here" and "Wing Beat," the acoustic guitars in "Miracle Woman," etc. suddenly achieved a tremendous heft which was really satisfying for me to hear. Scott and Mike H. highlighted instrumental parts that even I had forgotten I'd recorded; when I heard them they felt like little pals I used to hang out with, and was delighted to be re-introduced to.
Most moving to me was "Land With No Name," the two-song combination they put together. In a way I could never have done on my own (being too close to the two constituent songs to ever achieve the proper distance), they found emotional common ground between "Land" and "That's Why I Have No Name," laying the groundwork for several moments of serendipity where a part from one song worked perfectly with a part from the other when layered together - as though the two songs were always meant to occupy the same space. I was floored when I heard it - still am.
(I offered a few finishing-touch suggestions to the Chatfield/Harris mixes once I was off the road, but the vast majority of the work on the four tracks was theirs, and truly fine work it is!)
Once I heard what those guys were getting up to, I was fired up to do some messing around on my own.
While in Northern California in January 2013 working on the next Joe Satriani album, I did after-hours work on a "Bobeau" remix on a laptop in my hotel room. The basic concept was to take Marco Minnemann's drum track, and offset it rhythmically from the other instruments in the song, so that all the instruments were synched but Marco's performance fell on a different downbeat from the other sounds, creating a new groove which I fell in love with. That was the approach for the first half; in the second half I had fun taking vocals from one part of the song and placing them elsewhere – in particular, taking the vocals from the middle section of the song and putting them over the groove from the ending, which worked, harmonically, way better than it had any right to. I love it when that kind of stuff happens.
This collection of remixes was really starting to have something going for it, and I thought it would be nice to combine them with some of the original demos that Andy and I recorded in his Swindon shed during our songwriting sessions in 2006 and 2008. Eventually we settled on three of them: the acoustic-guitar based "You Kill Me" demo (in a completely different key from the final track, with very different lyrics – no Taliban yet - and an entirely different song structure), an excerpt from the original instrumental "Bobeau" demo (from back when it was still spelled "Bobo"), and a "Your House" demo, which has a few placeholder lyrics which we knew from the outset needed changing, but more significantly has Andy Partridge trying his hand at the lead vocal for the majority of the song – you'll hear my voice on the first verse, but for the remaining verses and bridge you'll hear Andy singing (and we thank Andy for his permission to issue this performance).
Completing the Elastic picture are some instrumental pieces that were originally created as possible links between Wing Beat Fantastic songs, but ultimately were not used on that album:
The short piece "Corn" reclaims an acoustic guitar part, buried in the mix in one section of a song called "Cornbread Crumb" (which was slated to be on WBF for a while), and clothes it in some moody, liquid synthesizer. (As for "Cornbread Crumb" – and some other songs you don't know about yet – we'll get to that at another time.)
Regarding the previously unreleased four-part instrumental suite called "Wingbeat Fantasia": during the lengthy gestation period of Wing Beat Fantastic, many different approaches to the pacing and content of the album were considered. One of them involved taking themes from songs on the album and doing short re-orchestrations of them based around acoustic piano, and linking the main songs with them. I went to Griff Peters' Hilltop Frog recording studio, where he has a lovely old grand piano bursting with personality, and recorded a series of improvisations based around various themes from the album. Back at Chatfield Manor, I edited the improvisations ruthlessly and overdubbed guitars, bass, April West's trombone and various keyboards and effects onto the piano recordings.
Ultimately, it was clear that these link pieces had a distinctly melancholy character that seemed at odds with what Wing Beat Fantastic was fast turning into. The piano pieces were set aside while WBF made its way towards completion.
Later I got the idea that these overdubbed piano pieces, somewhat similar in character, could be combined into a suite. I made two or three attempts at creating it, recombining things and trying different sequences, and never quite nailing it. But early this year, once we had all the other pieces of Wing Beat Elastic in place, I took one more shot at it, and over a couple of days of working with Mike Harris in February of this year, finally arrived at a form that felt coherent to me. It somehow lost a good amount of that melancholy that had earlier exiled the piano link pieces, and achieved a flow that was highly pleasing to me. (In addition to the overdubbed piano themes from the Hilltop Frog session, I also included for contrast in one section part of an unused song idea from the demo sessions at Andy's, an uptempo groove piece called "I'm Into It" which features layered guitars over a Partridge drum loop - an anachronistic insertion which makes me smile.) "Wingbeat Fantasia" emerged whole at last.
We'd originally thought that Wing Beat Elastic might be a download-only collection, a low-profile side dish to Wing Beat Fantastic, but after arriving at the song sequence and listening to it a lot, we came to love it and wanted to give it a full CD release treatment. We still love making physical products and I think we always will. (Wing Beat Elastic is available for download as well, in FLAC and mp3 formats, both including the full artwork and liner notes from the CD package.) Atticus Wolrab has created a beautiful digipak design that accurately reflects, in its color and mood, how this album relates to Wing Beat Fantastic and fits into the WBF universe.
I think that the 53-minute Wing Beat Elastic: Remixes, Demos & Unheard Music is a beautiful listen, and seems to work equally well in headphones and in cars, and in its full glory on elaborate home stereo systems (some people still have those, yeah?). We hope that, if you enjoyed Wing Beat Fantastic, you'll also enjoy this probe into the layers of that album's songs, be interested to hear some of the demos I did with Andy, and appreciate the chance to hear some unreleased music from the sessions as well.
We very happily present Wing Beat Elastic!
Mike Keneally Band European Tour Triumph!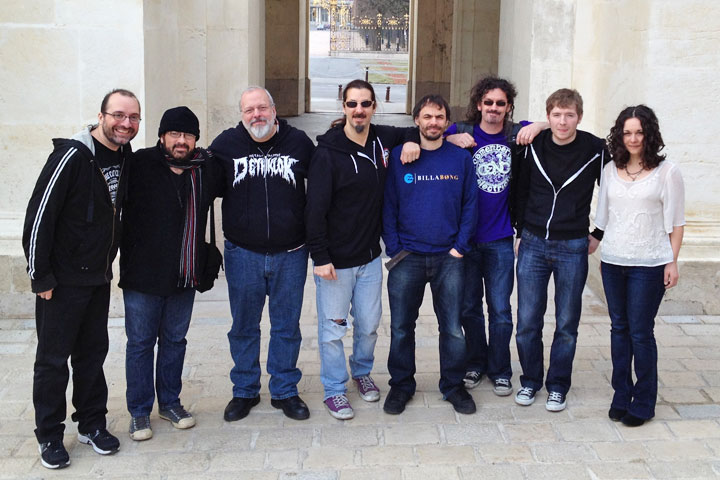 The first-ever Mike Keneally Band tour of the U.K. and Europe came to a delightful end in Nancy, France on Thursday, April 4. Still vertical are (l. to r.) MKB's Joe Travers, Rick Musallam, Mike Keneally and Bryan Beller, plus Darran Charles, Steve Roberts and Dan Nelson of support band Godsticks, and tour coordinator Rhiannon Charles. Make no mistake, without the Godsticks folks, this tour would not have happened. Thanks to the hundreds of fans who enjoyed these historical shows!
Wing Beat-ing in Nashville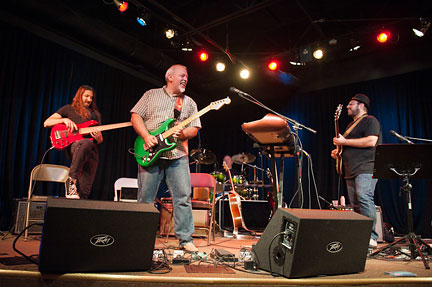 Mike and Rick were joined by Bryan Beller on bass and Eric Nelson on drums for their rollicking concert at Nashville's World Music on Friday, September 7. (Photos by Jason Sheesley)
MIKE ON WING BEAT FANTASTIC:
WBF is a 12-song album, eight songs of which were co-written by myself and Andy (while either stuffed into his tiny backyard shed studio, or sprawled around his large old wooden dining room table. Or seated at the piano in his front room). We had two separate one-week writing sessions, in 2006 and 2008, and I recorded the final versions of the songs in San Diego, mostly in 2011 and 2012.
We're REALLY happy about this one.
This is a nebulous term, but to me it really feels like an album, probably more than anything of mine since Wooden Smoke (which some people feel this album at least tangentially resembles). Like that album, there is a good amount of acoustic playing on this record - but a lot of electric as well, in a lot of styles and tones. And a lot of other stuff. But really this album is about songs, and about a collaboration that was years in coming... I first met Andy, whose music I frankly idolized throughout the '80s, after he and fellow XTC member Dave Gregory came out to a Frank Zappa concert in 1988 (at Scott Thunes' bold and blissfully successful invitation: he was as devoted an XTC fan as I was, and when the Zappa Band came to play in the UK on our '88 tour, Scott had the majestic brainstorm to leave a message with XTC's record label inviting the band to our Birmingham show – and Dave and Andy accepted the invitation. It felt like a miracle). Scott and I were flies on the wall during the recording of XTC's Oranges And Lemons in Los Angeles in 1988. I've been friends with Dave and Andy in the years since. A beautiful situation, the whole shebang is.
I was rocked and delighted a few years ago when Andy suggested we try a songwriting collaboration. We decided to write some songs just to see what would result, we didn't necessarily know that it would result in an album, but happily, it has.
(In anticipatory response to a rather frequently asked question, Andy himself doesn't sing or play on the album. He did provide some percussion sequences on a couple of songs. Some people have asked me if it was my idea that Andy shouldn't perform on this album…Please! Trust me, I would have been more than happy for Andy to contribute some performances and I gently prodded him to do so on occasion – but he felt strongly that keeping his voice off of the album would allow it to exist more fully as a Keneally record. Oh, OK Andy. I think his impulse was probably correct, and it definitely sounds like a Keneally album, but man, Andy's DNA is strong on this thing – as is the sound of his home studio, because in some cases I wove elements of the demos we made in his shed into the final mixes. If you love his music and have been waiting patiently for years for some new Partridge tunes, I think you will be very happy with this. And if you've been waiting for an unashamedly accessible and melodic pop-rock album from me, you've now got it in spades. Although it still goes through a lot of shifts of mood and texture etc. etc. – soncially, it's a really adventurous record I think. Amazing engineering by Mike Harris. Oh, and glorious artwork from Atticus Wolrab. Everyone was on their game for this record.)
Here's the names of the songs:
1. The Ineffable Oomph of Everything, Part One (Keneally)
2. I'm Raining Here, Inside (Keneally/Partridge)
3. Wing Beat Fantastic (Keneally/Partridge)
4. The Ineffable Oomph of Everything, Part Two (Keneally)
5. You Kill Me (Keneally/Partridge)
6. Friend Of A Friend (Keneally/Partridge)
7. That's Why I Have No Name (Keneally)
8. Your House (Keneally/Partridge)
9. Miracle Woman And Man (Keneally/Partridge)
10. Inglow (Keneally/Partridge)
11. Bobeau (Keneally/Partridge)
12. Land (Keneally)
I play a lot of the instruments and sing a lot of the voices. Other musicians and singers who perform on the album include Marco Minnemann, Nick D'Virgilio, Rick Musallam (on drums!), Bryan Beller, Evan Francis, Matt Resnicoff, Allen Whitman (on vocals!) and April West on trombone.
Depending on how things go, if you pre-order now you might very well receive your copy a little bit prior to the official release date of July 24.
Thanks for everything and for sharing this moment – this album is a dream come true for me and I'm really, really freakin' happy to offer it to the world.
Yer pal,
MK
Listen to Mike unveil WBF on Holland's CoLive radio program
(Segment begins two hours into the broadcast)
Andy Partridge speaking about Wing Beat Fantastic:
How does he do it? When Mike took away the demo we made for a freshly co-written song "You Kill Me," he had in his hands a rather lumpen campfire strum on acoustic guitars. What came back to my ears sometime later was a totally pulled apart, beautifully arranged mini-film for the ears, flowing like sonic liquid from one section to another, effortlessly moving from one time signature to the next. He'd made a tiny symphony, turning a bitter little protest tune into a well-crafted, cool, gliding, chrome...well...big protest song! Mike, what is your secret?
I didn't know how any of the tunes we'd agreed to write together were going to come out, but I know one thing, SO musical is this man that him just sitting with a guitar across his lap or perched at a keyboard pulled things from me that I can honestly say "I don't know where they came from."
One such piece was "Your House." One morning I said "give me a chord," he did, and another..."go up this time," and he did. Suddenly the basis for a whole bittersweet tale flew out. This is tough to talk about as I'm internally fighting the anti-vanity police writing this, but Mike and I wrestled from nowhere as beautiful a song as my best XTC work. Sat in my microscopic garden shed studio, I was privileged to be part of some rare magic that day. His inherent musicality set something off in me that was like a lovely bomb. No wonder Frank Zappa wanted to work with this man. When he sent me my copy of the finished album, and I got to this song, I couldn't hold back the tears. Thank you Mike, there are not many pieces of music that can do that to me.
Love all the short between-song vignettes that Mike includes on the album. Sometimes commenting on the song past, sometimes lifting motifs from a forthcoming piece. Like scenes in a film, a prequel of what you are about to hear, bending the timeline of the whole album to his musical will. This is filmic sense Mike, who taught you that, show me?
Sat at my kitchen table wrestling out the words to title track "Wing Beat Fantastic" was a bit of a roller coaster thrill ride. Don't think I've been head to head with such a sharp mind. I'd come up with a good line, he'd come up with better, I just HAD to beat it with a better one yet...or he's not leaving this table. A privilege to be goaded by you, man, good results.
Jeff Miers, The Buffalo News:
[Four stars] "The descriptive "genius" gets tossed around a bit too casually, but "Wing Beat Fantastic" is suffused with as much throughout its deliciously rich 40 minutes. Fans of prime XTC, Keneally, early Todd Rundgren, and "Smile"-era Brian Wilson, you owe it to yourselves to wrap your mitts, your hearts, and your ears around this album."
Pete Pardo, Sea of Tranquility:
[Four stars] "If you are looking for an album filled with catchy tunes, and superb yet understated instrumentation, then make sure you check out Wing Beat Fantastic. Keneally has found a perfect writing partner in Partridge, and fans of XTC who have always loved that bands penchant for catchy pop & rock tunes will love what's on display here."
Mike Keneally's Wing Beat Fantastic:
Songs written by Mike Keneally & Andy Partridge

This magical new album from composer/producer/multi-instrumentalist/vocalist Mike Keneally is the highly anticipated result of a songwriting union between the famed rock experimentalist and legendary XTC tunesmith Andy Partridge.
Their collaboration produced eight new songs, combining Partridge's innate sense of angular pop melody and beautifully intelligent poeticism with Keneally's experimental bent and surrealist tendencies. For Partridge fanatics, the album will be a trove of rare new material from a songwriter who's released precious little new work over the past decade. For Keneally enthusiasts, Wing Beat Fantastic represents his most melodic and pop-oriented release ever, while still maintaining the rich, detail-studded arrangements, love of sonic adventurism and superb musicianship for which he is renowned. More than any other Keneally album, Wing Beat Fantastic has an emotional resonance that engages the heart as adeptly as it does the mind.
A fairly breathtaking range of styles is presented, from the psychedelic pop sweep of the title song to the uptempo layered rock of "You Kill Me," a scathing look of modern hypocrisy in its many forms. "I'm Raining Here, Inside" kicks off the album with a ferociously infectious groove, indelible vocal melody and rippling guitars and keyboards. "That's Why I Have No Name" is a mid-tempo, brooding meditation with a driving piano and all manner of mind-bending effects gently whizzing throughout. "Your House" is an affecting ballad of unrequited love, almost shockingly accessible coming from an artist with Keneally's Zappa-related pedigree. "Bobeau" dances along on the infectious groove of Marco Minnemann's drums like the old-fashioned Steely Dan groove of everyone's dreams with an embarrassingly rich tapestry of keys, guitars, trombones and voices layered over the top.
And on Wing Beat Fantastic goes, one of the most nutritious and obsessively playable art-pop albums to be released in years.
"The chance to work with Andy was absolutely a mind-blower," recounts Mike. "He's a true songwriting hero of mine, and during the '80s he demonstrated that there was still a place for truly high-quality writing in pop music. His songwriting gift is still as strong as ever, and I'm fiercely grateful to be able to help bring new Andy Partridge music into the world."

Andy Partridge was equally inspired by Mike: "I didn't know how any of the tunes we'd agreed to write together were going to come out, but I know one thing, so musical is this man that him just sitting with a guitar across his lap or perched at a keyboard pulled things from me that I can honestly say 'I don't know where they came from.'"
"One such piece was 'Your House.' One morning I said 'give me a chord,' he did, and another... 'go up this time,' and he did. Suddenly the basis for a whole bittersweet tale flew out. This is tough to talk about as I'm internally fighting the anti-vanity police writing this, but Mike and I wrestled from nowhere as beautiful a song as my best XTC work. Sat in my microscopic garden shed studio, I was privileged to be part of some rare magic that day. His inherent musicality set something off in me that was like a lovely bomb. No wonder Frank Zappa wanted to work with this man. When he sent me my copy of the finished album, and I got to this song, I couldn't hold back the tears. Thank you Mike, there are not many pieces of music that can do that to me."
Wing Beat Fantastic's songs:
The Ineffable Oomph of Everything, Part One
I'm Raining Here, Inside
Wing Beat Fantastic
The Ineffable Oomph of Everything, Part Two
You Kill Me
Friend of a Friend
That's Why I Have No Name
Your House
Miracle Woman and Man
Inglow
Bobeau
Land
Join The Keneallist!
Like the Bat Signal, The Keneallist is only used for super serious email emanating directly from MK Central to you. We're talking stuff like album release info, live performance updates, discounts on MK merchandise and such. Your secret info will be held dearly by us and not shared with anybody without your prior permission.
To join The Keneallist, please click here.
Contents ©1994 - 2013 Obvious Moose (except where noted) and may not be reproduced without permission.
All rights reserved. Obvious Moose (our host) now offers web hosting with unlimited space and bandwidth for only $10 a month!