Obvious Moosereaders Report Keneally Sightings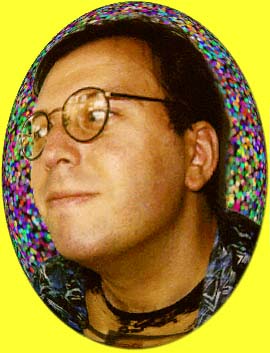 MK/BFD: The Bayou 12/22/96
by Kent Huffnagle
Hey Scott,
Here are my humble comments on one extremely cool rock and roll concert.
I couldn't go another day without telling you what I thought of the performance of beer for dolphins at the bayou in DC. And, I will try to keep it brief, so that I hope I don't bore your readers.
Currently, Mike and beer for dolphins have dominated my listening environment, so i felt obsessed with the idea of seeing them live. My trip started by renting a car and driving from norfolk VA (home of my brother), and driving myself and my mother to maryland. Five hours later I arrive as to where my mom is going to stay while I go to the show. Leaving her there, at 7 pm, i have only one hour til the doors open, and i can't possibly miss out on a second of the show (especially since the only band i came for was the opening act). I then proceed to break every speed limit on the way to the nations capital, where I received a citation from one of maryland's finest. So, rental, gas, and a ticket, and my concert is up to $160, but i don't care, because i am on a mission.
I arrive at the club, at 9:30p, naturally freaking out, because doors have been open for an hour and a half. I make my way inside to the box office, and purchase the ticket i had called about only two days prior. As i look through the box office, i can see mike, bryan and toss, on stage going through sound check.. Hooray! I am not late!!!
I make my way in, (not even noticing if anyone else is there), and stand about 15 feet in front of mike. I was awestruck...here is my favorite band (second only to frank zappa) on stage about to play...(my first time, can you tell?)
They start off with "baby blues" dedicated by mike to his little girl, then they continued with a slew of hits (keneally hits)..i was still a bit numb that i was actually at a BFD concert. (I live in florida, and this is the closest venue to see BFD). So. my recollection of that night is a bit hazy.
The rest of the set seemed to fly by.. i wish i had written down the set. But was way too fascinated with mikes playing to look away for a moment. I did see a few people actually enjoying this music..(at home i am a walking advertisement for mikes music, i was hoping in a room full of guitar enthusiasts that some people would enjoy this as much as me.)
The set seemed to go by so fast, I wish they would have been the main act and played all night, but i am sure that will come with time. After BFD's set, (feeling satisfied enough that I could go home a happy guy), I decided to stay and see mike with steve. So I made my way upstairs. As i stand there sipping a beer, I turn to my right, and who is standing there but bryan beller. I turn to him and say.. "hey bryan beller" he looks a bit confused that someone knows his name, I introduce myself, (because we have exchanged email a few times), he takes a moment then exclaims.. "I know you.. I really know who you are" which brings a smile to my face. After some praise about the show, I ask bryan if it is possible to meet mike after the show. He tells me to hang around after the show, and that he would tell mike that I was there, and that i would very much like to meet him. He said it would be hard, because this was the last night of tour, and there had to be some settling up (cashwise). But, that I should hang around.
So i watch the rest of steve vai.. i must comment that the duet between mike and steve was simply amazing.. So after the show, I decide to dismiss the beer from my body. So I walk to the back of the club. As I am coming out.. i hear "hey steve" and I look up and there is steve vai coming right at me..(seems a bit strange) then the bass player, then the drummer, and i think hmmm...who must be next.. i call out..."hey Mike", I introduce myself, and he steps out of line, to say "hi" ..Standing face to face with a guy i totally admire, I become speachless.. I hope the words.. "man I think you shred" came out of my mouth in the right order, (and that I didn't sound like a complete idiot.) I am still kind of amazed that I was in the right place at the right time, a complete accident, (but one I don't mind)
Well, that had to be one of the greatest highlight of my concert going days...it almost makes up for the time i didn't fly out and see the mistakes on May 20,1996 at the great american music hall, (by the way mike.. what would I have to do/pay to get a glimpse at that show on video?) Anyway, I believe that Mike and BFD are one of the most entertaining groups around, and I hope you guys continue writing and playing music for a long time. And, possibly play a venue closer to (my) home, soon.
Plus, while I am writing to you.. I would like to say how much I like soap scum remover and half alive...
Looking forward to hearing more music from you mike... and hopefully seeing you on stage again real soon,
forever listening,
Kent Huffnagle
---
NEWSFLASH! THE '80s MAKE SURPRISE ATTACK IN OLD BRIDGE, NJ! ESTABLISH FOOTHOLD IN '90s!
MK & BFD with that other guitarist-guy Birch Hill Night Club oh, er sorry..."The Birch Hill Entertainment Complex" Old Bridge, NJ December 21st, 1996
by Rob Puchalik
Okay, so here I am on December 29th, well December 30th, actually, and after a day of invading my body with cheese puffs and bad frozen pizza, my body is fighting back. I watch a portion of the "Soap Scum Remover" video and the footage strewn about "1988 Was A Million Years Ago," and it actually begins to induce vomiting. Then, in a feverish hallucination (or perhaps an Epiphany?) I realize that I recently had a very great privilege: I was one of relatively few to see MK & BFD perform on Frank Zappa's birthday. I was suddenly driven to write this review of that show. So, with my stomach doing somersaults, XTC's "Oranges and Lemons," appropriately enough, on the stereo, and a warm toasty bagel and a glass of Egg Nog in my hand, I begin. I'm going to trudge through this, so you are damn well going to have to do it too.
So we show up at the Birch Hill about 400 hours too early and wait in the car, me and my small party of friends enter the venue about 1 hour past when the doors were supposed to open. We walk in, past the merchandise table, (who are selling what appears to be glow-in-the-dark condoms. I soon realize that they are, in fact, Day-Glo earplugs and, having forgotten my own pair, I gladly partake in this kind service of the venue.) We stumble into this roadhouse-esque place, and it was like a time machine. I don't want to offend anyone who may have been at the show, but I haven't seen that much hairspray and leather since....well, I've NEVER seen that much. It was so very 80s. I came to wonder if the venue was ALWAYS filled with such a crowd. (It would seem so, as it turns out. Dokken was playing there mere days after the Vai show. Eerie.)
Two interesting pre-show points:
The place played "I Come From Nowhere" over the house music system pre-show. Wedged in between Winger and Ugly Kid Joe, I believe, or some other such bands that would have made Frank retch.
Also, the place plays videos on a screen that comes down in front of the stage, yet, strangely enough, these videos have no relation to the pre-show music. It creates a very odd multimedia experience, might I say.
So Mike and the lads come out on stage, and they play something. I don't remember for the life of me. Set list? You want a setlist? I can't even remember getting out of bed this morning! How the hell am I supposed to remember a show that happened a week ago? Anyway, I DO remember them getting a request for "Spoon Guy" which Mike noted but never played. Mike announced at one point that it was FZ's B-Day (How's THAT for abbreviation?), which got a semi-rise out of the crowd, I think. I also remember that the BFD version of "Immigrant Song" got a rather good response, as well as the cover of Gypsy Queen, preceded by "Love Theme from Vulture Fun." Which has become one of my favorite Keneally tunes. Great show in all. Main staples were played such as "Breakfast." and whatnot. Good shit...
So Mike closed the set with a cover of "Inca Roads," including part of "Jazz Discharge Party Hats," and "Black Page." Note that this is according to my friend Mike, who is MUCH more Zappa knowledgeable than my humble self. A very heartfelt deal. Mike is a God. Keneally, that is, not my friend Mike, he is merely a demi-god.
Here's the kicker: We didn't stay for Vai. Mike and I have been "friends" for a couple months, I guess, (Note that I say "friend" simply because it has fewer syllables than "This guy I sorta know who was in Zappa's band for a while and now has an awesome solo career and is a God, Here listen to his CD." and also because it is, on the whole, more impressive to my friends at college when I show them the Zappa's Universe" video.) Anyway, my point is that Mike knows my stance on Steve's music, and let me just sum it up for you: I hate it. Dreadful. To me, anyway. Neither do any of the people who were with me that night, and we had decided at one point that we would stay for a little bit of Steve's set, and then leave. However, in the time that they were setting up Steve's band's stuff, our moods altered and we all left. A little while later, we were home and snug in our beds.
Well, that wasn't so bad. My fever is persisting and my stomach is flipping out and I am going to stop typing before I vomit all over my keyboard. But dammit, I'm glad to have served my civic duty as a Keneally fan. If only I had this sort of dedication to everything in my life.
-Rob Puchalik -puchalir@rosnet.strose.edu
---
The Bayou Washington DC 12/22/96
By Larry Martin
I will leave out all the details of all the tiny details. I went to a Steve Vai show for the express purpose of seeing Keneally and BFD. Keneally and BFD were truly dumbfounding, and will remain my favorite band on earth. No one who reads Keneally's page needs to be told of Vai's virtuosity, but all Keneally fans must know this: BFD live is the most worthwhile band on the planet. They are simply amazing. If you like Keneally and his music, you must see a BFD show. Do not spare dollars or consequence. Mike's music is truly genuine and touching, and i will see them at every convenience.
Happy new year to all the BFD crew.
larry martin
lmm150@psu.edu
---
Mike Keneally & Beer For Dolphins On Fire With Steve Vai at Tommyknockers in Farmingdale, NY on 12/15/96!
By Angelo aka Sogoodboy@aol.com
The bus isn't the only thing smokin' folks! Mike Keneally along with Bryan Beller and Toss Panos, performing as Beer For Dolphins, graced the stage of Long Island's Tommyknockers in Farmingdale, NY as warm-up band for Steve Vai's US "Fire Garden" tour.
Vai's sound check started a bit late which held a cold and anxious mob outside almost an hour longer than advertised. I checked me coat and grabbed an ice-cold brew and the BFD sound check was underway. BFD warmed up into Led Zep's Immigrant Song which lasted a few minutes and it was show time! The entire BFD opening set timed in at 46:38. Bryan later tells me that the set should have been exactly 45:00 but I suspect Keneally stretched "Uglytown" a bit longer than usual during the solo. This evenings set consisted of the following BFD/Keneally standards:
Career/Quimby
I Can't Stop
Open Up
This Is My Dilemma
Spoon Guy
Uglytown
I'm So Tired (Beatles)
Dolphins
The Car Song
Cause of Breakfast
Although I had witnessed a similar basic BFD set a few months earlier at The Bottom Line with Frank Briggs on drums for BFD I was stunned by the evolutionary improvement and growth in the BFD sound as compared to say the newly released BFD archive CD "Half Alive in Hollywood" and the Mike Keneally & BFD "Soap Scum Remover" Music Video (you gotta get these puppies from Immune Records). The tightness that results from this many shows performed so close together, in addition to the group's past experience together, shined like a beacon tonight. Vai's exceptional sound-system (louder than Hell on Fire) complimented the BFD tone and drive. BFD has now entered the big-time! Mike's guitar flawlessly screamed the BFD message loud and clear through his Rivera Amps during tunes like "I Can't Stop" and "This Is My Dilemma". "Uglytown," along with its wild solo jam and reprise, was my evening's favorite. All songs were executed splendidly and with much precision and ease. Bryan "Who Needs a Pick Anyway?" Beller seems much more relaxed and less cautious than the last time I saw them perform which was displayed in his fine and more aggressive performance. Toss Panos on drums was a treat in itself. His familiarity with the BFD material and unique style fattened the whole BFD sound and spirit. What a drummer! A somewhat tense and more serious than usual Mike Keneally performed like a well-trained surgeon during a critical operation. An all around perfect set without a hitch except for a guitar problem during one of the numbers which appeared to have caused Mike some temporary grief. Vai's fans identified well with BFD and by the time "The Car Song" was over, BFD had a few more fans. Mike's brother Joe and Mike's niece Kathy, both Long Islanders, were also present at the event and were a pleasure to meet and speak with. I was able to take several photos of the event and will provide them to Scott at Moosenet for a possible future Life Of Bryan photo edition.
The main event Vai set consisted of almost two hours of intense and mind-boggling Steve Vai & Mike Keneally interplay and antics including at least eight hat changes for Mike, not to mention his continual switch-offs between synth, guitar and percussion throughout the set. Many of the Keneally guitar accompaniments were performed on custom-made guitars supplied by Vai. [I can't decide if I liked Mike's purple sequined Dr. Seuss hat better than Bryan Beller's white Leisure-Suit jacket [I have photos to prove it.] Mike's synth/keyboard backing was also quite impressive and at times shook the entire building with some really cool multi-layered midi-patches which harmonized well with Vai's unique guitar playing. Most songs performed were from Steve's new "Fire Garden" CD including "Little Alligator" which Steve also sang on. Steve is some performer and songwriter and should not be missed if he comes to Yourtown,USA or elsewhere in the free world. Mike Mangini on drums, and Phil Bynoe on bass (he barely used a pick at all), formed an impressive soundscape for the main event and displayed their respective skills quite well. Bryan and Toss from BFD even joined in on one Vai number by both playing percussion. At the beginning of the set Steve Vai admitted to have driven an Ice Cream truck as a job in Farmingdale back in 1977. You've come a long way baby!
-Sogoodboy@aol.com reporting for Moosenet
---
BFD plays Pittsburgh on a Freaky Friday the 13th!
By Jason Davis
Bryan suggested at the concert that I should write about goings on at the BFD/Vai show in Pittsburgh on Friday the 13th of December. I just returned to my home (it's now 1:47 AM) quite excited about the day's events. I first came into contact with Mike from TBBYNHIYL CD (Zappa band '88). Reading his various columns in guitar magazines prompted my purchase of "hat." From then on, I became a die-hard fan. I first met Mike when he was in town with Z. I met him at a local record store before the show. He signed my "hat" CD, and we said our goodbyes. Upon my arrival to the show, I had to get a refund for my ticket for I was not of age to enter the show (I was one week from turning 21). I then returned to the record store to find Keneally leaving. I explained my dilemma, and he said that he'd see what he could do. He then got into my car, and I gave him a ride to the show. Needless to say, Mike got us into the show for free. Since then, Mike has critiqued my solo album "Axis" that I recorded in my home and has written twice to me. I also met with him before the G3 tour when it Pittsburgh in October.
Anyway....I was instantly happy when I found out that BFD would be opening for Vai. I purchased my ticket one day before the show and arrived to wait in line at 7:10 PM. We were told that the doors would open at 7:30 with the show beginning at 8:30. Cool! I could pick up "Half Alive in Hollywood" and "Soap Scum Remover" and still have plenty of time to hang out and visit with the rest of the guitar community in the 'Burgh. This, however, was not the case. 7:30 came....then 8:00....then 8:15 (many people were getting quite upset by this point)...and then 8:30 and the doors were still closed! Sound checks were still going on by this point. Finally at 8:45 (15 minutes after the show was supposed to start) the doors were opened. I was first in line at the merchandise counter and purchased the double CD, but the video was sold out from the night before. The guy said that the shipment was expected to arrive today, but this was just another thing that went wrong for BFD. As I found my place at the foot of the stage in front of Mike's setup, BFD had just began their sound check (?!?!?!). It appeared that things were definitely behind schedule, and Vai's sound check took much longer than expected. (Graffiti, where the show was held, is notorious for an incredibly bad sound on stage) The sound company (from Pittsburgh) had its difficulty with the sound checks (especially with Mike and the gang), and Mike talked them through the major steps like a mother would spoon feed a baby. Finally, BFD began, and they were incredible. Mike prefaced the show by briefly explaining that the day sucked for the band, but they'd continue anyway. BFD played Career/Quimby, I Can't Stop, Open Up!, Skunk, Top of Stove Melting, Lightnin' Roy, Immigrant Song, and 'Cause for Breakfast (my personal favorite). Keneally was on fire on guitar. He played like a man possessed. I swear that his solo for Top of Stove was the best thing I ever heard him play!!! Bryan did an excellent job, and Toss blew me away!! Since I was right at Mike's feet, I could see the set list. They were suppose to go from Roy to Spoon Guy to Immigrant to Uglytown and then Breakfast. Instead Mike surprised the rest of the band (this could be determined my Bryan's face) and went right into Immigrant after Roy. He then said that the band should play Breakfast and began tuning his bottom string to a C. I think he felt bad since the show started so late that he'd compensate by cutting his set early, but BFD was the main reason I went to the show (I saw Vai twice on the G3 tour). Short or not, the band performed incredibly well.
During Vai's set, I had a chance to briefly chat with each of BFD and got my CD signed by all three of them. Toss was very cordial, but quiet. Then again, he wouldn't know me from Adam, so what do I expect? I saw Mike during Mangini's drum solo, and he was great as always. Bryan was great to talk to! He was quite appreciative to my praises of the show, even though he thought it went horribly. He said that sound check was terrible, and they never got what they wanted to hear out of the monitors (Mike was asking Bryan what he needed after each guitar solo during the first few tunes). I told him of the story about the Z tour, and he said that he remembered hearing about it (being in the band at the time, of course). He signed my CD and thanked me once again for coming and supporting the band. What a cool guy!
Vai was good, and so was Mike with him. The only thing I have to say about the show was that during one of Vai's tunes, his mike stand was moved over to the side in front of where I was standing. I reached up (as many fans have done before) and grabbed a pick from his mike stand. Within 15 seconds, Vai's guitar tech was in my face telling me to go the last row of the club. I told him he could have the pick back if it was that important to him (Vai had several, and he wouldn't have had all of those picks printed up with his signature if he didn't want his fans to have a souvenir! On the Sex & Religion tour, fans were grabbing for picks from Vai's guitar, and he loved it!!!). I guess it wasn't important enough to have back, but enough to proceed to scream in my face. Take this for whatever it's worth, but I really don't think that Mike would have cared if it happened to him, nor do I think a guitar tech would come out and defend MIKE'S HOLY PICKS. Oh well... I would never had met BFD if I hadn't moved, so I guess it was meant to be.
I hope all who read this enjoy the rest of the Vai shows with BFD. I can be reached at spinaxis@dp.net if anyone wants to chat or wants information on my band Einstein's Car with myself on guitar/guitar synth/vocals, Ryan Blair on percussion, and John Lally on bass/stick. Sound? Crimson meets King's X at Zappa's BBQ. Write me for more info.
See ya!
Jason Davis
---
A DAY IN THE LIFE--THE FIRE GARDEN TOUR FROM MICHIGAN
By Scott Baker
Greetings once again all Keneally/BFD/Vai fans!
Not so long ago I posted the Overview/Review on the Halloween show. Now it is time for a Vai/BFD report from St. Andrews Hall, Detroit, Michigan, December 11, 1996.
Surely all should be happy of the news that BFD is on tour. My girlfriend Kim and myself, being first to spread the news of the possibility nationally (see LOB, Sausage Factory part 2--and my Halloween Overview/Review), were ecstatic. Not only did the plan come through, but they came back to Michigan!
I see people have now jumped on the review bandwagon. Moosenet comes alive with news for Keneally Koncert Kornucopia--very good for the guys and lots of great stories. Killer idea you started there Keneally and it sure helps the road reports.
Instead hanging with Mike during the acts (very impossible now) and a view from the inside of the bus at the end of the show, we got to spend the entire evening with BOTH bands, from the BFD arrival at 5:45 p.m. till the after show meet & greet after 1 a.m.
Kim and myself walked in to the venue while the Vai equipment was loading and messed around for about five minutes. Toss and Bryan were the first to arrive. Just as I was about to say hi, MK came strolling in with a handshake and hug. Bryan came to chat with MK when he noticed us. It didn't take long for him to remember who we were (should've seen him when he heard "Scott Baker"---HaHaHa) and the guys introduced us to Toss before heading upstairs to the dressing room (soccer field according to Bry). The huge room (normally a dance room, complete with speakers) would be the home base for both bands for the entire evening. Couches, cushions, and deli tables lined the walls.
I gave MK some photos from the Halloween bus session as well as a review I did on BFD's Half Alive In Hollywood for my college newspaper (forgot to mention that it ran in one other college paper as well). While MK was reading the review next to Kim, Toss hooked up the disc player, and Bry and I caught up on happenings (we last saw each other at the Majestic in March of '94). The guys asked about the Moosenet reviews, soundfiles, and updates. They told the pissed off story of MK's van getting broken into in St. Louis (very upsetting for a band that is practically supporting themselves on the road). They told that the Vai band (including MK) sleep on the bus, while BFD travels with the donation of MK's van (Bry drives, rotating with Toss and BFD/Techmaster Ed Lucas). That is three guys, a van full of gear (hitting them in the back of the head!), and 1 speeding ticket.
Bry sat and pondered how to get proper meaning across for the next LOB (it WILL be another cool one!!) and Toss was jamming his latest CD, a jazz five piece named Waternoise (a must for BFD fans--very adventurous). They were reading a review of the gig from Cincinnati the day before, and chatted about the "tepid" audience response they received. They said they went from a motionless audience to selling more merchandise and signing more autographs then any other show. What a strange turn of events on the road!
Bry gave me a glimpse of his "false lap-top," which is a brief case with every little business subject from setlists to a planner, and other various BFD needs. They tallied every song and how many times played on the tour so far. They then proceeded to make the setlist out (with a little help from Kim on the addition of The Car Song). Toss and Bry then made the call to the Moosenet for the update on the St. Louis incident. Bry also mentioned that Phil and he have been having a blast on tour--there was never any hard feelings since the Vai auditions. Seems that many people were wondering. The bass relationship has grown strong between the two (got a killer photo of Bry, Phil, & Toss "flexing" for the camera between sets). The two will also have a surprise coming soon. I'll save it for the LOB, cause I know that Bry would love to tell it first! (couldn't ruin it this time! HAHAHA)
Here is the set list for BFD--decided upon by Toss, Bry, Mike.....and Kim (yes, I have the copies right here):
Career/Quimby
I Can't Stop (w/ a little Cat Scratch Fever)
Top Of Stove
The Car Song (St. Louis story)
Aglow
Land Of Broken Dreams (World Premiere--never before played by this lineup--and according to MK post show, never will again)
Dolphins
Immigrant Song
Vulture Fun/Gypsy Queen
Breakfast
By then Mike Mangini, Phil Bynoe, and Rich Pike (Vai's right hand man and Fan Club organizer) had been filing in, saying hi and checking out the big dressing room. Rich was telling me the reason there have been no updates on the tour from the Vai page is because of the big Vai bus fire, which somewhat melted the laptop (not to mention leaving everyone with little clothes and personal valuables). The fire happened in late November, before the BFD bus robbery. The laptop was being repaired and reports will arrive soon. The tour has definitely had some MAJOR hitches for everyone....
BFD has a tour guru now--Ed Lucas is his name. He came in tuning up the Holy Green Strat for MK. Ed told us how he saved the day for the guys during a couple of shows back at home. He is a genuine all around roadie/right-hand man. Very funny guy, noting that Mike needed some cheap help (hahaha).
Soon MK was on his way to soundcheck with Mangini and Phil. Steve could be heard about a half hour later. While Bry and Toss chatted with Kim and I, MK could be heard riffing Cat Scratch Fever downstairs. Pretty funny--stopped Beller in mid-conversation. Bry went to check some stuff out later on, while Toss warmed up on MM's practice pedals and jammed Los Lobos' Colossal Head disc. We chatted about his band history, sessions with ace Michael Landau, and discussed his road stories. Toss had us browse his road CD collection and he told us about the Vai tour he did for the Sex & Religion tour. I must say, Toss is the one of the coolest guys to talk to. ALL three guys make you feel very welcome and like part of the family. This was my first time talking with him and we chatted all the time (that Waternoise disc of his stands out--look for it soon) and he gave his opinion of road life (he misses his lady, home and session work, no doubt). Toss also has some dates booked for Waternoise overseas. As I was telling Mike between sets later on, Kim and I have met many musicians, but Mike, Bryan and now Toss have something special--we all have kept in touch and they have treated us like family. There are not enough thank you's in a lifetime to add up to how we feel about them. Definitely the best people around. It is really cool to see musicians of their caliber spend time with us. We ALWAYS have fun when those guys come around.
Mike came up to get Toss and Bry and tell them that they were able to soundcheck (!). They guys were saying they barely got soundchecks and almost never had the time to spend before the shows like they did that night--happiness was on the rise. The St. Louis break-in bummed them out for a long while.
As we were getting ready to follow Toss down, Steve came in saying, "Now this is what I call a fuckin' dressing room!" Yes, the room was obviously big and we finally saw EVERYONE once again!
While the band checked, I got my photo and party pass from the office. The doors which were supposed to open at 8 p.m. now were going to open at 8:30 or so. This is very cold Detroit too I must add. They were wrapped around the building waiting for the event. Lucky for Kim and I, we were in nice and warm. I went outside and grabbed my camera from the car and saw the same people stare at me that I was just staring down at from the dressing room. OH yeah...MK, Beller, and Toss all hung out the window yelling, laughing and checking out the line just before we went down. Lots of big HATS were everywhere, obviously prepared for MK. What a compliment for him!
While the crowd rushed in, Kim stapled herself to the front and center spot by the stage and I loaded up film. The usual suspects came from the G3 show (Sean, Rob, Drew Fignar, Bob, Zakk, etc...) and many other familiar faces rounded out the small venue (about 1,000 capacity). BFD kicked it in.
I filled up a roll and a half of film while roaming for photo opportunities throughout the Hall. People near the front were yelling "MIKE," and "Hey KENEALLY!!" More people showed then usual for opening acts, that is for sure. While Immigrant Song was blowing the minds of the audience away, I was back by the board listening to 3-4 guys talking about "this dude Mike" from the G3 show on Halloween. They were shaking their heads in disbelief, singing along, and loving every BFD second. I told them to make sure to grab a CD before they left (which they replied, "they have some here!!") BFD definitely won over the entire place--and I walked everywhere to get pictures.
Following Breakfast, Beller helped tear down the set, MK went up to get ready for part two, and Toss was meeting lots of people. Toss was mentioned quite a bit in conversations, with his unstoppable excellence behind the set. The energy level was overboard for sure. I went to tell Bry that the show was cool when he was surrounded by many "new" fans. Signing every last thing and answering every last question, Bry grabbed my jacket and led me upstairs to talk about the show. We opened the doors to find a very sweaty MK, kicking back on the cushions. Toss was talking to Mike Mangini and Phil, while we all discussed everything from performance, to sound and overall audience reaction. The guys all decided it was one of the better performances they had on the tour, but they all agreed there was no "real" magic on stage. I told them that they were absolutely incredible. Michigan has never had anything like this on stage! They did notice fans were loving it, and it definitely helped them extend the performance. Steve walked in just like in the old western movies by whipping the two doors open and pretending to whip out a six-shooter at us. Keneally was almost in tears, he was laughing so hard as Mangini mooned Vai--eliciting an "overly-excited" response from him. We were all laughing uncontrollably.
Beller and I went downstairs to get ready, just prior to the Vai show. I saw a few friends and went up to the stage, finding Kim still front and center--and having a blast. About 10 minutes later Vai came out to a nearly packed house, kicking off with Fire In The House from the new Fire Garden CD. The set list went like this (Yeah--got a copy of this too right here):
Fire In The House
Animal
Greasy Kid Stuff
Deepness
Tender Surrender
Little Alligator
Crying Machine
Charlie Brown
Answers
Conducting/Drum solo
Bad Horsie
Crossroads
I Would Love To
Brother
Die To Live
Blowfish
Kill The Guy With The Ball
For The Love Of God
Encore: Liberty
Attitude Song
Many highlights were featured in this set. From MK and Vai trading harmonies, to all out jams and even an impromptu groove supplied by Keneally & Co. when Vai blew out a guitar head. Vai was all smiles and was full of ferocious licks. Keneally and Vai had the duel for Crossroads, with Mike receiving a wide audience ovation. Vai asked if the audience was having as much fun as they were on stage and it was obvious he was not lying. Vai has made three total trips to Michigan this year (one other with a different lineup back in May) and this night was one for the record books. Toss and Bryan also joined for the conducting session on sidestage percussion. The audience went crazy. Keneally's on-stage humor (pretending to write all of Steve's notes on the back of his guitar, his huge hats, and uncanny ability to play keys and guitar at the same time) won over the audience once again.
The post show sight was a tremendous rush to the shirt stand, with others searching for souvenir picks on the floor. Bry and Toss sat on the stairs leading up to the dressing room, signing autographs and gearing up for the after show meet & greet. Kim and I flew out to the car to grab the cookies, brownies and stuff (Brownies for Dolphins!) that we made for the guys. One for the Vai bus and one for the BFD Van. People were told to leave if they didn't have an Aftershow pass. Mike came down, signed a few autographs and had Toss, Bry, Kim and myself head upstairs to hang for a second more. We all gathered around getting ready to say goodbye and discussed the Vai set. Steve strolled in and before long, Bry and Mike asked for copies of the photos as did Rich Pike for the Vai fan club (which I have been a member of since day one). Everyone seemed quite happy and hungry. We chatted about future plans and I got a total group shot (except for Phil who bailed seconds before everyone got together). Mangini, Steve's guitar tech, Rich, Bryan, Kim, Keneally, Steve and Toss all were rounded up for a last shot. What a way to cap off the great day!
Thanks to everyone, especially our great friends in BFD. Thanks to all the readers who made it through this piece--definitely an experience! Any thoughts or comments, email: sdbaker@cris.com.
Till next time,
Scott Baker
12:25 a.m. Monday, Dec. 16, '96.
---
How I Spent My December 11th
or
A Visit with Mike Keneally, Beer For Dolphins and The Steve Vai Band
Hey, It's 2:08am. I just got back for the Beer For Dolphins/Steve Vai show at Saint Andrews Hall in Detroit Michigan. I wanted to get down some thoughts about the concert before I went to sleep, otherwise I'm sure some details would get muddled. First off, I should say that I am a new Keneally fan having seen the knit capped one perform with Steve Vai on the G3 show at the Palace in Auburn Hills, MI. (Little did I know that I had a CD with him on it - "The Best Band You Never Heard In Your Life" - FZ, of course.)Thus, I don't really have any amusing anecdotes about hanging out with the band or having seen them before for that matter. However, I most certainly feel a connection to the bad after having read most of the material here on the Mike Keneally website (company time of course).
A little about the venue St. Andrews Hall -- It kind of the premier place for national Alternative Rock acts to play in Detroit. I've see Primus, Rev. Horton Heat, The Melvins, Prong, Smashing Pumpkins, Pearl Jam et all. Play there at some point. SO, I was a little surprised to see Steve going there. I figured it had something to do with BFD/Keneally. I don't really know, but it is a great place to see a show - much better than the traditional "Rock" venues in Detroit. I started the evening by weaseling out of work early. There was no way I was going to skip THIS opening band. I went to pick up my friend and fellow guitar enthusiast Chris but we didn't get moving right away. He is currently trying to book all kinds of gigs for his band (PLUG PLUG) Crimson Hollow around the Detroit area and was arguing on the phone with some club person. SIDE NOTE: Chris' band (Crimson Hollow) and my band (The Motor City Burgers) are playing Dec. 27 at the Hamtramck Pub! Send E-mail for info! So, once he got his stuff straightened out we left. I was worried we wouldn't get there on time, but luckily (or unluckily) I got there and people were lined up all the way around the building. For anyone who has lived in the Great Lakes area will feel my pain when I say it was fucking cold outside. We waited, and waited, then they started letting folks in.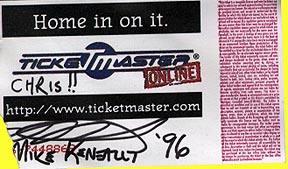 Much to my delight who should be right next to the door on the way in but Mike Keneally himself, decked out in BFD knit cap and long leather trench coat. I have to tell you, what a guy. I mean, hanging out with the fans before he even takes the stage? That's some major coolness in my book. I got in line to talk with him. First thing I said way "Mike Keneally, It's a fine, fine honor to make your acquaintance." I then complemented his involvement with the fans and his website for being the most open and informative artist site on the web - period. We chatted about how and why he does get so involved and then I wished him a good show and was on my way. He signed my ticket stub -- with a translation for his wacky doctor-like-prescription signature.

I went to the band and got myself a nice beverage and waited around for BFD to take the stage. Unfortunately I can give you a list of songs played, because like I said, I don't know all the songs -- I'm new to this strange land. I did recognize the Car Song and The Immigrant song, of course. I have to talk about that for a moment - My friend Chris who was with is like one of the most technically disciplined guitar players I know (I'm the least technically disciplined guitar player I know) was set on his ear by this job! Man can they pound the bad boy out. If I didn't revere Zeppelin so much, I'd say it was better than the original! Anyhow BFD was well worth waiting for. I love Mikes playing and his whole stage presence. He just gets up there and tears things up. Bryan and Toss were DEAD on, as well. I hope once Mike gets off the tour with Steve that BFD will take to the road again and grace the Motor City with a full length BFD performance. By then I'll be sure to deliver a more comprehensive review of a BFD performance.
After seeing Steve's show on G3, I was disappointed, mainly because I wanted to see more! 45 minutes wasn't nearly enough for them to fit all the good stuff in. I can't remember the set list exactly, so I'll throw out random songs: Fire In the House, Greasy Kids' Stuff, Animal, Bad Horsie, The Crying Machine (Mike and Steve did a REALLY cool Shaft-style Wah-Wah duel intro. to this), Little Alligator, Die To Live, Tender Surrender, Blowfish (Steve blew out his amp right before this song), Christmas Time is Here (with wonderfully tasteful piano from Mr. Keneally), I Would Love To, The Riddle (I never liked this song on the album, but the last two times I've seen Vai it's been close to the best thing they played. PLUS, Bryan and Toss came out to play the drums on the right and left side of the stage. Bryan and Toss then stayed for "Maestro Vai Conducts The Band" section of the show). They finished off the show with Kill The Guy With The Ball (which for some reason kind of fell apart before they could get to the God Eaters section -- but they recovered) and For the Love Of God. As an encore they did Liberty and The Attitude Song.
Random Thoughts:
Steve's volume during For The Love of God was ungodly. I normally don't grip my ears during a show but It was a little shrill.
When Steve blew out his amp right before Blowfish Keneally (on keyboard) & the band went off on a cool jam.
The sound wasn't quite right after Steve blew the amp. During for the love of god his signal was shifting left to right on the P.A. system.
No Fire Garden Suite or All About Eve. I was really hoping I would hear these, but I think Steve is still a little nervous about singing in front of guitar rabid people. The Fire Garden suite is probably just a little too much to pull off with the orchestration and the piano parts -- I bet Keneally could play that.
After the show I went to buy a copy of the Half Alive in Hollywood album, but they were all sold out. Too bad, I really wanted a copy of the Immigrant Song. I bought "hat" instead. I haven't been able to find hat anywhere so it was a fine purchase. When I turned around from the merchandise booth Bryan and Toss were sitting on the stairs across the lobby chatting with fans amicably. I felt like I should have gone and talked with them, especially having read all of Bryan's writings, But It was about 12:45 by then I had to get to work the next day. So, I'll be sure to talk to Bryan next time they come through Detroit. (Soon, I hope.)
So there you have it -- an evening in Detroit Rock City where Mike Keneally, BFD and Steve Vai ruled for a moment in time.
---
MUSINGS OF A BFD FAN
By Neal A. Mindrum
Tuesday, December 10, 1996.
On this day in history the following notable events occurred:
In 1810: The first interracial title boxing bout was staged in England; an American boxer by the name of Tom Molineaux lost to Tom Cribb. The fight went 40 rounds.
In 1930: Duke Ellington and Orchestra record "Mood Indigo" on Victor Records.
In 1953: Hugh Hefner published first "Playboy" magazine.
The Nobel Prize is traditionally awarded on December 10. Keneally had my vote Tuesday Night (12/10/96) for his performance at Bogart's, the showcase of the midwest in Cincinnati, Ohio.

This started out as a private assignment. My brother is a huge Keneally fan (as am I), however, he just got married and is honeymooning in Hawaii. I told him I would COVER THE CONCERT. Then I thought Obvious Moose browserfolk too might enjoy this entry.
11:35 pm (Post Keneally Bogart Performance Notes)
I write this memo with ears ringing... ("Guitar for the Practicing Musician" magazine recently measured a Steve Vai concert at 136 db. Cincinnatians know how loud the Bogarts sound system can sometimes be)
As I write, I refer to some notes I took this evening:
Wednesday night, 52 degrees, lightly misting...
I drive to entrance ramp of I-75, listening to: Ring of Fire (original Johnny Cash version). Feeling good.
Ten minutes later:
I-75 South as you pass Galbraith Road exitÉ Misting stops. Medium traffic flow. Listening to Klark Kent/Stewart Copeland performing Theme for Kinetic Ritual. Feeling edgy, as it is 7:50 and Bogart's doors open at 8:00. I hope for decent seating.
Ponder this:
Will Adrian Belew make it out? I saw him once in attendance the Joe Jackson concert at Bogarts; he used to live close by... Think of it: Keneally, Vai & Belew on stage. What song(s) would they play?
Now... Chew on this:
Zappa was supposed to play Bogarts in 1984; the show was moved to the Cincinnati Gardens, because FZ said Bogart's stage wasn't big enough to fit the percussion battery. Ironically, Ed Mann did not tour that time (even though Ed Mann and Napoleon Murphy Brock's names both appeared on the original tour itinerary).
8:05
I arrive to end of line; simultaneously, Bogart's opens front door. The end of the line extended all the way back to the Silver Moon cafe (almost the equivalent to a couple of city blocks).
"Shit", I complain to myself, anticipating shitty seats.
Crowd is predominantly of the ugly male variety.
"Damn," I say to myself, "If this concert had been properly promoted, there would have been all kinds of awesome babes here to check out Mr. Beller."
8:15
Get through front door, head to bar (a priority) and quickly grab my first of a three part Heineken series (coincidentally the beer choice of aforementioned Adrian Belew at the Joe Jackson concert).
Keneally and Beer for Dolphins (hereby referred to as BFD) are doing a sound check. Panos has a massive bass radiation/feedback loop in his kick drum, which is rectified after a few songs into the set. Keneally is loose and cracks jokes with the crowd. House lights are on at this point. I am purchasing CDs and Video Tape of the BFD ensemble. The vendor informs me that the BFD van was broke into two nights ago and all of Keneally's money was stolen. That sucks in a big way. I spent $85 on BFD product and the vendor thanked me. Mr. Vendor said Keneally would probably appreciate the cash.
Hey, reader, did you know that in countries outside of the USA people who are caught stealing lose an appendage?
I descend the steps onto the floor (not many people on the floor, surprisingly) Keneally calls for the house lights to be dimmed, after which he introduces the band and mentions that last night was Mr. Vendor's birthday... H.B., dude...
Here is a set list of the songs I could identify (sorry about inaccurate titles):
Cuz of Breakfast -------
Keneally's use of wah-wah pedal was real cool. Tempo is cocky as hell... Bravo, Mr. Panos. Beller, unfortunately is somehow indistinguishable in mix.
Open Up -------
Here I noted lots o' improvised arranging and Keneally's impressive ability to play and sing unrelated musical events simultaneously
My Dilemma -------
Note Keneally's fashionable Orange Orpheus T Shirt, Black BFD Ski Cap [50/50 Poly/Cotton Blend perhaps? I apologize for my inherent lack of detail] and blue jeans; Green Stratocaster [sparkled pick guard] and choice of a Bogner amplifier head. Beller sports Hard Rock Cafe sleeveless Muscle Shirt (with a dry, appropriate looking white sort of male person's conservative kind of middle-of-the-road cotton undergarment underneath); playing a 5 string Jazz Bass looking instrument. Couldn't see his amp selection, due to my vantage point. I was standing center stage about 35 feet back. Toss sported a black shirt and that was about all I could seeÉ Toss and Beller almost look like they could be brothers. They probably get told that all the time.
Instrumental/Lighting Roy (Ray?) -------
Someone in the audience requested "Lightning Ray." Keneally thought the request was funny. Some nifty dynamic interplay here).
Rosemary Girl -------
Who else but BFD can take harmonic/melodic sophistication and come up with a cool song? These guys are setting a new standard.
Soul Song -------
Unsure of title here; but it was a cool arrangement. (After listening to BFD "Half Alive in Hollywood" I have hereby determined the "Soul Song" in question was "Power to Love;" reference the lyric "With the Power of Soul, anything is possible.")
Day of the Cow -------
Introduced as "Three Cow Songs". Member of audience requests a stick from Toss whom obliges; Keneally tells Toss [jokingly] to perform remainder of concert with only one stick -- you had to be there...
Note to fans of "Mike Keneally tuning an instrument": during COW Mike was soloing and in mid-phrase he began tuning his instrument, first the E, the B shortly thereafter. Panos and Beller proceeded and did not miss a beat. Beller is great; too bad I couldn't hear him well where I stood.
This was about a thirty minute set. BFD quickly leaves the stage; audience is pretty blown away and probably would have called for an encore, but the house lights were abruptly turned on. I got the impression that there was a time constraint.
A twenty minute interlude happens here as roadies shift gear; a stocky guy pounds on the drumkit; a guitar tech plays Alice Cooper riffs through Steve Vai's rig.
Vai's band comes shortly thereafter. Keneally reminds me of XTC photos of Andy Partridge, what with his wardrobe change consisting of checkered suit and a pork pie hat. Keneally and Vai hit a lot of unison and harmonized lead breaks that are no doubt heavily rehearsed. Vai's show is louder than fuck. Vai has a dreadlock Bass Player who thumps around with a combination bass/ keyboard. He's a prodigy for sure. Vai drummer appears to be having a blast.
Vai sang some, reminiscent of a mild Billy Gibbons type voice. Vai had good facial expressions and remarkable finger dexterity.
At about 11:05 I had to bail (early morning commitments, you see). As far as I was aware, Adrian Belew was not in the audience. Did see the MK large scale HAT, though.
Post Script:
Keneally did not peer out into the crowd much, but he is pretty impressive in that he rarely looks at his fretting hand. I read on the internet that Keneally is touring with Vai in Australia WITHOUT BFD. Too bad; I like the way Keneally works his audience in the BFD setting.
Best o' luck on the rest o' the tour, BFD!
If X = Y, then Keneally = Mr. Nonchalant.
Neal-o says BFD scores Three Stars (out of three). Check it out.
12/12/96 -- 5:30 pm; Keneally for Nobel Prize... If not this year, soon.
---
Dan Phelps' 12/9/96
Dear Ol' Scott,
I regret to inform you of a mistake in your Mike Keneally web page. The Beer For Dolphin-mobile break-in happened on Mon. Dec. 9. How would I know? Well, here goes (also, consider this a concert review of sorts):
On the road (or in the air) with me (Dan).
Dec. 9, 1996. I wake up in Orlando, FL, the perpetually sunny retirement town of the south. Even though it's early and I was up late last night (I confess to be a fan of Conan O'Brien) I have no trouble being happy and energetic. Why? Because today I go to see Mike Keneally and Beer For Dolphins open for Steve Vai. Whoo hoo!
Shower, get dressed, go to work.
(Here, I'll stop to say that i am fifteen years of age, as it is vital to the coherency of this story).
At eleven I meet up with my Dad and we catch a ride to the lovely Orlando International Airport (a nice place to come home to, as airports go). We get checked in, stop for something to drink, and then it's off to Indianapolis, our most mid-western destination.
(Another stop. You may be saying "Fly to Indianapolis to see Mike?" Well, we'll just say that I'm a BIG fan. My Dad had a meeting in Nashville the next day, and I would think that after hearing Mike almost constantly for a month or so, he was kind of fond of him, too).
Leap forward in time: We're about to land when my Dad takes a look at the tickets. Automatically I can tell something is wrong. I get worried. He points out that at the top of the ticket it says "Must be 21 with I.D." Even though I couldn't see I'm sure my face drained of blood. Errrrr!
My Dad, the ever resourceful guy that he is, pulls out a pen and paper and starts listing out all of our options. We deboard and head to the hotel. The first thing we do is call the club. As it turns out, it's an Indiana state law that no minor can be allowed in a club that serves liquor. The Vogue is no exception.
After putting out our feelers and a good snack of coffee and nachos, we get a call from the incredibly nice Ruta, Steve Vai's manager. Apparently she had been reached by a guy who knew a guy, and would in turn contact Ghunji (sorry if i misspelled that), the 6' 11" road manager and sound technician. Great! Our hope is renewed and we rush down to the venue.
There we are directed to the tour bus, where we find Ghunji somewhat scrunched into a booth. We introduce ourselves and he breaks the bad news:
"Sorry guys, can't get you into the show. We could say you were family and sneak you backstage, but there really is no backstage here."
Depressing, but completely understandable. He makes it apparent that we are welcome to hang on the bus, though.
At this moment Mike comes in, cold from the Indianapolis weather. We're still standing, and he politely moves past us. After quickly considering my options, I say "Hey, Mike". He turns around and says "Hey", as I'm sure he's said to many, but then to my most pleasant of surprises, he recognizes me (from the National Summer Guitar Workshop that he taught in Connecticut) and said "Oh, Hi. Give me a minute, ok?", or something to that effect. Next through the door is honored bass boy Bryan Beller (of whom I am also a BIG fan). I smile politely.
He is cold, and somewhat upset looking, for reasons completely understandable. Mike comes back from the rear of the bus and they talk about money. Afterwards Mike sits down and explains that their vehicle was broken into, and Toss' pedals were stolen. Bummer. He sits down to write out the set list. Our story is told, and the conversation takes a lighter turn. We talk about the tour, how the show have been, what was the best show. My Dad and he talk a little business (shameless plug here: check out http://www.fullsail.com).
Mike hands me a setlist and says "Well, you won't be able to hear it, but at least you'll be able to see what we're gonna play." After a moment I give my approval, though commenting on the lack of "Lightnin' Roy." Oh, well, tomorrow night, says Mike.
We are informed that if we come back at nine, we can meet Steve. Great. We decide to take off for a little while.
Returning at nine, we get on the bus and spy Steve in the back. He turns out to be super nice guy, and we have a great, but short conversation before he politely excuses himself. Another good encounter.
Here's where I go through the toughest part of the evening. As we exit the bus we pass by the door that leads to the stage of the club. I become painfully aware that Mike and the Boys are tearing into "I can't stop". We stand a listen for a moment. It also becomes painfully aware that it sounds really good. They break into the solo section (my favorite part of Half Alive) and we stay until that is finished. If my Dad hadn't suggested going, I would have probably stayed right there. We leave.
There it is.
Other people that must be mentioned:
The Overly and Incredibly nice (and this evening, pipe chewing) Phil Bynoe, who offered to throw me over his shoulder and wear me into the venue.
The Snappy Mike Pagniani, who questioned wearing a fifteen year old guy during the show. Phil's response? Just tell them it was the new "thing".
The Tall Ghunji.
The Nice Ruta
And of course, Mike and Steve. Also, the roadies who names i can not remember. Thanks.
Peace,
Dan Phelps.
---
MICHAEL LERCH'S ADMITTEDLY LONG REVIEW OF BFD/VAI IN INDIANAPOLIS 12/9/96
Hey there! I saw BFD and Steve Vai at the Vogue in Indianapolis last night December 9th and would like to review it for you! I must warn you before you start reading that Bryan Beller is my favorite author. Well, Orson Scott Card is my favorite, but Beller's a close second. Okay, Dan Simmons is up there before Bryan, too, but you have to understand that I deeply emphasize Beller's love of LENGTH (of his writings, anyway...). This is a long, detailed, easily sidetracked review. I've read it over, though, and I enjoy it. I hope you will to!
Let me just start by saying that there's no real way to tell the size of Mike Keneally's nose. The reason is that the respective proboscises of Toss and Bryan completely ruin any perspective. As a man of large schnoz myself, I must tell you that I admire them (Bryan and Toss) deeply.
Let me also start by saying that my friend Da9ve and I saw the G3 tour in Columbus, Ohio and was quite delighted and enjoyed it immensely. We ran into Keneally during the break and had him sign many CD booklets and even one of the EMG posters.
Let me continue starting by saying that I first came into Keneally awareness via Zappa's Universe video and then saw him with Z at the same Indianapolis Vogue that I'm about to discuss. Let me also start by saying that I've got all Keneally's solo stuff, even the Rosemary Girl single and I love the Mistakes.
Let me finish starting (last one, I promise) by saying this: a few days after seeing G3 in Columbus my wife Nancy and I trekked up to Chicago (we're in Terre Haute, IN) to see G3 again (again for me, first time for her). We paid many dollars via TicketBastard and I was really hoping that seeing Keneally for the second time in like two days would get me around Steve Vai to have him sign the many Vai CD booklets I brought along. The rub is that Nancy and I COULDN'T SEE THE SHOW. I say this in all seriousness. Thanks to the FUCKING outer-Chicago traffic we were miserably late, knowing that we'd missed Adrian Legg (who I love). What we DIDN'T know was that the parking at the venue was so damn bad that we COULD NOT FIND A PLACE TO PARK. We could have ventured into the not-terribly nearby residential area, but there were very literally young guys with hoods on standing in groups on many corners; who needs that shit? It was a horrible trip and the only thing we heard was about half of "For the Love of God" wafting out of the venue while we sat for several minutes at a stop sign. Shit.
The reason I give you all this preliminary information (especially the last bit) is because you have to understand how INTENSELY I was going to enjoy this show, no matter what. Nancy and I had been to Phish in Champaign between the aborted G3 show and the Indy Vai/BFD I'm about to review; we had actually left because the sound was so terrible where our seats were (plus Nancy very rightly grew tired of my bitching about the sound). She and I were going to absorb every moment of this show, especially the BFD segment. We'd actually toyed (and still are toying) with the idea of vacationing to California just to see BFD; we wanted to see them in a BAD way. Now on with the review (thanks for reading so far, by the way...I really wanted to vent about the Chicago G3). Oh...one last thing. Nancy's birthday is 12/11 and this 12/9 BFD/Vai show was the bulk of her birthday present, though like an asshole I forgot to mention it to any of BFD when I talked to them (more on that later). She had a fine time. Fellows of BFD, thanks for the birthday bash on behalf of Nancy, even if you didn't know you were doing it. Forgive me, my loving wife!
We got there right on time (8:00 Eastern) but unfortunately the line just for ticketholders to get it was large (they were frisking) and so music started wafting out. We about shit, thinking we were missing BFD. It turned out that there was an opening act named Cory Stevens. He was a blues guy (let's make that face, let's make 1/4 bends on that fourth, etc.) that (opinion time) I thought was less than delightful. He sang just like Eric Clapton on "From the Cradle" and had a guitar sound that sounded just like Stevie Ray Vaughan (though he wasn't nearly as good or innovative as Stevie Ray). In fact, (rather offensively to me) he encored with Stevie Ray's cover of "Voodoo Chile (slight return)". Note my wording there, because that's what he was doing. Please understand that I give opening acts a huge chance and still didn't like him. I give opening acts a huge chance because after all, that's what BFD was, right? Always show up for the opening acts.
After Cory Stevens broke down, Nancy, Da9ve and I made way to the front of the floor (we had one of few tables) by the stage and ended up being the third people back right in front of Beller. We kept this perspective throughout the BFD show, and let me tell you that it was fucking great to be that close. Here's something for you: Beller was carrying his own gear on stage. I don't know why this seems like a big deal, but it is just so cool and honest to me to see a magnificent musician who I know is going to rock my world walk around with an A.C. plug in his hand looking for an outlet. I mean, *I* do that, and I'm only a hobbyist guitarist/drummer/bassist/vocalist in a cover band! Very soon the band would stop doing anything that I could, though (grin).
Here's a couple of notes as to how close we were to the stage: Keneally and Beller were drinking Heineken. In fact, we heard Beller let fly with a beautiful eructation just before the show. We gave him a thumbs up as he wiped off the chunks. Also, have you ever wondered what Bryan's pedalboard was like? Let me tell you! He's got a volume pedal, an A/B push-button for his amp, a Boss chorus pedal, and a distortion pedal (which he only used once). It was angled as such that I couldn't read the brand name, but by the color and shape I'd say it too was a Boss. He also had a very shop-class looking A.C. bay where these things were plugged in.
Let me tell you something else: Toss Panos looks like a very average guy. He looks like someone who might be purchasing some olive oil and a T.V. Guide in front of you at Kroger. In fact, however, he is not a normal guy. He is a DRUM GOD. I found out later that he was quite sick during this show and went back to the hotel and was asleep right after BFD. You by god couldn't tell that by his playing. Bryan and Keneally do NOT look like normal guys because they were wearing Obvious Moose and Billy Ray Cyrus T-shirts, respectively.
As was noted in an earlier review, BFD had a long sound check while they worked on their monitors mixes. After a fair amount of experimentation Keneally had to dump his side-fill altogether, though Beller (the shmoe!) supplemented his bass cabinet (which was right behind him) with some more bass from his side-fill monitor. Their monitor mix worked quite well for us, as we were close enough that we barely heard any of the house mix...the stage mix is what we were treated to and the balance was quite good. Occasionally we could actually hear Toss' cymbals acoustically from the stage rather than through an P.A.
During the soundcheck we heard the only Zappa of the night. Keneally's guitar was causing massive noise in Beller's monitor's (a nasty sound which Beller called "sparking" and Keneally called "farting") and Keneally played several little things for Beller's benefit so he could check things. Mike first played either a bit of "The Black Page" or Moggio (I knew then but can't remember now) and shortly after played part of the demented xylophone part from "Montana". There was our Zappa. I have to admit like an earlier reviewer that I really hoped that there would be some Zappa in the show, what with a fine drummer and bassist in Vai's band and two Zappa guitar alums. (in a Jazz Discharge voice) Oh, well.
One more thing happened before BFD started. An acquaintance of mine and good friend of Da9ve's, Eric Tullis, was called to the stage by Beller. Beller asked us where he was and Da9ve went to get him. I was insanely jealous, trying to figure out why Bryan likes Tullis more than me (grin). Tullis extended the offer of Indianapolis Chinese Food to Beller before I did, and I think that's the key. (Note that Eric Tullis is a fine gentleman that, along with Da9ve, made a ten hour Frank Zappa show for broadcast on the radio station of the alumnus...I have copies and they're great) Bryan mysteriously told Tullis and company (me included) to "stick around after the show...you won't believe the day we've had." After my ego-deflating Tullis appearance (g), and this mysterious disclaimer, the show started.
Keneally took the mic and added to the mystery by introducing himself and the band and saying that they would try to keep the day's event's from interfering with their performance. Our curiosity was definitely piqued. Here's the set list:
Career/Quimby ->
I Can't Stop
Ground Zero
Assholes (actually "Vent" from the disc two of the live CD) ->
So Tired (by the Beatles)
Uglytown
Lightnin' Roy
Immigrant Song
Breakfast
Here's my rundown:
Career/Quimby - This was very fine. It was very similar to the CD and Nancy and I danced (we love fucking people up by dancing to odd meter and/or untraditional songs). Just like on the CD, this went into...
I Can't Stop - Also very fine. In fact, I'm just going to tell you right now that thought the band apologized for their performance (for reasons I'll discuss in a few lines), EVERY song was very fine, maybe even absolutely FANfuckingtastic, so I'll guess I'll dispense with that. Toss and Bryan had some great interplay during Keneally's solo. During this song Toss was yelling at the monitor guy for something. Their monitors, especially Toss', gave them a couple of fits. At this song, I removed my earplugs to hear just every possible thing and damn the ringing ears. I have a hat just like Keneally's multi-colored one except that mine is actually longer. I rolled it so that two layers of the hat covered my ears and decided that was good enough. For Vai I put the plugs back in.
Ground Zero - Killer with tons of dynamics as you might expect. Mike's solo was especially fine. I have to tell you something about Toss. He was kicking my ass hard right from the start both from my perspectives as a drummer and as a music listener. One thing about him, though...for all his technique and taste, he does NOT practice economy of motion. He's a traditional grip drummer and during this song (guitar solo section) he spent some time with his left (snare) hand just hovering a foot above the snare drum and smacking it on two and four. His right hand, meanwhile, was all over the toms and cymbals (especially the cymbals). I was dying. How the fuck was he doing that stuff with one hand? And why? (though I think I know...he was winding his snare arm up for a fucking drumhead-splitting ass-whippin') I believe it was during this song where Toss' monitors REALLY pissed him off and he spent several moments indiscreetly telling someone to take something out of them. Keneally told everyone not to go to the next section of the song and asked Toss what he needed. I believe Toss had all the guitar, vocal, bass, tweeters and woofers removed from the monitors at that point, though it may not have been that extreme. This MAY not have happened in this song, but I'm pretty sure it was this one and it DID happen. Bryan asked Mike to tell about what had happened that day while they were fixing shit (note that vamping was happening here; they didn't stop completely); Keneally declined, though...
Assholes (actually "Vent" from the disc two of the live CD) - At least some of the day's mystery events were explained when Keneally dedicated this song to the fuckers who broke into their van. Ahah! Much was explained. Later Keneally and Beller told me that a bunch of Beller's CDs and a portable CD player were stolen, along with some of Toss' drum pedals. Something like $1000 bucks of stuff. Car thieves (particularly the one(s) responsible for this) can just kiss my feathered ass, goddammit.

As I've said, every song in their set was great, but I had only heard this twice before (I've only listened to disc two of the live album all the way through a couple of times). I listened to it just before I sat down to write this and I have to tell you: this live version was (opinion) much better than the studio version. I'm really glad I got to hear it. I mean, they fucking raged on this one, Keneally putting special vocal emphasis on parts of the song that were about assholes and fuckers and dying. His incredibly impassioned vocals were much cooler than the (admittedly cool) distorted vocals in the studio version. It was at this point that my ass started feeling pretty loose. This song had a great transition to...

So Tired (by the Beatles) - They did a pretty darn straight version of this, though theirs was heavier at times. I shouted along with Mike and Bryan during the "I'll give you everything I got..." part. I'm serious, having such a tender but intense version of this song follow Vent/Asshole was great.
Uglytown - Okay, folks, just look the fuck right out here. Again, with the mystery of the day explained, you have to understand how much pure tension these guys were removing from themselves while playing. They were musical as all shit, but they were definitely in attack mode. During Mike's solo, he did something that just had me laughing out loud with angst and glee (and I don't say that just to quote Spearmint Pup...I'm serious. They were kicking ass on Uglytown, I'm singing along, I'm wishing that we weren't so jam-packed in the crowd so that I could move my body some more (Nancy makes sure I don't bump into people by digging her nails into me anytime I move out of my imaginary circle). Then comes the solo and Mike does some neat stuff for a moment, then he goes right up and just grabs some serious dissonance. I believe by the way his fingers were splayed that he was playing a minor second way up high...the distortion kept me from figuring it out exactly. He just strummed this nasty shit very gently over and over. Needless to say, the fantastic band that is BFD was adjusting to this right away and providing their own rock-solid accompaniment to this dissonant mess.

Here's what was so cool (in addition to the music itself): as Keneally was playing this fucking cluster, his grim expression turned more and more into a grin and his grin turned more and more into a giant, head-splitting, teeth-showing smile. Nancy and I looked at each other and then cheered our fool heads off, encouraging him. I'd like to think he heard the audience approval because he just kept it up and pretty soon his head DID split and fell clean off. Well, not quite, but it was still great. I'll tell you what it was like (I told this to Mike later and he laughed and agreed): as Mike played this dissonance and smiled you could just see the catharsis flow from him; I swear it was like the beam from Independence Day in reverse. You could just see this green cloud of bad vibes rising from him and through the roof. Fuck it was cool.

Lightnin' Roy - Not a lot to say about this one...it was great and it seemed like a decent amount of people sang along with the chorus. Mike and Bryan sang the chorus better than they did on the CD, even! Oh, and I took advantage of the quiet parts to yell "TOSS IS BOSS", which he is and I hope such a silly phrase doesn't annoy him. It's true, though...hear for yourself sometime!
Immigrant Song - Hey, here comes the Zeppelin cover! The soundman/woman passed the test (see 1/2 Alive liner notes). Here's what you have to watch the fuck out for on this one: Keneally didn't try for the high notes in falsetto or by just going for it. Instead, he just fucking let out the most godawful/wonderful banshee yells you've ever heard in your worst nightmares. Frankly it gave the song a fairly authentic kind of invader feel than the original Tarzan-like yell, and you just can't believe the energy coming off the stage at this point. I'm telling you right now, between Bryan's bass (which was SO room-shaking but VERY VERY pleasantly not overpowering anything else) and the earthy screaming and Toss's intensity and Bohnam-like use of the a single bass drum (I think...his high-hat was awful tight to not have a foot on it), it was at this point that Mike Keneally and BFD kicked my ass clean off. To paraphrase a very fine turn of phrase from Da9ve, I need to come back to the venue the next day to collect my ass.
'Cause of Breakfast - Keneally dedicated this to his dad. I believe it was at this point (after the banshee yelling) that Beller AND Keneally apologized, though Keneally might have apologized after the song instead of before. I guess they were apologizing for the yelling and the dissonance, but as I told them later, I didn't see that they had a goddamn thing to apologize for. They rocked my ass with THE most honest performance I've ever seen. What a fuckin' great show.
I warned you about the Beller influence on my writing, right? I swear there's not a ton more. You're more than halfway there (though, frankly, not a LOT more than half)
After they played we went to the side of the stage and talked with Keneally for a few moments before he left to change. I think we saw Beller for a moment at this point but can't remember exactly.
I want to tell everyone something before I give my short review of the Steve Vai show. In high school (I graduated in 1989, I'm 25 now), I was a giant Satriani and Vai fan and also listened to much Metallica. Vai REALLY influenced my desire to play music in general and shift from drums to guitar in particular. I bought my first Zappa album (Ship Arriving Too Late To Save A Drowning Witch) to see what Vai was like "back then". I voraciously read all Vai interviews. When I gave up my music career ideas when I had to drop out of music school to get surgery on my advanced Carpal Tunnel Syndrome, "Passion and Warfare" somehow gave me a peace of mind that nothing else could. What happened after that was basically that my tastes have changed. A lot of THAT has to do with that first Zappa album I bought to hear Steve Vai. Nancy and I have 30 or so Zappa titles now and I read and have read Zappa interviews and such with an even more voracious attitude than I read Vai's. I heard of Keneally, saw him on the Zappa's Universe video, saw him with Z, then bought Hat, then wrote him, then mailed him a certain multi-colored stocking cap (toque), bought Boil that Dust Speck, bought the Mistakes, etc. Basically my tastes have changed from Mozart and Metallica, Smetana and Satriani to Zappa and Stravinsky, Keneally and Vaughan Williams, and to Phish and the Dead the Naked City and Mark Ribot, etc. etc. Keneally's music is just exactly the fuck what I want to hear. If you had told me in 1988 that I would be more excited to meet a Vai sideman than Vai himself, I would have called you a goddamn fucking nut (well, I would have called you a weirdo because I was religious then). That's what happened at the G3 show, though. I loved the piss out of Vai and Satriani, but it was Keneally I watched a lot of the time. Finally seeing BFD was more of my dream come true than seeing Vai a second time. With that note, here's the Vai setlist:
Fire in the House
Animal
Greasy Kid's Stuff
the "vocal half intro" thing from Fire Garden
The Boy From Seattle
Little Alligator
The Crying Machine
Christmastime is Here (Charlie Brown/Guaraldi)
The Riddle
Vai's Fairy Dust/Band conducting thing
Drum Sola
Bad Horsie
Blues jam from Crossroads->Crossroads Duel->More Blues jam
I Would Love To
Brother
That song that has the "Money" (Beatles, not Floyd)-like riff from Fire Garden
Kill the Guy With The Ball
For the Love of God

ENCORE

Liberty
The Attitude Song
Here's some brief comments
Fire in the House - just like G3
Animal - as I said, "Passion and Warfare" is a really special album to me (and I DO think it's a fantastic album), and so I love hearing it live. They did this at G3, too and it was damn good both times! The only thing that bothered me was that in general the sound was quite a bit better at G3. The whole show suffered from STUPIDLY LOUD bass. Not all the time, but occasionally, the bass (the SYNTH bass, I think), would completely overpower everything else in the mix. That happened on the first two songs a lot. Also, Keneally was WAY too soft through the first half of Vai but that was quite satisfactory later.
Greasy Kid's Stuff - great!
the "vocal-half intro" thing from Fire Garden - quite nice. Extended from G3. I was hoping (especially after BFD) to hear a wildly different set from Vai than I heard at BFD but in fact it was very similar, even in the sequencing. They had more time to play here, of course, but that was still a bit of a bummer. This song WAS one where there was some nice improv.
The Boy From Seattle - fine.
Little Alligator - This is my favorite vocal song from the new album and it kicked my ass at G3. If I had an ass left at this point in Indianapolis it would have kicked it, too.
The Crying Machine - A couple things here. On the album, this song disappoints me greatly. This sounds, for all intents and purposes, like a Joe Satriani thing. When they did it at G3 I expected Satriani to walk out and play it while Vai sat down. With that said, it's a GOOD Joe Satriani song. This was another song where there were differences between it and G3. The intro was great, with Keneally and Vai doing some call and answer scratch wah stuff. This degenerated quickly when Vai used his WHAMMY BAR to do some of the scratching (it sounded great) and Keneally used a drum stick. It was quite cool, but then the song started. Keneally did get a couple solo breaks in here but at this point in the show he was still too soft to hear them very well when the whole band was playing. Keneally and Vai did a great unison whammy bar line.

In fact, I want to ask something of Mike Keneally at this point. Something that I haven't felt like asking him when I've seen him these last times because there were always crowds wanting him to sign stuff. Here's your interview question, Mike: How has playing with Vai influenced you? For instance, I don't know that you've ever used whammy, yet with Vai you have to and you do it fucking well! How do Vai's guitars feel? I think it's great that you don't "shred" during your own songs, but why is this? You shred in unison with Dweezil and Vai; do you consciously hold it back on your own (not that you don't play with plenty of pizzazz) songs or do just not feel that it's appropriate in your stuff? Interview over.

Christmastime is Here (Charlie brown/Guraldi) - This was quite fine and Keneally took a HILARIOUS solo break. It was tasty for a while, then it got INCREDIBLY silly. I missed a few notes from laughing so hard...Keneally did to. He was cracking up.
The Riddle - GODDAMMIT! Vai started off with some great odd-meter clean rhythm stuff, just riffing. Then he launched into a bit of Little Green Men and the crowd went insane. Then he went on into the Riddle. Don't get me wrong for a second; this is one of my favorite songs from "Passion and Warfare" and indeed one of my all-time favorite songs. It's melody is beautiful and I love the Little Green Men melody towards the end. But dammit, I wish they'd done Little Green Men. I would have shit NANCY'S pants.

While I'm on that subject, did you notice that "Fire Garden Suite" and "Bangkok" are missing from the set list? Those songs are SO good from Vai's latest. I figured he didn't play them at G3 because of time constraints. But why didn't he play them here? I would have shit someone else's pants on that, too.

Vai's Fairy Dust/Band conducting thing - This was neat and fun and was extended very considerably from G3. Maybe someone else can describe exactly what this is, but it IS fun.
Drum Sola - Okay. There's a Mr. Boffo cartoon where he's holding up a T-shirt that says: "Drum Solos -- The reason Fast Forward was invented". I agree with that. (I got that cartoon from Nancy's dad, by the way; a many many-year big band drummer). Even when I was a full-time drummer I agreed with that. I've heard very few really musical drum solos. Toss didn't do one with BFD or I might have a different opinion (g). I've heard Branford Marsalis' drummer do some great stuff, but that's about it. So I'm not a drum solo fan. With that disclaimer, I really, really didn't like Mike Mangini's drum solo. I found it quite boring. He DID do one really neat bit for a while where he set up a pattern on the bass and hi-hat and then played whatever the fuck he wanted on top of that. He has some great four-point coordination. But I wish he'd used it to make some percussion music instead of just showing off and riffing. (addendum...Joe Travers did a solo with Z when I saw them...that was actually one of the good ones).
Bad Horsie - My least favorite Steve Vai Song. I REALLY REALLY like "Juice" from Vai's "Alien Love Secrets" (the album with "Bad Horsie"). I really like Kill the Guy with the Ball. I really think Bad Horsie is quite boring and way too long. Live, though, Vai did one really neat thing...he did a repeated hammer on and slid his tongue over the string up by the pickups. It brought him what I call a "harmonic series" much like what you get if you hammer on and slide your finger around up there. That was really neat and I have to try it (though I'm sure I'll slice my fucking tongue open and hemorrhage all over the fucking bar where we play)
Blues jam from Crossroads->Crossroads Duel->More Blues jam - This was pretty neat and had the same vocal sample from the movie that they played at G3. One thing you might not have guessed: Keneally and Vai played the Paganini caprice *in unision* together. They actually didn't play the whole thing, I don't think (I didn't hear the opening arpeggios), but it was still quite a sight.
I Would Love To - Another song from Passion and Warfare. Yay! Big BOO, though to the oppressively loud bass.
Brother - Vai promised that he was only slowing down a bit and not stopping on this one and did a bang-up vocal job. Big stupid oppressive bass was a problem again, though
That song that has the "Money"-like (Beatles, not Floyd) riff from Fire Garden - I have the disc but am almost done and don't want to go up and check it. This song sounds too much like too many other songs for me to really like it. They did a good version, though. The bassist really shook his hips on this one and was fun to watch. Keneally did many harmonies and I think played some of the Coral electric sitar on this one.
Kill the Guy With The Ball - They fucking ripped this one. Tons of energy.
For the Love of God - This sounded great, just like at G3, but just like at G3 a couple of the harmonics that he hits in the studio album were left out. This wouldn't be a big deal except the very harmonics that have been left out live are the very ones that send chills up my spine. I don't think he was playing the seven-string on this one (or any other one, actually), and did a big position switch to (what it looked like) compensate for the lack of the ultra-cool-and-fast-high-up-on-the-low-B run toward the end of the song.

ENCORE - They didn't make us wait too long.

Liberty - Several people, me included, sang along. I love that song, especially the studio version.
The Attitude Song - Another guy came out and played some rhythm guitar on this one. Keneally ripped it up; I say this because Keneally (by his own personal admission to me) fucked up some parts when I saw him do it at G3. This was great. To me this is one of the ultimate rock and roll encores. Again, Nancy and I danced.
Now, you did read my warning about Beller's influence over me, right? Well, I'm finally done. I'd love to hear what people think of the review, especially people who were at the Indianapolis show on December 9th with me. I hope I've performed a service to those who haven't been able to see the shows and maybe even those that have!
Mike, Toss, and Bryan...you guys rock and I deeply hope to see you again as soon as possible. Toss is Boss. Thanks for the double-live CD and for the video (the fucking *VF* warning KILLLLLLS me) and for kicking my ass. Mr. Vai, though my tastes have changed I still see that you are fantastic and I enjoyed meeting you (he signed the first guitar magazine I bought with him on it...I read it before I bought my first David Lee Roth album). You've been very inspiring to me and more importantly I've enjoyed your music! Same for you, Keneally and BFD.
See Michael's posting of this review at http://home.nycap.rr.com/lerch/mkbfd/vaibfd.html
---
INDIANAPOLIS: GIG OF ANGST (12/9/96)
by Eric Tullis
Here I sit in front of my computer screen at 2:30am, winding down from seeing BFD/VAI at The Vogue here in Indianapolis, IN just a couple of hours ago! I doubt that I'll be able to write as long or as detailed a report as those who have written before me, but here are some random thoughts about our adventures this evening.
The evening started out with bad karma, as I left the house *without* my ticket! I drove back to fetch the rascal, and got to the venue at about 6:00pm to stand in line. It's pretty damn cold in Indy this time of year, so we were all stupid with glee when the doors finally opened at 7:10pm or so...
We staked out our usual table, and waited while the rest of our party arrived. A recon run to the merchandise table revealed at least one Keneally poster, "hat" and "...Dust Speck" for 12 bucks each, and "Half Alive..." for 20 bucks. They didn't have the Mistakes disk there, nor did they have any Keneally/BFD wearables. I also found it very telling that you could buy EARPLUGS at the merchandise table! Ouch!!
We sat politely through the opening act, which started at about 8:15pm. I don't remember the name (Cory Something?), but they were a three-piece with a front man who played guitar like Stevie Ray but sang like Clapton. Competent stuff, but it's all been done before. (I don't think he knew that.)
After that, BFD began to set up. At this point, three of our party walked down to the floor in front of the stage, to be close to the action when the music started. I was chatting with the rest of my friends back at the table when one of my friends on the floor came back to me and said something like, "Bryan's calling for you, man!" I looked stageward, and sure enough, Bryan was on stage calling my name and scanning the crowd trying to find me! This was cool!
So I got up and made my way to the stage. Bryan spotted me and reached down to shake my hand (he's on stage, I am not). It was pretty noisy around there, but he shouts down at me: "Hang out after the show! I gotta tell you what fucking happened to us today...You're not going to believe it!" He goes on for a bit about how there's not way I'm going to believe the kind of day they had today. It certainly got my curiosity up!
To add to the bad karma: BFD were having one helluva time getting their monitor mixes to their liking. After they tried to dial those in, the sidefills were "farting like a motherfucker" (Mike's words) every time Mike tried to play a heavy chord. But time was ticking away, and you could see Mike getting more and more annoyed as the show was delayed more and more.
Finally, with most of the problems solved (sort of), they started their set, which I have dubbed the GIG OF ANGST. I could tell something Not So Good must have happened to our boys today, because this gig started looking more like a musical catharsis than an ordinary performance. All the songs were performed with anger and aggression! Impressive, and almost scary!
The set started with Career/Quimby/I Can't Stop, and featured such "standards" as Lightning Roy, Uglytown, Immigrant Song, and 'Cause Of Breakfast. Then, a clue was given to start to explain the bad karma of the day: Mike introduced a song with the following - "This song is dedicated to the people who broke into our van today. This is called 'Assholes'". What? What is this all about?!?
The very angry set came to a close, and I caught back up with Bryan to see what the deal was, and the deal was this: It turned out that someone broke into the BFD van (car?) yesterday while they were at a hotel in St. Louis. Stolen were all of Toss' drum pedals, as well as Bryan's CD player and about 30 CD's. Shit, no wonder the band was in a dark mood today!
Anyway, it was excellent getting to sit and chat with Bryan at length, and I had him and Keneally sign my "Half Alive..." CD notes. I wanted Toss' signature too, but he disappeared very quickly after the set ended. (No doubt in a bad mood about the pedals!) Bryan and Mike apologized to the crowd for their angst-ridden set, and insisted that they're not usually like that at all! They asked everyone to come out to the Cincinnati tomorrow night, because they'd be a "happy" band again! Mike said that they would play covers from The Knack all night long in Cincinnati, which was pretty funny.
I'm quickly losing consciousness now, so I'd better wrap this up. A few words about the Vai show: Mike was incredible, and Vai was full of himself. I found myself waiting for the next cool "Keneally moment" in the midst of a deluge of absurd weeedly-weeedly-wee from Mr. Vai. Mike was definitely the highlight of the evening, regardless of who's band he was playing in...
Gosh, I can't keep my eyes open any longer! I've gotta go!
later, all
eric
Comments From The Day After:
Now that I'm awake, I remember more of the things that Bryan and I talked about while the Vai band was setting up. He went into a little more detail about how they're actually running the tour with regards to travel:
"The Bus" belongs to the Vai organization, and BFD (or perhaps just Bryan and Toss, he didn't clarify) are careful not to impose by using the bus too much, because it already houses twelve people for this tour. When traveling from city to city, BFD follow *behind* the Vai bus in a separate vehicle, and Bryan does ALL the driving! BFD's roadie probably rides in this extra car, too.
It was this car that got broken in to in St. Louis. Also, BFD spends nights in hotel rooms, while the Vai people do not. They stay on the bus. And yes, as you read elsewhere on the page, this is the SECOND bus for the Vai folks. The first one "burnt to a fucking crisp" in Oklahoma City, according to Bryan. The generators caught fire, and everyone lost some of their possessions as a result.
These are just a couple of the reasons why Bryan asserts that "the Karma is so OUT" on this tour. He apparently was so in need of cathartic release for this show that he played the gig slight drunk, which is something he says he NEVER DOES. On the upside, though, Bryan was very damn enthusiastic to hear that there were so many images on Moosenet from that Chicago House of Blues "spy cam". He said that was a really, really good show.
OK, that's all I can remember for now. Thanks for listening!
---
I GO TO SEE B.F.D. AND ALL I GOT WERE THESE WAXY EARPLUGS
(a review of the Beer For Dolphins show at Mississippi Nights, St. Louis MO, on Sunday, December 8th)
by Mike Schrand
The evening of December 8th was quite exciting for me. I was heading down to Mississippi Nights to witness, for my first time, a set by Beer For Dolphins. I won't quote any San Francisco bands about strange trips, but my karmic path to Beer For Dolphins is quite strange, as I serendipitously came across Keneally's webpage and knew so much about the band and their songs without ever having heard a note. By showtime though, I had and was familiar with both Keneally solo discs and had gone through "Half Alive" just once to familiarize myself with songs whose titles I knew but not the music....I wasn't disappointed!
So a couple of friends of mine and I met at the club, went in and bought some earplugs at the bar ("Make mine a DOUBLE!" I screamed) and set up two-shoe camp about ten feet in front of the stage on what was to be Keneally's side for the whole night....vunderbar!!
So the lights go down and I see Beller and Panos getting onto the stage and getting "into character", and then Keneally walks out in a long leather coat and with his green strat strapped on. I don't know what the allure is, but Beller and Keneally both had black stocking caps on. I thought for a minute that Cypress Hill had taken over the show and the joints and bongs would start flying, but Keneally stepped up to the mic and said "Hi...I'm Mike Keneally and we're Beer For Dolphins....... that's Bryan Beller on bass and Toss Panos, the man who knows the location of every Greek restaurant in the nation!" (Wonder if Toss knew about the Olympia on McCausland?). My description of the show may get sketchy, as I did not have a pen and paper to write down set lists, but I think my memory will catch most of it....
Keneally slashed out a few chords and soon the trio were off on a small jam (not sure if it was a pre-existing composition), and BAM! the group launched into a terribly angry "Dhen Tin" with MK's vocals pulling the song along. The solo jam in the middle of "Dhen.." gave way to a very straightforward "My Dilemma". It was so different that had I not been REAL familiar with the words, it would have lost me. As the last chord of "Dilemma" faded, the crowd showed valid and vocal enthusiasm, and BFD looked like they were pretty happy with the response. At that point in the show, I was moved to scream "DAY OF THE COWWWWWW!" MK then tells the audience about his solo discs and says "...here's one from my first one, 'hat'..." and what do they launch into but the "Cowlogy"! I was in hog (or cow) heaven. I was singing along with Keneally and the 15 year old Vai fans standing next to me were "scared" at first, but by the time the band broke into "Snowcow/Sweating in School", they were bobbing their heads vehemently, "Beavis and Butthead" style!! As the last note of "Day of the Cow 2" rang, the crowd was VERY excited, as was I. MK and Bryan were all smiles and MK shouted "Wow! You really like us!! We like you!!"
At this point my memory is a little faded (but not chemically) but the next tune I remember is Hendrix' "Power To Love"....WOW, much more powerful than the "Half Alive" version. AND Bryan's mic was on during the first chorus, so the vocals were very nice indeed. Another guitar player I had met that evening was visibly happy by the fact that they were playing Hendrix. There's a Hendrix freak in every crowd. After "Power..." ended, the crowd was really enjoying the gig so far. Sadly, only one more song remained. MK said to Bryan "OK, Bryan, tune down to the C tuning". Mike began to tune his low E string down to C and simultaneously sing a pretty extended musical phrase (from "Cause of Breakfast, I'm pretty sure), to which Bryan played along, and then "Cause of Breakfast" roared out over the crowd. I was utterly impressed that the trio could nail that difficult "Zappa-esque" middle section right before the last chorus...great shit, BFD!!!
And after that, BFD had to go. And I was forlorn, as BFD was the sole reason I went to the show. Don't get me wrong...I've played guitar for 20 years and to see Vai play in the flesh was a treat indeed, but once my mission was done, nothing could make me happier than for BFD to have played yet another set, but fantasy and reality are two different things. Sadly, my friends were so bummed by the volume of the Vai show that after it was over, they wanted to leave immediately. I would have loved to hang and chat with Keneally and Beller, but perhaps another time. I will make these observations about the show....
Toss Panos can play drums....and Salvador Dali could paint!!
Beller's left hand DOES look like a tarantula crawling up and down the bass neck.
Keneally was easily the most impressive member of the Vai band. His acrobatics between keys, guitar and drums were comical and entertaining (AND dead on!)
I hope BFD comes to St. Louis again.
I'm sorry that Brian and Toss lost some valuables while in St. Louis...if I find out who it was, I'll tie them down until Toss and Brian can get back here to kick their ass!
Hope you enjoyed my sketchy review...let me know if you have any questions or comments... smschra@umslvma.umsl.edu
P.S.....had a flash and remembered the set list for the 12/8 BFD set! So, possibly excepting the order of the last three songs before "Cause of...", here is the setlist, which ran a sadly short 40 minutes:
Opening Jam>
Dhen Tin>
My Dilemma
Day of the Cow 1>
Snowcow>Sweating>
Day of the Cow 2>
Vent (visions of O'Bannons dancing in my head!)
The Car Song
Power To Love
(Joe D'Andrea e-mailed me and asked if Keneally had pegged the words to the song. I replied that he hit them much better than the "Half Alive" version, but still sang them in "Semi-Hendrixian mushmouth", physical condition suffered by many, including Sting and Chrissie Hynde...it's not necessarily a BAD thing....)
Cause of Breakfast
That's all for now....MS
---
THE DAY THE DOLPHINS DRANK BEER OVER MINNEAPOLIS
Otherwise known as "The Day my Ears Collapsed"
By Todd Madson, Alien Spore Bomb
I was looking through Moosenet as I usually do when the news came that the Keneally / Vai contingent was going to be passing through Minneapolis once more (the G3 show was several weeks previous), but this time at the well-known First Avenue / Seventh Street Entry club (known for being in the movie "Purple Rain" by the "Artist Formerly Known as Prince" or perhaps as "the Dump" by the "Artists Formerly Employed by the Artist Formerly Known as Prince."
I talked to my friend, also named Todd, and queried him if he wished to see such a festival of blistering sound and he agreed it would be the bomb.
To make a long story short, Todd calls my voicemail and says "hey! I went to buy tickets and they gave me comps for no discernible reason." This was excellent news as it would enable us to see actual performing musicians for the cost of a partial tank of gas. We might actually have money that would allow us to buy merchandise that would allow money to be directly funneled into the artists' pockets as opposed to some record company guy who needs new speakers for the wife's BMW.
So, we ventured out to First Avenue only to find that the line was stretched literally halfway down the block. Assorted long-haired metallic musician types were strongly in evidence so we figured we had the right place. We did note, however, that our comp tickets carried an ominous disclaimer that basically allowed the management to eject us forcefully for any reason they should care to bring up.
After waiting in line for 25 minutes, we finally are at the PORTAL OF DENSITY, or rather, the door. Except the guy in front of us looks 16, has an out of state ID of questionable origin and actually apologized to us that "you might have to wait a while - the last time I showed this ID here it took hours as they passed it from manager to manager to scrutinize." The kid evidently drove to Minneapolis from North Dakota to see Vai so we bypassed this line and went to another.
Access was granted and were "in," shall we say. We walked into the venue, packed so it usually is and walked upstairs to the men's facilities. On the way up, Vai dressed in a black trenchcoat and black sunglasses glided past with an assistant. The other Todd in attendance said "that him?" I said "yep" and we moved onwards.
After a while, it became painfully obvious that Keneally and Beller were playing pool out in a public area. Since 98% of the crowd were not aware of who was in their midst, they were essentially ignored. The other Todd with me went to the merchandise table and purchased the new Dolphins 2-CD live album and we positioned ourselves at the lip of the stage to see the show.
Except that the BDF contingent was supposed to hit the stage at 9:30 and all we saw for 35 minutes was four roadie types staring at a pedalboard like it was a corpse they were trying to bring back to life. Two guys standing shaking their heads, two others down below with cables, soldering irons, all sorts of fun ROADIE PARAPHERNALIA.
Eventually, it appeared as if the pedalboard was dead and they were beginning to move it off stage, however, this decision was rescinded and more resuscitation efforts were attempted. Which also failed. They tried plugging a guitar in and all you would hear was a nice, indistinct 60 hz hum, slightly microphonic. Ugly.
After a great deal of time, Mike charges on stage wearing a black trenchcoat, wool hat with "BFD" proudly emblazoned, and he looking "upset" charging from one side of the stage to the other. He then disappeared.
Finally, a few moments later the BFD guys finally showed on stage and the band was chomping at the bit to play - they charged into a bit of a Led Zeppelin tune that was playing over the PA system and the crowd applauded their decision to charge in with aplomb.
Mike cut the tune short and introduced himself and Bryan and Toss and then started with a new song, supposedly written on bequest of a female audience member. Evidently this song was about an equipment manager or something (probably after the pedalboard fiasco) and had the repeated lyrical refrain: "HE'S A FUCKER." It was quite excellent and was sort of like a more complex version of Quimby.
Mike's guitar playing was fabulous as he sounds JUST LIKE THE CD live. Bryan's bass playing actually is quite powerful live - the CDs do not do his bass sound justice as the sound you hear on the records is not typically presented at 100+ decibels. His bass playing truly put the "bass in the middle of my head" as well as my chest, lungs, skull, and other places of my body that nobody should know about. Wow. And Toss Panos - what an incredibly nimble drummer. Where Mike Mangini is about pure power, Toss is about precision, and dynamic control. Mike introduced him as the "Toss "Fucking Incredible" Panos" and he was absolutely right.
The Live BFD experience was, as close as I can term it, like XTC meeting the Mahavishnu Orchestra on Steroids. Highlights would have to be "Breakfast" (amazingly powerful, the crowd took a step backwards during the intro), "Cow Trilogy" (during the crazy stop-time stuff in Cow2 I peeked back at the crowd, who looked at the band like they were out of their minds), Ground Zero, Scotch and Rosemary Girl.
Now, I have to mention something about what the band does live that was quite cool: during the guitar solo section for the Cow Trilogy (Snowcow), the whole band shifted gears and played a key portion of Purple Rain (in a key appropriate for Snowcow, but still cool) that was quite faithful to the original in feel.
Same with "Gypsy Queen" - I'm a Santana fan from years back, but Mike nailed the Santana solo lines note-for-note. And Panos on drums - he's a one man latin percussion section. Amazing.
I could gush some more, but I have to get on to the remainder of the show. The Vai section of the show was great musically. It was the G3 set and more (the Crossroads Duel was great - Steve doing the menacing Jack Butler thing from the movie and Mike doing a really great "I ain't afraid of you, check these chops" bit - Vai and Keneally looked like they were having so much fun doing this that they were getting paid to do it is almost unfair.
They did the Vince Guaraldi chestnut, "Christmastime is Here" and when they kicked into "Liberty" towards the end of the night, the entire crowd was chanting the melody line - the band actually appeared genuinely surprised that they would get such a good reception in what is typically known as a cold midwestern state. The show ended very late - a quarter of two in the morning and I could go on about the amazing moments musically - I just have to comment on a technical aspect of the show I could have done without: the volume kept on getting higher and higher as the show went on.
I'm a guitar player and have played in various bands for years at volumes that I should not probably be playing at, but it was nothing compared to this - Vai's guitar cabinet was pointed straight at my head and at times I was literally hearing my audio circuitry in my head DISTORT. I should have worn ear protection for this show as I've not been to a concert where my ears rang for two days afterwards in literally years. This is a warning to all of you as my hearing is pretty much back to normal now, but if you want to hear after the show in case you meet some of the people on-stage I recommend it. (I've since read in Guitar magazine that Vai was clocked at 136db at the rehearsals for the G3 show - wow, that's some seriously destructive volume).
I have to say that Vai was his usual amazing self - being 15 feet from him and watching him play was an amazing guitar lesson. Seeing Vai and Mike do the same licks and seeing their hands in unison was pretty helpful (sorry guys, I'm a guitar player, I've got to analyze how things are done or it doesn't get done). Musically satisfying.
I should mention that Beller and Bynoe as bass players were quite an interesting study in contrast: A quick comparison:
Beller: 5 string, studied cool, plays with his fingers, monstrously horrifyingly huge tone, melodic as hell, hands look like tarantulas dancing the tarantella down the strings.
Bynoe: 5 and 6 string, extroverted happiness, plays with a pick, trebly power tone, he's got the funk - imagine a combination of Geddy Lee and Larry Graham if you can imagine it. Cool stage presence.
Now: I've saved the best for last, the meeting with Mr. Keneally. There was a huge line waiting for Vai after the show and soon after the show Mike appears in trademark black-t and few people recognize him as he was wearing that natty brown suit during the show.
Me: Hi Mike.
Mike: Uh, Hi.
Me: Hi. I'm that guy who's writing to you on the internet.
Mike: **THE** guy?
Okay, so I was numbed by extreme volume - a stupid first comment.
Me: Uh, huh huh, no.
Mike: What's your name?
So I filled him in that I was the guy who had the whole office playing the foot song (most of those people have since quit, perhaps it was inappropriate for the office?) and have worked out Keneally covers (I wanted to learn "Lightnin'", "Skunk", among others, buy my lil' home studio was hit by lightning and the project was put on hold until just recently).
Mike indicated that he did indeed remember me and that he did want to hear my weird, twisted covers of his music. I asked for his John Hancock on my Dust Speck CD and he was happy to oblige. He was mentioning that "we should have done Roy tonight", but I believe time constraints (i.e. dead pedalboards) prevented this.
While signing, I thanked him for the take on Purple Rain and he laughed and said "You noticed?", seemingly amazed that anyone would notice.
As we spoke, my other friend Todd had his new CD's signed and introduced himself also as Todd. As Mike signed the CD, a new person introduced himself and asked for an autograph: his name: Todd. Weird. Three Todds in one place typically causes critical mass. This occurred when the other Todd and I met Todd Rundgren (tr-i, technically, so no quantum singularities appeared).
I thanked Mike for his time, we shook hands and we walked off into the cold Minnesota night, I marveling at how damn nice he is for being such an amazing musician - he's really quite down to earth and has a cool sense of humor.
Postlude: the concert actually ended at 1:40 or thereabouts and I didn't get into bed until around, oh, say 2:30. The next morning as I headed to my day job (oh, the life of a musician for me...I wish) my wife marveled that the signature on the CD was quite legible. But this is another story for another time - this is rivaling a "Life of Bryan" chapter in sheer length.
Bye bye,
Todd Madson
---
WELCOME TO UGLYTOWN! POPULATION: YOU
By Danny Carlton
(Check out Danny's own graphic-filled version of the story at http://users.why.net/radrock/music/bfd.html)
Sheer glee entered my every thought the very moment I heard Mike joined Steve's band. "Golly!" I said to myself. "Now will be my chance to see Mike Keneally, rock star and teen sensation, live on stage!" One of my bestest pals told me of a show he was with Mike and Beer for Dolphins. I couldn't make that show, unfortunately, for I don't live in NYC. Be that as it may, his joyful story of such an amusing show only increased my hopes of hearing BFD in my own town.
I immediately nerded out as soon as I exited Mike's webpage. "Yes, Ticketmaster! How much are tickets for the October 20th G3 show?"
"The what?" Shaniqua answered.
"Umm. . .Joe Satriani . . .in Dallas." I was quick to answer. After minutes of useless questions, I had found all of the information I had needed to arrive at the show in plenty of time.
"Oh yeah," I said. "How much will the service charge be on this particular show be? Okay. What a deal!" (The service charge is arrived at by totaling the man-hours of loading the tickets into a printer and punching a precise number of keys until a specified ticket is projected through the ticket porthole. This is a very difficult process and any attempt to argue the ticket service charge will not be successful.) On my lunch break of the next day, I immediately went to the closest Ticketmaster outlet and purchased many G3 tickets. Ask for a receipt if you really want to make them frustrated. The extra tickets were bought with high hopes of friends from Oklahoma City coming to the Rock Fiesta.
The day of the show finally came. We arrived at the Dallas Music Complex and the line was really long. Nevertheless, we walked to the end of the line and held our spot for a good hour. After the herd was let into the stable, everyone was surprised to see Adriann Legg come out and play first.
"Could this be so?" I asked myself. "Could there be an extra 'G' at this event?" I pulled my stub from my back pocket and sure enough, it read "G3." Not "G4." Wow! Four "G's" for the price of three, plus a nominal service charge. I wonder if "G" is sort of like a knighthood, or is it just an accepted idea among the prominent guitar players. If so, who knighted Steve, Eric, and Joe? And why not Adriann and Mike. On the other hand, if the term "G" was simply made up, then was it not selfish to go on tour without assigning Mike and Adriann G-Force numbers? They are more then worthy of recognition on a ticket stub. Say. . .G5.
Mike entered the stage and played the full show with Steve. I laughed throughout the show at Mike's hilarity and watched his hands with full attention. Mike truly amazed me and I really wanted to talk to him after the show. When the Vai set was over, I spent the entire Johnson and Satriani shows looking for Mike. He seemed to be nice fellow, according to my New York source. Mike even answers my annoying E-Mail (UNLIKE STEVE OR JOE!) I simply wanted to thank him in person for his music.
At the end of the G3 show, there was a jam session with all the official "G's", plus Dallas' own Andy Timmons, or "G6". I was happy to see this since I am a former student of one Andrew Timmons. At the end of the jam, the band played Frank Zappa's (the ultimate "G", might I add) "My Guitar Wants To Kill Your Mama" while Mike sang. Very entertaining. Seeing as how I was scheduled to work at 8:00 the next morning, I had to leave at the end of the show without talking to Mike. This was very disappointing for me. Ironically, I ran into Steve twice and Joe once while looking for Mike.
But this story is not over! About two weeks later, I was once again on Mike informative webpage, only to discover that Beer for Dolphins would be opening for Vai on his solo tour. On top of that, they would be playing in OKC on November 26th and in Ft. Worth on November 29th.
"Oh, joy!" I exclaimed. "What a Thanksgiving this will be." I made plans to leave work on Tuesday to make it to OKC in time for the show. But these plans did not last long, for I found out there would be a Steve Vai clinic at 5:00 the day of the show. I begged my boss and she gave that half day off, on top of that Wednesday. Thank you, Kat.
When I arrived at the music store around 4:00, Andy #2 (a.k.a. Rock Force 6, of the Borg Division), who is employed by that music store, informed me that the clinic was canceled because the tour bus had burned down.
"Yeah, right," I stated. "And Eddie really got the flu when Van Halen canceled in 1989 because they only sold 7,000 seats." (Like it would have been an exciting show anyway.) I stayed and chatted with him for a good 45 minutes and then left, knowing good and well that they would not be there. I went to my parents house and saw Mom, Dad, and Honey (my old dog), which to me is time more valuable than any guitar clinic.
I called my friends Shogo and Peter (a.k.a. Rock Force 2) and persuaded them to join me at the show. After Mommy made us tacos, we left, only to arrive at the show within minutes of the opening of the doors. I immediately walked to the side of the stage, where I saw Mike chowing on some noodlely-pasta dish.
"Mike!" I said in excitement.
"Hi, there," he answered. Immediately I introduced myself and he realized who I was from previous E-Mail. Oh Joy! We talked for a few minutes, which was enough to make me happy until the show started. He did tell me about the bus incident in detail.
There was a band before BFD which sounded very much like the Georgia Satellites. Peter summed their band up perfectly. He said, "This band actually needs a harmonica player." That was the funniest thing I had heard in years.
The opening band finished and BFD approached the stage. I persuaded the nice people in front of me to let me squeeze up front if I agreed to leave after Mike was done. This was fine by them. As expected, BFD ruled for their mighty 40 minutes. Well worth my $13. Now that I think of it, paying $35 for G3 almost felt like a rip-off, when I considered there was no Brian Beller or Toss Panos to go with it.
They played all of my favorite BFD tunes from the radio. Just like on Club MTV. Mike even said to me during the show, "Get this man a microphone!" Maybe because I was the only one in the audience who knew their songs. As soon as Mike tuned his E string to C, I asked Brian if "Cause of Breakfast" was next. He nodded and laughed as they began their closing tune.
After BFD was through, I talked to Brian for a while. He is an awful nice fellow also, as I expected. I asked who the opening band was. He said some band called the Reverb Brothers, but he preferred to call them the Oklahoma Satellites. Scary, huh.
Moments later, Keneally was on stage again. This time with Steve. Another great show, but I would have liked to have heard more singing on the part of Steve. I was pissed, however, when the band broke into "Christmas Time Is Here" by Vince Guaraldi, only because I was going to beg my band to play this. Granted, of course, that we get a gig before Christmas. Since this does not seem to be the case, I am pleased to have heard their lovely rendition of this beautiful song. It is I believe my favorite Christmas song, aside from "Silent Night."
This time, Peter had to be at work the next morning, so we left at the first encore. I wasn't driving, so I didn't have a choice. There's only so much vocalless weedlely-weedlely wee I can take in one night.
Friday came around and I found myself back in Dallas, with another show that night. I drove to Ft. Worth and luckily found a parking space. There was some huge Christmas parade going on, so I knew I would be walking a good distance to the venue. I arrived to find a long line around the building. Since it was rather cold, I elected not to wait in line. I walked through the front doors of the venue and sat down next to the stage while BFD was setting up. I should point out here that I DID buy a ticket, therefore I didn't technically sneak in. I didn't sneak in at all when you consider the fact that I used the front door.
I said hello and I think Brian actually recognized me. Nevertheless, Mike let me look at the songlist, which only varied by about two songs from the previous BFD show I had seen. Seeing as how this band consist of really nice people, many songs on the list were changed to suit the Keneally fans. They even played "Uglytown" at my request while the rest of the crowd stood in the cold. It was a great night again for Mike Kennedy and "Beer for Dolphines". (Did anyone get that?)
I would like to tell Toss at this time that he sounded great at both shows, since I know he was upset about not getting a soundcheck at either show. I can only look forward to more seeing more of Mike in the future. For now, Half Alive In Hollywood is on my Current Rotation list and will be for awhile. I would like to hereby take the opportunity to knight Mike to the full level of an official "G."
As I sit here typing and eating a burrito, I think to myself, Should I ever go to a concert again, knowing that no band can surpass the rock 'n' roll antics of Mike Keneally and BFD? Aahh, might as well.
---
CHRISTIAN WEBB'S "SORTA" REVIEW OF THE FT.WORTH BFD GIG
Here it is, a review from someone who has never even listened to a Mike Keneally album (or anything he's ever been on for that matter). I wouldn't even remember the sparse pictures and articles in Guitar magazine if it hadn't been for the fact that I saw Mike playing with Steve Vai at the Dallas G3 gig. But I'm glad I was reminded. I was extremely impressed with Mike's playing at this concert, he was incredible. I never even imagined someone being able to play a solo ALONG with Steve Vai, but that's exactly what he did. But, I digress, this is supposed to be about the BFD gig and Mike at the Ft. Worth date (29 Nov. 96).
Let me start out by saying I was expecting quite a lot out of BFD after seeing Mike play with Steve. I got a lot, but not exactly what I'd expected. I'd expected another guitar demi-god along the lines of too many Shrapnel recording artists to list, or a Vai wanna-be. To quote Monty Python's Flying Circus, "Now for something completely different." I got Beer For Dolphins. A band that stood on its own two feet, not on the shoulders of guitar demi-god Steve Vai. I got a former FRANK ZAPPA guitarist, former Z guitarist, former solo artist, all rolled into the astonishingly normal looking package of Mike Keneally. I never knew Mike played for Zappa until *after* the gig, when I actually read the stuff on this web page, and had never even heard of "Z". Well, that's not entirely true, I once saw a promotional picture/ad in one of the guitar mags, that's it. Any way, I got a tightly knit group of three guys that didn't depend on one member of the band to support the others, these guys played "together". I don't even know the names of the songs that they played except for the one Band Of Gypsies cover, and Lightning Roy. Oh yeah, and one called "Cheezy" or something like that. I didn't care, I liked them. All of them. I especially enjoyed the song I later found to be called "Ground Zero" (later meaning right after they finished). Although Mike can play like a "guitar god", he doesn't. He just plays his songs with the band, no showboating. That's what I call humility, people. This guy could just be up there wailing, but instead, he puts together a BAND and just plays songs. I don't mean to say this is less than it should be, far from it. BFD's songs are more than enough to entertain, you don't need lightning-fast solos and a guitar drowning out everything else. I wasn't even disappointed by the really long and disastrous sound check, at least not after BFD started playing. It was well worth the wait.
Then, after playing almost non stop for an hour, BFD gives thanks, takes a bow, and heads off stage, their job done, and a job well done at that. Or so we thought. I personally thought that after seeing Mike walk off the stage in that soaking wet "Partridge Family" T-shirt, I would see no more of him. I was wrong. Even though his band *opened* for Vai, about ten minutes later, he steps back out onto stage, this time to resume his place to the right of Steve Vai. Now, I hadn't thought about who would be in this particular position, but I had thought that it might not be Mike Keneally, since he was in the opening group. But no, here he is, back to play another two hours or so right along with Vai again. I was once again pleasantly surprised with the ability of this man. Even though I had witnessed this phenomena once before, it was mind boggling still, to see *any* human being playing a solo note for note (or in harmony, which isn't easy for you non-musicians) along with Vai. We even get a good laugh at Mikes expense. He breaks a string while in the middle of the "Crossroads" duel with Steve. I thought I was gonna fall out of my chair, I laughed so hard! I happened to acquire said broken guitar string by the end of the night, BTW. It's framed with my autographed picture of Steve.
Now, after the show is finally over (it seemed to last forever, and this is *not* a bad thing!) some devoted fans (myself included) numbering about twelve, are hanging out at the side of the club, hoping to catch glimpses of tonight's performers. What do we get instead? Besides being chased off the driveway by some anal retentive cops and rent-a-cops? Mr. humble, Mike Keneally comes shuffling out to talk to us, answer stupid questions, and deal with almost senseless ramblings of some Zappa fans. Then he graciously takes whatever the fans hand him, and takes them inside, For Steve Vai to Sign. About 20 minutes later, out he comes again, bearing gifts and passing them out to the prospective fans. Then he hangs out a little longer, signing his own share of autographs, and just plainly chatting with us. What a COOL guy! Mike just kinda stands out there and talks to us like he was just another fan. He even answered my stupid question about the web site, I felt really honored, and stupid at the same time. I'd asked him how often he updated his web page without thinking. Mike kinda looked at me like, "I don't do that page *myself*, you idiot", but I quickly redeemed myself by asking him how often he *has his* page updated. I was so sorry that I had not brought anything else with me for Mike to give me an autograph, all I had on me was a Guitar Magazine, devoted to Steve. I felt it would be an insult to Mike to ask him to sign it, even if he wouldn't have. I also gotta give a plug for bassboy69, yes our boy Brian, who tried to convince the bicycle cop to quit harassing us, so we could chat with him. Thanks for trying Brian, you were great! I'm sorry I missed the chance to talk to you. Then, out comes Phil, Steve's bass player, just as mellow as you please, talking and answering more dumb questions. Mike then promptly excuses himself, he's cold and wants to go back inside. Thanks Mike, you were great! Have a great tour.
Christian
a new Keneally enthusiast
---
OKLAHOMA: Where The Smell of Burning Bus Goes SWEEPING Across the Plain?
By atticus wolrab

Editor's note: atticus wolrab is the party responsible for the intricate n' delightful design and illustration of BFD's "Half Alive In Hollywood." Huzzah!
ALL RIGHT OKLAHOMA CITY ARE YOU READY TO ROCK?!?
I too was at the post bus burned Oklahoma City show and as i recall it went something like this. The Diamond Ballroom is the "'largest dance floor in the southwest" or at least the sign on the wall said so. The place is in fact, in the middle of nowhere, and as Margie and i drove up to it i couldn't help thinking of the Blues Brothers and that line "We play both kinds, country and western!". You see i am not from Oklahoma, we were in town to see family for thanksgiving. Seeing BFD... well that was just the gravy.
BFD AND THE 37 MINUTE SET
Much to my surprise the stage area did NOT have a wall of chicken wire in front of it. The air was 94% smoke and through it i could see BFD were already tuning up. I think they started with "Rosemary Girl" which was perfect in my book, because i am an unabashed proponent of well written pop songs. and "Rosemary Girl" is in my top 10. it is always pleasure to hear Mr. Keneally, i have a very low threshold for the guitar-god i can play a zillion notes types, (and although Mike is a guitar-god, i like to think of him as "the nice guitar-god")
The person in the crowd who Mike said "get this guy a microphone" was telling the truth, i heard it with my own two ears. what he didn't see was that he was not the only person in the crowd that knew the words to the songs. the crowd was VERY attentive as far as crowds go for opening bands, and i could hear a couple of people commenting about technical music stuff "here's where he plays a......." ( none of which means anything to me). folks seemed very pleased.
They closed with "cause of breakfast" which sound like a train wreck to me because at that point i wandered a bit too close to the big stack of speakers. the upshot was Bryan "bassboy" Beller's therapeutic bass. all the smoke and was killing my chest, however the force of BFD Rhythm section helped soothe my inflamed lungs. thanks Bassboy!
THE MEET and GREET
Afterwards i went over to see Mike, i had missed him a week before in my hometown of San Francisco and wanted to say hi. Figuring that Mike and i have ever seen each other all of 3 times ever and the fact that i look just like every other guy with long brown hair in the room ( which he must have seen millions of by now) i thought i could weird him out by asking him to sign my superball. Memory-Master Mike blew my little scheme to smithereens as he calmly says "What are you doing here?" later Margie pointed out it was probably due to the fact the soviet pin on my coat is the one i used on the cover of Half Alive (.5 Alive for fans of metric measure) which makes sense. Mike was then kind enough to get Margie into the building after she had a slight problem with the security people (long story). We made small talk and the he was off to change clothes for the Vai Set. (By the way Mike, Margie is VERY sorry she got kicked out and missed your set, she promises it will NEVER happen again)
THE VAI SET
Steve Vai is Steve Vai and some of you love him, others of you hate him. I as i mentioned before am not into that sort of guitar god thing, but i tried to listen with an open mind. to be honest i thought he was a little wooden in the persona department (but maybe it was an off night, i mean his bus did melt). Margie was a bit more critical noting " It was not unlike watching an idiot savant play scales for 2 hours." Mikes Peanuts keyboard solo was a welcome relief, and i will say that i did enjoy some of Mr. Vai's "floatier" songs, but the ballbusting zillion mile an hour stuff was wasted on my lowbrow tastes. We were in the back shooting pool for some of the Vai set and at one point i looked up and saw these tiny figures far away and a pair of twirling drum sticks. The 10 year old kid at the table next to us with the MARLBORO hanging from his lip ( In plain view of the adult he was there with!) turns to his friend and said " VAI RAWKS! DUDE" this was the only time during the evening in which i both felt twice my age and like i was inside an episode of "the Simpsons" After the encore Mr. Vai did lighten up some and announced to the crowd about the bus and the fire. He said he was taking the band out afterwards to celebrate the fact that everyone was okay, very nice indeed! So be nice to Steve even if you don't love or like his music. After seeing Mike playing with just about everything on the stage just shy of himself! i must conclude by saying "GRAB SOME FUCKING PINE JAMES BROWN, MIKE KENEALLY IS THE NEW HARDEST WORK MAN IN SHOW BUSINESS!"
HOUSE LIGHTS!
Mike was swamped after the show, so we slipped off in our rental car into the wilds of Oklahoma where the only milk you get to put in your coffee comes in little plastic containers!
atticus wolrab-
idealist
---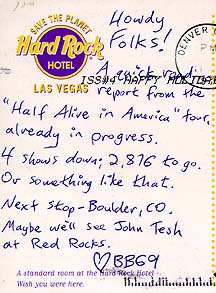 On Thursday, November 21st, Brad the Poison-Control-Guy- Slash-Interstate-Concert-Reviewer made the long, arduous journey to The Joint at the Hard Rock Hotel in Las Vegas, hoping to witness 40 minutes of live Beer For Dolphins. Wanna read about it?

---
GARY TITONE'S 'LOVELY EVENING AT THE THEATER'
aT tHE bOX oFFICE
I arrived in Manhattan at around 2:45 and I decided to leave the car parked on the street. While spending the extra $23 for parking would have been a safer route I decided to take the risk and street my vehicle so I'd have enough cash for Mike Keneally merchandise. From 3:00 to 4:30 I spent the time talking with some Jersyites who were there about topics such as "Guitar Is Not Dead; It Just Smells Funny" and how bad the sound normally is at Obviously Guitar Influenced Shows. Regarding the latter, a gentleman who I'll call the DUBLIN DUDE spoke of a factory in Dublin that has 1/2 fabric to keep the sounds from bouncing off the walls. While being there early for shows normally makes for meeting many new people and learning about some great happenings I must say that the real thrill is the chance to meet a fine piece of ass and that's just what was there.
nO sOUNDCHECK tONIGHT
As the many roadies would arrive I would learn that the musicians would probably not arrive till between 5:00 and 6:00 and that there would not be a soundcheck that evening. This being the second night of 2 nights at The Beacon Theater I guess the soundmen had things all figured out. I can remember back to 1988 during a Frank Zappa show where someone from the Lodge seats dropped a beer on the sound board which is directly below the lodge. I forewarned Keneally ahead of time that I'd keep an eye out. Anyone who was at that show knows what a debacle that it was. And with regards to the tittle of this little section here you may have wondered why the bands did not use this time to rehearse other material for this tour. Believe or not NYC was blessed with a 65-degree sunny day. Maybe the boys were out enjoying it somewhere?
oSSO bUCCO
By 5:00 my 2 companions for the evening had arrived and we headed off for dinner to a lovely little Italian tratoria across from the Beacon. It's on the Amsterdam Ave. back stage side of the theater. I'd suggest it to anyone who will be in the area. Later I had learned that Steve Vai had liked it as well when he ordered his meal from the same place. As I told Steve of our meal he commented on how Italian the 3 of us looked. Best Osso Bucco I overhead in my life.
sTAIRWAR tO ePIPHANY
After our meal I told my cousin and his buddy that I had a friend in the Steve Vai band and how would they like to go in to there dressing rooms for a while. These two 50 year old guys seemed quite enthused and had not realized what they were in for. As we made our way through the backstage door after revealing a secret code spoken in German we were directed to go up the stairs to there dressing rooms. After eating that massive meal it seemed as if we were climbing the steps of the Statue Of Liberty. Each band had there own floor and wouldn't you know it Steve Vai's Floor was 5 or 6 flights up. As you would continue up each floor there would be a nice little sign on the rooms on each floor of what each room was for. There was a Catering Room and other such signs which read Eric Johnson, Joe Satriani and Steve Vai. As we huffed and puffed our way to Destination Keneally we were quite enthused by these signs and I finally had a chance to plop my butt down as Keneally hostfully placed me in one of 3 lounge chairs that occupied the room. Introductions were made and hence the room was now filled with Mike Keneally, Mike Mangini, Phillip Bynce, Gary Titone, Gerry Burgoch and Loui Ingoglia. Some of the topics of conversation were a video I recorded for Mike's Beer For Dolphin performance at the Bottom Line and Warren Cuccurullo's Viper Room. One of the more fortunate things about being here was my ability to purchase 2 new products: Mike Keneally & Beer For Dolphins (Half Alive in Hollywood) and Vol 1. Of The Mike Keneally & Beer For Dolphins Video Club Soap Scum Remover. Not only did I not have to wait at the massive lines at the shows product both but I had Mike sign the products. He filled them with such lovely writings as Dearest Gary Thanks Always For Everything and Mr. Titone NY=U. While it is true that me and Mike do go back a long way I would truthfully like to mention that Mike is honestly one of the friendliest/nicest musicians I've ever met. Make it your point to try and get to know him and his music. It's well worth your efforts. Visit his website at moosenet.com for all the details of all his products. The 2 products I mention above are brand spanking new. To conclude this area may I mention that Mike Mangini was hanging out like a real rocker with his legs spread wide with a banana in his crotch sun glasses on and everything. The guys were all rockin' fun.
hEY sTEVE cAN I pISS iN yOUR gUITAR sOLO
I had to piss real bad and Keneally directed me to the only bathroom on the floor and that being in Steve's dressing room. Steve was warming up for the show and he looked just as he looks on the booklet photo for the Jimi Hendrix tribute CD In From The Storm. Sitting and playing, we spoke for a while about the ?"Crying Over Vai" incident, Warren Cuccurullo, Ashes to Ashes and some other neat things. And what does my little topic here mean.The toilet was no more that 3 feet from where Steve was sitting and as Steve was rehearsing his licks I was peeing away. Too bad he didn't have the DAT player running. Now that was a great piss. After about 10 minutes I closed the door and let him continue in peace and we made our way to our seats. Keneally said he would see me after the show and we got some backstage passes.
tHE sHOW
It was everything I have been reading about and I was quite surprised at how good the sound was. 4 hours was not enough. Ya sort of get that feeling as each performers set is a tease but none the less it's a great show. Vai's set by far was most amusing with it's backdrop and usage of many large hats. Musically each performer was amazing.
iN bETWEEN tHE sETS
The time passes by with just enough time if you're quick enough to make your way to the bathroom. Fortunate I was on an Isle seat at the top of the Lodge. The bathroom was filled with great verbiage of emotions from each set. I had to put a Stones fan in his place and let him know what a pleasure it was to see such great musicians in a theater environment when one had to put up with stadium performances if one wanted to see the stones in the last decade or so. Blow up dolls indeed.
aFTER sHOW bLUES
Yeah, we had backstage passes but what a backstage pass of the 90's is is bullshit. They round up the 50 lucky ones and have them wait in seats until the performers come out to see ya. And on this occasion some 25 minutes after showtime only Steve Vai came down and spent a 1/2 hour talking to the 50 lucky ones.
I spoke to him about the Eastman School Orchestral show he did recently. There is no plans for any release and when he has the money he will record an orchestra. He also plans to put the show overseas somewhere. I asked him when he would release the song tributed to the late Frank Zappa. ?"Ashes to Ashes," as it may be called, is part of a live LA thing and he has not even done all the work for it yet so it may be some length of time considering he may be on the road for quite some time. I keep asking myself why I waited 25 minutes in my seat when all I had to do is take myself upstairs. I mean I had connections didn't I.
I wanted to meat Stephen Barber. I wanted to ask him about a piece of music he wrote for The Meridian Arts Ensemble that is dedicated to Frank Zappa. You can find this on the Meridian Arts Ensemble CD "Anxiety Of Influence." For More info http://home.pi.net/~fg/maediscs.htm. After I spoke with Steve backstage I made my way up to the dressing rooms. Fortunate Joe Satriani was still around and I spoke with him about a guy I know by the name of Paul Lancaster. They used to perform in Tarsus together. Keneally and Co. were gone. I found them at the tour bus and we spent a last few moments together. Someone was shooting a video of him outside the tour bus as he dance and sang in celebration of the New York Yankees winning the World Series.
While I could have wrote more I'm sure you're all passed being amused by now. One thing for sure, it was A LOVELY EVENING AT THE THEATER..........
Gary Titone
---
SCOTT BAKER'S OVERVIEW OF HALLOWEEN '96 WITH MIKE KENEALLY / G3 AT THE PALACE, AUBURN HILLS, MI.
Hello all MK fans,
After keeping in touch with Mike since a Z gig at the Majestic In Detroit (March 13, 1994), my girlfriend Kim and myself (Scott--the one who asked for Jazz Discharge Party Hats at the infamous Majestic gig) were lucky enough to enjoy G3 in Mike's company (post-Vai set of course). This is a review of the show (I tell the entire story of our time there-watch out!). Special thanks to Sean Goscinski for having the available suite to hang out with MK (and 10-15 other new "friends"), quite a turn of events for what was to be just a "normal" concert. Chatting on and off throughout Eric Johnson and Joe Satriani, Mike asked me to do a review of the show to send to Scott at Moosenet (where I assume it will make its way to the MK page--he wants a review for the show for his fans to read). I urge other MK fans to do reviews and help give new news to his page, as it looks like Mike may be on the road for quite a while.
First, Mike apologized for the lack of road reports, but with ONE (note:=1!) total day off since the tour began, Mike has been on the road with no breaks and just life on the tour bus (accounting for "relaxation"). Makes it kind of hard to gather all your thoughts over a few hours with no telephone line!
Also, Mike was asked by Steve to have Beer For Dolphins open some shows (maybe all American gigs), after the G3 tour runs its course. Vai will be hitting places that the G3 shows missed, doing the FULL Vai show. But as Mike stresses on his page, Everything In The World Is Tentative!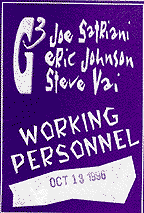 Maybe the following can fill in the gap for a moment while Mike is on tour. A full fan road report (thanks for the idea Mike--hope you all enjoy):
Cutting to the chase, Sean (Goscinski) and his friend Rob, met up with Kim and myself at the Suite entrance at the Palace. Show time was 7 p.m. Knowing Sean (ticket holder), that gave the four of us about 8 minutes to get "settled in," even though Kim and I arrived from Essexville at 6:15 p.m. (1 and a half hour ride).
We quickly made our way up the elevator to the main floor. Arriving at the suite as the lights went down for Adrian Legg, we soon found that the suite "key holder" had yet to arrive. We were told by a Palace courtesy guide that we could sit in the back rows until the person arrived. We opted to grab a beer and check out the T-shirt check points while looking for the key holder.
Unfortunate for us, Legg sounded amazing (as expected) and a few peeks through the curtains showed a very calm and listening audience (possibly on his request?). A very appropriate beginning for the guitar fest, lasting a half an hour.
No more than a mere five minutes later, the lights went down for the performance of the evening (yes, a pre-concert biased opinion). We quickly jumped the barrier into the reserved seats of our respective suite (and the Palace opened it up for us soon after).
Sirens went off sparking the first G3 master, Steve Vai.
The opening song from the new Fire Garden album, There's A Fire In The House, kicked the gig into overdrive right from the start.
Steve was in a cat mask, MK a witch (a pointy hat this time), Mike Mangini a French maid drummer, and bassist Phil Bynoe was in shorts (a beach bum?). All were very hard to see from the suite unless they were on the Palace cam, but it was definitely Halloween on stage. Sorry if we have a mistaken identity (or two).
The set included (hopefully remembering all) The Animal, Deepness, Tender Surrender, Little Alligator (awesome song), Bad Horsie (with Jack Butler "Crossroads" intro), Answers, For The Love Of God (epic Vaistrosity!!), and The Attitude Song.
So what was Mike up to?
Keys, guitars, percussion and vocals--and sometimes everything at once! Keneally tackled an Ibanez guitar (forgot to ask him 'bout this one) on Fire and another track. Probably because the song needed that "Steve sound" backing it up. Kim quickly pointed out the unveiling of the "Holy Green Strat" over Mike's shoulder heading into Tender Surrender and Little Alligator. Instantly, distinction could be detected between Vai and Keneally, both reaping the satisfying pleasures of their respected instrument sounds.
During Answers (I believe), Mike was hammering a keyboard line with one hand, then strumming the guitar harmony, followed by a grasp at a drum stick to beat out the percussion line (as did Bynoe) followed by the same keyboard line and pattern circle. A workout step aerobics couldn't match!
Mike had the keys stacked on the left side of the stage (looking directly at it) all to himself while Vai whizzed and weaved around.
The performance (1 hour--so short!!) was capped with Mike and Steve playing The Attitude Song together--unbelievable. Perhaps the hardest song in Vai's repertoire, Steve and Mike were equals, chasing each other around towards the end and both wearing tall, Dr. Seuss style hats. Yes, a recording was made at the show for a possible G3 CD in the future (let us hope!). Vai announced it between songs.
Remember folks--two of the worlds best, both Zappa alumni, and creating guitar structural bliss for those who attended. Absolutely AMAZING!!
Upon Steve's announcement that the night had just begun, we were asking ourselves, "who would want to follow that set?" If album sales weren't the determining line-up factor, Vai would probably have headlined (plus he has a new record and Satch doesn't), with Satch probably taking the first slot. At least we hoped that would've been the story.
However, talent rained supreme this evening, and there was no slouching.
Sean ordered beer and munchie delivery into the suite as we awaited Eric Johnson. About 6 new people were in the suite now, all of us chumming it up, discussing the greatness of the Vai set.
Mike emailed me Sept. 21, telling me he would roam during the other sets checking out how his discs were selling at the T-shirt bins and that I should see him there. Needless to say, I knew I would have to sacrifice some of the Johnson set, to find him.
EJ hit the stage delivering the tone and style that made him G3 master #2 for the evening. WOW! This guy's note choices and unbelievably clean speed, must set some sort of records. His speed wasn't shred style though (a la Yngwie), but it had a mellowness and striking blues tone that puts him on his own pedestal.
Knowing the situation, I set off during the second song. The first shirt bin was outside of the suite where I asked if Mike had stopped by yet. "Who? Ah, him in the poster?"
Moving on, Sean and I made a hot dog and popcorn stop. A few smiles at EJ on TV and we knew we had to find Mike so we could get back and catch the show.
We continued the walk around he Palace to the next T-shirt stall. Low and behold, a guy in green Converse, black leather jacket, baggy style pants and a MK marked hat was standing, soaking in the surroundings of all the clothing and other items.
Guess who.
I went up to Mike, put my arm around him and he said, "hey, how ya doin'?"
I said, "hello Mike, its me, Scott--Scott and Kim?"
"Oh, hey, what's up--let me have some of that popcorn!"
I introduced Mike to Sean and told him Kim was waiting to say Hi to him back at the suite. "Cool."
We were in business.
We chatted all the way back to the suite and Mike remembered everything that we had discussed on line and from the Majestic in '94.
After entering party central and meet and greeting the 10 or so that were there, Mike asked to settle in and catch the show from the seats in front of the suite.
We sat together and Mike leaned over telling me about the cool moments to watch for as we saw Johnson tearing the stage up. We sat and soaked every last bit of noise Johnson released. Mike was obviously a big fan, cheering and clapping at the end of the set. Johnson covered many from the new Venus Isle CD and all the hits off his previous Ah Via Musicom.
Before I indulge into chats between EJ and Joe Satriani's sets, Mike wanted everyone that goes to G3 to check out the beginning of EJ's Cliffs Of Dover. He said it was the most exciting thing to watch each night of the tour, due to the opening of the song was completely improvisational, and different each night. He said he savors a little time each night to at least catch that particular part of the show. I would have sworn the particular piece was rehearsed and written, the way Johnson executed it. Absolutely incredible.
Between sets Kim, Sean and myself discussed everything from Yes to Kevin Gilbert, Mike's little Jesse to ticket sales, and everything in between. We were filling up the beer and eating the chips and pretzels (and popcorn) like crazy. It was like catching up on all the news.
Mike notified us that Satch was quite loud (putting in ear plugs) and that he would have to leave after Stu Hamm's (Satch's bassist) bass solo, to gear up for the Godly summit at the end of the show. Three songs were to be featured: Goin' Down (Jeff Beck), My Guitar Wants To Kill Your Mama (FZ), and Red House (Hendrix style). Mike joined the threesome (plus Satchs' rhythm section) to sing (not play guitar) My Guitar.
We stood around, watching in awe of Satriani's masterful playing. MK said that each song is played EXACT each night, proving the incredible talent.
Satriani could not go wrong. The man was a genius, nailing Summer Song from The Extremist and older tracks from Surfing With The Alien. One could just sit jaw dropped at his entire set.
By the time Hamm's bass solo came around, Mike keeps us laughing (man is he a funny dude) and thought we got him too messed up to remember the lyrics to My Guitar. That was a definite joke after seeing him rock the band and attack the vocals to the FZ classic like nobody's business. Now that FZ is gone, Mike is probably the only one left with the vocal style to appeal to the FZ songs (see Zappa's Universe). The suite (now at full party capacity) was going nuts. Fans were saying, "Man, I just had a beer with that guy, he's up there singing, I can't believe it." Yes, the reactions were REALLY funny.
The jams were incredible, with all three guitarists mixed really good. Each of the tones were defined and there was plenty of room in the three songs for all three to stretch out. A guitarists dream.
When the three song jam came to a close (as did the show), Mike made it back to talk some more.
A guy from one of MK's seminars (Connecticut this year-I think) was there. He was the one Mike referred to as the shredder that he called upon in one of the Mike Types To You columns. We spent a good 20 minutes to a half an hour more talking and watching the Palace crew clean up the arena in about that much time. Very fast. Mike seemed to love being surrounded by his "die hard" fans and thanked Kim and I specifically. He also told of the love he has for his family and how the ring he wears on his hand means more than anything to him. Life on the road seems easier for him, knowing his family will be there when he gets back home. Boy, does he miss his Jesse!
Mike asked Kim and I to meet him out by the bus post show. Then he announced to the remaining five that Steve may sign autographs by the bus if they wanted to hang out.
We made our way out of the Palace and Mike headed backstage one final time. The weather was very windy and cold. The freezing temps and major wind-chill sent most on their way home. Very unusual for Oct. 31, but in Michigan it could snow during July it gets so messy around here....who knows.
Sean had Rob pull the car up to the bus and there were eight of us taking the chill. Mike came out and said he was going to wait on the bus till Steve came out.
I went and got my car, allowing Kim to stay out of the wind. Steve made his way on to the bus (no one stopped him for an autograph or anything????) and I called Kim back from the car. A couple of minutes later Mike came out, saying it was pretty packed on the bus and they had to leave for Chicago soon.
Then he invited Kim and myself onto the bus, saying that they planned on having us two to talk with for a second.
It seemed like a very lucky night (I have NEVER had this much FUN at a concert and I have been to nearly 100 of them) and I had my camera with me. Mike escorted us on to the bus (a dream come true) and the band and crew bent over backwards as we introduced ourselves, letting us sit wherever, take pictures and offering pizza. It was a very comfortable atmosphere and we sat in peaceful silence for a moment. Steve was watching TV with Phil and Mike M., and were laughing at the shows. I got a shot of the bus, checked it out and asked a few questions to Steve (it had been the second time Kim and I met him this year--and the longest I ever spent with him). They all signed my Fire Garden disc cover and I shot photos of all.
They had a rundown of the evening events and happenings from the tour manager (I think??). The man sounded English and stood 6'11!!! He had to wrap his head around from the bus ceiling! I said I am 6'5 and I rarely ever have to look up like that. Very, very nice people.
Mike scored a guitar pick for me (Steve didn't have any) and we had to hit the road after about 10 minutes in there, because they were on the way to Chicago. Kim and I were two of the most happiest people in the world. Mike was all smiles as well, and we thanked each and everyone of them for the opportunity. I wished them luck for the road and to have a great tour. Mike gave us both a hug as he had to say good-bye. But, he will remember this gig for a while.....I gave him a copy of the new Yes CD, Keys To Ascension to enjoy. Being big Yes fans, we have to keep each other up to date. He didn't realize that the disc came out the previous Tuesday. Somewhere on the road, I know what's jamming in the bus! What a day.
Thanks to anyone that made it through the full report. If anyone has any further questions, or want to express their feelings about the article, feel free to email me at sdbaker@cris.com.
(Thanks Scott for allowing me to post this. Thank you Mike for the idea, great times, and the music. When Vai brings you and the Dolphins (yeah Bryan!) our way, you KNOW we'll be there.)
Scott Baker (still riding the post-show high)
1:40 a.m.
Nov. 3, 1996
Contents ©1994 - 2013 Obvious Moose (except where noted) and may not be reproduced without permission. All rights reserved.