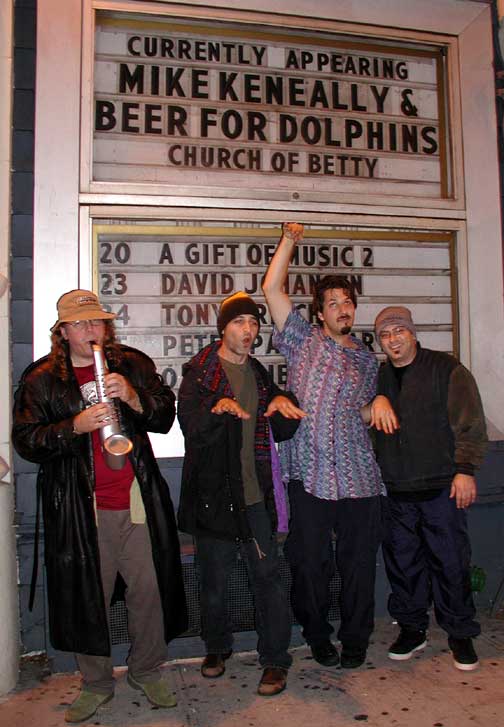 2:30 a.m. November 18, 2001: Mike Keneally, Nick D'Virgilio, Bryan Beller and Rick Musallam perform their end-of show ritual AssDance™ outside The Bottom Line in New York City.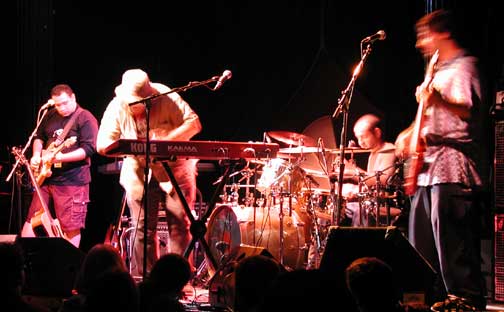 1:30 a.m. November 18, 2001: Rick Musallam, Mike Keneally, Nick D'Virgilio and Bryan Beller triumphantly return to The Bottom Line stage for an encore performance of "I Was Not Ready For You," capping off four relaxed, improv-and surprise-laden concerts in New York City.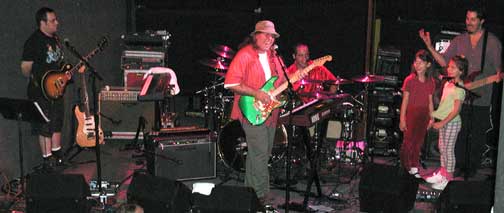 10:00 p.m. November 15, 2001: Rick Musallam, Mike Keneally, Nick D'Virgilio and Bryan Beller are joined by Guest Host Brian Douglas' girls Sonya, 8, and Karen, 6, for an audience-pleasin' rendition of "Apple Pie" at The Iron Horse in Northampton, MA.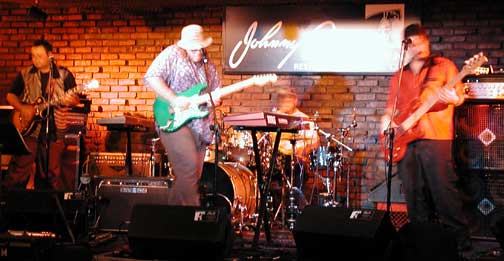 November 14, 2001: Rick Musallam, Mike Keneally, Nick D'Virgilio and Bryan Beller spin out of control at Johnny D's in Somerville, MA.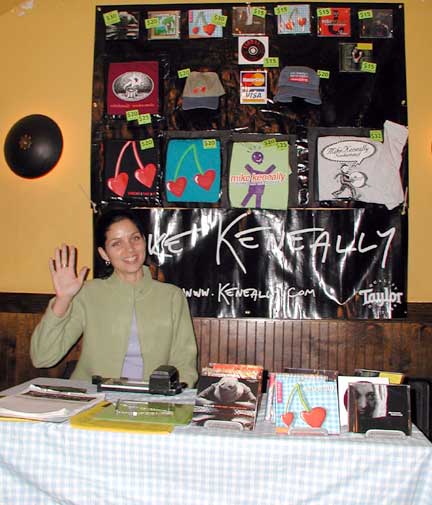 November 13, 2001, North Star, Philadelphia, PA: Merch maven Hillary Manning is in the house.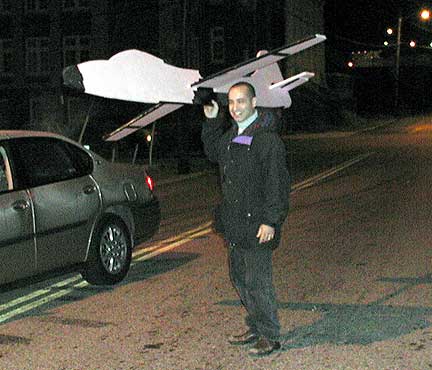 2:00 a.m., November 12, 2001: Nick D'Virgilio shows off his birthday glider, lovingly designed and assembled out of foam core by Dennis Hill and christened "Ass Air" by its grateful new owner. The craft met its demise a few moments later after three adventurous sorties.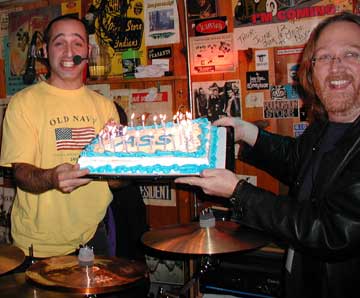 Midnight, November 12, 2001: BFD stick man Nick D'Virgilio receives the coveted MK/BFD Asscake™ for his special day on behalf of bandmates and crew. The sloppy, sentimental surprise was presented by Exowax CEO Scott Chatfield during a scorching set at The Empty Glass in Charleston, WV. The band has been performing a song from Nick's new solo album, Karma, which is flying off the merch table at the Quartet Tour '01.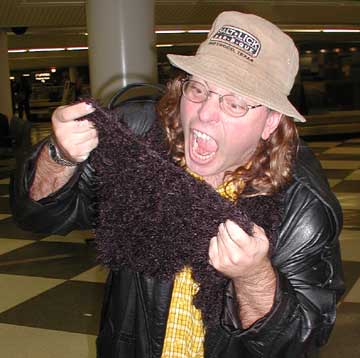 Mike Keneally
Nov. 16 '01 1:46 PM EST Driving to the Bottom Line
This is the first tour I've done in a long time where I'm actually excited to hear/see the tapes after it's done. I'll be chekcing the documents during the time off I'm about to give myself as a birthday/Christmas gift. Time off! Blimey!
Thing not to do in the future: book a tour, no matter how short, with no days off. We hit a little energy dip in Philly a few days ago out of sheer no-time-off exhaustion - still a good show, but tired-ish. Fortunately our little band of muggles have rebounded and the last two shows in Boston and Northhampton were ferocious.
This is the most fun tour I've ever done. The entourage is incredibly easygoing. All the shows have been great. The band is simply phenomenal. I've been having such a good time playing the guitar. The old voice is showing signs of fatigue (another good reason to remember to book days off) but I can usually find the magic portions of the throat which allow me to croak and warble semi-melodically.
Things I love: the closed-eyes/contented smile look Nick gets when he really sinks deep into a slinky drum groove. The way Rick has been soloing like a demon Cow on "Knife & Drum." Just how bloody happy Beller has been this whole tour, both on and offstage. The way "5 Legs" sounds live. Playing the electric piano part on "2001." The weird, momentary silence which generally greets the ending of "Clumpy Clumpy O." Every opportunity I have to do a guitar solo. How cool Hillary looks playing Rick's Les Paul. The momentous flight of AssAir on Nick's birthday in Charleston. Sonia and Karen, Brian Douglas' sweet little daughters, singing "Apple Pie" last night in Northhampton. Spiegelhalter's new hair. Lurowist lifting his ban on music and coming out to see us (three times, and then having such nice things to say about "Wooden Smoke" - that really did my heart good). Sitting on the dance floor at Johnny D's playing "Thanksgiving." People in the audience who smile at me while I'm playing. I can't even remember all the wonderful stuff which has been happening. It's just been great.
(Hey, I want to thank Billy Sheehan for hooking me up with Korg, and thanks to Korg for hooking me up with the Karma keyboard I'm using on this tour. It's a tremendously fun box and it sounds wonderful.)
Sheesh, only three more nights? Give me a day off and fly my girlfriend out to meet me and I'll be ready to go for another ten at least.
Thank you everybody!
Mike K.
An earlier missive from the day after Chicago:
This is Mike; I just wanted to say thanks to everyone who showed up at Martyr's last night, as well as everyone who works at the club, Michael Eisenberg who promoted the show, Jeremy Fox our wonderfully diligent and generous guest host, and to Da9ve, Frag, Nancy, Lurowist, Tackett, Christine, Wofford, Gina, Colin, Steve, Pat, Andrew, Grover, Tommy, and all of our fantastic friends who made the first night of our quartet voyage a real pleasure. This band makes a good sound! Really fun improvs (check out "Wild Horses" at the end of set one if you acquire a tape), really interesting repertoire, and really good playing all around. Check out these shows if you can - I can already tell this is going to be a memorable tour. Thank you Chicago!

No milk for you,
Mike K.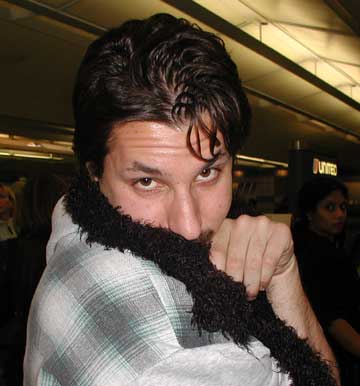 Bryan Beller
11/16/01, 12:23 PM, EST
Top 10 Favorite Things From The Quartet Tour:
10. The generosity of The Honorable Lamb Xavb, Jr., Esq. (I). On previous tours he saw fit to flay us unmercifully from rodent-infested hotel to rodent-infested venue for our mere daring to exist in his financial proximity. But now that we have proven our loyalty to The Exowax Corp. by way of the infamous AssCake™ Dare Of Death, he sees fit to fellate us with well-appointed inns and country breakfasts. We can only hope he continues to value our joint venture, for our fate in his disfavour will be most tortuous and unpleasant for all, including you, the reader.
9. The broadband-width communication that occurs between band members with alarming regularity...during improvisational musical passages so well executed, I practically levitate.
8. The way that Nick D'Virgilio says one very special single-syllable word.
7. Hillary Manning's reaction to a professional-quality massage. Think Sigourney Weaver from Ghostbusters in Zül mode.
6. Observing the many states of Dennis Hill: Tired, surly, serious, seethingly angry, loudly snoring, Cliff Claven-esque professorial...and (very infrequently) genuinely satisfied and happy, indicated by any of the following things: a) a loud cackle; b) a well-crafted insult (usually directed at me); c) an utterance of the word "super".
5. Watching the opening band from our show in Philadelphia--alternately known as "David's Foote" and "Psteer" (silent 'p', of course) depending on whether or not they were wearing cowboy hats--perform their big show closer, "Country Lingus." You do the countryyyyyyy...lingus....
4. Listening to Hurrundi Musallam and Her Majesty Manning communicate in a hitherto unknown dialect with an omniscient force they refer to as Cow.
3. Actually having time to sit down, share drinks, talk and laugh with folks who have come to our shows time and time again. (Not having to be Stage Manager for a seven-piece band makes this so wonderfully possible.)
2. Listening to Keneally rip the frets off of his guitar on a nightly basis. I'm fairly sure it hasn't been since '96 that he's mangled the instrument so forcefully. Rude and fuzzy is right.
And, by a large margin, my Grand Champion favorite thing of this tour:
1. Standing outside the venue in Charleston, WV, in the middle of a crack-alley side street, BFD prepares for the maiden voyage of Dennis Hill's masterwork, the gigantic stryrofoam glider we lovingly dubbed AssAir. Nick preparing studiously, calculating air pressure and wind direction...Mike playing the "The Canyon" on the kalimba for atmosphere...Scott frantically running around with the ExoCam, picking out the best shooting angle for takeoff...Forheads and band members snapping flashbulbs as if it were the Oscars...and AssAir, propelled by the force of Nick's (--------), flying higher and higher for at least four seconds before stopping dead still, momentarily frozen in mid-air, the double-cheeked AssAir logo displayed proudly above The Empty Glass....
...and what happened next lives on only in my fond, sepia-toned memory.
Your walking talking scrapbook,
Bryan Beller
11/10/01, 11:06 CST
Sitting here in the shotgun seat of our rental Oldsmobile Silhouette, barreling down I-65 towards Indianapolis --"The Crossroads of America"--on our way to the MK/BFD Quartet Tour's destination for the evening, Lexington KY...and jogging through random memories of last night's performance:

1. All those debuts. Stuff from "hat", "Wooden Smoke", "Nonkertompf"--and no set list. We've got one weird-ass repertoire for this tour, folks, and even we don't really know how it all sounds yet. But the kind patrons at Martyr's--which is quickly becoming one of our "home away from home's"--were wonderfully generous in their response.

2. All that space onstage. Sometimes I forget that there's only four people in this "quartet" (wake up, Bryan...you did get four hours of sleep last night, what's your problem?). But when we set up our gear, and realized that we didn't have to stand in each other's asses in order to find space for our gear and person onstage, there was much rejoicing.

3. All that rude and fuzziness. Guitars, guitars, guitars. We were a lush, through-composed, complexly interconnected seven-piece outfit the last time out, and a six-piece in L.A. before that. Even the power of seventeen Keneallys can fall short in whipping such an outfit into a true, dangerous, improvisational frenzy. Not so now. And better yet, when we train wreck, there are less bodies to collect at the point of impact.

4. All that Nick and Rick. Vocals: slick. Musical connection: thick. Gear loadouts: quick. Pulling off all this new material with practically no rehearsal: trick. Who's the black private dick who--oh, wait. Sorry.

I'm jazzed. After the gigantic majesty of the EuroNonkLive, with all its charts and Dutch musicians and Amsterdam-infused mayhem, I actually thought this might be a bit of a letdown.

How silly of me. This tour--and this band--is killing me in the best ways.

Dreaming of truck stops o' plenty,
Bryan Beller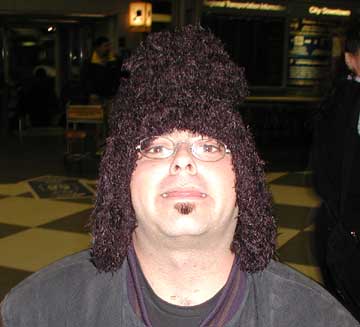 Rick Musallam
There are no words to describe the AssCake™. And how it came to p-a-aaa-aasss. Nick's birthday celebration at The Empty Glass was a lot of fun, and I couldn't believe how precisely Dennis cut a plane out of styrofoam. I'm also equally blessed with everybody on this tour. The band's been incredible, the shows are magical, and my only regret is that it's not a longer tour. Thanks to everyone who came out to the shows and supported our music. Thanks to all the guest hosts for all the goodies we got (Riccola's came in handy!). Lastly, thanks to MK and SC for making this tour possible.
P.S. Hillary is incredible. She speaks my Indian dialect, and only she and I understand the nature of the Cow. It is the Hurrundi and Hillary show every day. Holy Cow.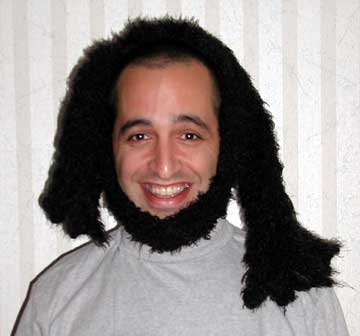 Nick D'Virgilio
Hey there y'all. Above is my new hair 'do. What do you think? I know you are probably thinking "but Nick doesn't have any hair". Well I don't now but when I grow up I want to have hair just like this. I think I will have to grow a really long beard and then wrap it around my head. It's my half Irish half Jamaican look. I'm a very multi cultural dude. Just be thankful I don't have my chick digs on. I make a scarrrrrrrrrrrrrrrry woman.
I also want to relay how blessed I am to know these really special people I am touring with. There is a definite love thang going on here. Now don't get any sick ideas but..............It's a rhythm section thing if you know what I mean. Thank you all for coming to the gigs. I hope you are having as much fun listening as we are playing for you. Also, thank all of you who purchased my record KARMA on this tour. I am very blessed to have had Mike, Bryan, and Rick play on my record and am eqaully blessed for being allowed to sell the CD on this tour. Thank you Mike!!!!!!!
PS If you have never tried AssCake™ you don't know what you're missing:)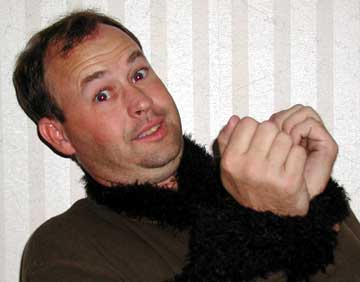 Dennis Hill
Wow, another MKBFD tour for the books. Having seen quite a few variations of the band I'd have to say that this is my favorite. I can't think of any one that I'd rather go out on the road with, not only are they amazingly talented, they're with out a doubt incredible human beings. My favorite moment I'd have to say was Driving into NYC in the Mobile Sleep Depravation Chamber (truck) with Bryan navigating. (This time he didn't scream like a little girl, unlike the drive from Kansas City to Wichita on the last outing) Since the demise of AssAir 1 I've begun work on AssAir 2, which will be ASSisted with model rocket engines and after consulting with Thomas, aircraft grade velcro.
Happy Holidays to ALL
Sometimes=Then
Dennis Hill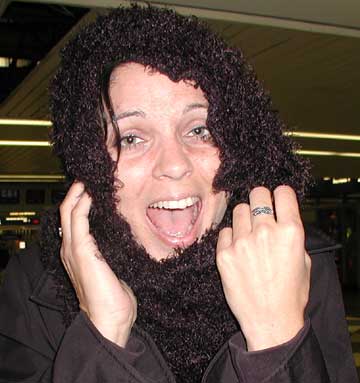 Hillary Manning
Holy cow! Is the tour really over?! Hurrundi, please say it isn't so. Momma's jonesin' for a good belly laugh, smothered & peppered & moidered hash browns, and the ephemeral yet transcendent magic of the quartet live and in person. Sweet voices and *ass*-kicking music will resonate in my head for quite some time. And my tummy still aches, but I can't decide if it's sore laugh muscles or the mark of the Waffle House.

I can't add much to what has already, most eloquently, been said about the intoxicating experience of being with this group on this tour. They are all extremely talented, generous and spontaneous, and make brilliance seem effortless and communal. And I don't want to blow their macho rock mystique, but they're possibly the most caring and thoughtful fellas I've had the pleasure to know. Did I mention that they're all friggin' funny too?! What a bonus. If you're reading this in the afterglow of quartet tour, then you know what I'm saying. If you haven't seen these guys for a while or at all, then start the campaign to get them to your 'hood but quick.

My loving thanks to Mike, Scott, Bryan, Rick, Nick and Dennis for a truly memorable and fun adventure. Thanks also to everyone who visited and transacted with me at the merch table, my home away from home. Your genuine love and support of Mike & BFD was much appreciated.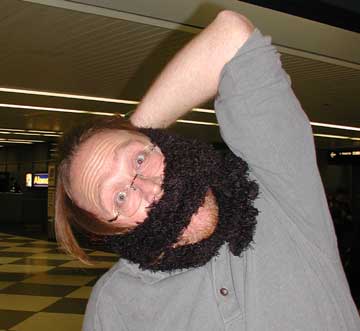 Scott Chatfield
November 10, 2001: Scrappy foursome Rick Musallam, Mike Keneally, Nick D'Virgilio and Bryan Beller get down to business at Lynagh's in Lexington, KY.