Home | The Music | Mike | Facebook | RadioKeneally | Live Performances | Gallery | Links | Fans | Press Info | Store


MiKe TypEs To YOU!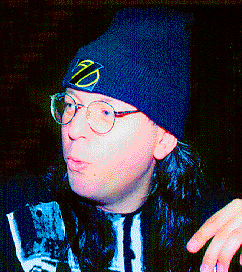 January 3 1995 10:18 PM
This is my first written contribution to the Obvious Moose Keneally page. Disclaimer: I am not a member or shareholder in the Obvious Moose organization. I am a friend of Obvious Moose. Obvious Moose can be your friend, too. See how he purrs as you pet his stunning antler.
Today, which was also January 3 but earlier in it, was spent in the recording studio with other odd guitarist Henry Kaiser, bassist Andy West (original Dixie Dregs member) and drummer Prairie Prince (Tubes, Todd, XTC and more). 'Twas the first day of recording for a special one-time only (maybe) band album---at the moment we're called The Mistakes. We also had a photo session today---soon you will see us on this very page. The songs we recorded today were three of mine ("Island of Lost Luggage", "Ennui" and "Career Politicians"), one of Andy's (an abortive attempt at a fiery little number called "Assembly Language" which we will approach again tomorrow) and a series of improvs with Henry on six-string bass, which I will later orchestrate and edit. We had a great deal of fun, and I have no idea what the future will hold for the project, but if all we end up with is a cool record and a few days of fun, what more does one need?
On Friday Jan. 7 I'll be flying to Japan for a week to do promotion for Dust Speck. Never been there before; to say that I'm looking forward to it would be awfully true. The chairman of Obvious Moose envies me so.
Upon my return it's rehearsals aplenty, 'cuz I'll be playing at the NAMM convention in Anaheim (mid-January) with both my band Beer For Dolphins and the world-famous Z. The Z show is a corporate deal for Peavey, closed to the public I'll betcha, but my show will be extremely open and accessible to all who wish to attend. If you, on January 19 at approximately 9:00, come to the Hilton on the premises of the Anaheim Convention Center and enter the Lobby Bar (it has football helmets in it) you will witness Mike Keneally & Beer For Dolphins (Bryan Beller on bass, Toss Panos on drums) playing too loudly and having too much fun. Drop by, won't you? Also, if you have a badge with which to gain admittance to the convention itself, we'll be playing on behalf of Guitar Player magazine at the GPI booth (which is traditionally next to the huge Fender guitar neck) at 4:00 on Saturday the 21st.
This Keneally page is a brand new thing, and there's a million things we can do here. We're just getting started. If you have ideas for it, questions for me, or any other danged thing, hexametaphosphate. Happy new year!!!!!!!!!!!!!!!!!!!!!!!!!!!!!!!!!!!!!!!!!!!!!!!!!