Home | The Music | Mike | Facebook | RadioKeneally | Live Performances | Gallery | Links | Fans | Press Info | Store


MiKe TypEs To YOU!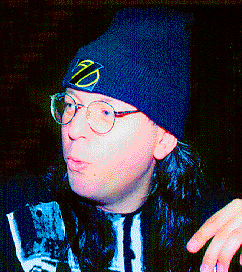 June 3 1995 7:23 PM
Last night was extremely surreal. After the Padres/Expos game at Jack Murphy Stadium here in San Diego, KGB-FM Sky Show XX took place. This is a bunch of fireworks, video and special effects choreographed to rock music. The grand finale consisted of yours truly, holding a guitar with one string wired up to have sparks shooting out of the headstock, miming to a pre-recorded tape of "classic rock" guitar licks (in order: intro wankage, "Satisfaction", "Walk This Way", seventh chords chromatically up the neck, "Won't Get Fooled Again", Page solo from "Heartbreaker" [segment]) at which point Jimi Hendrix appeared on the DiamondVision screen playing the intro to "Voodoo Chile" followed by "Star Spangled Banner" both of which I harmonized with, while stuff is shooting out from the corners of the stage I'm on and things are going crazy up in the sky, all this in front of about 35,000 people.
All I could think about while I was doing it was "does it look like I'm really playing?" I was far enough away from the crowd that they couldn't tell the guitar only had one string on it, but I wanted it to look accurate. I had Walkman headphones hidden under my stocking cap and I was solely concentrating on hitting all the cues right. Afterwards I was informed that the fireworks shooting out from my stage were enormous and it looked like I was in the middle of an inferno...I hardly noticed. Very funny.
Tonight I'm playing at the Wikiup Cafe here in SD for the CD release party for "Trummerflora", a compilation of four experimental local bands. The "band" I'm in (we only played together one time, at the recording session) is called Ultra 7 (also in the band are Marcelo Radulovich whom you should know from the discography, and Robert Montoya and Marcos Fernandes from Burning Bridges). We're only playing two songs but it should work out to be about a 40 minute set. I guess I should have mentioned it sooner here on the page but I'm afraid it kind of slipped my mind; it's just some casual fun (only the second time we've played together, it's not like we rehearsed for this or anything). "Trummerflora" will be added to the discography as soon as I get a copy. Here's the promo copy about Ultra 7 from the "Trummerflora" press release:
ULTRA 7 are multi-instrumentalists Marcelo Radulovich and Mike Keneally, percussionists Robert Montoya and Marcos Fernandes, and an array of guests including Robbie Helm on sax (Buddy Blue, Earl Thomas, Joy Eden Harrison). They contribute three divergent tracks on the album: a sci-fi grunge-rock number, a funk groove (the pivotal comic relief) and an all-acoustic free improvisation - one each for the heart, the soul and the mind.
When Scott received this press release at the radio station he called me at home and said "do you know you're in a band called Ultra 7?" At that point I had no idea. And tonight's our big live debut and I forgot to tell anyone about it. That's all right, I heard there was something in the paper about it so the hard-core will have found out somehow.
I have a terrible headache and I look forward to a few days off this week. I need to chill. I'll be back in SD in about a week and a half to mix some recording I did with the band Faux Pas about two years ago...they finally got a mixing budget! It's a children's album, very funny. I look forward to adding it to the discography (I wanna PILE those albums on).
MK