Home | The Music | Mike | Facebook | RadioKeneally | Live Performances | Gallery | Links | Fans | Press Info | Store


MiKe TypEs To YOU!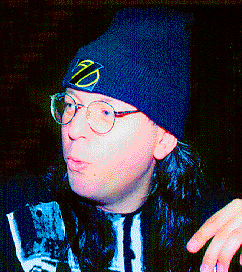 June 14 1995 3:42 AM
How you doin'. I'm keeping weird hours. Last night I went to see Todd Rundgren play in LA...three friends of mine are in Todd's band, one of whom is Prairie Prince who's also the drummer for The Mistakes. He's working on the Mistakes album art while on the road; the front cover-in-progress was taped the bathroom mirror and he'd transformed the vanity into a mini-art studio. He also gave me some sketches which will be used in the booklet interior...these will soon be visible here on the page, along with the Mistakes press release, an excerpt from the liner notes, the complete track listing and lyrics to three of the tunes. Since the album won't be out for another couple of months, hopefully you'll get a kick out of having an early opportunity to check out this stuff. Anyway I didn't leave Prairie's hotel room until 2:30 AM at which point I had to drive to San Diego, since I had to be in the studio at 11:00 in the morning to supervise the Faux Pas mixing session, which turned out great. I need to be at the studio at 11:00 once again to finish up the Faux Pas project, and here I am typing away at 3:48 AM, listening to "Mothers Of Prevention" (yeah, the new version sounds better).
Next week Beer For Dolphins is going to start working up some new material in preparation for what will hopefully be a sort of tour within the next few weeks. You'll get details as they present themselves.
Last time I wrote to you I was about to perform with Ultra 7 at the "Trummerflora" release party. That was great fun. We ended up doing three tunes, and my bits were essentially improvised (I kind of played a set rhythm on the second song, but the notes were not specified). The room where we played, the Wikiup Cafe here in San Diego, has a great vibe and I look forward to getting BFD in there soon. It's an all-ages venue.
"Drawer of Grin" will be expanded on a regular basis. The gear page is underway. Work continues on the new "All About Mike" page. There's several albums to be loaded into the discography ("Trummerflora" and the "Kill Ugly Radio" FZ promo). There's going to be articles in upcoming issues of both Guitar Player and Guitar World which mention the Keneally page. Scott and I never stop brainstorming ideas for our little plaything here, so keep checking us out, and please inform anyone who might be interested in what we're doing here to check it out as well. At the moment my body is really trying to convince me that sleep is the thing, and "H.R. 2911" is drawing to a close, so I'm going to take the hint. I'll be here for a couple of more days so if I think of anything else to tell you, I'll be right back.