Home | The Music | Mike | Facebook | RadioKeneally | Live Performances | Gallery | Links | Fans | Press Info | Store


MiKe TypEs To YOU!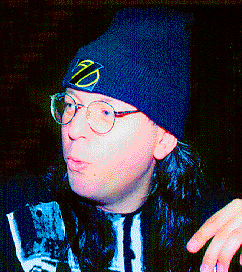 The last Friday in June, whatever that is 1:05 AM
I don't know if any of you folks have checked out Todd Rundgren's official Website. Its main point of interest is an occasional diary entry from Todd. On the 25th he posted an entry which was for some reason deleted shortly afterward. An enterprising soul then posted it on alt.music.todd-rundgren. It's not my duty to present the following but it is my pleasure and to a certain degree, I feel, my responsibility.
The Sporadically Updated
and
Unimaginatively Maintained
Quazi-Personal Diary
of
Todd Rundgren

Standard Disclaimer For Purists: The existence of this page does not constitute a redefinition of the raison for this site as outlined in the orientation. Information divulged herein is not meant to be accurate, so much as self-serving.
---
June 25
Night off in Vegas! After a stuporous 2 days at home (endured the Birthday That Wouldn't End while de-lagging) and a show at The Joynt At The Hard Rock that everyone thought was good but I can't remember, I had to find entertainment in the City That Wouldn't Survive The Heat If It Didn't Have Hoover Dam To Power The AC.
I'd seriously considered going to see Tom Jones at the Humongous Green MGM Hotel, but I had no underwear to spare and probably nodded around my room til it was too late anyway. Instead, I got backstage to see Cheap Trick and sat in on Surrender for about the 6th time and forgot important guitar parts for about the 6th time. After the show we all shot up heroin and went out with a bunch of topless dancers from the Follies Brasiere.
I heard that Neil Young had to bail out Eddy Vedder at the concert in Golden Gate Park. The kids of today should defend themselves against the kids who need guys from the seventies to finish the set for them. I personally have puked my way through more than 20 minutes onstage.
The Japanese are apparently relentlessly political, but most of the issues are irrelevant to me (somebody apologizing to somebody about something) so I was lulled into a forgetfullness of our own oppresive politicizing. It was probably helpful in making me receptive the message that the 'revolutionaries' wanted me to hear. It goes like this: 'The revolution is about the De-evolution of power to the states'. Of course! Vive la De-evolucion! We are DEVO!!!
There is a definite consistency here on the part of the conservatives. Most have wanted no US involvement in the Balkans, prefering a Darwinian solution. I think they actually look forward to the Balkanization of this country. I thought about the possibilities and they seem pretty exciting:
Welfare devolves to the states. Any state that invests in practical solutions experiences an influx of welfare recipients and homeless, collapsing the system. States compete to see how crappy they can treat the underclass, driving them to other states.
Medicare/Medicaid devolves to the states. Something of the same result except that the impact will be on the poor and old. States like Florida and Arizona will collapse, unable to support the high ratio of untaxable, unproductive citizens.
Environmental regulation devolves to states. Unable to resist competing for corporate taxes and jobs, standards will be relaxed on environmental impact. States will regularly sue each other over polution/exploitation rights on resources that cross boundaries, like air.
Arts and education assistance devolves to the states. All art is in a museum. You pay to get into the library. Desperate states no longer required to provide equitable education privatize school systems like crazy. Teachers will compete and finally get paid what they deserve. Public school (poor) children will get lousy teachers.
Civil rights enforcement and equalization devolves to the states. I'm old enough to remember.
I'm sure most people would rather think of themselves as, like 'Citizen of Iowa', than 'Citizen of the United States'. Proud holder of a South Dakota passport. Vice President of Rhode Island. You've got 30 days to move to the state of your choice before we all secede from each other.
It can't be an accident that this diary entry vaporized. One can speculate, but I won't . It's just too interesting a piece of reading to allow it to disappear, though.
Wednesday night I saw King Crimson here in San Diego. I've been describing it to others as "lovely" and it was. Understated to the max (seemingly too subtle for some of the thwarted headbangers in attendance), with some of the best Adrian I've ever heard live, everyone else playing equally beautifully and possibly the most painterly lighting design I've witnessed. Spoke briefly with Trey, Pat and Bill after the show (BB I first met after the '88 Wembley FZ show...he especially enjoyed "Bolero" that evening, a fact of which I reminded him the other night). Pat I knew from the halcyon days of hanging around with XTC during the "Oranges & Lemons" sessions and generally making a nuisance of myself (there is an XTC tribute album in the works which I'm evidently too late to weasel in on. I tried to talk my way onto the recent Nilsson tribute as well, to equally scant avail). Trey I met recently after a Fripp/Sylvain performance, and have corresponded with sporadically (I sent him "Dust Speck" and he especially enjoyed "Faithful Axe"...don't know whether Bruford's experienced it yet). Mr. Chatfield was hot to get a genyoowine pitcher of me and Adrian together for the Keneally/Belew interview on the page, but Adrian was not receiving visitors, the scamp. Let's see if I let him backstage at my next show. (I'll be shocked if there IS a backstage at my next show).
Actually there might be. Speaking of next shows (big bold letters, please, Mr. C):
BEER FOR DOLPHINS WILL PERFORM AT BERKELEY SQUARE AT 1333 UNIVERSITY AVE. IN BERKELEY, CA (510-841-6555) on SATURDAY JULY 8. AND THEN AT THE JAMBALAYA CLUB AT 915 H STREET IN ARCATA, CA on MONDAY JULY 10.
You can call Suzanne at Immune (619-448-3062) for details if you need more details. On Saturday I'll be doing a radio interview on KOFX in San Francisco (don't know what time so just listen to the radio all day) and on Monday at 10:00 AM I'll be on KMUD in Garberville.
On July 20 we're playing at Bourbon Square in Van Nuys, Los Angeles. On August 5 we'll be at the Wikiup Cafe in San Diego, and on August 6 we'll be doing a tune at the San Diego Music Awards at Symphony Hall in downtown SD (where, coincidentally, I saw the Crims the other night. Pat calls them the Rims but I don't feel I've earned quite that level of familiarity). For these events Joe Travers of Z will be drumming as our boy Toss will be in Japan playing classic rock covers for an astonishing amount of money.
Been rehearsing with BFD. Cool things: we're finally working up a live version of "Lightnin' Roy" with some new themes and weirdness. I went back a decade and grabbed something off of "Fashion Poisoning" for us to learn, a medley called "Love Theme From Vulture Fun/Why Am I Your Guy?". The latter half sounds like The Who the way we're currently playing it. Much fun. The other new tune is something in altered tuning (D A D A B D) that doesn't have words or a title or a middle section yet. Learning new things is GOOD.
I mastered "The Mistakes" with John Golden last week (he did a remarkable job of it) so the sonic portion of the release is officially DONE DONE DONE. I handed over all the elements for the packaging and a little mocked up CD book template to graphic designer Mark Yturralde this evening and he plans to have the artwork laid out by the end of the July 4 holiday. Anticipation mounts.
"Faithful Axe" turned out to be good practice...tomorrow I'm collaborating with Kevin Gilbert on a version of "Siberian Khatru" for a Yes tribute album. I got Beller on the gig for he is a maniac Chris Squire freak and the man for the job, even if he doesn't play with a pick (he can't even hold one properly). We're jettisoning the original middle instrumental section to make room for a surprise (I'm not telling).
The following day I need to transcribe part of the original "Penguin in Bondage" and write some text to accompany it for a Zappa piece scheduled to run in the September issue of Guitar Player. James Rotondi is putting it all together and he interviewed me for an hour and a half the other day...we covered a lot of interesting ground and I hope a reasonable amount of our conversation makes it to the finished product.
The day after that I'm back in the studio with Jip, helping them to complete their second album. If you still haven't gotten their first album ("Glee"), well, that's just inexcusable.
I suppose that about covers it. Z is to start rehearsing again soon, so hopefully we'll be back on the road before long. This was sort of supposed to be Z's year. It hasn't quite turned out that way so far, has it?
One other thing...several months ago someone sent in a bunch of anagrams for the phrase "Boil That Dust Speck". I'd love to include them in the anagram page but the original post seems to have been mislaid somehow. If you're the maniac in question, is re-posting within the realm of the do-able?
Thanks everybody for keeping an eye on me.
Keneally