Home | The Music | Mike | Facebook | RadioKeneally | Live Performances | Gallery | Links | Fans | Press Info | Store


MiKe TypEs To YOU!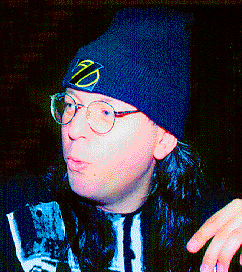 July 4 9:46 AM
By all rights I should be home with my family right now but I have to hang out in San Diego for a couple of hours so I can meet with Mark Yturralde, the gentleman who's doing the graphics for "The Mistakes". This is a weird time of year and will be forever...today's my Dad's birthday, yesterday was the first anniversary of his death. Last night I went to see "Crumb" with three friends; between the four of us, two of our fathers had passed away on July 3 and another had a doomed relationship begin last July 3. "Crumb" itself was a major mindfuck for me. My feelings are too conflicted, even now on the morning after, to lay out my thoughts cogently, but I'm reeling with thoughts of art and responsibility and karma...it's essential that you see this movie. We got home to a message from another friend that his July 3 started with his garage catching on fire, continued with him driving his singed car to work, suddenly becoming ill and having to throw up out of the window, then getting hit by a truck. Also poor Jesse has been under the weather and I really want to get home to see her and give Viv some time off from tending to her. Anyway we all got through yesterday and now we can celebrate the holiday and I and my family can celebrate the anniversary of my father's birth, a momentous event indeed.
Miscellaneous: the "Siiberian Khatru" session went well, it took about twelve hours and Kevin still hadn't started on his keeper vocal and keyboard tracks when I left, but it sounds good, especially Bryan's bass tone which totally made his life. That was Friday; Saturday I had to work on an article for Guitar Player which entailed transcribing part of Frank's solo in the original "Penguin in Bondage". I don't do a whole lot of transcribing and to a certain degree it's torture for me, but I'm pleased to find that it gets easier as time goes by. It's still not done though and it's due tomorrow, yet another reason to get the hell out of San Diego and back home where I belong.
Also I ate a burger called a "Dante's Inferno" at the Corvette Diner last night and my fragile constitution is not interested in allowing me to forget this fact.
Sunday I came down here and worked with Jip on their second album. I didn't produce the sessions this time, the basics were already on tape and I did overdubs for seven songs in four hours. I'm very proud of the work we did on the first album but in retrospect I put too much Keneally on their songs (which makes it tough for them when they play live) - this time I tried to keep my stuff more subtle. The new songs are great, really direct and raw. I believe Brad's plan is to put out an EP in Europe of the songs already on tape and then record some more songs to make it a full-length release here in the states.
Yesterday Scott and I had a meeting with a couple of guys (it was productive) and I did some computer stuff and then picked up a bunch of "Dust Speck" T-shirts to sell at the No. Cal. shows. If you can make it to those gigs please do. It's not often we get the opportunity to play out of town and we're going to rage.
We haven't gotten much feedback on some of the more recent page additions like "Drawer of Grin", the gear page, the Mistakes page etc. Are we just wanking over here? Get back to us on this please.
I'm starving, best take care of that. Happy Fourth of July everybody, we'll see some of you at the end of the week I hope. Once again, just as a reminder:
BEER FOR DOLPHINS WILL PERFORM AT BERKELEY SQUARE AT 1333 UNIVERSITY AVE. IN BERKELEY, CA (510-841-6555) on SATURDAY JULY 8. AND THEN AT THE JAMBALAYA CLUB AT 915 H STREET IN ARCATA, CA on MONDAY JULY 10.
Sorry I don't have the number for the Arcata club. Call Suzanne at Immune (619-448-3062) if you require further prodding. Thanks.
Keneally