Home | The Music | Mike | Facebook | RadioKeneally | Live Performances | Gallery | Links | Fans | Press Info | Store


MiKe TypEs To YOU!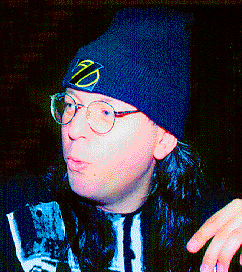 July 17 1995 1:40:13 PM
This will be the most perfunctory of "Types to You"s because I've just typed a massive Road Diary (part one) which will tell you a lot about what happened last week. After the mini-tour ended, I recorded another track with Kevin Gilbert, this one for a Genesis tribute album (we did "Back in NYC" from "Lamb"); did a session for a musician named Matthew Lien (sort of a new age project, interesting experience: every single note was crucial and Matthew was highly attuned to subtleties regarding attack, tone, articulation, vibrato, effects...I played on only a couple of minutes worth of music and it was a fairly grueling three-hour session. Very educational. Matthew is from the Yukon, and I learned also that when you do recording sessions for musicians from the Yukon, you get paid in Travellers Cheques); did a phone interview with a very nice woman from Music News Network, a publication you'll be hearing more about; checked in a couple of times with Mark Yturrlade who's finishing up the graphics for "The Mistakes" (essentially complete); and did another session for Jip's second album. I also had a couple of days at home with Viv and Jesse which is an increasingly precious commodity nowadays.
Big letters, Monsieur Chatfield -
ME & BFD
BOURBON SQUARE in VAN NUYS, CA.
THURSDAY, JULY 20
IT'S ON VICTORY AND SUPELVEDA
AT MIDNIGHT
I DON'T KNOW THE PHONE NUMBER YET
SORRY I'M SO LAME
Now have yourself a look at the Road Diary and I'll be in touch. Take care.
Meester K