Home | The Music | Mike | Facebook | RadioKeneally | Live Performances | Gallery | Links | Fans | Press Info | Store


MiKe TypEs To YOU!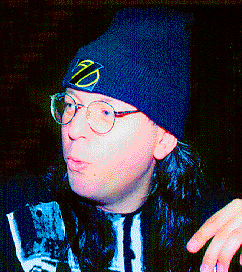 July 25 1995 3:17 PM
Another quick entry for you. The Bourbon Square gig was great, but what was amazing was the rehearsal the night before. Joe Travers was a man possessed (he's subbing for Toss for a few weeks) and we were devastating. I wish the world could've been there.
Then I had a couple of days to do nothing but spend time with my family! It was awesome. Jesse and I watched a lot of Disney "Sing-Along Songs" videos and played and went shopping and played in her new "Lion King" pool laughed at each other. She likes me more when I spend more time at home. She can stand up really good now and takes a few steps now and then, but she's still taking her time with that stuff.
Last night was pretty funny, I provided audio wallpaper for the San Diego Comic Expo in downtown SD. I borrowed Rich Lewis' Echoplex; I'd spend a half-hour building a loop (there was about three minutes worth of tape in the 'plex so they got pretty expansive), then let it play for twenty minutes while I hung out and drank, then go back up and set up another loop etc. It's the only way to go.
Now it's over to Bob Tedde's house to help him decipher some Steely Dan harmonies (he leads an S.D. S.D. tribute band called The Steely Damned) then up to the Baked Potato in North Hollywood to sit in with Jon Finn (guitarist from Berkelee, Bryan and Joe are his rhythm section for tonight's event). We're playing "Echidna's Arf" and "Freeway Jam". Bryan wanted us to play "'Cause of Breakfast" so I relearned it, but Jon dropped the ball so it will not occur tonight. But now that I know it, we'll be playing it at the Wikiup on Aug. 5 - it'll sound strange as a three-piece but what're you gonna friggin' do.
Big letters!
UPCOMING BFD STUFF -
BETTER WORLD GALLERIA - SAN DIEGO - ACOUSTIC PERFORMANCE (just me and Bryan) SUNDAY EVENING JULY 30 sponsored by Taylor Guitars
GUITAR CENTER - EL CAJON. BLVD. IN SAN DIEGO SAT. AUG. 5 11:00 AM (performance/clinic) sponsored by 101 KGB radio
WIKIUP CAFE - PARK AND EL CAJON BLVD. - SAN DIEGO SATURDAY EVENING AUGUST 5
SAN DIEGO MUSIC AWARDS SPRECKLES THEATRE - DOWNTOWN SD SUNDAY EVENING AUGUST 6 ("Dust Speck" is up for Album of the Year - we're just playing one song)
Z starts rehearsing again in a couple of weeks. We'll see what happens.
Yours,
K