Home | The Music | Mike | Facebook | RadioKeneally | Live Performances | Gallery | Links | Fans | Press Info | Store


MiKe TypEs To YOU!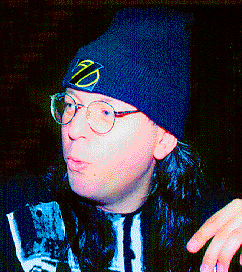 July 31 1995 8:38 PM
Bryan and I just did a completely useless thing which I can't wait to tell you about, but first, here's what happened all last week.
When last we "spoke" I was heading to LA to sit in with Bryan, Joe and their guitar-playing bud Jon Finn at the world-famous Baked Potato. It turned into guitar free-for-all night; Dweezil and Blues Saraceno showed up and played one Les Paul between them (on the same song). It was a trip to see DZ in this context and fun to see him getting worked up about playing live again. Carl Verheyen, who is amazing, played on a tune and gave Bryan the super- huge glare from hell when Beller skipped an entire section on one tune. Another guitarist who's a friend of Jon's needed to borrow my guitar for a tune, and I readily surrendered my permission. "Are you SURE?" they kept asking, offering me a convenient out. "No problem, fellows", I intoned gallantly, "here, I'll strap it on you meself!" (That part didn't happen.) Anyway he broke a fucking string the second he came in contact with it and I learned yet another lesson about how wrong it is to be a nice guy sometimes.
The next night Jon Finn was invited up to Zappa Manor to play some stuff on "What The Hell Was I Thinking?" (which limps, battered but proud, toward its completion). It was not cake for Mr. Finn but the part ended up being plenty cool. The nicest part of the evening was the general feeling of happiness and optimism regarding Z's immediate future.
The next day the roof caved in on me health-wise and I nearly passed out while feeding Jesse her dinner. "Hey stupid", my body said to me, "start getting some decent sleep and eat some decent food and act your age for once, asshole". I think I shall heed my body's advice. I laid low the following day to good results. The day after that I made Viv drive me and Jesse down to San Diego where we spent a pleasant day with Viv's folks and watched "Legends of the Fall" which my brother told me was the most depressing thing he'd ever laid eyes on. It was pretty darned squalid but I like stuff like that. We also watched "It Could Happen To You" which was dross. Sunday morning/afternoon it was time to leave Jesse with the grandfolks and hit the town with Viv which doesn't happen often enough. We attended the San Diego Comic Convention where we ran into Matt Groening (who had some awfully kind things to say about this here Web page) and bought several videos worth of sixties cartoons and Star Trek bloopers. Then a cozy Mexican lunch and back home to see our beloved before we started going through Jesse withdrawal.
Sunday afternoon/evening brought the Taylor Guitars Better World Galleria event. Rich Lewis was there to support and document as always. Good barbecue in the afternoon, and Jesse got to wander around and see a bunch of interesting new people. The evening brought the first ever Mike & Bryan acoustic performance, with Beller the proud delieverer of the Taylor Acoustic Bass Guitar's world premiere performance. Without a second of practice in this format (barring soundcheck) it could've been disastrous but it ended up being an utter pleasure, well-received. Also performing was solo guitarist Peppino D'Agostino who does numerous amazing things, and the two of us hit it off so hopefully we'll keep in touch.
OK, here's the lead-in to the utterly pointless thing that we just did tonight: at the Better World extravaganza, a very fine publicist and person named Chris Mattson, who is the girlfriend of my friend George Varga who writes for the San Diego Union/Tribune, was very taken with our performance and decided that it would be ginchy to have us perform at the following evening's press conference for the San Diego Street Scene, an annual downtown San Diego event with countless bands and food and drink and revelry (Z played there last year and it was a blast). Sure, said I. So this morning entailed countless phone calls trying to get all the ridiculous endless details tied up, with the end result being yes, we were going to perform at the press conference this evening but more importantly we'd be playing at the Street Scene itself on September 10 ("we" in this instance meaning the full-on three-piece Beer For Dolphins rather than the genteel little acoustic Keneally and Garfunkel vibe). So we met Scott at KGB and had a raging lunch at the Claim Jumper ("The Dead Miner" in Scott's folklore) which left Bryan feeling a little ill but it didn't too desperately dampen his enthusiasm for our encroaching performance at the press conference which would bring us untold publicity and follow on from the excellence and good feelings of our show the night before blah blah. You know what happened. It was a total waste of time, the PA was non-existent and there was no guitar in the mains at all. It SUCKED and it's strange for Bryan and I to take part in something that is just completely without value and it's still messing with our heads. But the ultimate good thing is that the whole rigamarole landed BFD a Street Scene slot about which I am very pleased.
The schedule:
SATURDAY AUGUST 5
GUITAR CENTER
EL CAJON BLVD.
SAN DIEGO
11:00 AM
IT'S BEER FOR DOLPHINS!
SATURDAY AUGUST 5
WIKIUP CAFE
PARK AND EL CAJON BLVD.
SAN DIEGO
IN THE EVENING
IT'S BEER FOR DOLPHINS!
SUNDAY AUGUST 6
SPRECKELS THEATRE
SAN DIEGO
SAN DIEGO MUSIC AWARDS
IN THE EVENING
IT'S BEER FOR DOLPHINS!
THURSDAY AUGUST 24
BOURBON SQUARE
VICTORY AND SEPULVEDA
VAN NUYS
10:30 PM
IT'S BEER FOR DOLPHINS!
SUNDAY SEPTEMBER 10
DICK'S LAST RESORT
SAN DIEGO STREET SCENE
DOWNTOWN SAN DIEGO
IN THE EVENING
IT'S BEER FOR DOLPHINS!
My apologies to everyone who doesn't live in California and would like to see us playing live. Nothing would make me happier than to play for everyone who wants to see us; I ask for your patience and continued support. Z rehearsals start this Thursday; tour soon to follow (don't know where, don't know when). Thanks to all of you for being so cool and hanging in there with me. I truly appreciate it.
Keneally