Home | The Music | Mike | Facebook | RadioKeneally | Live Performances | Gallery | Links | Fans | Press Info | Store


MiKe TypEs To YOU!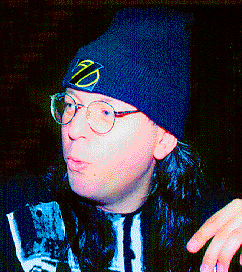 Friday Nov. 3 3:57 AM
I just got a really nice letter from a guy named Kent Huffnagle but I was unable, electronically, to send a reply for some reason. Here's the letter:
Hi Mike,

I just had to send you a small token of my affection. Words can not express to you how glad I am to hear that you will produce music for as long as you possibly can. I have loved one man's music for many years, his name of course is FRANK. I am very glad that you were also a part of his live ensemble, it saddens me,(and you as well I'm sure), that you didn't get to work with him in the studio. But, I must say that your solo albums are simply fantastic. I also love the "Z" cd and I can't believe that "Music For Pets" isn't out, but I guess I can wait till Jan. Looking forward to your next collection of sound patterns, are there release dates for your third cd or mabe live Z?

Always listening,

Kent

Hi! Thanks for writing and for all the kind words. "The Mistakes" (my collaboration with Henry Kaiser, Andy West and Prairie Prince) should be available from Immune within two weeks. I've just finished editing a live-in-the-studio Beer For Dolphins CD, but since most of the songs are new versions of tunes from the first two Keneally CDs I'm holding onto it until I finish another solo album (which is about half-written at this point). When "Music For Pets" comes out, there will be a second CD made simultaneously available of many of the songs that didn't make the cut forthe main album (many of which are excellent songs). There's also a live Z CD ready for release called "Live Beef", but I don't know when that's being released. So many albums, so little time.

Thanks again,

Keneally
Sometimes it happens that I can't send a response to a letter for some arcane cyber-reason, and it bugs me. We had a list of MIA's up for awhile but it didn't seem to bring results. If you mailed me something and haven't yet received a response, it's because I wasn't able to send one. (I know this because by the time this "Types To You" goes out to you I will have finally answered all the email that's been waiting patiently for me.) My apologies to all who have been afflicted by this sad happenstance.
A few hours ago we played at the Wikiup Cafe in a display of extreme goofiness. I'm going to get a little sleep, then I shall awaken and write to you about it. What album should I put on?
Miles Davis - "The Complete Concert 1964 - My Funny Valentine + Four And More". Of course. (Any of you remember the performance of FZ music that Thunes, Mats, Morgan and I did with the Orchestra of Our Time at Avery Fisher Hall in early '93? This Miles album was recorded on that same stage. That blows me away.)
11:31 AM Friday Nov. 3
AHH.
Last night was way too much fun, at least for Toss and I. Bryan had a harried day and couldn't shake the dour away, so Toss and I just blasted right by him. I was in an extraordinarily frivolous mood and much tampering took place with the tunes. The audience was mostly friends so I didn't think they would mind. Toss really enjoyed the gig which is great; he hasn't been available for a lot of the shows this year (including the most recent Bourbon Square gig where, altered on John Coltrane and other inducements, Joe Travers and I reached for the heavens. Bryan was pretty nonplussed at that as well but at least he enjoyed himself. Next gig I'm going to have to concentrate on bringing the poor boy out of his shell). Obviously the texture of the gigs changes significantly from drummer to drummer. Bryan and Joe have been playing together for years and have a vast amount of common ground, but Toss pulls Bryan in directions where he normally wouldn't tread (and vice versa). I love playing with both drummers, but it was good to play with Toss again and be reminded of why I want him around - he's unremittingly spectacular.
My pickup truck (check Fab Gear Page for one last look) got munched a couple of weeks ago and has been replaced by a beautiful gleaming Mitsubishi Expo, a smallish van sort of affair. Another red Mitsubishi. I hadn't planned it this way but I'm not complaining, just slightly bemused. The Expo is a very lovely thing so hopefully you won't be reading any automotive complaints in this space for 3- 4 years at least. We're moving to a new house as well, vastly superior to the one in which we currently find ourselves. I'm allowing myself to slide gracefully into middle age. Stay tuned for haircut developments. Although I can't get too conservative on the hair front; an aspiring screenwriter has contacted me with a desire to have me play a guitarist in an HBO pilot about a young struggling rock band. How greatly amusing would that be?
"THE MISTAKES" is at last in production. Two weeks at the most and it will be available, with the first copies winging out immediately to those who pre- ordered and have been (for the most part) waiting patiently.
I have finished editing, with the help of an expert digital scissors wielder named Ryan Eldred, the live-in-the-studio Beer For Dolphins recording which was made in February. The title of this album is now "Sort Of Live In Hollywood". After various ill-fated attempts at overdubbing vocals and attempting slicker mixes, the album is 95% made from a recording that Ryan was surreptitiously recording of our headphone mix while we were playing. Some tricky EQ needs to be done in order to bring out the guitar a bit more, and I'm forgetting lyrics all over the place, but the feel of the recording is completely happening. My hope is to make the "Sort Of" album available simultaneously with the next Keneally album.
There have been times in the past when, while describing the breakup of the '88 FZ band, I disparagingly used the term "jazz musicians" while describing the attitudes of other band members. For this I now apologize. I've been losing it over Miles, Coltrane, Monk and Charlie Parker lately. It's taken 33 years for this stuff to finally, truly grab me by the balls and now I can't get enough. So no more snide jazz remarks from me. There's two little black boxes on the market now - "Miles Davis - The Complete Plugged Nickel 1965" (eight CDs) and "John Coltrane - The Ultimate Heavyweight - The Complete Atlantic Recordings" (seven CDs). Both are filled with so much magic it's hard to believe they exist in earthly form. Every few weeks or so, Travers and I hunker down with this stuff and go out of our minds. A window has been opened. (For non-jazz fans - fear not. I'm not abandoning rock. But change will occur.)
I'm going to write about the Yes and Genesis tribute albums right now. Oh one more thing - the drummer for the band which opened for us last night, Fiction Damage, just sent me this letter, and I think you need to see it:
Mike,

As most of my days consist of 16 to 17 hour days starting at 5:30AM, I found myself in need of leaving the show last night around 11:15 so I could unload my drums and prostrate myself on a rectangular sack filled with springs and padding. I really enjoyed what I saw of your show and I wanted to thank you for letting us open for you.

There is only one item of concern that is fuel for the childhood corruption of our youth - the name of your band. Little tykes all over the world are crying when they hear the name of your band. It creates a scenario within their minds which has cute little oceanic mammals weaving, pissing, vomiting, raping, and playing darts. I have even heard them say, "Daddy, now that the dolphins are drinking beer, does that mean that their tummies are going to get big like your's". For the sake of the tears streaming down their little faces could you please rename your band to something like Honey Nut Cheerios For Dolphins.

Thanks,

Michael McQuilken
Take care,
Keneally