Home | The Music | Mike | Facebook | RadioKeneally | Live Performances | Gallery | Links | Fans | Press Info | Store


MiKe TypEs To YOU!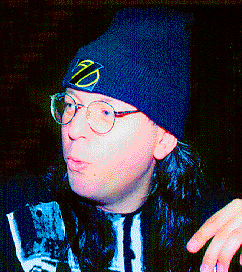 January 18 1996 1:06 AM
We gone and done it...Viv and I now have a real live up-to-date powerful computer in our home instead of the typewriter with a TV screen we've had for years, and which didn't survive the move to our new home. This also means I've got a new email address which brings you direct to me, and the address is BoilThat@aol.com don't you know. I was thinking that AOL is really not so bad and then a few minutes ago as I was reading the BFD Road Diary to see where I'd left off I was suddenly forced off line. When I tried to sign on again I was told to wait three hours. Does this happen often? I've spent an absurd amount of time the last couple of days responding to all the mail that's been stacking up in Scott's computer and I'm officially caught up. To all who shall email me in the future, my responses (assuming I'm home) will be tremendously more prompt in nature. You could do me a favor and be somewhat sparing with your messages - if I hear from you once a week that would be great, but if you send me stuff night after night you might sense my responses becoming strangely abrupt. But by all means keep those virtual cards and letters coming..
I can't remember if I mentioned in any past missives that Rich Lewis, my guardian angel of equipment and videography, GAVE ME AN SG a couple of months ago. He just GAVE it to me. It's totally spiff too. It'll show up on the gear page at some point. On the subject of gods, Thomas Nordegg took my pedalboard and snake away after a gig last Friday and returned them to me today all gleaming and streamlined and perfect. They'll have to supplant the old pedalboard and snake on the gear page as well. Rich and Thomas - you're both amazing.
Last Friday's show at Bourbon Square was notable for at least three reasons. It was the first show I ever played with earplugs, and I loved it. Beyond the obvious benefits, I found it actually helped my soloing. I guess I must be shy, but I play more ambitious stuff when I can't hear myself raging at tremendous volume. The whole band played like rabid hogs, it was superb. It was also the first show where I had Beller write up the set list, and that was a liberating thing as well. He did a great job and came up with transitions that I wouldn't have considered. Until I change my mind for some reason, the construction of set lists is now Beller territory. Bryan is also currently compiling data on all the live BFD videos we have, in preparation for the unleashing of the MK & BFD VIDEO CLUB. More information on that as it develops. Most magnificently, the show Friday ended with a massive fucking brawl, prompted by the drummer for the band after us throwing his kick drum on my pedalboard. Since Bryan was a vital part of this bit of fun I'll leave it to him to offer more specific details on his next thrilling installment of "Life of Bryan".
Response to "The Mistakes" has been gratifying. We need to figure out how to get all of our schedules aligned so we can do some performing. Henry and Prairie are also hot to do another album, which I am as well, but I'd really like to get the next Keneally album done first. Plus there's "Sort Of Live In Hollywood" which is now finished, aurally speaking. I've been reticent to bring this album out too soon because the material is mostly from "hat" and "Dust Speck" and it didn't seem like the time was right to continue leaning on that material. As more time goes by, though, the less concerned I am about that, and it's now been almost a year since we recorded it anyway. What do you think? Would you mind if the next Keneally album was mainly new trio versions of old songs, or should I wait to put it out until the next album of all new material has been completed? Bryan and Toss are amazing on the "Sort Of Live" album incidentally. When aren't they?
Today is the first day of the NAMM show, tonight we're going to play at the Hilton. We had a very spiff rehearsal yesterday and Beller has composed another delightful setlist. NAMM is going to be frantic this year, which is as it should be ainnit.
Now I'm going to get my calendar and let you know all I know about some of the things that will be happening over the next few months hopefully...
Jan 18 19 20: NAMM madness
Jan 22: I have to turn in an article I'm writing about (I'm serious) Southern Rock for a Guitar Player offshoot instructional publication, can't remember the name of the magazine offhand
Sometime in Feb: BFD has been asked to open a gig for Brand X in LA, don't know the venue or date yet
Feb 2: BFD at Bourbon Square in Van Nuys
Feb 15 16 17: I'm producing an album for a band called The Hooligans
Feb 22: BFD return to Musician's Institute for a gig. The last show we did there sucked so I'm thirsting for revenge
Mar 2 3: More Hooligans sessions
Mar 14: Rivera Road Show opening for the Hellecasters in San Diego, Belly Up Tavern in Solana Beach. The plan is to do a clinic in the afternoon and a concert at night.
Mar 19: Rivera Road Show BFD/Hellecasters San Francisco (don't know venue)
Mar 21: Rivera Road Show Portland Oregon (tentative)
Mar 23: Rivera Road Show Seattle (tentative)
Sometime in March: we've been asked to open for Gong, no dates, no venues set yet
First week of May: BFD has been asked to play at the Music West festival in Vancouver, we plan to book other gigs around this date and make a tour of it
July 24 25 26: I'll be a guest artist at the National Guitar Summer Workshop in Connecticut
Obviously there's still some gaping holes in that schedule, some of which I hope to plug with recording dates towards the completion of the new Keneally album which will NOT, incidentally, be called "Milk Blood Tuna". The new title is a secret for the time being but it's a word from my childhood. Then there's the matter of Z. "Music For Pets" is supposed to be out in March, and presumably touring will follow. It'll be fascinating trying to coordinate all of this stuff, won't it? Pray for me.
When I get back from NAMM I will strap on the task of finishing the BFD Road Diary, absurd as it may be at this point to do so (the tour was in July, but it bugs me to have the thing sitting there unfinished), and I will also continue on the life story. I can assure you that my contributions to the page will achieve a pitch similar to when Scott and I were abask in the glow of the site's inception, just over a year ago (sorry we didn't do anything special to commemorate the page's one year anniversary in December, no excuse for that).
Time for a - sleepin'. I'll be in touch before you can say "plangent." Enjoy your lunch!
Keneally