Home | The Music | Mike | Facebook | RadioKeneally | Live Performances | Gallery | Links | Fans | Press Info | Store


MiKe TypEs To YOU!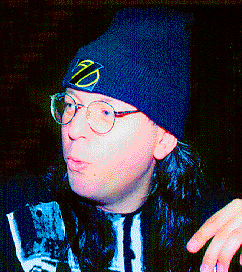 Comin' at ya on February 29, 1996 at the majestic hour of 1:05AM
Can you dig it my children!
First things first --- THE BAGELS HAVE BEEN CLAIMED!! The famed Joe D'Andrea of New Jersey, America correctly deciphered the MYSTERY LYRICS in the left speaker on "Top Of Stove Melting". Now that the prize has been taken, the world can know precisely what I'm singing there in such beautiful three-part or so harmony:
Once upon a time when you saw road kill you said "aw"
Now you say "good for you"
Maybe it's a certain enzyme you lack
And may all your T-shirts be black
The last line is a reference to a Christian vocalist whose sessions Jeff Forrest was engineering. She was bemoaning the corruption inherent in modern rock'n'roll recording studio environments, and beckoned towards Jeff's attire, spaking thus: "Look at you. You're wearing a black T-shirt". This is apparently the sartorial equivalent of sprinkling goat's blood within a pentagram. Speaking of Christian music, I thought of another secret thing which might interest you...a few years ago Bob Stone (former FZ engineer) was producing an album by a Christian vocalist whose name I currently cannot recall, and he called me at Joe's Garage to say that he was soliciting appropriate material for this gentleman. I set to work and wrote an extremely wholesome tune named "Dance In The Sunlight". I demoed it at Double Time (this was at least a year before "hat.") and played it for Bob - it was TOO wholesome, even for a Christian vocalist, and Bob politely declined. However the title line (including its melody) soon thereafter was ironically inserted into its diametric apposite "Uglytown", right after the line "I'll share it with the fucking world". A little behind-the-scenes magnificence for you my children!
The MI show last week was an utter triumph, all I could have hoped for and much more after last year's disappointing MI performance (which ended up playing a pivotal role in the classic Keneally/Zoogz newsgroup rift). The video of the performance will be made available, and the DAT recording (which has even better sound quality than the video, which sounds excellent) will become Disc Two of a live Keneally/BFD 2-CD set, the expanded "Sort Of Live In Hollywood" (which has now been renamed, since Disc One is live-in-the-studio and Disc Two completely live; the new title is "Half Alive In Hollywood"). The CD set will be available in stores, but the video will be available only through the video club, which will mainly be accessible via this page, newsgroup announcements and through the (snail) mailing list. A couple of days ago Bryan and I got tantalizingly close to sewing up the last of the details regarding what is actually going to be on the videos in the club. The video masters still need to be compiled at Rich Lewis' place, but I predict the videos, or at least some of them, will be available by April. More details soon.
"The Mistakes" just got a scummy, short review in the new issue of Guitar Magazine, the magazine for guitarists who don't like taxing their brains unduly. Buzz Morison, the guy who wrote the review, calls Henry Kaiser a British avant-garde guitarist (Henry's one of the most American Americans I know) and suggests that there's two songs out of twenty on the album worth listening to. You know you're finally getting somewhere when the critics start trashing you.
The April/May tour is still being booked. If we don't manage to reach your town right away, console yourself - I intend to do a LOT of touring this year.
I'm in a good mood, although there is some serious turmoil afoot at the moment. I'm not letting it bring me down, so you shouldn't either. I'll be ready to provide details when it's time to do the next "Types To You". Until that time, keep your shoes on the street and your head on your feet.
Later days gorgeous.
Keneally