Home | The Music | Mike | Facebook | RadioKeneally | Live Performances | Gallery | Links | Fans | Press Info | Store


MiKe TypEs To YOU!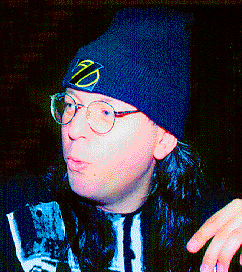 EASTER SUNDAY 1996 3:47 PM
Gwan keep this brief because it's all I have time for, and because Bryan warned me that his new Life Of Bryan is lengthy enough to stun several oxen.
I'll go easier on you.
Happy magazine news: the new Guitar Player (with Eric Johnson on the cover) features an extremely lovely review of "The Mistakes", scribed by the always astute Matt Resnicoff, as well as a brief mention in the "Fret Wires" column about Beller and I leaving Z, the first national coverage this event has garnered. Whillikers, it seems so official now. The new issue of "How To Play Guitar" has that Southern Rock article I told you about a while ago, and I was surprised by how they chose to illustrate it - when I submitted the article I figured they would use a drawing of a guy playing a Les Paul with a Confederate flag for a head or something, you know the drill...instead they used a big ol' honkin' color picture of yours truly. As though I were some sort of celebrity. I'm telling you, change is in the air, cowboy. The magazine is being marketed two ways - in some areas you can only buy the magazine proper, and send away for the accompanying CD, but in several test areas they're shrink-wrapping the magazine and CD together for $9.95. I did the audio version of the lesson myself, so if you're some kind of freakazoid Keneally completist you unfortunately need to obtain it. Notes On Call (they produced the CD - and actually I've done a bunch of audio lessons for them in the past, if you're interested you should contact them at 800-222-6660) sent me a bunch of copies, though, so here's a two-part trivia question - the first correct response gets the mag-and-CD package:
Who did I dedicate the song "Waiting On Williams" to, and why did I do so?
But my main reason for gathering you together here today is to inform you that the tour gets underway on Tuesday, April 9, and I will return home on May 7 or 8, so while I'm gone I obviously won't be responding to any email. Therefore, it would be delightful if you could save any comments, questions, proposals etc. until after I return - the thought of being confronted with nine hundred messages at once when I get home makes me shiver. Thank you.
Well, we've got guests coming over in thirteen minutes so I'm going to email this to Scott, my confidante, my bud. In two days BFD is on the road. So killer. OK, go read Bryan's thing now.
Love you all,
Keneally