Home | The Music | Mike | Facebook | RadioKeneally | Live Performances | Gallery | Links | Fans | Press Info | Store


MiKe TypEs To YOU!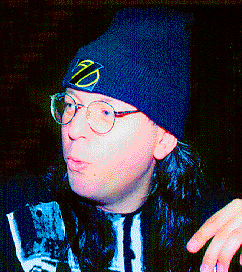 I'm typing to you again
June 3 '96, 2:09 PM
I'd thought that when I returned from the tour I'd be champing at the bit to tell you folks all about it, but hey! I was wrong. The only writing I've been doing lately is songs for the next studio album (hopefully you'll agree that I've got my priorities straight) and I had no WRITING JUICE left when I set myself to Web mode. But here's me saying howdy folks, how you been?
The tour was a success. You people are awesome for coming out to see us. I will get started on the next round of tour journalism shortly, so you can...READ MORE ABOUT IT.
Here's what's up with video...Rich Lewis, our dear friend, videographer, and archivist, has opted for an extended leave of absence from all things BFD (touring is arduous as all hell and let no one attempt to convince you otherwise). Rich is a beautiful guy and his energy and enthusiasm will be missed. Meanwhile, the patched-together-with-Bubble-Yum-and-floss video compilations which Beller and I were doing at Rich's place a couple of months ago have been shown up as the piker's attempts they were by Todd Dever's Keneally video, "SOAP SCUM REMOVER". Todd is an actual professional video guy, and I now see that video production belongs in the hands of folk like him. "SSR" is a 90-minute compilation of live BFD, interviews, acoustic stuff, candid footage and neato graphics, and it pleases me no end to have it be our first video release. The plan is to have three further titles available this year for you, a total of four. I think that's enough for one year (attempting to prepare eight separate titles was evidence of some sort of temporary insanity). "SSR" is currently in the artwork preparation stage; I'll keep you up to date on its progress as well as the other three titles we plan to release this year.
Don't forget also that the double live CD "Half Alive In Hollywood" is on its way. Liner notes (always a monumental task) are basically done and artwork is very near completion. Look for some interesting surprises on this one. Currently we project a late-August release. The next Keneally studio album begins officially on June 12 when I go into Signature Sound in San Diego to record some grand piano tracks with my bud, engineer Mike Harris, which will later be overdubbed upon at Double Time (where it's still marvelous, but there's no grand piano). The full-on Double Time sessions for the next record begin in July, and I hope to have the album completed in September.
There's some other interesting news, but I can't tell you about it yet.
Activity which has taken place since returning from the road included three BFD shows...the first was at the Wikiup Cafe in San Diego, where we've played twice before. Our third show was on the Wikiup's last night in business (yep, we closed the place down!). It was a fascinating room to play, with all kinds of mellow, arty, noiseless shit on the walls, and you could usually count on someone to bludgeon an array of amplified metal pipes at some point during the evening. Thanks, Wikiup --- I always had fun in you.
The next BFD gig was at Rockley Music in Lakewood, Colorado, in conjunction with Rockley's 50th anniversary. It's an amazing music store, and they pulled out all the stops for this celebration, with food, drink, ponies and a variety of lovely clinicians (among them Michael Manring with whom BFD has recently formed a mutual admiration society, and with whom we hope to do a lot more in the future; Rod Morgenstein, who was a drum hero of mine back in the early Dixie Dregs days, and was quite candid in acknowledging the damaging effect Beavis & Butthead had on his other band Winger; Jennifer Batten, and other stalwart muso types). Unfortunately attendance wasn't for shit because there were several other notable musical events taking place in town which siphoned away a lot of potential customers. Still we had fun as we always do, and Beller had one of the worst games of pool I've ever had the misfortune to witness when we wandered into a pub which was sort of a cross between "American Werewolf In London" and "Cocoon". CJ's Pub, I think it was...don't go there.
The third and most recent BFD gig heralded our return to Bourbon Square after two months away. Fantastic audience at this one, and the band, to me, sounded great; Briggs had all kinds of remorse about his performance but I thought he rocked royally, and several long-time MK aficionados dubbed it one of our tightest shows ever. I made things tough on Beller and myself by making us play a duet version of Kevin Gilbert's "Shadow Self", which was pretty fucking draining. I'd intended it to be the last song of the set, but another was requested, and "Performing Miracles" received an emotional and merciless beating.
The following day saw a reunion of the Keneally/Beller/Panos triptych as we entered the studio, hired guns under the leadership of Athena Murphy, adventurous LA vocalist/composer. We played the shit out of a song called "Mr. Wrong" (no relation to the Ellen Degeneres cinematic opus of the same name). Athena was, and we were, happy. And speaking of reunions with nice, long-haired drummers, Travers and I will soon be rocking together again behind an amazing guy named Rob Vallier, who writes some of the bitchinest pop tunes I've heard in a while. We'll be gigging 'round LA soon, I'll let you know about that as well, natch.
Getting back to Viv and Jesse after four weeks away was like coming up for air. So I'm sure you won't begrudge my not typing to you so much lately. And if you do --- nah, I won't say that. Love to all.
Keneally