Home | The Music | Mike | Facebook | RadioKeneally | Live Performances | Gallery | Links | Fans | Press Info | Store


MiKe TypEs To YOU!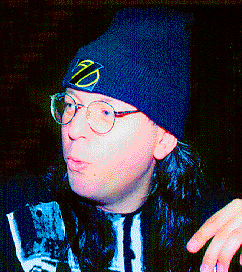 Mike Types To You Again!
On a loverly day, a murvelous day, an effluvient, fully expoobident day!
The day was a
WEDNESDAY JUNE 26 1996 (oops - my van payment was due today an' I forgot to mail the check - where's that blasted intern? Oh yeah...don't have one...)
It's 10:12 PM today. Diggit.
Chapter One - Beller Spilled A Bean
Bryan revealed the working title of the new album in L.O.B., I'd planned to keep it a secret in case I change my mind again but it was online for about 24 hours before I found out what he'd done. It's gone now but those of you who were fortunate enough to read it while it was up, keep it under your hat, OK?
Chapter Two - The First Session For The New Album Has Taken Place
Grand piano tracks for three tunes were captured direct to DAT on the afternoon of June 12, in a deathdefying two hour session engineered by Mike Harris. One track is entitled "I, Drum-Running, Am Clapboard Bound", another is "TRANQUILLADO" (all caps please). The third is the tentative title track if I don't change my mind about the title. This could be the first Keneally album with a title track! Splendoooor!
Chapter Three - The Gig That Night Was Half-Horrible
We played for a small group of undemonstrative but apparently entertained people on the evening of June 12, at Winston's in Ocean Beach. A nice room, tropical party vibe type room, but not a BFD room. I never break strings onstage, well, hardly ever, but gremlins took hold this evening. I busted a first on the Clapton Strat two songs in, picked up the black SG and promptly busted a third. I never bring three guitars to gigs unless it's an alternate-tuning necessity (on the tour I pretty much just did a lot of retuning on the spot) but this night for some strange reason I'd brought the Tele as well. It's a lovely guitar but it's just not the right main axe for the body of a Keneally set. Meanwhile Ed Lucas, friend, composer, scene-maker, life-saver, was negotiating the recently-installed Steinberger-style tuning heads and made life bearable. But the first set was a near-total loss. Second set rocked, though. Bryan and Briggs did a fine ol' job, and Mr. Travers joined us for a "Dhen Tin"/"Cheddar"/"Andy"/"Inca Roads" encore even though he had the monster-ass headache of death. Then we went to Denny's and did what one does there in the middle of the night, and Joe and I travelled finally to Chatfield Manor for a bit of a kip. The following morning I drove Joe home so he could prepare for a Z photo shoot, the first band photo session without yers truly, sniff sniff. Actually my replacement in Z, Jack Jones, is a hellaciously talented Aussie phenom, and I wish him Godspeed on his journey through Zappaland.
Chapter Four - Beller Clocked A Wingnut
He didn't, actually, but I wish he would, just because I like the sound and look of that phrase, which just popped into my head for no reason. "Beller clocked a wingnut." I think it's downright elegant.
Chapter Five - Ben Watson Is All Right
"The Negative Dialectics Of Poodle Play" is now available in the US in a paperback edition, and a new introduction makes it plain that Ben has taken the comments of those who were upset by the book's inaccuracies to heart. I, Mike, your humble narrator, am singled out thus (I'm quoting from memory after scanning the book once in the store): "Mike Keneally - Wow! Helpful nit-picking above and beyond the call of duty! Thanks, Mike!" Maybe there aren't as many exclamation points as I'm remembering but you get my gist, and the fact that Ben was able to use "The Poodle Bites!" as an information vessel without being offended by my periodically snide tone suggests that he is indeed an all right guy. I don't own the paperback edition and I haven't crosschecked it with "Poodle Bites" so I don't know if all the appropriate changes have been implemented, but obviously a good faith effort has been made. We'll keep "The Poodle Bites!" here on the Page as a public service to those who own only the hardback edition, but good show, Ben.
Chapter Six - My Wife And I Took A CPR Class
We can now save your life if we have to.
Chapter Seven - Briggs And I Are Constructing A Musical Thing In His Home Studio
"His home studio" is actually Chad Wackerman's old home studio, 'cause Frank is now occupying the house where the Wackermans once dwelt before moving to Australia. I want to try to do something for the next album which is a bit more groovulacious than my usual fare, using samplers and computers, just a little change of scenery. We're actually sampling ourselves, though, so it's quite on the up-and-up. I suggested rhythms for Briggs to play and he refined and sampled them, and I sequenced them into a song form, and now we're laying other junk on top and seeing where it takes us (Briggs constructed a beautiful layered keyboard patch [built into the patch is a surprise which I won't tip here, let's see if you can figure it out when the album's released], and he wrote a really nice melody for it, and today we sampled me playing bass, which I then triggered on a keyboard and concocted some freaked bass licks which could never actually be performed on a bass). The concept for the song is the linking together of three separate songlets which have been in my head for months or years, separately entitled "Taco Physique", "Pasion" and "Cashola". I don't know yet what the umbrella title for the whole piece will be ("Tacopasiola" perhaps?). Even if you're not into groove-type music with samples and sound effects and et cetera, you might still get a kick out of this. And if you still don't like it, it's only three-and-a-half minutes long, so you'll get over it.
Chapter Eight - I'm Writing A Bunch Of Other Stuff Too
Other songs which will be on the new album include: "Potato", "Bob Dylan's Nose", "Why Am I Your Guy?", "Poo-Tee-Weet?", "Looking For Nina", "Voyage To Manhood", "Frozen Beef", "Cardboard Dog", "A Comforting Thought", "I Hope You're Glad To See Me", "Egg Zooming", "Draconian Blump", and the afore-mentioned "TRANQUILLADO", "I, Drum-Running, Am Clapboard Bound" and the mysterious title track. I'm trying not to put so many songs on this CD because I'm tired of filling out a million BMI forms every time I do an album, but it's gonna be hard to keep it below twenty at the rate things are going. Not too many of the songs are super-short, though, so time limitations may keep things down to sixteen or so. We'll see.
Chapter Nine - The Robb Vallier Experience
Robb is the singer-songwriter whose band Joe Travers and I are currently rocking away within. We've had three rehearsals and tomorrow night is our first gig, at American Pie, which used to be called At My Place (it's in Santa Monica). I played there once during that incarnation, with Shankar (Toss Panos and Doug Lunn were in that band as well. We played only two gigs, the other one was at a Miss India Beauty Pageant. I'm dead serious. The Santa Monica Shankar gig had some raging moments, especially a version of "Tomorrow Never Knows". Thomas Nordegg has the show on MiniDisc and I've never heard it, but someday I will and I'll let you know what it's like. Time to escape this parethetical aside I believe). Tomorrow's show will be an adventure methinks. We're doing five Robb tunes and one Nazz cover ("Open My Eyes"). Last night's rehearsal was a blast, after which me and Travers and Yogi (the other guitarist) went back to Joe's place to quaff brew and totally idolize Thelonious Monk in "Straight, No Chaser".
Chapter Ten - July Has Stuff In It
July 3 BFD will be at Bourbon Square in Van Nuys again, with the Raging Honkies on the bill. July 8 I'm going to John Golden Mastering to put "Half Alive In Hollywood" to bed. July 10-13 I'm going to NYC to record with Ed Palermo's band. July 19 BFD will be at Badlands in Lakeside, CA, and maybe at Guitar Center in San Diego earlier in the day. July 23-27 I'm teaching at the National Guitar Summer Workshop in Connecticut. And whenever possible in there there will be rehearsals for the new material; the full band sessions will be taking place in August. And in September things will start to get really busy but I'm not going to tell you about that yet.
Chapter Eleven - I Will Tell You About This
I've been speaking with Mr. Arthur Barrow lately about working together on a musical project of some sort. Details as they solidify my patient friends.
Chapter Twelve - Tales From The Tour Continues
That's right, I'm in a typing mood tonight and I'm gonna whip out some tour journalism for you all. Really. I mean it this time.
Chapter Thirteen - One More Anagram
People still occasionally email me anagrams for "Michael Joseph Keneally" and I dutifully forward them to Scott even though I know he's had his fill and will probably never put them up. But my friend Mike Gaito of Maine (really, he really is from Maine) contributed one which I found way too scintillating to withhold, especially considering how ill I was during my recent phlegmatic performance at the University of Maine at Farmington:
He laps Maine choke-jelly
Chapter Fourteen - Good-Bye
See you on the links, lovers!
A la bovo,
Keneally