Home | The Music | Mike | Facebook | RadioKeneally | Live Performances | Gallery | Links | Fans | Press Info | Store


MiKe TypEs To YOU!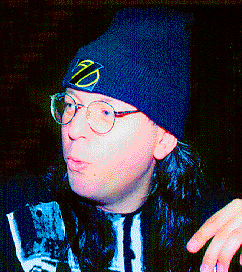 Mike Types To You Again, Finally
12:12 AM 9-27-96
When Beller didn't get the Vai gig I couldn't bear to face you. I had nothing intelligent to write, nothing even stupid to write on the topic, and no other topics seemed worthy of addressing in the face of it. I was actually pretty all 'round useless for a few weeks. Then, just when Beller started demonstrating how much stronger and more resilient he is than I am and I had no choice but to be inspired by his example, I was smack into the madness of Vai rehearsals and didn't have time to write (not that I really had the inclination, either). I won't claim I really have the inclination now (I do have a little time, since Steve is currently in Rochester preparing for an orchestral performance in which I'm not taking part), but I do feel a certain responsibility.
Actually, a couple of days before the blow to Beller was dealt I had started an unremittingly cheerful MTTY, intended as the antidote to the direness of the previous installment, which has been the last word from me for far too long. Here's what that attempt at a rose-colored MTTY amounted to:
Mike Types To You Happily!
11:11 Pee Emm
8-8-96, it's Thursday

I'm in a better mood now! Making a living is not a bad thing, and I have chosen the music business in which to make a living (it's all I know how to do), and no one said life was easy. So I'm bucking up and dealing. Thanks to all who expressed concern. I'm better.

The National Guitar Summer Workshop in New Milford, Connecticut (which occurred in late July) was an exciting experiment for me - I'd never before attempted to instruct a group of people for longer than the duration of a music store seminar - and, I modestly proclaim, it was a success. Entering the room on day one I had one slim piece of paper masquerading as a "lesson plan", and suddenly I had 25 guitarists looking at me (at least two of whom had more finger facility than I) hoping to be educated six hours a day for five days. Thank Fudd that I had something to offer, particularly where rhythm was concerned - it's a nice feeling to have 25 people playing quintuplets with confidence only five minutes after about half of them found out what a quintuplet was for the first time in their lives. All of the students were wonderfully attentive and well-behaved - no assholes!

The most fun bit of the week was the songwriting experiment; after a couple of days I'd determined which guys were the wallflowers, so I extracted random snatches of melody from each of them and formed them into a song, assigning parts and counter-melodies and bass lines to groups of students. Everyone was playing electrically so this was no woody, crafty timbre we produced - it was a gratifyingly massive noise. The first piece was entitled "Foetus In The Cupboard" in honor an item of that very description, which also occupied the room (evidently our classroom is a biology lab in its day job). As we were developing the piece, a lovely person named Heather who acted as one of my helpful cohorts during the week (Carl Restivo was my main right-hand human, and played drums for us, although he was ready at a moment's notice to perform a variety of Keneally and Zappa songs on bass and guitar as well) suggested that we perform our song for the entire student body during the following afternoon's lunch break. Obviously we needed a second piece so I extracted more melodic fragments from the room and formed a second selection, entitled "Clone Your Little Girl". For this piece the ensemble was divided in quarters and assigned melodies, and when signalled would play their special melody, or if I held one finger above my head they would play their melody one note at a time on cue. In this way I was able to play different melodies by variously altering my cues to the quartered ensemble. Also a guy named Zack was entrusted with the task of playing a maniac speed metal rhythm on cue, the opening bar of "The Ocean" could be cued, as well as a chromatic scale and a blues outro. Obviously Frank-influenced and a lot of fun for everybody, it was a big hit at lunchtime. Only one complaint from an annoyed eater to the man in charge - not too shabby. Then I came home for a few days and hung out with Viv and Jesse as much as possible in between cramming the keyboard parts to 38 Steely Dan songs into my muscles.
That's as far as I got - so cheerful! I hardly recognize that guy now.
Not that I'm not happy at the moment - I'm having a marvelous time in the Vai ensemble and our one show thus far, an album release party at the Universal City Hard Rock Cafe, was a relative triumph. I just feel about forty years older right now than I did a month and a half ago, before Steve decided yay or nay re: BB.
The reason I started learning 38 Steely Dan songs was because in early August I traveled to Northern California with my friends The Steely Damned for three performances. Thank Jesus I grew up listening to Steely Dan, otherwise I wouldn't have had a prayer. As it was it was still nightmarish at times, trying to remember PRECISELY WHICH ALTERED CHORD GOES HERE, and remembering the subtle distinctions between the chromatic descending chord-hooks of "Deacon Blues" and "Peg". By the third show of the mini-tour I was starting to feel confident, and then the tour was over. But I had a beautiful time, everybody in the band is a truly cool person, and Napoleon Murphy Brock came to one of the shows. I'd never met him before, and we hung together for over an hour, drinking and reminiscing and having a very lovely evening. Most fun parts of the shows for me were the several times when I could improvise on Bob Tedde's Wurlitzer electric piano (Bob being the leader/lead vocalist of the group), the same instrument I used extensively on "The Mistakes" except that with the Damned I was attacking it with a new gusto - I really connected with that thing. I was doing my best to channel Monk.
(Aside: I'm listening to the Mobile Fidelity UltraDisc CD issue of Todd's "Something/Anything?" as I type, and the super-stoned way in which Todd intones "and here's what happens when the machine gains control and MANGLES your TAPE" gets me off as much now as it did twenty years ago.)
August, apart from the misery of the 12th and its aftermath, was a pretty good month: a lot of BFD gigs (of which the Troubador show will live in my mind as one of our coolest shows ever - special thanks to Bryan and Frank and the immortal Brad Dahl for bringing that particular phase of BFD's history to a sparkling conclusion); some gigs and rehearsals with Robb Vallier; a recording session in San Diego for my friend Jon Kanis (a whirlwind affair during which I did guitar and keyboard parts for six songs within about seven hours); the completion of mastering for "Half Alive In Hollywood" (which WILL BE AVAILABLE, along with the "Soap Scum Remover" video, in several weeks, and in fact can be purchased at the concession stand on the G3 tour, so bring cash); my best friend from junior high and high school Bruce Warren (he who composed the Wienerschnitzel song) visited LA for the month after spending three years working at the American Embassy in Madagascar. And whenever possible I would haul myself to my piano and continue writing music for the next Keneally album, which, if things emerge in reality the way they're playing themselves out in my head, will drag the other Keneally albums through the dirt.
At some point I needed to start learning Steve Vai songs, and manufacturing enthusiasm for this task post-BB Day proved to be a chore. Eventually I kicked myself into third gear or so, and when rehearsals began I was far less prepared than either Mike Mangini (the drummer) or Phil Bynoe (the bassist). Thank goodness that Steve was only marginally more familiar with the material than I was, and the two of us struggled to awareness together.
One thing I didn't necessarily expect was to click with Steve effortlessly on a personal level. I'm pleased to report that this has indeed happened. I like Steve a great deal and we often laugh at the same things, often things that no one else laughs at, which is a sure way to bond. Despite the vast discrepancy in our standings in this industry we really have a lot in common, and I look forward to getting to know him better and better. Mangini is a truly hysterical person, and is often the one to inject needed levity into a rehearsal. He's also a brilliant drummer who has perhaps the most complete understanding of polyrhythms of anyone I've met (and yes, I've met Vinnie). Phil is a great bass player and a comforting presence, rock-solid and confident. These will be good guys with whom to spend time on the road.
It wasn't until the day before the first Vai gig that I began to feel confident in my position. My position entails switching rapidly from guitar to keyboard stack (two sythesizers controlling another two synthesizer modules in my rack) back to guitar over to drums (yep, you read right) back to guitar, all the while switching patches on the synths and stepping on pedals for the guitar, all before the first song is over. There's also the electric sitar I have to play on a couple of tunes, and I'm doing a little singing as well (although the set is vastly weighted in favor of instrumental material, and Steve has thus far been handling the lead vocals - very well I might add). It wasn't just a question of familiarizing myself with a lot of material at once (the only Vai album with which I was intimately familiar before rehearsals was "Flex-able"), there was also the task of programming my body to perform these dances from one instrument to another, which I haven't done to this extent since the FZ tour, and on that tour I was only manning guitar and one synth. A couple of days into rehearsals it struck me that my skills haven't been challenged so much since the '88 tour ended. So this is a good thing.
Also, Steve is a really good guitar player, and it's inspiring just to watch him, much less to play "Attitude Song" in unison/harmony with him. Only a couple of weeks after starting work with this band, I already feel a huge surge in confidence in my technical abilities as a guitarist. (Don't worry, I'll do my best not to let it wreak havoc on my ideas.)
During the first week of rehearsals, Bryan and I had an acoustic gig in West Hollywood, and from the first note I felt imbued with a self-assurance I've never felt at an acoustic performance before, and at precious few electric ones. I'm convinced that this experience will exert nothing but positive influence on my solo work. Also attending that performance were Mistakes bassist Andy West and his lovely wife, and we had a great night wandering the streets after the post-show meal, talking about a million things. He also played me a tape of musical sketches he's been working on, which I plan to flesh out for the next Mistakes recording. If you ever meet Andy you will be charmed - he's a true gentleman.
I should point out how welcomed and respected I have been made to feel by the Vai organization, particularly his manager Ruta Sepetys. Let's just say that my last experience as sideman left me accustomed to feeling like a (usually) cheerfully tolerated outsider, and this time out I've been made to feel much more at home. As an example, Ruta approached me (rather than vice versa) to ask if I had any merchandise which I'd like to be made available for sale on the G3 tour. She's also spoken to Suzanne at Immune Records so that they can coordinate efforts to have Keneally product available at any record stores in which the Vai band will be making appearances. This is a beautiful thing, people, and very unique in my experience.
Anyway, the first Vai performance was on September 17, and the response from both audience and Steve was gratifying to the max. I felt OK about my performance, but I felt fantastic about my welcome into the land of Vai. I look forward to becoming more accustomed to my position, and earning within myself the same respect I'm being shown by others. Bryan attended the show, and according to Rich Lewis who was keeping an eye on him, Beller applauded wildly at the show's conclusion. I love Beller.
During the Hard Rock encore, Gregg Bissonette and Billy Sheehan special-guested, and watching the three of them go at "Shy Boy" was an object lesson in energy, confidence and strength. I also played "Born Under A Bad Sign" with them. Playing a guitar solo after Steve Vai and Billy Sheehan have just finished soloing builds character, let me tell you.
So this week, while Steve and the other band members are away, I've been spending as much time with Jesse as I can (we went to Disneyland on Tuesday and I let her call the shots completely, which meant four times through It's A Small World and staying to see the Main Street Electrical Parade two times), working on the piano part to the third movement of the "Fire Garden Suite", and continuing to write stuff for the next Keneally album, which I might record a big chunk of in December, for as of this writing it looks as though there may be a nice piece of time off between the end of the G3 tour and the start of the Vai world tour. Which could change. Things have a way of doing that.
Oh, sometimes I get email from people who seem to think that BFD is done. IT'S NOT.
Thanks for your patience in waiting for this installment. I think you must have had some idea of what I've been going through because hardly anyone has bugged me about not writing - I appreciate that a lot, people. I'll whip out at least one more installment before the tour starts. Until then...
All the best,
Donkey Hotey