Home | The Music | Mike | Facebook | RadioKeneally | Live Performances | Gallery | Links | Fans | Press Info | Store


MiKe TypEs To YOU!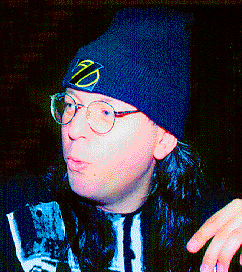 Sun. 12:13 PM Nov. 2 1997
Here at Chatfield Manor again, yesterday JT and I took part in a Jip recording session at Double Time, J acting as honorary Jip drummer for a day (Brad Teaby was inspired to invite him after being stunned into submission by JT's machine gun rock solid precision damage infliction during the BFD gig at the Troub last week). With Jip I cracked the whip as per usual, Alpha Dog in full yap, and participated guitarally in one lengthy stony jam which provided the seeds for at least three future Jip tunes probably. Then I overdubbed some fairly unfair git parts on the other guys' rhythm tracks. Very anxious guitarring, the lads in the studio were a bit concerned momentarily. But it was all good. Then JT and I made it to the Manor and jacuzz'd relentlessly. A GOOD DAY.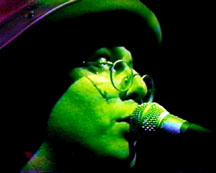 (Troubador gig photos by Fil McCrackin)
Jesse was a witch on Halloween, more adorable than you can possibly imagine. It was her first actively trick-or-treating Halloween and I'm damn glad I was around (last year I was G3ing somewhere on Halloween). She and Tyler (a kid a few months younger than her who lives the next street over - she's pretty sure she's going to marry him) took to the streets together. The first couple of houses we went to were neighbors of Tyler who knew both kids well, and invited them in to take pictures and stuff. Thus did Jesse and Tyler get a slightly skewed perception of what trick-or-treating was all about...the next house we went to was a total stranger's, and when he opened the door Jesse and Tyler just silently walked inside and looked around. Jesse understood quickly that this was not the drill, but it took Tyler a few more goes to realize that he wasn't automatically a guest in every home.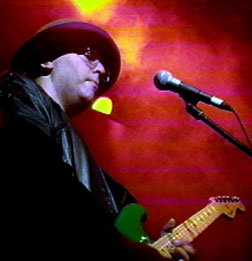 The Troubador gig! Soon you will read Christian Heilman's MK/BB-approved account of the event (CH was the keyboard tech for the gig, a real person and a great new addition to our clan) but allow to me to inform you that the gig surpassed my expectations by at least 40%. It was a completely foolhardy thing to attempt, with only one week between the end of G3 and the BFD gig, considering what I decided to do for this show: import a keyboard player (Marc Zeigenhagen) from Minneapolis and integrate him as a fully fledged member after only three rehearsals, and build a stage crew from scratch that would only meet each other (and, in the case of Heilman, meet the band) the night before the gig. There was twice as much gear as at any previous BFD show, Michael Harrison was to project film on two screens simultaneously, and half the material was brand new songs we'd never played before, and the old material had to be retooled to accomodate both the new guy, and the old guys' fatigue with the old arrangements. A tall order. We met it with flying colors - the operation was a success. For me the challenge of meeting the deadline with a whole new, ambitious stage production was a way to jump into the future with both feet. We have a beautiful organization in place with which we will conquer the road. Now comes the long arduous journey leading up to the road. I can't afford to take all these guys out without significant financial backing, so I will be promoting "Sluggo!" like nobody's business until it is recognized by vast quantities of people as a magnificent thing, because it really is. When awareness is significantly raised, and we can get these bloody venues to cough up some non-insulting cash in return for our services, then we can talk tour.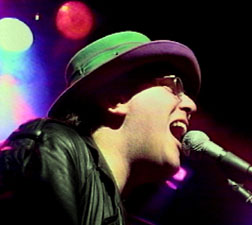 In the meantime I'm home, after a year on-and-off of Vai touring. The whole Vai experience was overwhelmingly positive for me. I cherish just about every second of it, and I'm still amazed that the experience was capped by me playing on stage with Fripp just about every night. Most importantly I've got life-long friends in Steve, Philip and Mike. I really love these guys a lot. The tour is over but you've not heard the last of us.
But it's bloody well BFD time now, you'd best believe. As is peculiarly well-demonstrated by a rash of awards for which we suddenly find ourselves nominated in the LA area. The following awards shows are opened to the public so if you feel like dropping by and rooting for yer Dolphin buds no-one can stop you.
THE ROCK CITY NEWS AWARDS

(MK/BFD is nominated for best Valley band, MK is nominated for best guitarist)
Thursday, Nov. 6 at the Country Club in Reseda --- this is the club they used for the disco scenes in "Boogie Nights"!!!

For information about tickets and such, 213-461-6600

THE LA MUSIC AWARDS

(MK is nominated for best guitarist, and "Best CD production" and "Best indie album" noms go to - "Boil That Dust Speck", believe it or not)
December 16 at the Palladium in Hollywood

MK/BFD might - MIGHT - perform, based on one casual conversation I've had with the guy in charge, but this is far from a certainty. Maybe you should call and demand that we be on the bill: 310-784-5578.
The 500 copies of the Tar Tapes CDs have been sold. THANK YOU!!! Hope you enjoy it, and best of luck in receiving the silver ticket. I feel bad, in a way, that the CDs were snapped up solely by Web-readers (we never announced the CD's release to people not online). There is a possibility, if there is sufficient uproar from the non-Net community, that more copies may be pressed at a future date. However these copies will not be signed and numbered, so as to keep things nice and special for the lucky ducks who snapped up the originals. We'll see how things go. Again, thanks for this very tangible show of support - it made spending a TON of cash on the Troub show a lot more palatable.
OK, JT's out of the shower and needs food, as do I. Gotta go get it. Talk to you folks later, love to all.
MK, a happy man