Home | The Music | Mike | Facebook | RadioKeneally | Live Performances | Gallery | Links | Fans | Press Info | Store


MiKe TypEs To YOU!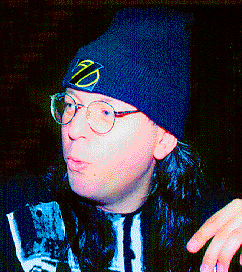 March 9 1995 11:43 AM
Hi, I'll make this quick. I'm going to Frankfurt with Z today and the car's collecting me at 1:30 (and I still have to go to the post office and finish up packing).
Things are great here. The Musicians' Institute show on Feb. 24, if you missed it, was good, but not one of our best; I was super tired and Bryan was displeased with his performance (I'm not telling tales out of school, he's very forthcoming about such stuff). Also the video of the event proved to be useless as a marketable item because we didn't get the use of the multi-track studio to record it, as originally promised, so it's just a pathetic board mix. However the faculty of the Institute was thrilled by us and we've been cordially invited to return, so next time we'll make sure to play amazingly and get a decent recording. There is an excellent MI-related recording in the works, though...the guy who runs the digital studio, TJ Helmerich, invited me and the Dolphins to record a portion of our live set and that has turned out wonderfully. I hope to release it this year (along with The Mistakes) since it may be a while until we get to do a proper tour (there looks to be a good amount of Z touring ahead).
Finally, the rights to hat have reverted to Immune (Guitar Recordings, a brave experiment, has died) so it will be available directly from Immune from now on. We have also come into a small cache of "Rosemary Girl" promotional CD single, manufactured strictly for radio play, and featuring a different mix from the hat (as well as a different rhythm track, with me on bass and Jeff Forrest on drums). It also has bitchin' artwork done by yours truly, exclusive to this release. We'll fill you in on the details about how to obtain this item soon.
There's probably more stuff to type about but I've got to get the hell out of Dodge. Have fun while I'm gone, don't do anything I'd do.