Home | The Music | Mike | Facebook | RadioKeneally | Live Performances | Gallery | Links | Fans | Press Info | Store


MiKe TypEs To YOU!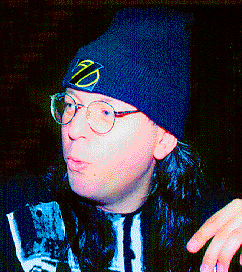 Saturday November 22 1997
Chatfield Manor San Diego CA
No specific reason for me not to have typed this at home and emailed it to Mr. Chatfield since I am in fact ONLINE AT HOME once again and gleefully receiving and responding to email after a long time away. But here I am in San Diego having just done another two days in the studio with Jip finishing up (mix and all) the three songs we started a few weeks ago. The last two days brought approximately equal measures of giddiness and despair, now it's all evened out and I'm doing just fine, not really leaning toward one extreme or the other. Playing the Neil Young "Young Man's Fancy" bootleg and typing away. Shiny van with a tank full o' premium out in the street. CAN'T COMPLAIN.
Finally "Sluggo!". It is flying around the world as we speak; look there's one in Paris there's one in Cangool. "Sluggo!" zoomin' 'round the world, flying like a zooming fool. What you gonna do when "Sluggo!" gets on you. "I know what I'm-a do", says a girl without a shoe. "I'm gonna play it louder than I ever did befoo". "Sluggo", "Gluggo", what you gone to do. Put it near a box of corn and let it work for YOU. Savor the golden brown taste of "Sluggo!" with a loved one today. OK.
I was remiss and didn't warn the Lost Angelenos amongst you that there were a couple of Robb Vallier performaces with JT and me taking place over the last couple of weeks. One was an acoustic set at Genghis Cohen, then a rockin' electric shindoo at the legendary Luna Park (now ever more legendary thanks to a certain new tune on a certain new album what rhymes with "Kruggo"). We've got another show on December 1 at the Troubador and you should come if you can, we have got a genuinely cool vibe happening. No BFD shows booked, we're taking the rest of '97 off whilst various people take the holidays off and I try to engender as much industry awareness of "Sluggo!" as I can using the mail and the phone and the computer. I'll be interested to know what you folks make of the album. Response from everyone who's heard it thus far is shocking and positive and validating. It feels like a new day dawning and stuff. I love the album with every fiber of my being myself but that's just me. You may find out more of what the album's about by visiting the "Sluggo!" entry in the discography.
There are numerous releases which I need to write about for the discography, in particular the Ed Palermo Big Band album which is finally out, the Mark Craney benefit album, the "Merry Axemas" compilation, the Tar Tapes CD, and I realized not long ago that I've never done proper discography entries for "Half Alive" and the "Music For Pets" box. I'll be vacationing during Thanksgiving week but in early December I'll plug up the textual holes, and get going on some more tour diary stuff.
I went to the Immune Records office tonight and personally witnessed the last few autographed Tar Tapes CDs just a-waiting to be given a home. Go git it. Also while I was digging through old boxes looking for old articles to use for the "Sluggo!" promo package I happened upon a few stray copies of the old Guitar Recordings' "Rosemary Girl" CD single which we'd thought was all sold out (it's got a vastly different version of "RG" from the original version on "hat."). So get in touch with Immune Records if you want one of those extremely rare diddley-wahs.
I've been going to a lot of shows lately, doing the shmooze thing big time. Sadly I had to forego seeing The Loud Family in Santa Monica tonight as circumstances have kept me in San Diego for an extra day working with Jip. The most amazing thing I've seen lately was Michael Landau and Rascal Balls at the Mint in Hollywood, with none other than Toss Panos on drums. Toss is playing the best he's ever played and there may be no finer rock-blues guitarist than Landau; he's absolutely breathtaking. They've got the next few Wednesdays at the Mint so if you're around you absolutely have to see them, you'll collapse with ecstasy.
Of course we didn't win anything at the Rock City News awards, we'll see what if anything transpires at the LA Music Awards on the 16th. I do know that the awards were somehow restructured and my three nominations were somehow reduced to one, Best Guitarist (which makes sense since the other two nominations were for a three-year old album). It's a little annoying but not as rough as Billy Joel's Rock and Roll Hall Of Fame nomination being announced, then rescinded the next day. Ouch. We still haven't been officially asked to perform at the LA Music Awards but they're sort of on the fence, so you might still went to call them at 310-784-5578 and hector them a bit.
Been talking with Steve Vai a lot lately, he's very enthused about "Sluggo!" which is cool. I saw the legendary Magee (drum tech on the Vai tour) a couple of weeks ago at a Dream Theatre show, he's working with them now, in charge of Mike Portnoy's absurdly huge kit. Speaking of absurdly huge I saw the Tommy and Pamela Lee video at Rich Pike's house not long ago. Yikes. I still talk to Mangini and Bynoe every once in a while. We're keeping touch during the off time, don't worry. We all love each other like big bears.
MK/BFD or MK/BB or just MK will be doing various things in January connected with the NAMM convention, I'll fill you in on the details when it gets a little closer to the actual date. Baby.
New Zeppelin BBC release is cool, so's the Simon and Garfunkel box, but the very most rockingest thing in the world right now is "The Pet Sounds Sessions". What divine music is contained therein, it makes me want to do nothing so much as to get into a studio with a bunch of grizzled session vets and just invent a shitload of music on the spot and go into quadruple union overtime. I could do two albums a week if someone would provide a budget. Brian Wilson is a total inspiration to me. My standard line lately in reference to "Sluggo!" is that it's the third best album of all time. First is, of course, the Miles Davis Plugged Nickel box. The second, at least this week, is the Pet Sounds box. Go git it! And PLEASE get "OK Computer" if you haven't already - great new music must be supported, oh baby.
The legendary rock writer and friend o' mine Paul Williams has a couple of fantastic new books out, "Love To Burn" (a compendium of writings on Neil Young) and "How Deep Is The Ocean?" (a compendium of writings on the Beach Boys). PO Box 231155, Encinitas, CA, 92023. His email: 102705.3522@compuserve.com.
Please have the most wonderful Thanksgiving you can, surrounded by people whom you adore to pieces and I'll be in touch in December. Thinking of you.
They killed Kenny,
MK