Home | The Music | Mike | Facebook | RadioKeneally | Live Performances | Gallery | Links | Fans | Press Info | Store


MiKe TypEs To YOU!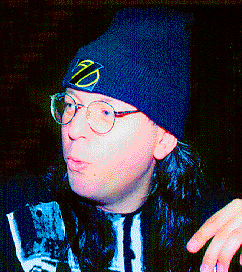 2:43 AM December 31 1997
Chatfield Manor
Should be on the road heading home but I'm having fun, too much fun, plundering the Chatfield CD collection and just generally relaxing. But it's time to go home; I've been in Diego for a week doing the Christmas-with-Viv's-family thing (Jesse received, conservatively speaking, 45 presents on Christmas morning), plus my big brother Joe and his wife are in town visiting their daughters (my nieces) so we've been hanging out, and on Saturday I sat in on keyboards with the Steely Damned again (I forgot to mention it to you folks beforehand, sorry), and today it was ping-pong and "Jackie Brown" with CEO Chatfield but it's high time to head on home.
But not before letting you know that I've just pounded out a little "fave albums of '97" list for Mike's Likes which I hope you dig.
Other news: MK/BFD (in this instance consisting of MK, BB and Mr. Panos) whipped out a new recording a couple of weeks ago, for yet another Genesis tribute CD. I agree it's a little hot on the heels of the Magna Carta Genesis trib but I didn't want to pass up a chance to get BFD onto a tribute album for a change, and the lads rose to the occasion magnificently...we only had five hours to track our tune from top to bottom but it's brimming with yummy Dolphinality. The song: "Time Table", one of the niftier hidden early Genesis gems --- it's sandwiched between epics on the "Foxtrot" album and tends to get ignored but melodically it's one of the stronger items in the G. canon. I also stuck in about 40 seconds of "Apocalypse in 9/8", couldn't very well resist now could I.
I mention this over at Mike's Likes too, but I need to know if any of you recorded the live Radiohead performance which was on MTV recently. I spaced and missed both the live performance and the rebroadcast two days later. A little help? Email me.
Bry's just done something huge. You'll hear more soon.
The passion and warfare over at "Sluggo!-rama" knocks me out. Thank you all for having so much to say on the subject. I'm moved to a degree which purt near frightens me. Expect greatly increased worldwide awareness of "Sluggo!" in the months to come. '98 will rule.
December 27 was the third anniversary of the Mike Keneally Page. Happy Birthday to us!
"All About Mike" has long been the most requested-to-be-continued part of the page. We've got something kind of special planned by way of expansion (I think I probably already mentioned what we're planning in a previous MTTY - I can't remember - but whether I did or not, expansion is underway). Whatever, stay tuned.
A "Mike's Links" will soon, finally, be a reality. Look for the first shreds of it in the infant weeks of '98.
It's 3:00. Last day of the year which was flat out the most important year of my life. I learned a lot. I'm feeling strong re: the future and the place of the dolphin within it.
Happy, happy, happiest of new years to each and every one of you. I'll see you soon.
Love,
MK