Home | The Music | Mike | Facebook | RadioKeneally | Live Performances | Gallery | Links | Fans | Press Info | Store


MiKe TypEs To YOU!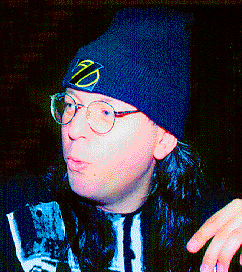 January 15 1998 3:23 PM
My own home
In case it hasn't been made official by me or anyone else, I'll make it official now: The signed, numbered edition of "The Tar Tapes Volume One" is sold out, really, truly, they're all gone. Thank you for making the experiment a success. Obviously, this means that the silver ticket is unequivocally in someone's possession as we speak, and Immune has in fact been contacted by a gentleman who claims to be the lucky boy. However it's been several weeks since he told Suzanne at Immune that he had the ticket, and as of today the ticket still hasn't been mailed to Immune (which is the physical evidence we require in order for me to commence recording his special song). I'll be emailing him tonight to ask him what the deal is. Maybe he'd rather have the ticket than the song. Fine with me! I hope the ticket didn't get lost in the mail. This would suck.
Yesterday was fun...in the afternoon I attended a Marc Bonilla rehearsal. Marc's band (which includes Joe Travers) is doing a couple of gigs this weekend, and they'll have some special guests in tow, including Ronnie Montrose, Glenn Hughes and Keith Emerson. Keith was the key to my discovery, at age ten, that you could play something other than pop standards on an electric organ. "Tarkus" blew my mind at that age. And Keith will playing "Tarkus", in its virtual entirety (just the "Battlefield" section is missing) with Bonilla's band this weekend, so I went to see them rehearse it, twice. It was an abundant pleasure and Keith sounded absolutely fantastic. He's a totally sweet guy also, so the afternoon was unfettered pleasure. Check off another childhood hero from my "I got to meet 'em" list! Then Schmoozefest '98 continued into the evening when I had a rollicking Mexican dinner with Doug Lunn, Chrissy Shefts (session guitarist, probably best known for her work on "Crazy" by Seal) and none other than Vinnie Colaiuta, with whom this was the first concentrated chunk of time I've ever spent. I laid a three pack of Keneally wonderment on him ("hat.", "Speck" and "Sluggo!") and told him it was scant compensation for the pleasure he's brought me over the last two decades. He's such an amazing musician. Doug, Chrissy, Vinnie and I will do some recording together this year. It shall be hysterical, I promise you.
Another thing which I must now make official: please don't send any more anagrams! Scott and I have had our fill of them, which is why we haven't put any new ones up on the page in at least two years, but we still get a pile of them every once in a while. We'll leave the page up for the enjoyment of others, but it is closed to further submissions, sorry. As a final salute to this glorious time-wasting pasttime, I just found some anagram attempts I did around the time of "The Mistakes", using all the letters in the words "Henry Kaiser", "Mike Keneally", "Andy West" and "Prairie Prince."
I: swanky inkeeper; really handy priest. In Mare Creek: I.

Re: I, swanky inkeeper and skier, yell: "Hi, carpenter! May I?"

I, swank inkeeper. Me, really handy, yet rank, priest. I, Sir Creep. I.

I keep risk swanky, and in ire, yell: "Here! Carpenter! May I?"
I seem to have gotten over this phase of my creative development. This is Mike Keneally saying I'll probably never do another anagram.
I've managed to piggyback my way to being on another Grammy (tm)-nominated song: "For The Love Of God", from the G3 live album, just got the nod. All congratulations go to Mr. Vai. Interesting: Satriani and Johnson tracks from the same album have also been nominated...oooooh! "My" other Grammy (tm)-nominated tunes were, of course, "Sofa" from "Zappa's Universe", Tower Records' least favorite Grammy (tm)-winning song of all time (and another tune which has Steve to thank for its getting the nod); and most absurdly, the "Broadway The Hard Way" album which was nominated for Best Original Cast Recording, a fact which says all we need to know about the Grammies (friggin' tm).
I had an interesting evening about a week ago wherein I finally comprehensively understood the appeal of Trent Reznor, and it frightened me. Once you dial into his wavelength it can make all other music sound, and all other images look, dangerously wimpy, including ones' own. My mind was blown, but in a strange way: while I don't believe he necessarily means to be Hitler, the power he has over his worshippers is so all-encompassing, and the energy he creates is so dark, that I felt peculiar about giving myself to it completely. He is a genius, without question; he may be the most powerful rock songwriter/arranger/producer at work today, and my respect for him has increased a hundred-fold. So what do I take from this? Do I kill the mailman? No...after some soul-searching I realized that what I can draw from, without becoming a little muso version of him, is Reznor's determination. His works are unbelievably detailed and effective sound-and-vision pictures of what his mind perceives as truth (at least that's what I get from it), and one does not create such powerful art without unceasing determination. My work ethic is OK, but I can't think of a reason not to go to bed every night feeling exhausted from the energy spent that day coming up with ways to improve the quality of my resources (ie. I need to practice more) and the true-to-my-vision quotient of my output. There's that then, and thank you Trent.
Here are the performance dates and locations for some upcoming stuff:
JANUARY 27 at LUNA PARK in Hollywood: The Robb Vallier band, featuring MK and Joe Travers, will perform.
JANUARY 28 at BILLBOARD LIVE in Hollywood: The Steve Vai Band will play a half-hour set on behalf of Dean Markley strings, as a pre-NAMM NAMM event (the NAMM show proper kicks off the following day, at the Lost Angeles Convention Center).
JANUARY 30 at THE MINT in Hollywood: Mike Keneally & Beer For Dolphins (trio version, with Joe Travers on drums) will play a half-hour set on behalf of Rivera amplifiers.
JANUARY 31 at the NAMM convention: 1:30 PM - MK/BFD (trio with JT) will perform a semi-acoustic half-hour set on behalf of SWR bass amps.
3:00 PM - MK/BFD (trio with Toss) will perform a fully-electric hour-long set on behalf of Dean Markley.
FEBRUARY 1 at the NAMM convention: 12:00 noon - MK/BFD (trio with JT) will perform a semi-acoustic half-hour set on behalf of SWR bass amps.
FEBRUARY 21 at LUMPY GRAVY in Hollywood: MK/BFD (trio with Toss) will perform a two-hour set of anything we feel like playing, starting at 10:00 PM. Maybe some special guests will show up, I haven't asked anyone yet but it's the perfect venue for that sort of thing. It will be casual and fun. The place is a restaurant and the food is magnificent. You should check it out - call them at 213-934-9400.
The scheduled gig for February 11 at the Roxy in Hollywood has been postponed. The keyboardist for the band which is spearheading the evening, Spock's Beard, will be unavailable that evening, so we're shooting to reschedule for later in the month or possibly early March. The show, whenever it happens, will be magnificent: opening band is Caviar, a NIN-influenced group with whom Kevin Gilbert was working towards the end of his life. Next up will be us, doing an hour-long set which will pick up where the Troubador show left off: expanded line-up (I'm planning on a six-piece of MK, BB, JT, Marc Ziegenhagen, and Bob Tedde and Mark DeCerbo on guitars and vocals if the rescheduled date doesn't put them out of the picture - they play with their band Rockola in San Diego constantly), Michael Harrison's films projected on stage, more premiere material (including stuff which isn't even on "Sluggo!") etc. And finally Spock's Beard, a popular and amazing modern prog band featuring Nick DiVirgilio (the drummer who played with me, Kevin and Bryan on the Yes and Genesis tribs, and who also drums on several tracks on the new real Genesis album) will perform. In time-honored Roxy fashion the bands will actually be given tickets to sell, just like selling candy back in junior high. I've resisted this practice for my entire life but this year is the year to take a few leaps, try some things I haven't tried before, and possibly eat a little shit if necessary. Anyway I'll make the announcement when the tickets are available, and if any of you are in the area you can send me a check and I'll send you however many tickets you need. You will be informed on how/when to proceed when the time is appropriate.
Time to pick up Jesse at daycare. Thanks again for the crazy wonderful things you've been writing at the 'Rama, and special thanks to some very special people who've sent some very warming email recently. Love to you all, and I mean it.
MK