Home | The Music | Mike | Facebook | RadioKeneally | Live Performances | Gallery | Links | Fans | Press Info | Store


MiKe TypEs To YOU!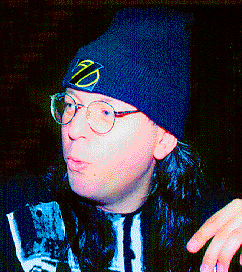 April 15 1998
11:58:06 PM
Chatfield Manor
You have not heard from me lately. You have heard from the 26-year old me, via the '88 tour diaries, but even he went on hiatus for awhile. With Beller's LOB exile in effect, we've been somewhat incommunicado.
It was unavoidable. The journey, the beginnings of which I detailed in the last MTTY, has been continuous and relentless. I haven't wanted to stop feeling its effects long enough to document it, and text is an incomplete method of conveyance in any case. I can do it better through music, as I did with my beautiful, shiny new expanded BFD at the Roxy last night. You should have been there. (Thanks to those who were - all pre-sale tickets were ultimately spoken for.)
Here's what we played:
Cardboard Dog (excerpt)
Potato
Voyage to Manhood
Top Of Stove Melting
Beautiful
TRANQUILLADO
Frozen Beef
Lightnin' Roy
Bitches Brew (Miles Davis)
'Cause Of Breakfast
The Night Before (The Beatles)
Own
Gloss

encore:
The Car Song
"The Night Before," originally from the "Help" LP, was an eleventh-hour substitution for "The Endings Of Things," the new acoustic-duo song which Bryan and I debuted at Lumpy Gravy a few weeks ago and which was intended for a time to grace the Roxy set list also. "Endings" was brand new at the time of the Lumpy gig and concerned itself with happenings very fresh then, and therefore was appropriate for that gig, less appropriate for this one; "The Night Before" struck me about a week ago as very coverable, and I was newly delighted by the forthrightness of the lyrics, which I had a lot of fun singing. (One of the cool side effects of the onset of awareness is a new understanding of songs, artwork, phrases etc. which I'd experienced in the past but never fully understood/appreciated. David Bowie has been a recent beneficiary of my new eyes/ears - I've always admired him, but now I can feel him. I was thinking of the phrase "the doors of perception" a couple of days ago, spurred by Chatfield's aside in a recent MTTY. The idea of "doors of perception" always made abstract sense to me at best; the concept was not alien, but I couldn't feel what it meant. Nowadays I can smell the grease on the hinges of the doors of perception.) The new original premiered last night was "Gloss," an instrumental unabashedly influenced by Spiritualized (whom I saw open for Radiohead on April 1 - more about that date later) which masqueraded as an extended tag for "Own" but which is, in fact, a stand-alone piece. "TRANQUILLADO" ("a hard song to play right," says Bryan Beller, who played the song [along with "Potato" and "The Night Before"] with a PICK, a first for my man BB) received a glittering live premiere, made possible by the vocal talents of Mark DeCerbo and Bob Tedde, both of whom also performed beautifully on guitars and percussion during the show - Bob played the solo on "TRANQUILLADO" whilst I piano-banged, and Mark twanged the composed solo on the Beatles cover. Other live premieres were "Voyage" and "Own," plus the two covers and "Gloss" - 6 of the 14 songs never before played live, not bad! Marc Ziegenhagen was a wonder on keys throughout, and spun a beautifully atmospheric solo on our Miles Davis cover. He also got extended solo space on "Top Of Stove" and "Voyage." And Joey Travers, who along with BB has witnessed firsthand the ongoing symptoms of my lifechange, was extremely ready to play last night. Yes, some serious bonding occurred on that stage (most graphically illustrated, I should think, by Beller's and my liplock at the close). The show once again featured the magnificent films of Michael Harrison; his work made a significant impression upon Steve Vai, and I hope to help facilitate the possibility of collaboration between these two innovators. (Steve has recently played three new pieces of his, which are to me the most dizzyingly stunning work he's yet produced.)
My most humble thanks to my band, the crew (Thomas Nordegg, Marque Coy, Brian Halio, Dennis Hill, Christian Heilman, Jason Harris, Todd Dever, Ewen Williams, Michael Harrison and Ed Lucas), the Roxy, Spock's Beard, and the unassailable fashion crew of Mary Klimek, Leslie Pike and Aida for making possible the best show I've ever done.
In case anyone hasn't yet figured out or learned that the April 1 '88 tour diary entry was a lie, it was. It was written entirely by Scott Chatfield who did an incredible job of simulating how a young Mike would have reacted to such goings-on. The entry was removed from the page shortly after April 1 because there was no need to keep the joke going - the point was made. We hope you enjoyed it.
From the personal validation file, reliable sources report that Keith Emerson has become a staunch "Sluggo!" enthusiast. The ten-year old Mike, could you have pried his "Tarkus"-filled headphones off long enough to inform him of this charming development, would have been mighty pleased. The 36-year old Mike is pretty friggin' chuffed as well.
I have been derelict in letting you know about several recent gigs in which I took part, specifically two Steely Damned shows and one Rockola Beatles tribute show, all of which took place at the Catamaran in San Diego. They were all fun and I'll try not to let such information slide by you again. Buffeted hither and yon by all the various projects of which I'm a part (I'm behind schedule on delivering tracks for ELP and Raymond Scott tribute CDs; I'm in the midst of a Vai-initiated project which I won't tell you about yet; I'm playing on sessions for an amazing LA-based keyboardist/composer named Neil Sadler [Beller is on there as well, as are several Fowlers, Kurt McGettrick and Albert Wing]; the Joe Puerta's Sunken City gig in San Pedro last week, which was stunning, especially considering the small amount of time for rehearsal - this band will do more shows; preparation for the Roxy gig; writing new material; still unpacking boxes and trying to help make the new place in San Diego liveable, a challenge considering I spend at least 60% of my life in Los Angeles still; et cetera) I've been left too dizzy to type. I'll try harder.
For instance, learn about this:
THIS SATURDAY
APRIL 18
AT LUMPY GRAVY
7311 BEVERLY BLVD.
IN HOLLYWOOD, CA.
AT AROUND 10:30 OR SOMETHING
AN ACOUSTIC MIKE KENEALLY PERFORMACE SHALL OCCUR
BRYAN BELLER WILL TAKE PART AS WELL
SO BE THERE IF YOU CAN
The Radiohead concert was significant. (Thanks are due to Scott Chatfield, and to Jody at EMI/Capitol, for scaring up tickets for Aida and I after we suffered a humiliating experience standing in a cage at the Universal Amphitheatre at 7:00 in the morning the day the tickets went on sale, only to have the show sell out in three minutes, leaving us mute and ticketless - we shall never stand in a cage again.) When I saw Radiohead with Beller last year (July I think?) I was intimidated upon leaving the theatre. It was similar to the intimidation I used to feel when leaving a Dixie Dregs show back in the day, a feeling that I'd just been confronted with something so unapproachable it made my attempts at creation seem timid and futile - except that, with the Dregs, the hopelessness stemmed from what seemed their unimaginably excellent technique, while with Radiohead I was more intimidated because the specifics of their method were far more slippery, based on intangibles, and therefore all the more unapproachable. Since that show I've spent many hours listening to Radiohead, learning how to sing in the process, and while familiarity has bred only increased love and respect for the music, it has also lessened the mystery somewhat. Concurrent with this phase of my relationship to this band's music has been the increase of overall awareness which we've already addressed. This potent combination accompanied me to the Universal on April 1, and I left the building feeling strong - challenged, no doubt, but very much up to it. After the show Aida and I went to Jerry's Deli and met a young woman who'd only just heard Radiohead for the first time two days previously; she was practically shuddering from the discovery, and from the depths of feeling she'd just experienced at the show. "I didn't know it was possible to feel this way" said she. "That's the way I feel 24 hours a day" I responded, and a friend was made.
More friends are being made all the time, more additions to the circle of discovery which surrounds MK/BFD nowadays. Shout out to J, Aurora and Dana, valued additions to the community.
Yes, we're booking a tour. And I think we need your help. Very soon we'll be posting a list of cities that we hope to visit in July and August; for now we're concentrating on the East Coast of the US; people in other parts of the world please be patient, we want to reach you as soon as we can. The East Coast is especially feasible because I'll be there anyway, teaching a guitar course at the National Guitar Summer Workshop in New Milford, CT on July 14-18. The tour looks like it will be framed by two NYC performances - one on July 22 (Aida's birthday, so bring a present) at the Knitting Factory, the second on August 14 at the Bottom Line with our dear friends the Ed Palermo Big Band. Those two gigs are the cookie part of the Oreo, and there's plenty of cooking left to be done on the filling. You'll hear from us soon with our idea of a prospective itinerary (a list of cities we'd like to visit); anything anyone can do to help us procure gigs in those cities will be gratefully appreciated. We'll also be playing in Sacramento in May (as well as taping an episode of "The A/V Closet," formerly known as "RAW TV") and at the Full Sail Recording School in Clearwater, Florida, in June. There's also a brace of LA gigs on the way in May. All specifics will be posted on the main page real soon, and hooray for specifics.
Happy new purchases: The Miles Davis Quintet 1965-1968 box (all the releasable studio recordings of the classic quintet which brought my beloved "Plugged Nickel" music to life, and radiant nearly beyond comprehension), and John Coltrane's "Living Space", 1965 music four-fifths culled from an obscure 70's Coltrane compilation I'd never heard (check out the title track - Coltrane played the theme on tenor, then overdubbed a unison part on soprano...it sounds AMAZING), with a fifth tune (a short blues) previously unreleased. JT has informed me of Columbia's new "Live At The IT Club" two-CD Monk release; sounds like that's my next purchase. Columbia's also released the complete Miles Davis 1961 Carnegie Hall performance on a remastered 2-CD set; in the US it was previously available only on two separate releases, but it's been available as a French 2-CD set for a long while (albeit as a perfunctory cobbling-together of the original two separate releases "Legendary Carnegie Hall Concert" and "More Miles" - the new US set is a more organic piece, and one I'll of course be buying even though I already own all the music, because I'm a freak and I like it that way). Radiohead's "Airbag/How Am I Driving" EP comes out next week, and all its "new" tracks have long been available on import singles but of course I'll be buying the EP anyway - freak, like it that way. More exciting is the video being simultaneously released with the EP, "Seven Television Commercials," featuring seven Radiohead videos virtually all of which I've never seen because they hardly ever got shown on MTV and I never watch TV anyway; I did see the "No Surprises" video because Rich Pike was lovely enough to call and tell me it was on, and I'm glad he did - it's, ahem, breathtaking.
A final word from Jesse, who will be four years old on May 2. She loves sharks, and christened a recent toy shark acquisition "Michael Crunch." "Why did you name him Michael Crunch?" I ask. She gives me a vague "why are you stupid?" look and responds, "because I love him so much."
You are all Michael Crunch to me. Talk to you soon.
MK