Home | The Music | Mike | Facebook | RadioKeneally | Live Performances | Gallery | Links | Fans | Press Info | Store


MiKe TypEs To YOU!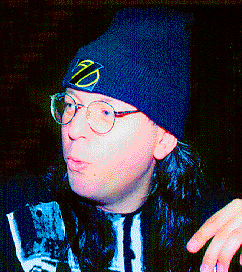 June 22 1998
12:44 PM
If I've been out of touch it's not because I want to be out of touch. It's simply because time is a tyrant and I've had no choice.
The '88 tour diary fell victim to my complete inability to create time to transcribe any more of it. Scott and I really wanted to maintain the integrity of the 10-year anniversary dates but reality is a bitch sometimes. However we do have a magnificent volunteer in the form of Chris Opperman - he will soon be transcribing the remaining audio entries (I'm mailing them to him today - don't worry, I'm not sending the originals), then he will email his transcriptions to me so I can excise all the embarrassing stuff, and those transcriptions will be posted as soon as possible.
Speaking of Opperman, I produced and played on his first solo album during April and May - April for the tracking sessions in Boston (one of the finest weekends of my or anyone else's life - a truly joyful experience all around) and May for a week of mixing in San Diego (with a couple of sidetrips to LA for BFD gigs, featuring hipster Oppy guesting on trumpet on his composition "Beware Of The Random Factor"). The album will be called "Oppy Music, Vol. I: Purple, Crayon." and will be available sometime this year. It's very, very wonderful and you'll all want at least one.
May. It was quite the month, with two BFD gigs a week in LA. Each one somehow an amplification of the one before. Much amazingness, sometimes intense and brutal and sometimes tender and all from the heart. It all got me in fighting trim and extremely ready to do what needs to be done on the road. To all who came to the May gigs, the most important series of gigs in my life to date, I thank you from the bottom of my heart.
Speaking of heart, mine breaks to think that Joe Travers won't be able to do the upcoming tour with us due to his responsibilities with the Zappa organization. His playing is such a part of the soul of BFD right now that it hurts to think of us rampaging across this land without the magic Travers energy driving us. But such is life, and we will triumph over this adversity - with big smiles. Still, let it be known that I love Joe Travers and will miss him tremendously whilst we plunder.
We also just had a couple of six-piece BFD gigs in San Diego and San Pedro, the first six-piece gigs since the Roxy in April. It's such a pleasure for me to hear that much sound all around me, and the San Pedro gig in particular was really special - over two and a half hours and a really intimate, friendly atmosphere - a beautiful crowd at that one. The San Diego gig was lovely as well, but I don't know what it is about San Diego audiences - they rarely seem willing to try to connect with what's happening on stage. We eventually got a vibe happening but it was a bit of a struggle. Next San Diego gig we do, if you're able to attend, bring a bunch of friends and prove me wrong about the apathetic nature of SD audiences.
I have not been responding to email because there has not been time. Already I can see that some prospective tour guest hosts have been sending their inquiries to me. Please don't! You'll be wasting your valuable time, and life is short! Please forward all tour-related mail to missioncontrol@moosenet.com. Thanks in advance to anyone who wants to step forward as guest host and help us out - the help will be very much needed, and your enthusiasm is so appreciated. Thank you.
The Full Sail engagement in Orlando, Florida was beyond wonderful, and that weekend was, for me, the equal of the Boston Oppy weekend for sheer amazingness. Everyone at Full Sail was a glorious friend to us - we love you all. The gig was a victory - apparently the webcast didn't do full sonic justice to what happened on that stage. Suffice it to say that everyone in the band played beautifully and the audience (which was somewhere in the 1000 range, not 400 as I read somewhere) was visibly and audibly affected by what transpired. Thank you Full Sail.
"The Tar Tapes Volume Two" is in the artwork stage as I type. Please don't contact Immune about ordering it until we tell you that it's available - thank you! The next MK/BFD album takes shape inside my head. If it feels anything to you like the way this year has felt to me, none of you will be the same after hearing it.
I'll try to make time to write to you again before the tour. This particular MTTY reads more like a liner note list of thank yous than a proper MTTY but I need to get to the piano and do some work, so this is a little bit dashed-off - still I know that I need to maintain contact with you, more than ever now because we need as many of our friends as possible to come out and join us for the ongoing party which will be the "WE'RE NOT HERE TO HELP TOUR 1998." atticus wolrab has designed a lovely shirt for the occasion, and I'm hoping we can rush "Tar Tapes 2" into production soon enough to make that available on the road for you as well. There's also a rumor that "Half Alive In Hollywood," which has been out of stock for awhile, will make a return appearance, and if so we'll have that with us too, as well as the usual other titles.
Oh, Viv, Jesse and I saw "Mulan" yesterday - it was great! Best Disney flick in I don't know how long. And if you can banish the hype from your mind and make believe that you're seeing it cold without knowing a thing about it, "The Truman Show" is worth every second of your time - it gave me some happy thoughts about destiny and one's control over one's own.
Off to work. Love you all. But you know that.
MK