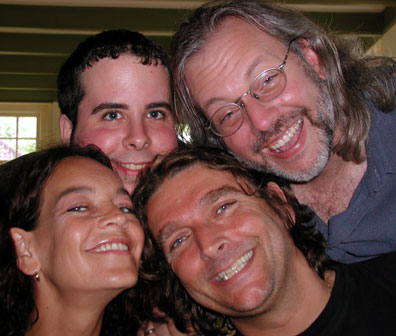 KORTENHOEF, THE NETHERLANDS, June 5, 2003: (Clockwise, from upper left) Chris Opperman, Mike Keneally, Co de Kloet and Josephine Veldhuyzen relax at Co and Josephine's cozy canalside cottage between rehearsals.
Mike Types To You
10:07 AM
June 23 2003

I just checked to see when I did the last "MTTY" and was surprised to find it was two years and two days ago. I wouldn't have thought it's been so long. Neglect! Neglect! Hello again! As J just told me on the phone it does seem like the Keneallist missives have sort of replaced this forum, and maybe so, but here I am again over here, dammit, and hello.
A lot of people have been curious about how
The Universe Will Provide
(hereinafter
TUWP
, since the kids today love anagrams s' damn much) came into being, now that they've heard the NPS radio broadcast of the piece. I am here to serve, serving now:
I'm going to write this quickly and not edit much, so sorry if the progression of information is scattered.
The piece came to be through the hard work and huge heart of Co de Kloet at NPS Radio in the Netherlands, the next logical progression of the long-standing creative relationship between Co and myself which also gave birth to Nonkertompf Live in 2001, and the Keneally Band's appearance at North Sea Jazz Festival last year. Co and my manager Scott Chatfield spent a good amount of time cheerfully working everything out, and I believe that it was November 2002 when the contractual details for the premiere performance of
TUWP
at the Holland Festival were finalized, allowing me to finally be able to make time to begin composing it. The piece was built by me and Chris Opperman (my co-orchestrator, chart preparer and musical assistant for this project) between the months of November 2002 and May 2003. Considering this was my first composition for orchestra (a 50-piece orchestra in this case), and that it was to be approximately 45 minutes long, we had to work pretty quickly. For a month and half of that time I was touring in Europe and wasn't able to work on the piece at all (although Chris was able to continue the mechanical aspects of preparing the score while I was gone, staying up long nights while still working full days at his regular job - a superhuman feat, folks).
I won't deny that the small amount of time I had available for composing helped to make the idea of integrating three older pieces into
TUWP
an attractive one, but I think I would have included them in any case. These older pieces were
1) "Spoon Guy," which existed in manuscript form in the original 1992 arrangement for guitars and bass, and which arrangement was orchestrated verbatim for
TUWP
;
2) "Bullies," which was a lengthy 1993 manuscript for guitars, keyboards and bass, and only the last section of which was recorded for the track "Bullys (sic)" (that section being the chamber music coda heard after the guitar solo; that same section, using the full harmonies as written, can be heard in the last section of "In The Bone World." And that same section, using the full "Bone World" harmonies, also forms the last section of "Bullies" in
TUWP
, but the
TUWP
" arrangement also contains a lot of material from the rest of the original manuscript which hadn't ever been recorded. Parenthetical aside continuing: "Bullies" as it appears in
TUWP
wouldn't sound anything like that if it weren't for Chris Opperman, who took my original written manuscript and cherry-picked from it at will, putting things in different sequences, constructing repeating motifs and basically going nuts. Then I edited that work and together we shaped it into completion, but Opperman really put a lot of his creativity into that piece. End of parenthetical aside, I think);
and 3) "Room," which I wrote in 2000, did a piano-only written sketch for, and performed once with BFD at the Baked Potato in early 2001, I think, I think.
So all the rest of the writing was new, and it went down in a variety of ways. Most often I would write something down on paper to start. If I was hearing something in my head that was orchestrated a specific way, I would write it down that way. If I was just hearing a melody and not specific timbres or orchestrations, I would just jot down the melody, and harmonies if I was hearing them yet, without specifying instruments. I would, pathetically, write down everything in treble clef for expediency's sake, and later on in the computer Chris would do the proper transpositions for the various instruments.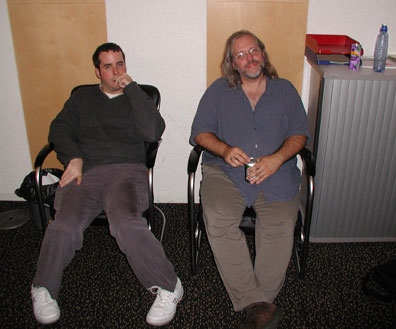 HILVERSUM, THE NETHERLANDS, June 5, 2003: Chris Opperman and Mike Keneally await a 4FM Radio interview with Co de Kloet.
So I did this for a few weeks and then brought the new and old manuscripts over to Opperman's place, where he typed it all into Finale software. (Actually Chris and I had one session prior to me doing any new writing on paper, just to try to begin piecing together a methodology for the preparation of the score. That night I wrote a passage for flutes which took about six hours to do using the computer, so we learned a lot that night and got much more expedient as time went on, and that passage, being the first music written with the specific intention of forming part of
TUWP
, can be heard at the beginning of "Not Just Flutes," the seventh movement. Yep.) Chris has decent synth samples in his computer so everything I was writing I was able to hear back with a not-altogether-useless degree of authenticity. (We got very used to hearing those soundfiles over and over again and it was a mindfrig of some proportions when we finally started hearing them played at rehearsal by the actual orchestra musicians. On the second day of rehearsals it got really good, and that was probably my favorite part of the procedure so far; hearing the stuff just as it was beginning to come together as played by humans, and me playing along with it. Really exciting and fun. Yep.) So that became method one; I write something on paper, Chris types it in, and together we check it out and orchestrate it. If I already orchestrated it on paper, Chris would type it in that way and we'd check it out. Often Chris would have ideas about what instruments could play certain passages, or ideas about harmonies, or any number of other arrangemental things, and we'd always try his ideas, and sometimes implement them.
Often while Chris was typing in one piece, I'd be sitting on the couch writing another. Sometimes I'd write something and ask Chris to orchestrate it himself while I was resting (most of these score preparation sessions began at night and continued until early morning), or continuing to write another passage, and then I'd edit and amend his orchestration. We established a rhythm quickly and started getting a lot of work done.
Sometimes I would sit at the computer and click notes directly onto the score, and Chris would clean up my work and make sure it looked nice for the people who would have to read it. That would be method two, and method three would be me playing something on a Korg keyboard directly into the computer and having the software notate it. This was often frustrating when trying to capture something in real time, but often a great time saver if I already knew the pitches and rhythms I wanted, in which case I would play something one beat at a time on the Korg, and Chris the blazing Finale manipulator would do his thing and make written music out of it. Chris is REALLY fast on Finale, it's crazy.
Here's the names of the movements in
TUWP
as it was premiered at the Holland Festival:
1. Blue 68
2. All of Them Were Quiet
3. Room
4. Archaic Peace Strategies
5. Worrywart Spoonguy
6. Four Slices Of Toast
7. Not Just Flutes
8. Bullies
Let's backtrack now to before the writing began; while we were waiting for the business details concerning
TUWP
to be sorted out, I was conceptualizing and being open to the first feelings which would lead to the finished work. The first thing that came to my mind during the conceptualization phase was "the year 1969." I rolled that around for a few weeks and eventually a couple of feelings bobbed to the surface, the main one being that I would consider this piece to be my birthday gift to my eight-year-old self (my eighth birthday was December 20, 1969). Once I'd gotten that flavor, the idea of me giving the use of this orchestra, this event, this opportunity, to myself at age eight, many other feelings, memories and ideas began to rush forth. Most of these are hard to describe, but I kept thinking of things I saw when I was very young - big ones being my first viewing of "2001: A Space Odyssey" when I was seven or eight, and also a futuristic, largely synth-driven stage musical I saw on a class outing when I was around eight, called something like "Help! Help! It's The Globolinks!" or "Here Come The Globolinks!" or something like that. These things fascinated, messed me up and delighted me as a child, and I wanted to make
TUWP
into something which would have similarly affected the eight-year-old me, or any other current eight-year-old, literally or metaphorically.
In early June, Opperman, Chatfield and I traveled to Holland, where we were wined and dined and treated marvelously, and for a mere ten hours over three days, the Metropole Orchestra conducted by Jurjen Hempel and myself rehearsed
TUWP
. This was obviously a fascinating process and I enjoyed every second, and it seemed to be an enjoyable experience for the orchestra as well - many of the musicians were kind enough to let me know how much they enjoyed working on the piece. Jurjen was brilliant at getting fast results while rehearsing thorny passages, and came up with several useful orchestration ideas on the spot which Chris and I were grateful to implement.
During the second day of rehearsal, I felt the music peaking and I had the most fun listening to and performing with the orchestra. The situation for the performance at the Paradiso was, naturally, not as ideal - we had been very comfortable in our large rehearsal space, and having to fit everything on the stage at the gig and deal with the many sound issues naturally changed the character of the music, and it felt a little less in control, a little bit unfamiliar compared the rehearsal vibe - but still a lot of fun of course, and unfamiliarity doesn't scare me anyway. Also the battery in my guitar died during the performance of "Room," necessitating a delay of several minutes and the replaying of "Room" (much better the second time around), and everything about the music felt better after the forced delay. I think the little interruption deflated the tensions of the event very nicely and everyone relaxed into the music a lot more. The performance turned out to be immensely enjoyable for me, and I believe for the orchestra and conductor as well, and the audience responded very warmly. Co de Kloet has also told me that the reviews for the piece were in the main favorable, so all in all I consider the evening a success. Vernon Reid also played his own set orchestra that night, and I thought that the two pieces worked beautifully together and made a very enjoyable night of music. Vernon and DJ Logic (who also performed on Vernon's piece) were wonderful guys who I hope to get a chance to do more work with.
Gotta sing, dance and otherwise convey gratitude to Co de Kloet, Scott Chatfield, Chris Opperman, Peter Van Hoogdalem, everyone involved with NPS and the Metropole and the Paradiso and everyone who's checked out the music...thank you, all of you, for making it a reality and for an immensely educational experience. I think the performance was fantastic, especially for a first try, and I have some very clear notions about how to make the composition much more balanced and strong. The album will be a good one.
To touch upon some other things:
Life is strange but very good, so I am continually baffled and very grateful.
Loving the new Radiohead, so a public thank you to them for that.
After the Metropole gig were some other things in Holland; a duet performance with Jaan Wessman at the Concertgebouw on a bill also featuring Marc Ribot, Gary Lucas and some freaky cool Japanese girl band with pink sci-fi costumes, choreography and backing vocals on tape, very sweet. The show with Jaan seemed cool while it was happening, then the response of friends afterward made it seem like it might have been more than cool. Thanks everyone.
The gig with Jan Akkerman, Pieter Douma and Rene Creemers at the Lux in Nijmegen was almost too ferocious to be believed. I think we'll be dealing more with this one later, but I just have to say what a fantastic night, how amazing Jan still is as a guitar player, so inspiring, and how beautiful the musicians and audience were. Good recordings and video exist, this is one to be talked about again later.
I'm rushing a little because I have to drive to LA for
None Radio
tonight, and it's 3:08 PM right now.
The Umeå Festival in Sweden - see, after a while it gets to be hard to talk about these things without continually lapsing into the same superlatives over and over again - but sorry - it was just a fantastic experience. I'm a freaking fortunate little motherbrother, the experiences I've been allowed to have. Anyway, Umeå was thigoristically sweet. I played in three contexts - as a guest with Ed Palermo's band, featuring the always seriously incredible Napoleon Murphy Brock playing a solo on "The Evil Prince"; as the guitar soloist at the Chamber Zappa performance conducted by Kristjan Järvi, featuring an orchestra that really blew my mind. I played "Revised Music For Low-Budget Orchestra," "Be-Bop Tango," "Teenage Prostitute" and five other pieces with the orchestra, plus "Black Page 1 and 2" with Mats Öberg and Morgan Agren. I hadn't played with Mats and Morgan in such a long time and man, they're so happening. They did a set with their band which was absolutely unbelievable, it drove me right out of my mind it was so good. Buy their albums, especially "Mats/Morgan Live." Oh; and as a member of the Zappa's Corner band, led by Denny Walley and featuring Napoleon, Mats, Morgan, Ed, members of Ed's and Mats and Morgan's bands and other special guests. Special guests included a bunch of students from a 30-piece high school band who did a performance of Frank's music which nearly had Napoleon, Ed, Denny and me in tears. All the students from one school music program in Umeå and between 14 and 17 and just playing the heck out of really complicated and deep stuff. Really, I have to say it, fantastic.
I asked in the Keneally newsgroup for people to send me other topics that they might want me to address in this MTTY and a number of people were kind enough to do so, but truth be told I think this one's long enough, I still need to pack for LA, and I've done enough typing for one day, so I'll try to hook you up with another installment soon. Have a good time,
MK