Home | The Music | Mike | Facebook | RadioKeneally | Live Performances | Gallery | Links | Fans | Press Info | Store


MiKe TypEs To YOU!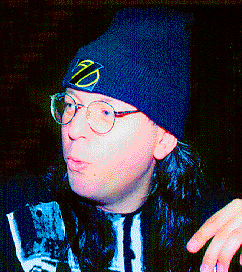 Saturday April 22 1995 6:19:23 PM
Ah. How pleasant. Typing to my buddies whilst listening to Bartok's 3rd Piano Concerto in a reasonably well-performed and -recorded rendition purchased at a budget price by Mr. Chatfield.
Thing number one: I blew it in my last message to you and typed the wrong address for Club Lingerie. It should read "6507 Sunset Blvd.". At least I think so. If I got it wrong again there's no hope for me.
I suppose it can't hurt to remind you again (large letters please, Mr. Scott)...
MIKE KENEALLY & BEER FOR DOLPHINS
WILL SURE THE HECK BE PERFORMING
AT CLUB LINGERIE
WHICH I BELIEVE IS LOCATED
AT 6507 SUNSET BLVD.
IN THE MISERABLE TOWN
OF HOLLYWOOD CALIFORNIA
ON WEDNESDAY APRIL 26 1995
ON OR ABOUT ELEVEN IN THE P.M.
THE PHONE NUMBER IS 213-466-8557
IF YOU'RE IN THE AREA
OR PRONE TO TRAVEL LARGE DISTANCES
IN ORDER TO SEE A GOOD SHOW
PLEASE WITNESS IT A LOT.
OK. What's new? I'm sick. Sick as a wizened tiny sick pup dog. With a cold which I hope does not affect the upcoming performance too harshly. But worry you not...I'll still put on the show that you all deserve, the kind of show that led Pauline Kael to say "where's the margarine", the sort of glittering unforgettable extravaganza that prompted Army Archerd to proclaim "hey, there's too much dacron in these slacks", the kind of......I'm tired of this now.
Another day of Mistakes overdubs yesterday. I had very great fun. I did guitar and Wurlitzer electric piano overdubs (the Wurlitzer was loaned by Bob Tedde---thanks pal! Welcome to the Web!) as well as four poems, one written by each Mistake. My cold-ravaged throat proved to be an effective vehicle for the recitations.

Today I had a photo shoot (the shooter was Victor Molina, artist responsible for the cover and portraits in "Dust Speck", as well as the shot that accompanied last month's article in Guitar Player and portraits for "The Mistakes") for EMG, the company who graciously supplied the pickups which are now installed in my main guitar, the Fender Clapton Strat. If Scott is kind enough to scan it, here's a B&W Polaroid from the session.
Rivera and Peavey also did nice things for me this week, re: amps and keyboards respectively. I don't normally get much into gear talk, but perhaps some of you are interested. I just thought of something: Would any of you be interested in seeing a page with photos and descriptions of my equipment? Or would it bore you senseless? Feedback please.
I've been spending too much time at this computer lately so I'll keep this missive brief. If anything unbelievable happens of course I'll fill you in. Asti Spumanti, baby!
Your humble Mikeykins