Home | The Music | Mike | Facebook | RadioKeneally | Live Performances | Gallery | Links | Fans | Press Info | Store


MiKe TypEs To YOU!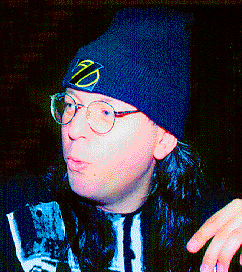 January 31 1995 11:42 PM
I shouldn't even still be here in San Diego. I have to drive home to L.A. tonight so I can wake up at 6:00 AM tomorrow, play with Jesse and take her to day care. I've been having too much fun tonight checking out other websites- it's a good thing I'm not hooked up at my house or I'd never get anything done.
When last we spoke it was the first day of sessions for The Mistakes" (the name seems to have stuck). There were two further days of sessions, producing about two hours of raw material; of which a very sizable percentage is of high quality. To my thrilled relief, the other guys in the band (Henry Kaiser, Andy West and Prairie Prince) are all knocked out by the rough mixes of what we've done so far. Henry has to come back down from Oakland for another day of overdubs, then I need a few days for Keneally overdubs and mixing and this puppy will be finished. You can count on it before the end of the year.
The day after the last Mistakes session I was off to Japan for 8 days. During my first night there, I was taken out for sushi, and thirty seconds after bringing up the topic of earthquakes we were experiencing one. I got out of town two days before the Kobe tragedy. My stay there was marked by episodes of astonishing homesickness- it's the first time I've been abroad all by myself, and I missed my wife and daughter ferociously. Normally when I'm on tour, I'm surrounded by people who can get me drunk and take my mind off things, but not this time. But the in- store performance at Disk Union was good, all the interviewers I encountered were intelligent and informed, and I visited a lot of amazing temples as well as Tokyo Disneyland. It was a good thing overall, but really, I can't overemphasize how much I missed my family.
As soon as I got home, rehearsals began both with Z and with my band. The NAMM convention performances were a total riot. The Keneally/Beer For Dolphins (hereinafter referred to as MK/BFD) show at the Hilton was wonderful- I didn't bother writing up a set list so I just called the tunes on stage, and we were all very much in a playing mood. We eventually played literally every song we know, and for the encore Joe Travers of Z replaced Toss Panos on drums for "Andy" and "Inca Roads". I'm jazzed because every show we do kicks ass on the one before it. When we finally get a chance to tour it won't even be fair.
There was one other MK/BFD performance (Toss couldn't make this one, so it was me, Joe and Bryan Beller- which brings up a point which may not have been addressed on this page yet, that being that Bryan, who is also in Z, is now the new bassist in MK/BFD, replacing the marvelous Doug Lunn), which took place at the GPI booth on the convention floor. If you've never been to the NAMM show, it's populated by very stern officials holding decibel counters making sure that things don't get too loud. We ruined their day- from the downbeat of the first tune ("Snowcow") I knew we wouldn't be permitted to continue for long. After much scurrying and threatening they finally pulled the plug on us after about ten minutes. It was like the last scene in "Let It Be". Very pleasing indeed. I autographed the citation which was issued, and it may run in a future issue of Guitar Player.
Z's NAMM show was a private affair for Peavey's 30th anniversary, held at the Celebrity Theatre in Anaheim. We had four days to put together a medley encompassing thirty years of rock history. Constructing it started out as a total drag (we've kind of lost our enthusiasm for medley-building) but as we got more familiar with the form it got to be more fun to play, and the show itself actually turned out to be a great time. Peavey is sending us to Germany in March to play at a convention there, so I suppose we'll have to keep the medley in our repertoire for just a while longer.
After the NAMM madness subsided, it was time to re-enter the studio with Z and finish up sessions for "Music For Pets". For all intents and purposes the album is now complete. We'll just see when it actually comes out. There aren't any confirmed Z tour dates but we should be in Europe in the spring.
MK/BFD will be doing a couple of gigs in the coming month, one at Musician's Institute in Hollywood sometime in February (which will be captured via 4-camera video shoot and 24-track digital audio, so if it's a good show there may be some live Keneally available soon), and another at Bimbo's in San Francisco in early March. As soon as the dates are nailed down, you'll know about it. And as Scott is my witness, I will take my band on the road this year.
I just did a couple of radio interviews, one with Wayne Resnick on KFI in Los Angeles on Saturday Jan. 28 (which went great) and one this morning with Dan Erwine on KPBS here in San Diego (which went okay). I played some solo acoustic material on both shows.
I'm really tired now and there's a long drive ahead, so hopefully I'll live. Scott and I are still coming up with ideas for this site, so if you stick with us you should be entertained for a long time to come. Please ply us with any ideas you've got, we take all suggestions seriously. I'm out of here. Thanks for reading.