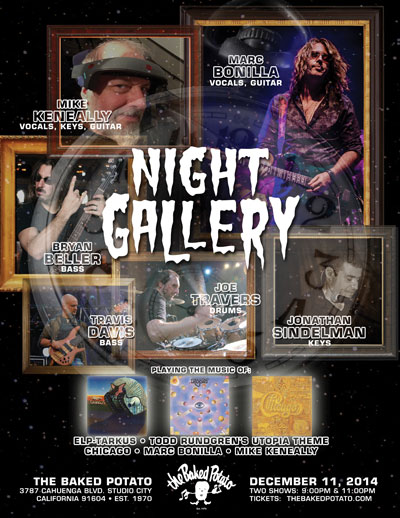 Hola! Hope you're all doing well.
For the last few days I've been ferociously shedding "Tarkus" and "Utopia Theme" and various Chicago tunes and several Marc Bonilla pieces that I haven't played in 24 years, in prep for the Baked Potato Night Gallery gig this Thursday. We're doing some of my tunes also. Doing two shows, of which the first one appears to be sold out (thank you!), but if you haven't already bought a ticket and you can come out to the second show we would love to see and hear you.
That's Thursday December 11 at the Baked Potato in Los Angeles, Southern California, California! Night Gallery! Be! There!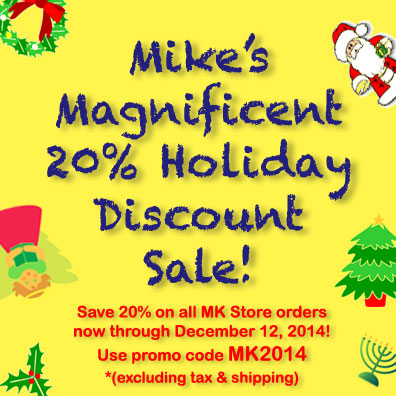 The kind generous folk at Exowax Recordings would http://thebakedpotato.com/Calendars/12Dec/december14.htmlalso like you to know that this Friday December 12 is the last day of the Keneally Store Holiday Sale. So you have a few more days to get 20% off all of the stuff, and make somebody's holiday the freakin' happiest ever. From now through Friday, all merchandise is 20% off if you use the promo code MK2014.
OK, back to practicing "West Virginia Fantasies"…
Happy holidays!
Mike
---
SAN DIEGO TROUBADOR MK COVER STORY NOW AVAILABLE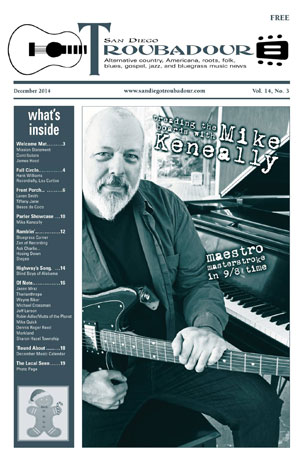 I'm on the cover of the December issue of San Diego Troubadour, a trusted and venerable publication here in SD, and I'm entirely humbled to have been granted this honor. Jon Kanis interviewed me for the piece and it was a very comprehensive interview. I've known Jon forever, and he knows me like the back of his hand so it's a pretty thorough article. It's online now, and the version of it that is made out of paper is now in music stores and coffee shops and pizza emporiums and hipster establishments.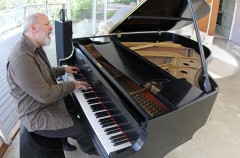 Treading the Boards with Mike Keneally: Maestro masterstroke in 9/8 time