Hotel Entirely Delightful, Mexico City, Dec. 1 2016
Hello dear friends – I hope you're finding a great deal of happiness this holiday season.
I'll be in South America for two-thirds of this here month of December, playing with Joe Satriani, Bryan Beller and Marco Minnemann starting tonight in Mexico City.
Now it's a few hours later – I'm in the dressing room after soundcheck/rehearsal, and I got to say it's a pleasure to be back in Satch world – soundcheck was super fun and I'm really looking forward to these gigs!
Here are the tour dates of destiny:
MIKE KENEALLY
playing in JOE SATRIANI'S BAND
also totally featuring BRYAN BELLER and MARCO MINNEMANN:
December 1
Teatro Metropolitan, Mexico City, MX
December 4
Teatro Coliseo, Santiago, CL
December 7
EDA (Espaco das Americas), Sao Paulo, BR
December 9
Net Live Curitiba, Curitiba, BR
December 11
Teatro Araujo Vianna, Porto Allegre, BR
December 13
Teatro de Verano, Montevideo, UY
December 15
Plaza de la Musica, Cordoba, AR
December 16
Luna Park, Buenos Aires, AR
December 17
Teatro El Circulo, Rosario, AR
---
While on the road this month, I am feeling a very specific desire to do a batch of ridiculous drawings.
Such as these two I did last night in the hotel.
I enjoy doing these whilst touring. If the hotel stationary is any good I'll sometimes use that, but otherwise I just do them in the sketchbook I brung with me.
I was thinking that some of you folks might enjoy getting a hold of one of these absurd things, so we've decided this:
THE PRECIOUS GIFT OF MAYBE
For the month of December 2016, anyone who buys anything from the Mike Keneally Store will be entered in a contest to receive one of the drawings I do during this tour.
After the beginning of the new year, Scott Chatfield will give me the names of everyone who ordered stuff during December, and I will randomly choose names (from a hat!) and send each winner one of the drawings. I'm absolutely gonna do twelve drawings, but maybe more. Your chances of winning are increased by how creative I feel.
The drawings will be shipped separately from the merchandise you order (in case your order is meant as a holiday gift, I don't want to hold up the shipment waiting for me to get home from the road – plus I want to keep this contest thing going for the entirety of December).
This applies to both physical and digital purchases – everyone who orders anything from us in December has an equal shot at getting a drawing.
---
And finally, here are a bunch of new me-related things you might like to see and/or hear:
A video of me messing around with a great big pile of super-fun Pigtronix pedals, including the enticing Infinity Looper.
A video of me playing the song "Roll" for EMGtv – I played four different Scambot 2 songs for EMG pickups, which they will be rolling out (so to speak!) over the next few months… this is the first one.
A new interview for Music Street Journal.
And a Scambot 2 review also from Music Street Journal.
A new interview for Guitar Mania.
And a Scambot 2 review from Guitar Mania.
Another Scambot 2 review, from The Progressive Aspect.
A nice interview with Highway 81 Revisited.
Another interview (http://www.tickettoentertainment.com/blog/2016/10/19/progressive-rock-artist-mike-keneally-at-kennett-flash/) , this one for Ticket.
And this podcast interview for The Prog Report.
There you go, a bunch of stuff to keep you busy while you're not shopping. I offer thanks to the many journalists who've been keeping me yapping or typing recently, it is much appreciated.
As are you!!
Sending love,
Mike
---
Scambot 2 Factoids
We're shipping the 2-CD Scambot 2 signed and numbered limited edition of 2000. The double-CD set consists of the Scambot 2 album (65 minutes of music) and the Inkling album (48 minutes of music) in a colorful digi-pak, with two handsome booklets nestled within. You'll get an immediate download of Scambot 2 as soon as you pre-order. (You'll have to wait until your CD set arrives to hear Inkling, which, by the way, features the brilliant RICK MUSALLAM on the song "Cram"!!)
Scambot 2 itself is also available as a single-album paid download. (Inkling won't be available as a download – it's only available as part of the 2-CD set.)
---
1. In The Trees (10:28)
2. Roots Twist (3:02)
3. Sam (3:20)
4. Clipper (4:36)
5. Forget About It (0:46)
6. Pretzels (4:25)
7. Buzz (4:32)
8. Race The Stars (3:44)
9. O (1:26)
10. Roll (6:23)
11. Constructed (3:46)
12. Freezer Burn (5:23)
13. Scores of People (5:22)
14. Cold Hands Gnat (4:00)
15. Proceed (3:19)
---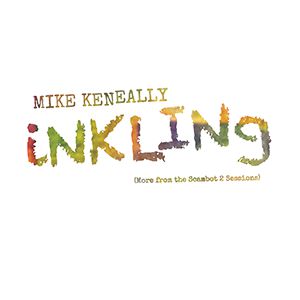 INKLING (More from the Scambot 2 Sessions)
1. Presence (0:48)
2. Scambot (2:17)
3. Boghe (4:01)
4. Sickness (2:01)
5. The Coma (2:11)
6. I Named You (0:45)
7. Falafel (1:29)
8. O Elastic Love! (1:23)
9. Cram (8:10)
10. Mystery Song (0:04)
11. E (0:37)
12. The Scorpions (5:32)
13. Skating Backwards (2:15)
14. Tom (7:01)
15. Mayday! (1:25)
16. Lovesong (1:27)
17. Back It Up (2:54)
18. Inkling (1:37)
19. Uncompressed Rag (2:04)