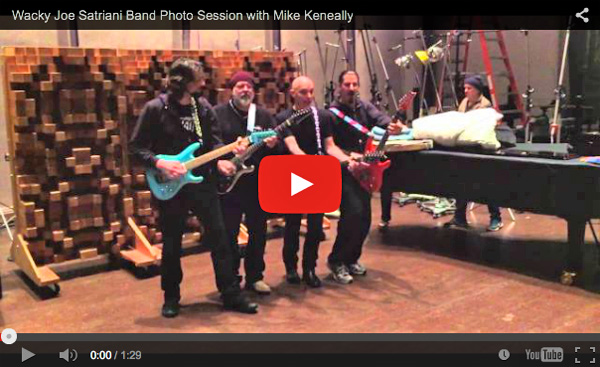 Two and a half weeks into the new year already? Holy frijole.
Type to you I do from Northern California where we (for the purposes of this sentence "we" means the Joe Satriani band) are currently holed up doing a solid eight-hours-a-day working on Joe's next album. Of the three albums I've done with Joe this is the first where the particular group of musicians doing the recording have a solid history of all performing together (for Black Swans and Wormhole Wizards the musicians met in the studio, and then we toured for a couple of years; for Unstoppable Momentum we made the album and haven't played together again since). After two-ish years of touring with the Satriani/Keneally/Beller/Minnemann assemblage we know each other like fine monkeys know one another, and the recording process has been an extraordinarily smooth sail. Bryan and Marco have completed the rhythm tracks and Joe and I are currently goofing around with my overdubs. (I'm finally playing some guitar on a Satriani record.) It's been a joy really. Upon the album's release later this year, the Satriani touring machine will lurch back into action mode.
---
But first, I am about to lurch back in time into mid-'90s BFD mode:
JANUARY 21 at THE BAKED POTATO

A legendary club in the dank environs of beautiful Hollywood-transitioning-into-North Hollywood California…

(3787 Cahuenga Blvd. West, Studio City, CA 91604 to be precise)

Presents

MIKE KENEALLY & BEER FOR DOLPHINS

(mid-90s power trio style)

featuring BRYAN BELLER and JOE TRAVERS

performing loads of old favorites

(including one pretty majorly obscure entirely insane composition not played live for around 19 years or something)

TWO ENTIRELY DIFFERENT SHOWS (aside from the fact that we'll play the aforementioned insane composition at both shows)

9:30pm and 11:30pm

IF YOU CAN BE THERE, DO! BE! THERE!
---
Then, on January 30, we got kind of a special show at Java Joe's in San Diego. Last month I met a couple of very cool musicians at a holiday party thrown by the San Diego Troubadour (who stuck me on the cover of their December issue): Jeff Berkley, a local guitar player I've respected for a very long time, and Jamie Shadowlight, a violinist who was new to me. I heard them both play that night and was instantly struck by their spirit and musicianship. Hanging out with them along with my dear friend Claudia Russell from San Diego radio station KSDS Jazz 88.3, and Joe Flammini, proprietor of the venerable acoustic venue Java Joe's, we all got to talkin', and the result was the planning of this unique trio performance:
JANUARY 30 2015

MIKE KENEALLY, JEFF BERKLEY & JAMIE SHADOWLIGHT TRIO

Super excited to discover what sort of chemistry results from the meeting of these three elements.

(Playing a bunch of material together which we still need to decide upon – we will begin emailing one another repertoire ideas shortly – any requests?)

JAVA JOE'S – 3536 ADAMS AVE. SAN DIEGO 92116

8:00 PM
---
Other news – Kris Myers of Umphrey's McGee just recorded a bunch of drums for Scambot 2. And there's a couple more gigs coming up soon – early February I'll be appearing with Brendon Small, Joe Travers, Pete Griffin and Steve Agee in San Francisco, and in early March MK/BFD will be performing at WesFest 10.
Much more about all of that in – THE NEXT KENEALLIST! RUN TUN TUNNNNNN!
Mike