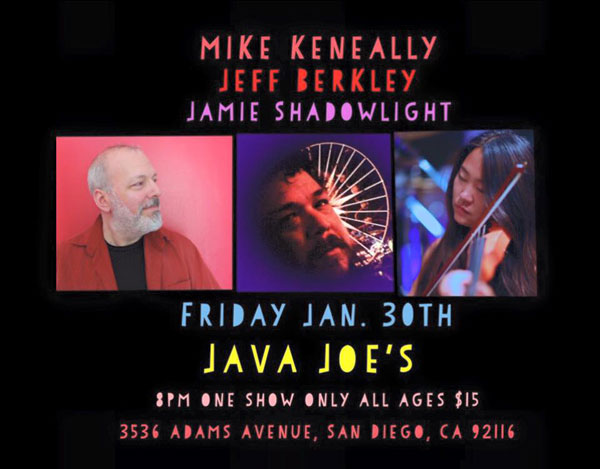 Here's a quick one to remind you of a couple of gigs upcoming – including this one in San Diego tomorrow night –
MIKE KENEALLY (guitar, keys)
JEFF BERKLEY (guitar, percussion)
JAMIE SHADOWLIGHT (electric violin)

JAVA JOE'S
3536 Adams Ave. San Diego, CA 92116

Friday, January 30, 8pm
One show! All ages! We're rehearsing the night before and will figure out what's going on.
We all met late last year and hit it off. Just from a spirit standpoint this feels like it's going to be great. Please check it out if you can and get your weekend off to a nice start.
Here's a nice article about the show by our friend Georga Varga from the San Diego U-T.
Advance tickets are available at javajoes91@gmail.com
---
Then! For when you're in San Francisco a week later and need to laugh!
As part of
The 14th annual SF SKETCHFEST
The San Francisco Comedy Festival:

BAKED with BRENDON SMALL and STEVE AGEE
Featuring MIKE KENEALLY, PETE GRIFFIN and JOE TRAVERS

And special guest comics
TODD BARRY
GREG BEHRENDT
NATASHA LEGGERO

VERDI CLUB
2424 Mariposa St.
San Francisco, CA 94110

Friday, February 6, 7:30pm
Come and enjoy more of that magical blend of comedy and music that thrills you to the basement of your soul.
Buy tickets here.
---
And – just a brief teaser but we'll talk more about this later – and just in case you didn't manage to see the trio version of MK/BFD at the Baked Potato last week (people seemed very pleased)…
WESFEST 10 – MARCH 8 – THE ROXY
A concert to benefit the Wes Wehmiller Scholarship at Berklee College of Music

Headliner is VICTOR WOOTEN with special guest STEVE BAILEY

Also performing…

MIKE KENEALLY & BEER FOR DOLPHINS
(Keneally/Beller/Travers with a special guest toward the end of the set)

THE WESFEST ALL-STARS

And DANNY MO AND THE EXCITERS
Advance tickets on sale now HERE (https://www.ticketfly.com/purchase/event/757951?utm_medium=bks):
More soon! Thanks for reading this!
I'm your vehicle,
Mike