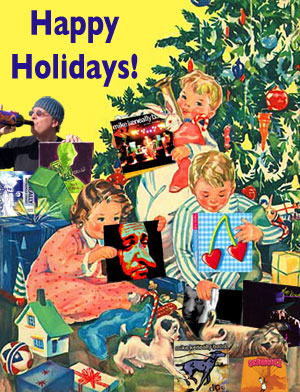 I am sending you, like, 18 sincere wishes for a wildly happy holiday season!

A HOLIDAY SALE TO BRIGHTEN YOUR HEAD!
2018 draws inexorably to a close and Exowax marks it by offering you 20% off any purchase of $18 or more.
GET IT?!!
Simply freakin' use the promo code "2018" upon checkout to get your rightful discount. Sale is in effect until the end of the year.
(Also, be aware that we've recently uncovered a small trove of Dog Special Editions [signed and numbered, with DVD, previously thought to be sold out] and a fresh batch of Universe Will Provide/Parallel Universe combo packs, so if you're getting ready to host a 2004 party, we've got your soundtrack.)

Thank you, for you're kind!

BIG DOINGS IN ANAHEIM ON JAN. 26 at M3 LIVE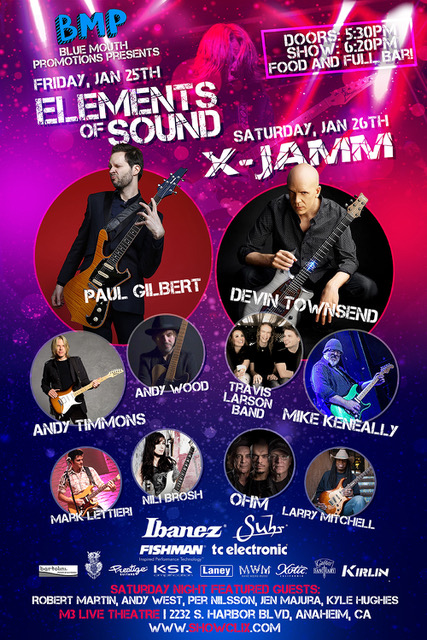 Blue Mouth Promotions gleefully presents:
X-JAMM! Featuring Mike Keneally & Beer For Dolphins, Devin Townsend, Travis Larson Band, OHM, Larry Mitchell, and a show-ending jam featuring Robert Martin, Andy Timmons, Andy West, Per Nilsson, Jen Majura, Kyle Hughes and more!
The venue, M3 Live Theater at 2232 South Harbor Blvd in Anaheim, is a 10-15 minute walk from the convention center where the NAMM convention is happening, but check it out: NAMM credentials are not requred to attend X-Jamm! Civilians of all stripes are warmly welcomed!
This will be the five-piece version of BFD and we will envelop you in a warm bath of tones and ideas before slapping you upside the head with provocative timbres and rude but wonderful gloriosity.
Doors open at 5:30pm, and the first act hits at 6:20pm. There is food for purchase and a full bar, so no need to stop for dinner on the way over. Tickets are seated. It's a really nice venue. Be a part of this! Here is the ticket link.
(Also, the night before on Jan. 25, Blue Mouth presents ELEMENTS OF SOUND with Paul Gilbert, Andy Timmons, Andy Wood, Mark Lettieri and Nili Brosh. Another remarkable night of music and madness and mirth and mmmmore! Here's the dang link for that.

WHAT ELSE? OH YEAH, G4 in PALM SPRINGS and
THE BIZARRE WORLD OF FRANK ZAPPA TOUR
The Joe Satriani What Happens Next tour ended a few nights ago in Pune, India (see the video I shot from the stage during that gig here). Man, what a fun tour. Just want to thank Joe, Bryan, Joe T, the crew and everyone who came to a show. I feel immensely grateful to be part of this team and look forward to playing with the dudes again at The G4 Experience in Palm Springs, at Hotel Zoso (Led Zeppelin reference?) January 3-7, 2019. In addition to playing with Satriani, I'll be joining Beller and Travers in backing up Neal Schon, Rick Nielsen, Carlos Alomar, Bumblefoot, Lari Basilio and Kiko Loureiro. Serious fun. I think slots are still available? Check here to see.
We start rehearsals for The Bizarre World of Frank Zappa in March. We'll start announcing dates very soon. I'll say a lot more about it later, but basically, take whatever your expectations about what a Zappa hologram tour might be, and abandon them, because this is going to be an experience unlike anything that's happened to you before. From a musical standpoint, I'm delighted to be joining Joe Travers, Scott Thunes, Ray White, Robert Martin and Ed Mann in bringing Frank's amazing music to you (some of which has never been heard before), and from a visual standpoint, we are going to present something you simply won't see coming. Not gonna say more than that for now, but prepare to be truly affected by this experience.

All right! I love you! Thank you for reading! HAPPY HOLIDAYS!