5:35 am
Hey pals :9D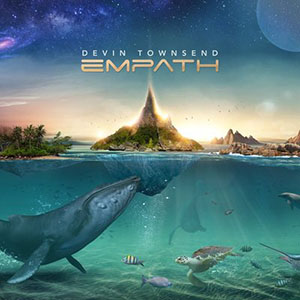 Generally I am not up this early typing, but I'm enjoying the lingering effects of powerful jetlag, after an incredible 10 days in Wales working on the next Devin Townsend album, Empath. You'll hear the results in March 2019 when the album is released, at which time I'll get more into it, but for now I simply express my gratitude at being a part of this project: I'm freaking grateful! (And I'll briefly add: Devin astonishes me. Completely. This music is absolutely breathtaking.)

Now I'd like to tell you what this month of October has to offer, for those of you in the vicinity of LA. If you're not in the vicinity of LA, you still have time to get there.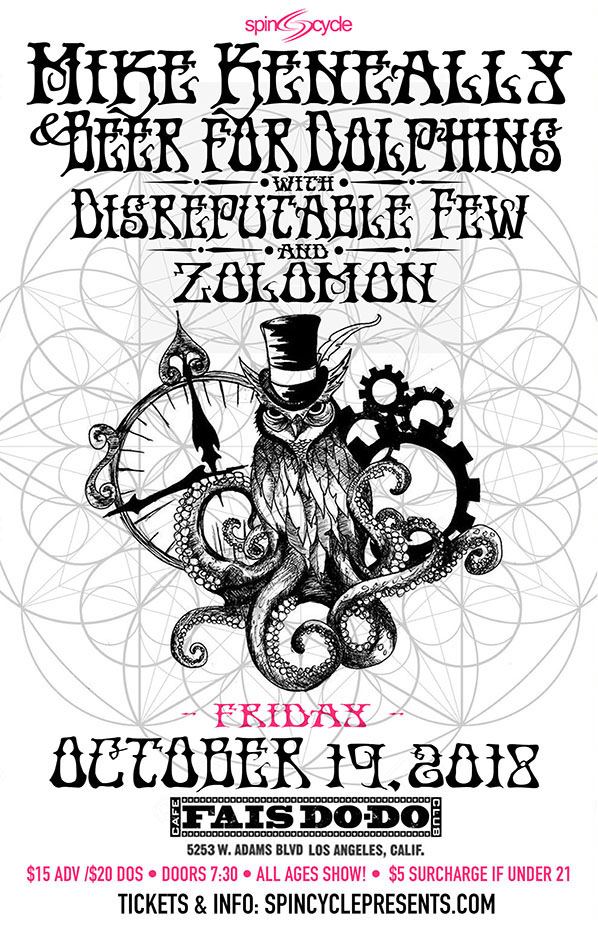 FRIDAY OCTOBER 19
MIKE KENEALLY & BEER FOR DOLPHINS
with DISREPUTABLE FEW
and ZOLOMON
at
FAIS DO-DO
5253 W. ADAMS BLVD.
This is a brand new room for us, and we'll be playing for a lot of new people, more of a Dead/jam-type scene than we normally play for, and I'm very excited about lattice-working our energy into this particular vibe. Like, REALLY excited. This will be the quintet BFD with Beller, Travers, Musallam and Peters and we will be playing one long set starting at 11:05. Zolomon starts at 8:25, with Disreputable Few at 9:45.
An entirely fantastic way for you to kick off your weekend – join us all, please! Tickets are rampantly available here.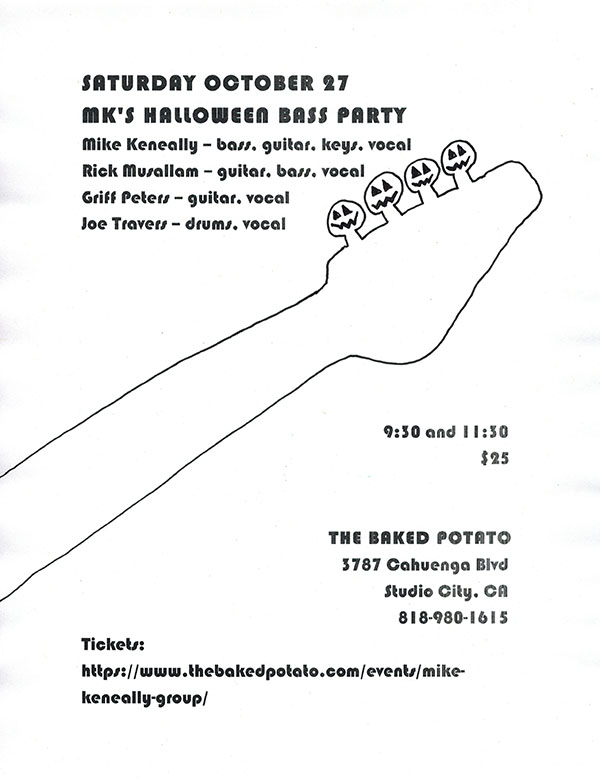 SATURDAY OCTOBER 27
MK'S HALLOWEEN BASS PARTY
at
THE BAKED POTATO
So, Justin at the Potato offered us this night, and Beller is unavailable to do the gig, working hard on his upcoming solo opus. After thinking on it a bit I decided I definitely wanted to play at the Potato on the Saturday before Halloween – it should be nuts – but there wasn't time to work another bassist in on a full night of material.
I then came to a bold realization: I really wanted to play bass for this gig. I love playing bass and hardly ever do so publicly. So I will toughen up my low-end chops and we (me, Travers, Musallam and Peters) shall present a selection of my tunes with basslines I particularly enjoy – some of which I originally tracked in the studio – but never get to play live. Rick will take over the bass for some tunes so I can be excessive on guitar and keys as well.
In addition to my "bassist costume" for the night we will also deliver some Halloween-specific cover song action. No "Monster Mash" I promise. But SOMETHING relevant to the weekend's needs.
Two sets, as per Spud norm. You want tickets? In no way do I blame you! Procure them here.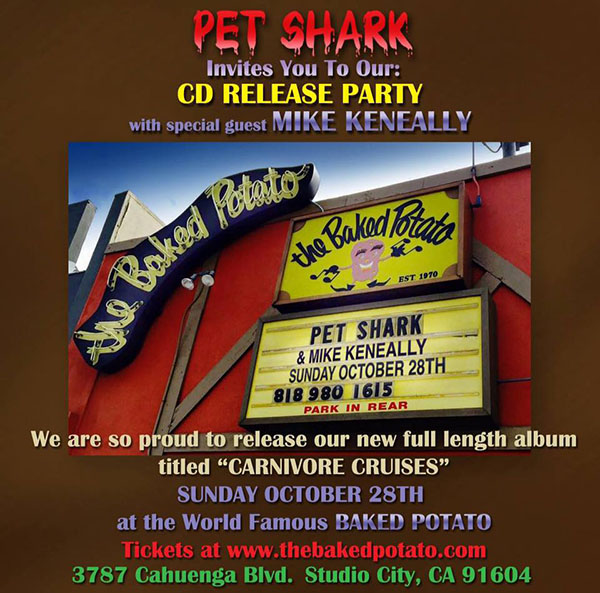 SUNDAY OCTOBER 28
MK as special guest with PET SHARK
For their CARNIVORE CRUISES album release show
I co-produced the upcoming Pet Shark album, a brilliant slab of searing instrumental rock (with one really epic vocal tune), and the night after I have my bass fun on Saturday, I'll be guesting with Pet Shark at their album release party playing tunes from the album. I'll be on keys and 2nd guitar. If you're not familiar with the Shark, now's the time – definitely come on out and be prepared for some friendly face-melting.
There can be no doubt that the tickets for these two sets are available here!

JOE SATRIANI BAND LIVE IN AUSTRALIA, NEW ZEALAND AND INDIA – NOV/DEC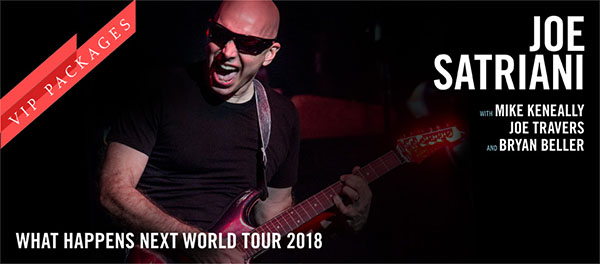 The touring for What Happens Next is not over yet, Satch heads! In fact, THIS is what happens next: gigs in Australia, New Zealand and India late this year. I've never been to India! I'm (as I rarely say without irony because it's not normally how I conduct myself linguistically but it's actually completely true) stoked!
Six dates in Australia, Nov. 24-Dec. 2. A gig in Auckland, NZ on Dec. 4. Then over to Pune, India for The Happiest Music Festival (how can anyone resist attending with a name like that?) Dec. 7-9.
You want some ticket links? Feast on these!
THANKS Y'ALL
Between The Bizarre World of Frank Zappa tour, more Satriani dates, Devin stuff, and other things currently in the offing but still under concealment, 2019 is shaping up to be nuts. My gratitude for continued being-busy-ness is immense and I have great love for all people and circumstances which allow me to continue playing music for folks. Hooray!
Hooray, I say!