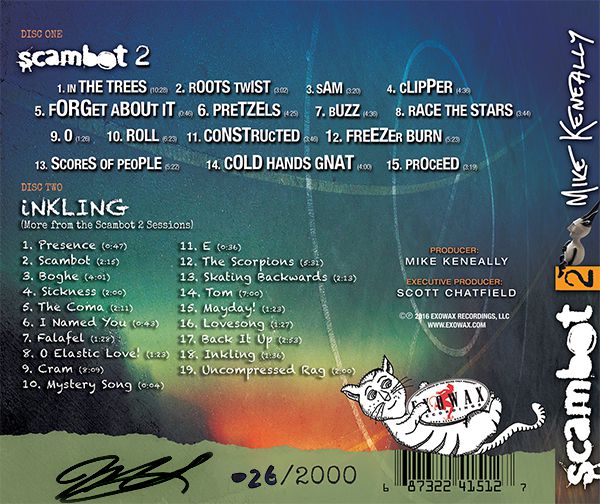 Hi! I'm flying home from the Satriani tour right now. This has been perhaps the most enjoyable Joe tour yet. We had some 2 1/2-hour shows with intermission and some 2-hour shows with no intermission. Seven shows were G3 shows with Steve Vai and The Aristocrats, where I sang Police and Nirvana songs during the jam (seriously fun). We had festival shows of various lengths – Hellfest in Nantes and the Lasko Beer and Flowers festival in Slovenia being particularly enjoyable. It was just an extremely fun tour! And once again, everyone on the band and crew (as well as all the Vai and Aristocrats people) were glorious road-rat humans of endless capability and good humor. Cheers to every freaking one of them! And to every freaking one of you who came to a show, or several.
Now I'm very much looking forward to relaxing at home for a couple of days, and then I'll be signing and numbering huge stacks of Scambot 2 CD sets so that we can start shipping them to you.
I'm doggone grateful for the tremendous response to the Scambot 2 download (which comes your way immediately upon ordering the physical product). I appreciate all the good words with great fervor! (Steve Vai wrote me the nicest email with his feelings about each song on the album. It means so much to me.)
Shipping will begin soon, and I'm excited that people are about to hear the second album in the 2-CD package, Inkling. It really does have a character of its own.
Now I'll continue yammering a bit about the songs on Scambot 2, as I've been doing for the last two Keneallists. Let's take a look at "side three," shall we? Yes! Let's! Take a look!
Race the Stars
This is pop! Super pop. Pop as heck. (Well '70s pop, anyway.)
The chord progression was written on Scott's piano. I captured chunks of the progression on my phone as I was writing them, and it originally went under the working title "Fogerty," simply because I had been listening to a lot of Creedence in the car at that time, and not because I thought the song was especially Fogerty-y, musically. It was just a name that came to mind.
As I've said, working titles often have a way of sticking – and while in this case, the title "Fogerty" didn't make it to the final draft, it did have a singular impact on the song. I started imagining, as I was working on the backing track: what kind of vocal melody would John Fogerty actually sing over this progression? I then wondered if Kris Myers from Umphrey's McGee (who is a magnificent vocalist in addition to being a devastating drummer) might be able to provide some Fogerty timbre to the melody. I asked him to sing the song with me and he was way into it.
On the album, you're hearing me and Kris singing the melody in octaves: me down below, and Kris bringing Fogerty zang to the upper octave. Then Bryan Beller and Joe Travers brought their effortless brilliance to the rhythm track.
The guitar solo section has a really challenging set of chords to play over, so I decided to write the solo out. It took a number of takes, attempted over several months on several guitars, but ultimately it was Jesse the good old green Clapton Strat that provided the right amount of twinkle and twang. It's a finger twister and it was very satisfying to finally nail it. On the last part of the solo I thought it would sound good to bring back an earlier take of the solo (played on the koa Charvel) and have both guitars playing in unison – it kicks the arrangement into a higher gear right there.
Kris also joined me on the backing vocals to great effect, and it was his idea to do the overlapping "come on" harmonies at the end – a really nice touch. Thank you Kris!
Oh and the title was unquestionably inspired by a game called Race The Sun, which Sarah was playing with some regularity at the time I was writing the lyrics. I'll grab inspiration from all possible sources.
O
Here's one that allows me to say, with all the truthfulness on this airplane, that this album has been in the works since the late '90s. The basic bed of this atmospheric track was made at Lyle Workman's studio, for one of the television documentary soundtracks I recorded back then.
"O" originally consisted of the weird noises at the beginning, the bang midway through, and the long synth drone throughout. The acoustic and electric guitars, and the piano at the end, were overdubbed in 2013 for Scambot 2, making this a collaboration between 36-year-old me and 51-year-old me.
Roll
The basic track for this song was recorded in Scott's living room, by Rick Musallam, Kris Myers and myself, the day after we finished rehearsals for Nearfest Apocalypse 2012. (The same session also gave us "Cram," which is on Inkling, and which features Rick Musallam on the far-right electric guitar, a fact inadvertently left out of the Inkling booklet.)
I wrote the main lick for "Roll" on the spot after we finished recording "Cram." My inspiration was Tony Iommi, and the reason for that was the dropped-D black SG I was playing. We started jamming on that lick, and then the rest of the pieces of the song emerged through the course of the jam, which I edited way down after the fact to arrive at the final song form. The slow 3/4 lick that runs through the chorus was something I came up with while we were jamming, and I realized on the spot it would make a good chorus, so then I started alternating the two licks. The bridge section in 5/4 ("No one leads a charmed life") was not played during the initial session – the drums in that section are from the original jam, but everything else was written later and superimposed onto the drums. Lots of editing and shuffling and overdubbing went on to arrive at this final form.
The tone of the main guitar is a combination of my Rivera Quiana mic'd up, plus a DI'd signal going straight to the computer where Mike Harris put it through a SansAmp plug-in. The end result is one of my favorite guitar tones I've ever gotten on record.
I originally overdubbed a synth bass track that mostly conveyed the vibe I wanted in terms of notes, but sonically it just wasn't bringing the rock the way it needed to be brought, so Beller came in and did what was required by the universe. The final piece of the cake, or the icing on the puzzle, as they say, was having Ben Thomas sing the verses in unison with me. We slammed both voices together in the center of the mix to make a new mutant double-voice. This song requires maximum playback volume.
Oh and there's a bunch of Hendrix-inspired slowed-down vocal stuff that shows up during the guitar solos. It just seemed like the right thing to do.
Constructed
Finally, my first country waltz! (Unless "Never Ever Wrong" counts. Maybe it does. OK, then, my second!)
The seed for this song was a voice memo I recorded on my phone called "Constructed," which consisted only of the words "Constructed, constructed. Constructed, constructed" (as sung at the 3:00 minute mark of the final song by three overdubbed Mikes in the far left corner of the mix, in a tone and attitude intended to evoke The Jordanaires). In the studio with Mike Harris, I used the rhythm of the words as a starting point for the piano part (the intro piano is playing the same "constructed, constructed" melody that shows up at 3:00). Having recorded that intro in the studio with Mike Harris, I continued on writing sections and recording them, until it got to the ending, when it seemed like the right time to bring back that "constructed" motif. Then I improvised the little Thom Yorke-inspired piano coda, and et voila! A song form.
That little snippet on my phone – just me singing "Constructed, constructed" – originally struck me as so funny for some weird reason. It seemed to me that "constructed" was such a mundane word, not really emotionally redolent of anything, and not at all suitable for use as the main hook of a song. But I started writing lyrics for the song, and with God, Bob, and Dog as my various witnesses, I tried really hard to come up with a concept and title that would be something other than "Constructed." But the lyrics inexorably wended their way towards that inflexible destination, and gradually I came to feel that the idea of "Constructed" as a song concept ended up really working.
Everyone involved in this song treated it with great delicacy and respect. Kris Myers' drum performance is really masterful – Mike Harris, who is a drummer himself, was freaking out over it while we were making the song. It was one of the performances that Kris recorded in Chicago in his single-day marathon drum session that yielded seven of his drum tracks. There are so many subtle rhythmic touches to his performance here, little hesitations and incremental groove shifts, which propel the song so beautifully. In the wrong hands this drum groove could really just sit there on the ground like a beech nut, but he gave it so much life.
Pete Griffin, who brings incredible heft and power to his electric bass playing on both Scambot 2 and Inkling, was good enough to haul his stand-up bass down from LA to Chatfield Manor for this song, and it could not have been more perfect – in my recollection, it was Pete who suggested that acoustic bass would work for the song. Man, I am so grateful for that insight and for this performance, beautifully recorded by Mr. Harris.
Jesse Keneally provided angel voices. They float around in the back of the choruses just audible enough to be felt – sometimes when I hear this song I wish we'd mixed them higher, but then other times I realize they lend just the right presence to the choruses – haunting, just beyond reach, chilling and lovely. I just want to hear more of them sometimes, 'cause she's my daughter you see.
You'll hear a couple of ghostly western guitar parts, meant to evoke pedal steel.
Before I worked out the final lyrics, I actually did an instrumental version of the song with a guitar playing the vocal melody all the way through – I thought that it might work, but although I was infatuated with it for a day or two, it didn't make me the feel the way this version does. I needed to hear the words "snowy train" in order to see the snowy train. (Some remnants of that melody guitar track do remain in the final mix however.)
Thanks for reading all this. I'll talk about the last four songs on Scambot 2 in the next Keneallist, and then get into Inkling a little later on once you've all had a chance to listen to it.
---
MK/BFD gigs in October
Also, hey: I'm bringing the trio version of Beer For Dolphins (me, Bryan Beller and Joe Travers) to Chicago and the Northeast in late October of this year. I was a bit stunned to realize that this particular configuration, with whom I gigged so much in California in the '90s, has never played in the Midwest and Northeast as a trio. There is a certain ferociousness that takes hold on when it's just me, Bryan and Joe, and it's going to be fun to finally bring that vibe to the other side of the country for once. We might tack on a few more shows in other locations in the U.S. if the stars align, but our window is small because of Bryan's and Joe's prior work obligations. I'm jazzed about being able to do even this many shows though. The very wonderful Travis Larson Band will be opening for us in the Northeast.
In Chicago we're playing at Progtoberfest II which will be hosting a wonderful slate of adventurous bands. The night before the BFD gig, I'll be guesting at a tribute to Keith Emerson, which is going to be a heavy emotional situation for me but I'm really looking forward to it. (I don't think I need to go into much detail here about how much Keith Emerson means to me. But, boy, he means a lot.) I know that Luis Nasser of Might Could and Sonus Umbra, and Jonathan Schang of District 97, are also taking part in the Chicago Emerson tribute, which is nifty – I like those guys a lot but this will be my first time playing with them.
These are the dates! Date it up, date it up, date it up!:
MIKE KENEALLY
as special guest in a tribute to KEITH EMERSON
also featuring JONATHAN SCHANG of District 97
and LUIS NASSER of Sonus Umbra and Might Could
FRIDAY, OCTOBER 21
At Reggie's Progtoberfest II, Chicago IL.
MIKE KENEALLY & BEER FOR DOLPHINS TOUR
trio with BRYAN BELLER and JOE TRAVERS:
opening all the Northeast shows is the TRAVIS LARSON BAND
SATURDAY OCTOBER 22: Reggies's Progtoberfest II in Chicago IL
TUESDAY OCTOBER 25: River Street Jazz Cafe in Plains, PA
WEDNESDAY OCTOBER 26: Iridium in NYC
THURSDAY OCTOBER 27: Jammin' Java in Vienna, VA
FRIDAY OCTOBER 28: Kennett Flash in Kennett Square, PA
SATURDAY OCTOBER 29: NJ Proghouse in Dunellen, NJ
SUNDAY OCTOBER 30: The Wheelhouse in Narragansett, RI
---
The exclusive Scambot 2 Exowax Pre-Order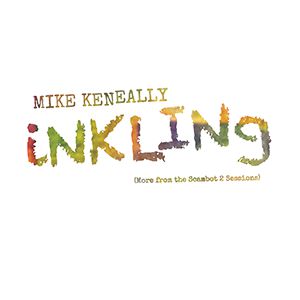 You probably already know, but I'll say it again, that we're currently taking pre-orders for the 2-CD Scambot 2 signed, limited edition of 2000. These will be shipped in a few days, after I sign and number them. The double-CD set consists of the Scambot 2 album (65 minutes of music) and the Inkling album (48 minutes of music) in a colorful digi-pak, with two handsome booklets nestled within. You'll get an immediate download of Scambot 2 as soon as you pre-order. (You'll have to wait until your CD set arrives to hear Inkling, which, by the way, features the brilliant RICK MUSALLAM on the song "Cram"!!)
Scambot 2 itself will be available as a single-album paid download in late July – we'll shoot you another note when it's officially available. (Inkling won't be available as a download – it's only available as part of the 2-CD set.)
For the moment, the Scambot 2/Inkling 2-CD limited edition is only available through Exowax. It will go into wider release, through other distributors and retailers worldwide, starting September 9.
Y'all rock and you know it.
Love and a balloon,
Mike
---
SCAMBOT 2
1. In The Trees (10:28)
2. Roots Twist (3:02)
3. Sam (3:20)
4. Clipper (4:36)
5. Forget About It (0:46)
6. Pretzels (4:25)
7. Buzz (4:32)
8. Race The Stars (3:44)
9. O (1:26)
10. Roll (6:23)
11. Constructed (3:46)
12. Freezer Burn (5:23)
13. Scores of People (5:22)
14. Cold Hands Gnat (4:00)
15. Proceed (3:19)
---
INKLING (More from the Scambot 2 Sessions)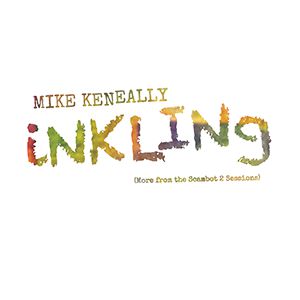 1. Presence (0:48)
2. Scambot (2:17)
3. Boghe (4:01)
4. Sickness (2:01)
5. The Coma (2:11)
6. I Named You (0:45)
7. Falafel (1:29)
8. O Elastic Love! (1:23)
9. Cram (8:10)
10. Mystery Song (0:04)
11. E (0:37)
12. The Scorpions (5:32)
13. Skating Backwards (2:15)
14. Tom (7:01)
15. Mayday! (1:25)
16. Lovesong (1:27)
17. Back It Up (2:54)
18. Inkling (1:37)
19. Uncompressed Rag (2:04)