August 28 2013
Mike here!
We welcome you with outstretched cyber-arms, probably with some sort of waving blue CGI tendrils attached, to the brand-new, entirely re-designed Keneally.com. In tandem with the new album You Must Be This Tall, we are bloody well pleased to present this major website reboot.
Keneally.com was started in 1994 by Scott Chatfield. Scott introduced me to the concepts of the Internet, websites and email. That original website became a cornerstone of my career back when websites were still something of a secret to the wider world; it featured endless reams of content, me blogging before blogging was blogging, and heavy interaction between me and my fans (which led to fans posting reviews of my albums, guest-hosting our gigs, putting us up in their homes, having us play in their backyards etc.).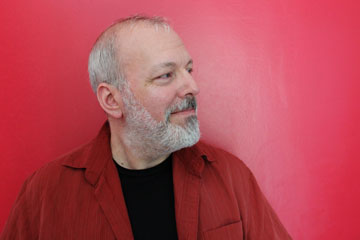 In 1998 I asked Scott to become my manager, and in 1999 he and I began our record label Exowax Recordings. Scott has heroically continued to maintain Keneally.com ever since, but the total workload has been more than any one human should ever be asked to endure.
Then, a few months ago, came Antal Adriaanse, suggesting that the time had come for a complete overhaul for the website. For many years Antal has maintained the Mike Keneally Tour Chronology, a repository for information about all of my live performances (for me, a crucial reference work that I've relied upon many times; the Tour Chronology has now been folded into this new Keneally.com).
Antal offered to take on the job of making this new site, and within what seemed like moments, showed us something we hadn't been able to execute for a few years – a fully updated discography. We were suitably impressed.
Scott then suggested getting Dimitriya, the wonderful animator who did our recent "Popes" video, to design some new art for the page, and she quickly came through with beautiful designs.
I'm very happy for the opportunity to freshen things up, and I've done a lot of writing for the different pages. I still have a lot more to do; in the past few weeks, while I've been on the road with Joe Satriani or while working on the upcoming Sluggo! reissue, I've written short pieces for various pages and new discography entries for many of my albums up until Wooden Smoke, but still have more to write about my solo albums, as well as other albums I've appeared on, and some of the key productions for other artists that I've done which haven't gotten the attention they've deserved (like Matt Resnicoff's The History Of Now, Dane Runyon's Looking Below and the self-titled debut from The Assumptions).
We are also reviving the "Mike Types To You" section, for which I did a whole lot of writing in the 90s and which I believe was one of the first artist blogs (although no one, including us, called it that at the time) online. We're now calling it Mike Types 2 U, in a little nod to how, as time goes on, letters are being removed from more and more words in life. People are busy, we understand. Ltrs take a long tym 2 read. The first new Mike Types 2 U entries will come soon – I'll be on the touring the US with Joe Satriani for the next couple of months and I'm looking forward to doing some diary entries from the road.
All in all, I will be doing a lot more writing for this site than I have managed to do for Keneally.com in a long time. It'll be a challenge but I'm looking forward to it.
(By the way, if you miss any of the content from the old Keneally.com, check out the "Archives" section – we've kept all the old stuff online for you as well, so you can fall into a nostalgic rabbit hole for hours if you like.)
Hope you enjoy the new digs.
Very much more, very soon!